Experience an eco-escape in ancient rainforest near the town of Mullumbimby. The Araluen Dome offers off-grid living in this simple solar-powered dome set within an organic permaculture farm. If you're looking for a comfortable adventure in the rainforest and maybe want to learn about permaculture farming then this eco-friendly accommodation is just the spot!…
Location: Mullumbimby | New South Wales | Australia
Type of Accommodation: Glamping and Yurts | Eco-friendly and Organic
Best for: Nature Lovers, Sustainable Living, Permaculture, Affordable
Type: Dome for up to 4 guests
Guest Rating: Excellent
The Space:
Araluen Dome is semi-camping style accommodation with a small camp-style kitchen with a small stove and everything you'll need for your stay including dishes and utensils. There's no fridge but you have an esky that keeps food cool for 3 days. You'll need to bring your own ice. A dining table and four chairs is included in the dome.
The bedding includes a queen-size bed and a pull-out futon. All linen and towels are included. If you're not keen on close-quarter sleeping the owners can provide a van or tent for some of the guests to sleep in on the property. Your drinking and showering water comes straight from a mountain spring. Close by are local creeks and swimming holes to cool off on hot days.
Since this is more like camping there's no flush toilet in sight. But no worries composting toilets are way better for the environment! The toilet is a dry composting type and is safe and clean. The outdoor shower is simple and hot with amazing rainforest views.
Location:
The Araluen Dome is located in Wilsons Creek which is 30 minutes drive north west of Byron Bay, or 10 minutes drive to Mullumbimby. Brunswick Heads Beaches are 20 minutes drive away.
Guest Comment:
The boys had great fun at night with a fire and marshmallows. And we were all very grateful for the dome when the rain came down overnight. The outdoor shower and toilet were a lot of fun too. A great place to stay if you want to camp, but you still want some of your creature comforts.

Guest Comment
Good to Know:
The solar power grid lights the dome and provides charging for your technology (unless you leave it at home so you can experience a true off-grid holiday!)
A potbelly stove keeps the dome warm and cosy on cold winter days and nights.
The Araluen dome is near national parks and hiking and biking trails.
There is parking on the property but in heavy rain it is difficult to get a car close to the dome so the nearest carpark is 100 metres away.
If you want to escape civilization then make sure you bring enough food for your sojourn so you don't need to leave. Although the shops are only 10 minutes drive away.
Guide Books for the area: Lonely Planet East Coast Australia, Frommers Australia and Fodor's Essential Australia: Fodor's Travel Guides (paid links).
This is a working permaculture farm and you're welcome to watch the farmers in action and learn about the philosophy and practice of permaculture farming. Around the farm you can explore the organic gardens, orchards, sub-tropical forest, and get to know the friendly farm animals, including goats, cows, chickens and sheep.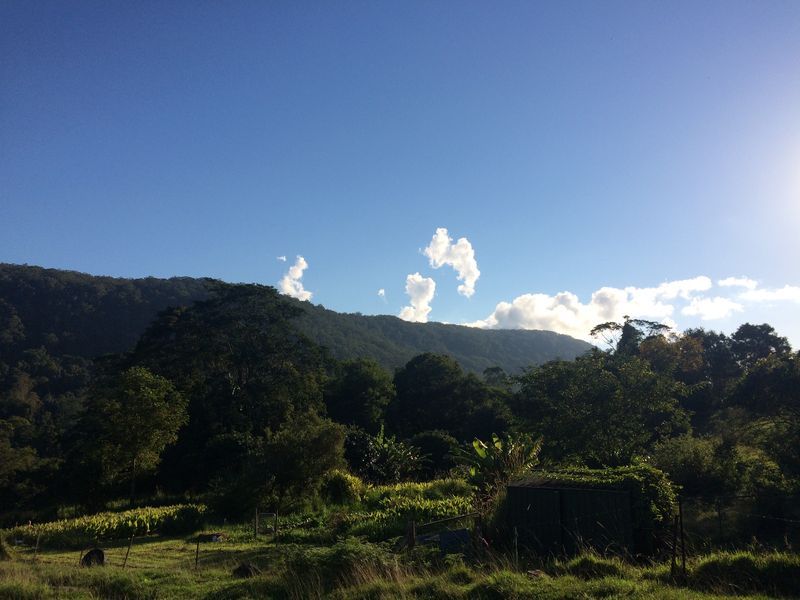 The Neighbourhood Around Araluen Dome
You're near national parks, waterfalls, beaches and funky Mullumbimby. If you get a chance here's some local sights:
Minyon Falls
Protestors Falls
North Byron Parklands
Nightcap National Park
Whian Whian State Conservation Area
Crystal Castle and Shambhala Gardens
Mullumbimby Farmers Markets every Friday morning from 7am to 11am
Kiva Spa and Bathhouse in Mullumbimby
Belongil Beach – a nice quiet beach in Byron Bay
Here's a link to a pdf list and map of 30 Great Walks in the Northern Rivers Region: https://www.nationalparks.nsw.gov.au/-/media/visitor/files/pdf/brochures/northern-rivers-great-walks-pdf.pdf
The Upshot:
The Araluen Dome is a camping-style adventure in beautiful ancient rainforest. With plenty of natural activities like watching permaculture farming in action, friendly farm animals, swimming in local creeks, hiking, camp fires, relaxing. Offering a super affordable price this wilderness retreat is great for couples, groups and families.
---
Other Accommodation Deals:
---