Cruising through the backwaters of Kerala on a converted rice barge houseboat is a unique experience. It's a wonderland of tropical coconut palms, rice paddies, canals, lakes, inlets and local village life. Naturally you want this once-in-a-lifetime cruise to go smoothly so here's how to book a houseboat in Alleppey …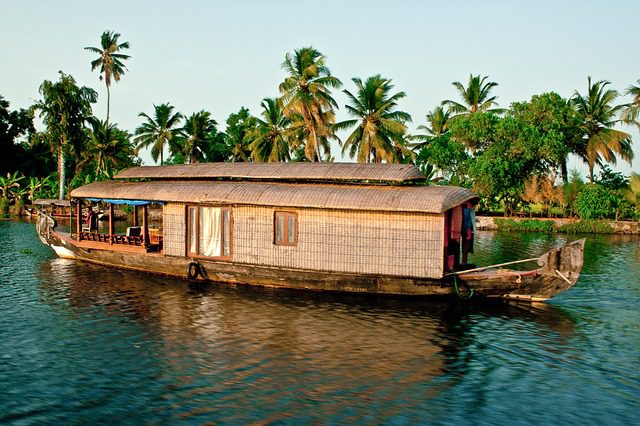 What are my Options?
Booking on the day or the day before. Yes you can just rock up to the dock and book a houseboat and this gives you flexibility.
Booking in advance. Booking online is an easy process for the well prepared.
Before we look at these two options and the pros and cons, here's a few things to consider before you plan your trip…
When's the Best Time to Visit?
September to March are the best months to visit. Weather is warm – not too hot and humid.
But try and avoid the busy season (Dec-Feb) when:
houseboat prices are at their highest
waterways are at their busiest which feels touristy and less authentic
Don't discount the monsoon seasons (June, July August and October to November). It doesn't rain all day and in fact tropical rain only lasts around two hours. After the rains you'll feel refreshed and cool!
This is the easiest time of year to book a houseboat…and the best time of year to cleanse your body and soul at one of Kerala's Ayurvedic retreats.
Can I book a Houseboat just for the Day?
Yes – but why not experience a night or two aboard – as I said it's a once in a lifetime experience!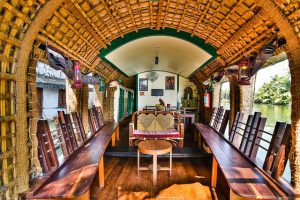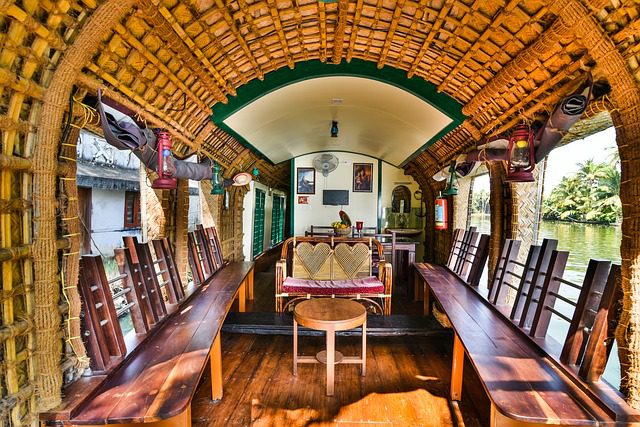 Should I book a Cruise for 1 or 2 Nights?
A 1 night cruise will give you a good look around the backwater lagoons but a 2 night cruise will get you further into the smaller canals to see the rich wildlife and fascinating village life. The 2 night cruise also takes you further away from the other houseboats. If you have the time and can afford it I recommend a 2 night cruise.
Highly recommended: To get into the really narrow canals see if you can book a canoe and boatman while you are on your 1 or 2 night cruise. This costs extra but you'll enjoy this charming side adventure!
How to Book a Houseboat in Alleppey on the Day or the Day Before?
The Houseboats generally dock and depart from two ports: Alleppey (Alappuzha). Boats leave dock around midday (some could be anywhere between 11.30am-4pm) and return at 9am or 9.30am. Some houseboats leave further away from the main dock, for example, Angel Queen, which I discuss further on.
The best advice here is to visit the port yourself when the houseboats are in dock and actually step on-board and check out the cleanliness and standard of accommodation. Talk to the crew about the route they will take. Ask about the food. Then haggle! If it's not high season you're in a stronger position to get the price you want.
Pros:
You get a better price
Gives you flexibility around dates – you don't have to book months in advance
Cons:
You're taking a chance that you find a good boat at the right price
Could be risky in high season
How to Book a Houseboat in Alleppey in Advance:
Alleppey houseboats are popular, especially in high season, so booking in advance means you're well organised with a good houseboat on your itinerary.
They are also a mixed bag and there's nothing like spending your hard earned money on an old, dirty boat with an unfriendly crew so booking ahead ensures you get the houseboat you want.
Here's two recommended and popular Houseboats that you can book easily over at booking.com:
Angel Queen House Boats
This boat is an awesome 70 foot long and 14 foot wide traditional Kettuvallom Barge with a thatched roof. Importantly there is a terrace on the top deck so you can relax on the comfy seating and take amazing photos from this higher aspect.
Please Note: Angel Queen doesn't leave from Alleppey but from a dock 20 minutes away so make sure you know where you're going.
If you have time it's worth booking a 2 night trip. This is going to get you away from the tourist route of wider open rivers and into the fascinating smaller canals where you see nature and local life close to the boat.
Suites:
This boat has very comfy 1, 2 and 3 bedroom suites with ensuites so perfect for solo travellers, couples or groups. The staff are very friendly and helpful although their English is limited. The suites have AC but no mosquito nets so bring your own or ask for one if you are concerned. If you need your technology there's WIFI onboard which is you pay per 24 hours.
Food:
This isn't an all inclusive tour package. Breakfast is included in the price but you buy your other meals from the onboard restaurant where they serve delish local Keralan dishes.
If you are concerned about eating on the boat I recommend taking probiotics on your trip to India – they definitely toughen up your stomach for new types of food.
There's no alcohol on board but if you want relax on deck with a cool beer you'll need to bring your own.
Stops:
The boat stops at villages so you can get off and walk around and they offer speed boat or canoe trips down the narrower canals. These are charged extra. But the trick here is to ask where you are going before you get on the boat because you don't want to miss the smaller canals.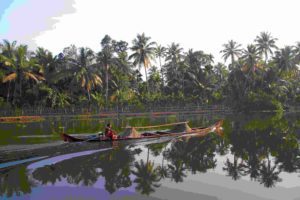 The Grand Cruise:
The Grand Cruise is popular, with great reviews and it's reasonably new so in tip top condition. With a grand marble 1 bedroom suit this one is popular with honeymooners. What a cool idea! There's also a 2 bedroom suite.
Food:
This is also not a tour package but breakfast is included. You can buy your meals from the on-board restaurant and food is deliciously spicy with lunch served on a banana leaf. Mosquito nets are included in the suites along with AC.
Busy Season:
During the busy season more than 900 houseboats ply the backwaters and the Grand Cruise ties up at night with a lot of other boats so can get very noisy. There's a top deck on this houseboat too but the seating is only plastic chairs. Don't be put off though this is a very popular houseboat.
Book The Grand Cruise Houseboats here.
My Choice:
Angel Queen Houseboats
Very helpful staff
Very cosy interior
Get away from the other boats to the smaller canals on a 2 day trip
The upper deck is a must with it's view and comfy seating
Conclusion:
Cruising Kerala's tropical backwaters in a converted Kettuvallam is a unique opportunity to explore the beautiful palm-fringed canals and serene lagoons. You can book a houseboat in advance or when you get to Alleppey but make sure you choose a houseboat with a viewing top deck. You'll de-stress, relax and take some incredible photos.
Now it's your Turn!
I hope you've learnt how to book a houseboat in Alleppey. If I've missed anything or you would like to know more or comment please free to add your thoughts below…
[featured pic by: Adityan Ramkumar on Unsplash]