The locals call Grand-Terre, "Le Caillou", the Rock. But at 400 kms long New Caledonia's main island is a pretty big rock! To put that in perspective Hawaii's Oahu Island is only 70kms long. If you're looking for an island adventure then exploring Grand-Terre on a New Caledonia Driving Holiday takes you right off the beaten path. I've put together a list of unique places to stay that are budget-friendly with a chance to meet the locals. I hope you'll experience an authentic and fun road trip with these tips and collection of accommodation including, Gîtes (similar to Airbnb), Relais, Tribal Homestays and Boutique Beach Hotels.
Quick Tips:
Most of these places offer restaurants or cooked meals on site – Table d'hôtes – which means the chef's choice for the day.
Relais originally meant coach stop in France when people travelled by horse! This could mean an inn for accommodation or a tavern for food. Even today these are either restaurants or places to stay.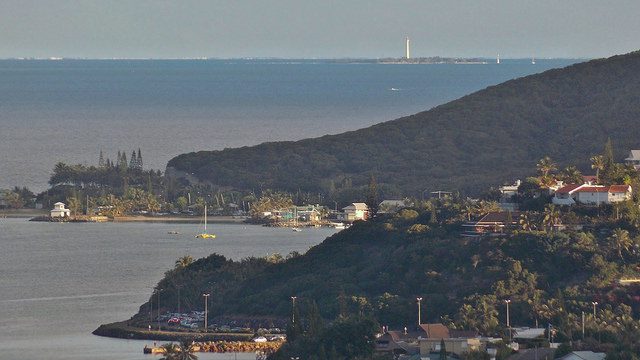 New Caledonia Driving Holiday Tips:
Hiring a car is a popular way to explore Grand-Terre. Travel at your own pace, explore the countryside and experience the real New Caledonia. You don't need a 4D vehicle – 2D cars are fine. You may find an unsealed drive leading up to your accommodation but the main roads are sealed but windy. So take your time and enjoy the island's bio-diverse ecological zones. When you need a break from your road trip dive into the World Heritage Listed Lagoon that surrounds this tropical paradise.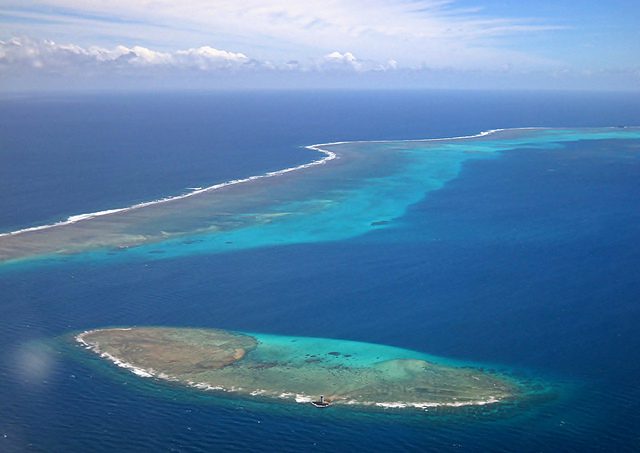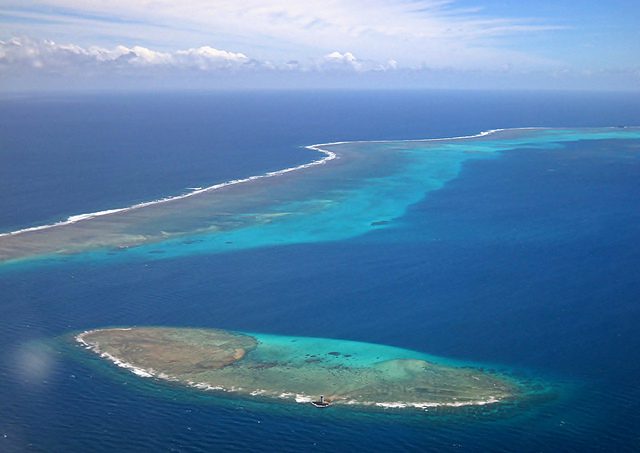 Read on for:
Geography of Grand-Terre

Driving Tips
Map with accommodation
Unique and Authentic Places to Stay with Travel Times – Gîtes (local guesthouses and bungalows), Beach Hotels and Tribal Homestays
Includes Bonus stays
Also read: Over 50's Guide to New Caledonia: Handy Tips – good for any age!
What's the Geography of Grand-Terre?
The central mountain range runs through the heart of the island and forms a natural boundary.
Driving along the west you'll find farms, cowboy country towns and the beaches of Poe and Roche Percee in Bourail – both popular with Noumea locals.
In the north relax on incredible remote white sand beaches and swim in the crystal clear lagoon.
To the east jungle meets lagoon at Hienghene. Go snorkelling at Poindimie beach.
In the south explore popular Blue River Provinicial Park, and see the rich red nickel soils and the effects of mining.
In the central area of Farino on the flanks of the mountain range you'll find UNESCO Listed Giant Palm Forest for hiking and mountain biking. Stay in a treehouse! See the bonus accommodation further on. Nearby at La Foa you can stay in a traditional Kanak Tribal Village.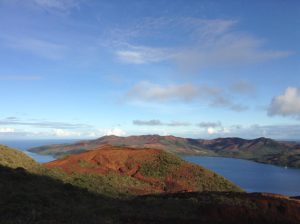 Tips for Driving Around Grand-Terre:
What side? Like France you're driving on the right hand side in New Caledonia.
Best time of year: coolest and most popular time is April to November. Temps range from 17C to 22C. Take a jacket for the evenings. Hottest time is January to March. Temp can head up to 28C but with the sea breeze it's manageable. Rainy season is late December to late March.
South to North – It would take you around 6 hours to drive from Noumea to the north, e.g. Malabou Beach Hotel
Roads are mostly sealed but can be windy and narrow. Expect potholes
What should I hire? 2D cars are fine. Check out Skyscanner deals here>>
Fuel and Food: Some 'towns' are more like 'village' but should have a place to buy fuel and a supermarket for supplies. Some fuel places close during the day or run out of fuel in the weekends so stay topped up.
Get Ready! Prepare for adventure. Camping is popular in New Caledonia (a French import) so take a tent, sleeping bags, airbeds, and flashlight if you want to experience island adventure. Camping Kwatea near Yaté is a tribal camping spot where you set your tent in a peaceful coconut grove and meet the local Unia tribe.
Accommodation: At gîtes and tribal homestays be prepared for simple, shared facilities
Phone First: Usually you'll only have a phone number for tribal homestays but make sure you phone in advance.
School Hols: If it's school holidays book your accommodation in advance.
Pack: Take hiking shoes, flashlight, reef shoes, snorkeling gear, and reef-friendly sunscreen. If you are concerned about mosquitoes (Dengue Fever is around this part of the world) then take a mosquito net – they're light to carry.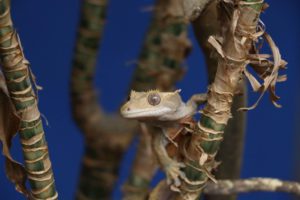 Explore Grand-Terre – Places to Stay and Travel Times: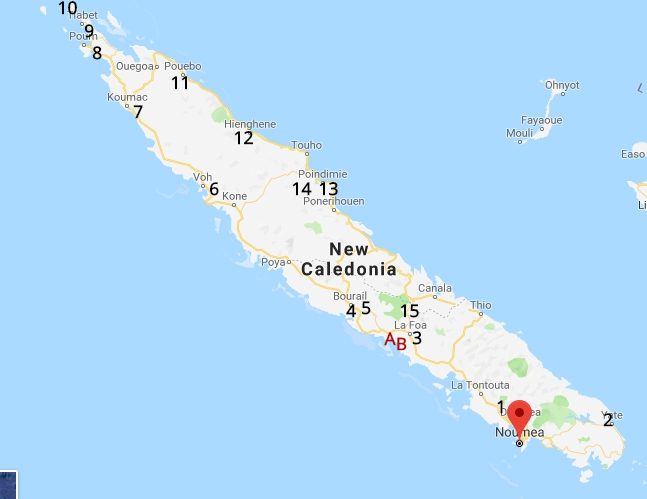 1. Tour du Monde, Le Gîte des Voyageurs en Nouvelle Calédonie.
Very friendly and affordable gîte with comfortable individual bungalows in the hills near Noumea in Dumbéa. Hike in the hills and relax back at base in the pool and spa.
Travel Time: Dumbéa to Yaté (by the Blue River National Park) 54 min (52.4 km) via Route de Yaté/RP3
2. Gîte de Lya in Yaté
Stay with the Touaouroue Tribe. Simple traditional bungalows, camping and a restaurant set in the forest by the sea. Peaceful location and good value for your money. Go snorkelling in the ocean and hiking in Blue River National Park.
To book your stay: Phone +687 46.90.80
If you want more comfort and a pool then Les Cases de Plum in Mont-Dore is full of character and popular. See https://staytopia.com/new-caledonia-holiday
Travel Times: Yaté to Moindou 2 h 11 min (162 km) via Route Territoriale 1/RT1
Or direct from Tour du Monde in Dumbea to Yaté : 1 h 14 min (98.1 km) via Route Territoriale 1/RT1
3. Gîte les Nautilus in Moindou
Family-friendly Bed and Breakfast. Relax in your comfortable bungalow with AC and enjoy the pool. Meals are on offer with outdoor dining. Nautilus is located in Moindou, 10 kms from the village of La Foa and 20 minutes from the village of Bourail.
Things to do:
Ayurvedic and energy therapeutic massages on site.
Moindou Coal Mine
Fort Téremba
Bookings: phone +687 796569. Here's their website: http://www.gitelesnautilus.com/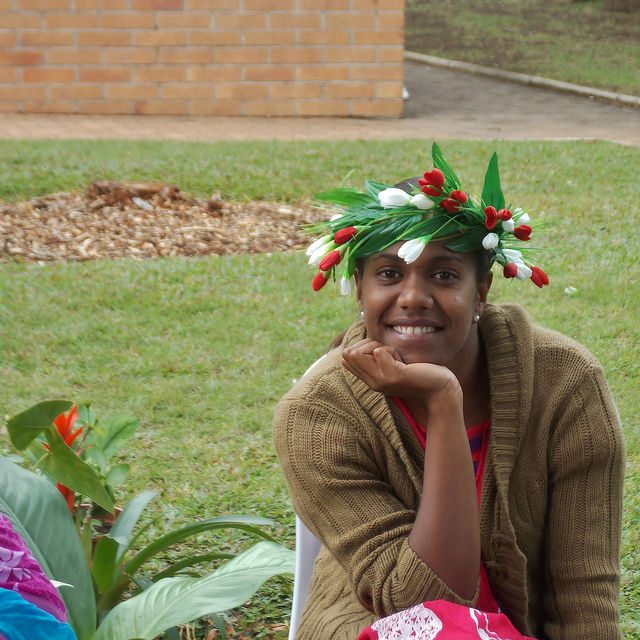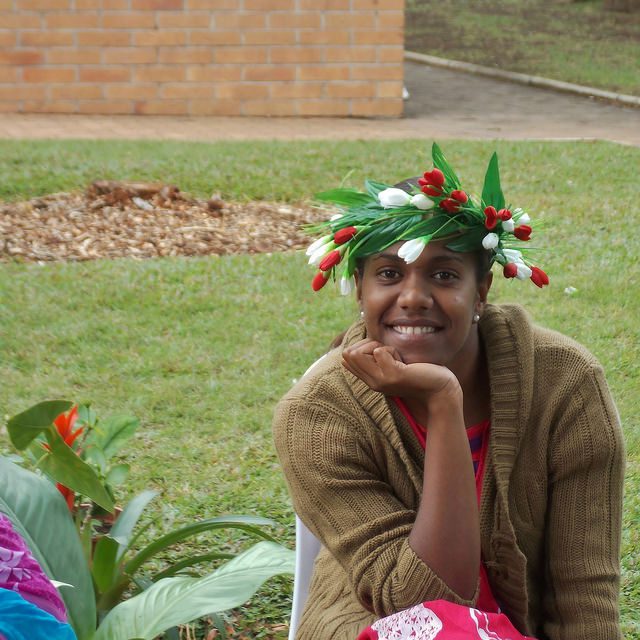 Travel Times: Moindou to La Foa Only 15 min (17.8 km) via Route Territoriale 1/RT1
A. Tribe of Yes Poin in La Foa
To Book: Phone: (00 687) 35 45 22, Mobile: (00 687) 95 57 44
B. Tribe of Oua Tom – Chez Marie-Georgette in La Foa
Includes meals on site: Table d'hôtes. On a sealed road just 5 minutes before La Foa.
To Book: Phone: (00 687) 44 38 17 or Mobile: (00 687) 94 68 01
More Information about Tribal Homestays: https://leguide.nc/hebergement/accueil-en-tribu
Travel Time: La Foa to Bourail only 20 minutes to Bourail.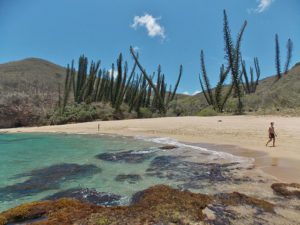 This friendly boutique guest house includes thatched garden bungalows near a beautiful beach. Spend time fishing and swimming. Meals are cooked on-site. Some bungalows have shared facilities. Also read: 5 Authentic Places to Stay on Your Dream New Caledonia Holiday>>
5. Gîte du Cap in Bourail
Holiday home – hire the whole house.
Travel Time: Bourail to Voh 1 h 44 min (140.3 km) via Route Territoriale 1/RT1
6. Le Gîte du Koniambo in Voh
Popular 3 star bungalows on a friendly farm. Enough room for families. Horseriding is available on the farm. Breakfast costs extra but there's a restaurant on site. You can take ecotours and boat tours from here.
Travel Times: Voh to Koumac 50 min (71.2 km) via Route Territoriale 1/RT1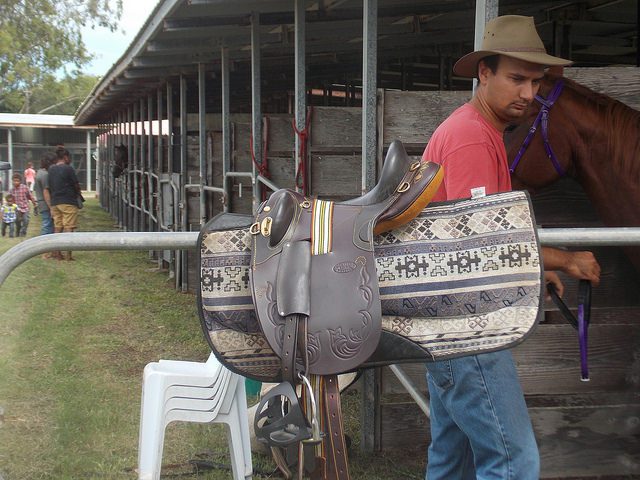 7. Gîte de Tenjai in Koumac:
Very friendly hosts welcome you to a stylish bungalow for two in the bush with a pool, AC, and kitchenette. Breakfast extra. Relax at the nearby white sand beach with clear azure water.
Book at their website: https://gite-de-tenjai.webnode.fr/
Travel Times: Koumac to Malabou 36 min (42.9 km) via RPN1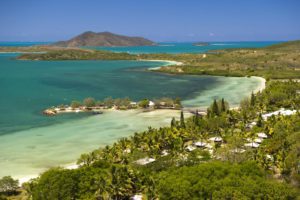 8. Malabou Beach Hotel, Malabou, 3 Star Hotel:
Get up close to the lagoon at this 3 star hotel. Incredible location on a beautiful lagoon with crystal clear water and white sand beach. Small but lovely pacific design bungalows with indigenous carvings. Swim at the beach or the pool. Lots of free activities: kayaking, mini-golf, tennis, table tennis. WIFI, restaurant. Choose from bungalows with sea view or garden view. The private villa comes with it's own private pool! 6 hour drive from Noumea.
Travel Times: Malabou to Poum only 15 minutes (13.0 km) via RPN1
9. Gîte Kejaon in Poum:
Marvel at the beautiful beach location and crystal clear waters – just perfect for swimming. Friendly family-run gîte and camping site. Very simple wooden bungalows and a few mozzies so bring your mosquito net and insect repellent. Amazing food cooked on site: French and Vietnamese. This is a treasure of a place to stay that you'll never forget.
Book your stay on their website: https://kejaon.wordpress.com/


Travel Times: Poum to Le Relais de Poingam 29 min (27.8 km)via RPN1
10. Le Relais de Poingam Gîte, Northern Province
Down a dirt track you'll find gourmet food on a remote beach! Small simple thatched bungalows and camping with an awesome restaurant. Swim in the salt-water pool, hike through the forest. FYI: Bathrooms are 'open-air'. Read more: 5 Unique Places to Stay in New Caledonia>>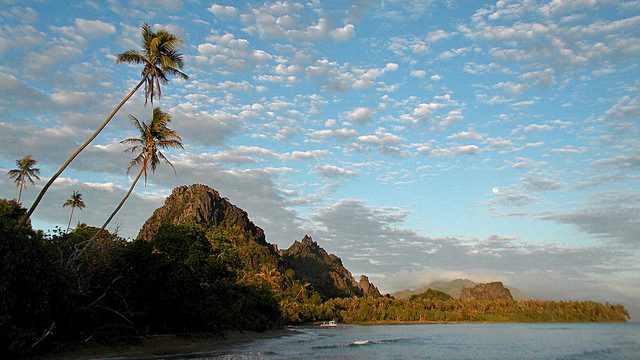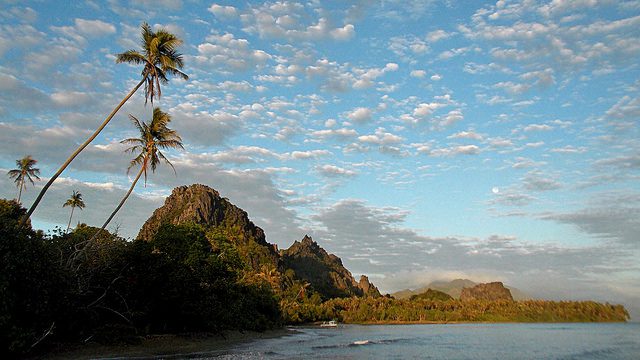 Travel Times: Le Relais de Poingam to Pouébo 2 h 8 min (132 km) via RPN1 and RPN7.
11. Relais de Ouane Batch, Pouébo
Lush tropical vegetation line this coast and you're deep in friendly Kanak territory. FYI: Always ask first before taking any photos. This relais offers very simple bungalows and camping sites by the beach in an incredible wilderness location. The welcoming owners speak English and create a delicious buffet meal for guests every evening. Swim and snorkel on the nearby reef. Expect insects and mozzies and friendly pigs!
Book by phone: +687 42.47.92 or Facebook: https://www.facebook.com/OuaneBatchPouebo/
Travel Times: Pouébo to Hienghène. First to Mont Panie: 36 min (32.8 km) via RPN3. Mont Panie is New Caledonia's highest spot, then take the Ouaiéme River car barge and continue onto Hienghène. On the way stop at Beldevere for a view of Hienghène Bay and Hen Rock.
12. Gîte Koune wé Fouinbanon, Hienghène Reservation at 427051
On the beach in Lindéralique tribal territory with the cliffs on one side and white sand beach and coconut trees on the other. Beach bungalows on stilts for 1 to 5 guests. Delicious meals cooked on site. Swim, kayaks available to hire and visit the local cave.
To book: Phone Mr Hugo Bouaoui: 53.37.32 or 42.70.51. E-mail: kwf.daralik@hotmail.com
Things to do in Hienghène: http://www.hienghene-tourisme.nc/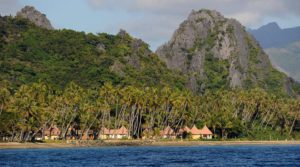 Bonus:
If you're missing your modern comforts then try 3 star Hotel Koulnoue Village Beach Hotel 5 kms from Hienghéne. You can organise tours of the lagoon and cliffs at the hotel. Book here>>
3 star Ka Waboana Lodge is in Hienghéne. Character treehouses on a slope by the sea with steps to climb. Amazing snorkeling nearby. Book here>>
Travel Time: Hienghène to Poindimié is: 1 h 16 min ( 73.2 km )
13. Hotel Tieti Beach Hotel – north of Poindimié
Best for: the Real New Caledonia, Pool, Beachfront, Diving, Tribal Visit
Overlooking the Coral Sea this beachfront hotel offers free breakfast buffet, heated swimming pool and many activities. Traditional thatched bungalows in Pacific Island style – ask for one at the seashore.
Not a white sand beach but Poindimie is a top spot for diving and snorkelling and you can hike and bike near the hotel. Organise diving with the hotel. For a tribal visit, fishing, kayaking, boat out to the island Ilot Tibarama and a chance to learn survival skills ask the hotel or contact Alain of Brousse O'thentik directly at: brousseothentik@hotmail.fr
14. Gîte Newejïé – inland from Poindimie. Tribe of Ina.
A peaceful nature getaway near the beach, river and forest. Simple wooden bungalows, internet access and a good kitchen. Must do: dive or snorkel to view amazing coral at beautiful offshore Tibarama island.
To Book: Phone +687 42.70.74
15. Oasis de Tendea, Farino (forest). Best for: Forest, hiking
Four beautifully handcrafted bungalows set on a forested slope by a river. Each bungalow has a kitchen and a deck overlooking the beautiful lush scenery. Maximum 4 people per bungalow. Nearby is a water hole for swimming, a short walk to a waterfall, mountainbiking and the magnificent UNESCO listed Giant Fern Park: Parc des Grandes Fougères.
Must do in September: the famous Festival of the Bancoule Worm!
Book here: https://www.resa.nc/farino/oasis-de-tendea/tabid/1571/offreid/858809e8-c60a-4ff5-95c1-d13b74bcc55d
Bonus!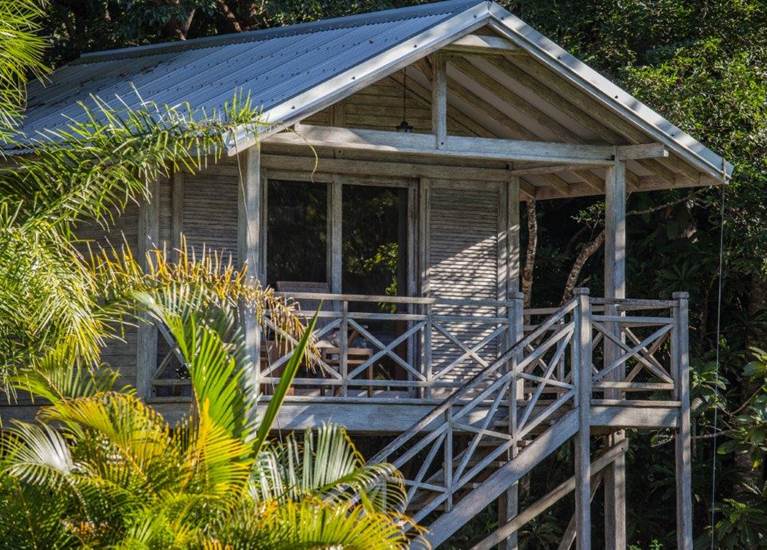 Farino Lodge in Farino: Treehouses
Just 11 minutes from La Foa you'll find stylish Farino Lodge with Treehouse accommodation set on a working farm. Accommodation for 1 to 6 people. Includes a pool. Things to do nearby: Ouano Beach, Parc des Grandes Fougeres, Fort Teremba, and Farino Market.
Book here: https://www.resa.nc/farino/farino-lodge/tabid/1571/offreid/0117e7d6-f522-4f55-b4b1-55b9cb9f1efc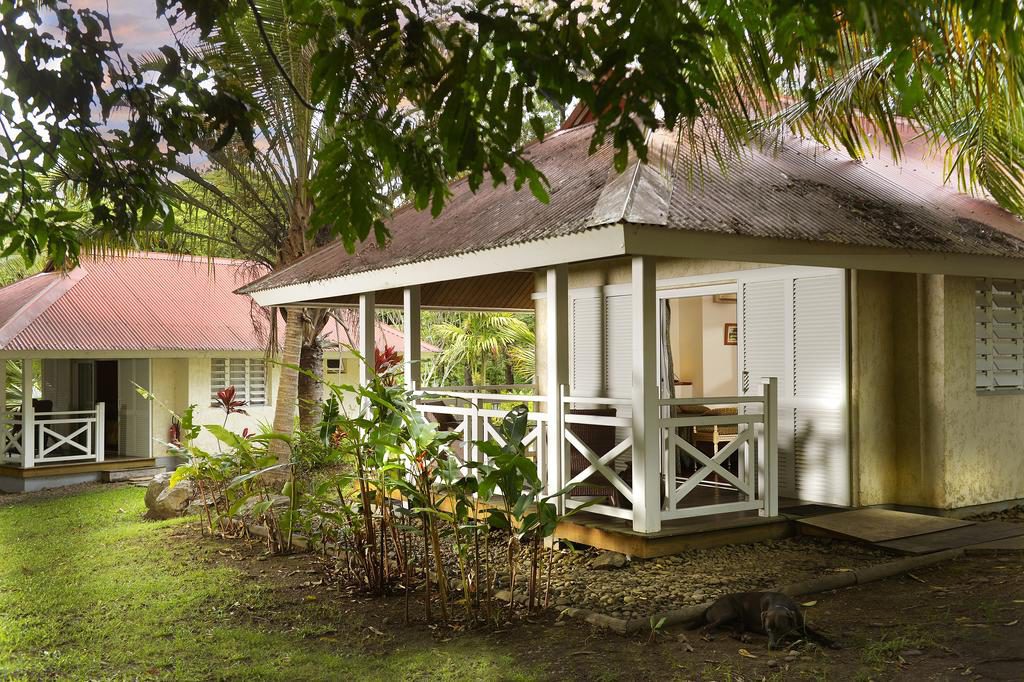 Hotel Evasion, Sarramea, 3 stars
Plantation style bungalows in the forest by a river – a perfect location in the mountains for walks and fresh air. Each bungalow is one bedroom with a double bed so suited to couples. Don't miss the Giant Fern Park. Sarraméa is a cool little village. Eat well at on-site Rock Restaurant, enjoy the pool and relax on your own veranda.
Resources:
Featured pic: Thomas Ballandras Flickr Creative Commons
Now it's Your Turn: Have any questions or comments? Feel free to comment below…