Now we're at the 'Save' part of 'Where's the best place to stay in Sydney?'. Here we've unique places to stay that are more dash than cash! So you've more money to spend on eating out and exploring the city.
FYI: if you're craving some 5 star luxury then click on Part 1 for Splurge options here.
Let's look at some wonderful places in vibrant Chinatown, Camperdown in the cool inner West, upmarket Chatswood in North Sydney, and venture out of the city to stunning Pittwater. Some of these options from Homeaway give you more of an authentic 'live like a local' experience. So let's check out unique holiday accommodation in Sydney that's gentler on your wallet!
Astrology, Boutique Hotel, Boathouse, Tiny House, Historic Cottage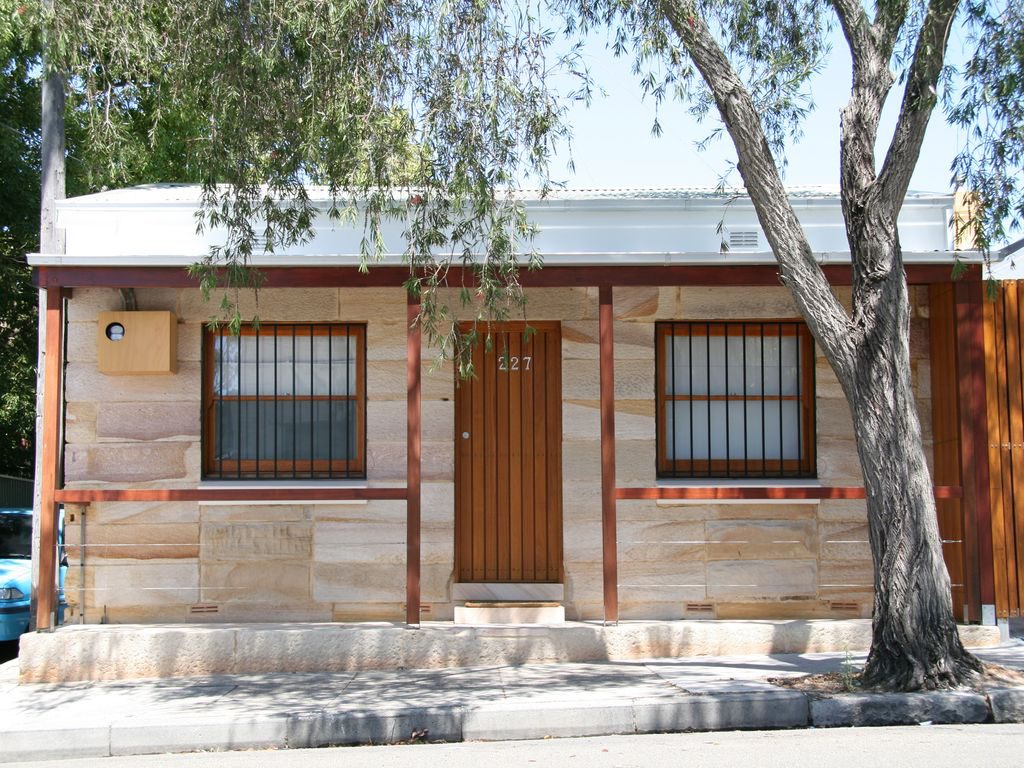 Australia Street Cottage – Homeaway $$
Camperdown is one of Sydney's inner west suburbs. You're only 4kms from the CBD but you're in a small friendly community. Many of the historical mansions and cottages are beautifully restored, including Australia Street Cottage. The bus service is excellent and you're a few minutes walk to the train station for trips to Circular Quay, the beaches and beyond, green parks nearby, and a 4 minute walk to lively Newtown – with a busy bar, restaurant and cafe scene, and cinema, gyms and shops.
What's in the Cottage?
Australia Street Cottage dates from 1858 with distinct orange block walls made from Pyrmont sandstone quarried by convicts in the 1800's. Today, this unique and vintage cottage is beautifully and tastefully restored with modern design and touches of historic architecture. The kitchen and bathroom are contemporary and the furnishings are stylish and comfortable. You'll feel right at home!

Your friendly Homeaway hosts are happy to give you more information about the cottage and the area. This one-bedroom cottage can accommodate up to 4 guests with a queen bed in the bedroom and a sofa that rolls out to a queen bed in the lounge. The cottage is suitable for one or two adults or a small family. You have a small sunny courtyard for outdoor dining and relaxing. Free WIFI, 15 minutes taxi or Uber from the airport. Everything you need; washer, dryer, TV, Linens provided. FYI: Minimum 4 day stays required.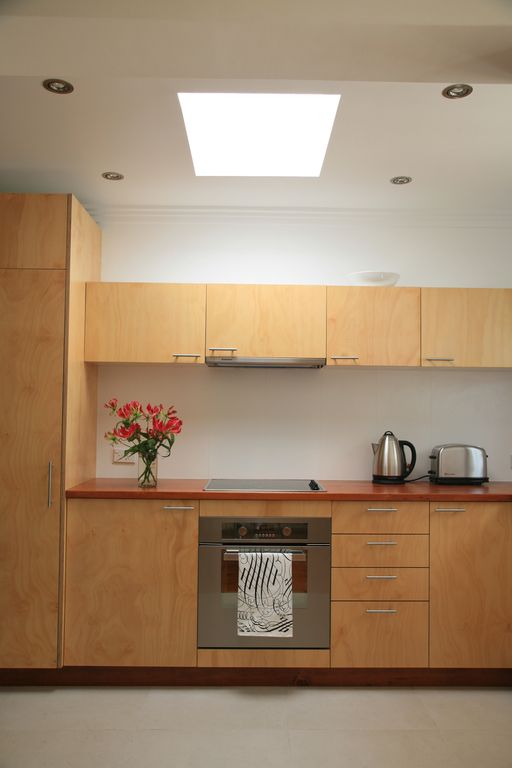 Australia Street also has cafes and pubs so you don't need to venture far for sustenance but it's a peaceful area so you won't be disturbed by noise. You're also close to Sydney University and the Royal Prince Alfred Hospital.
Conclusion: Live like a local in this authentic and immaculate cottage in Sydney's inner west.
Now let's head to bustling Chinatown…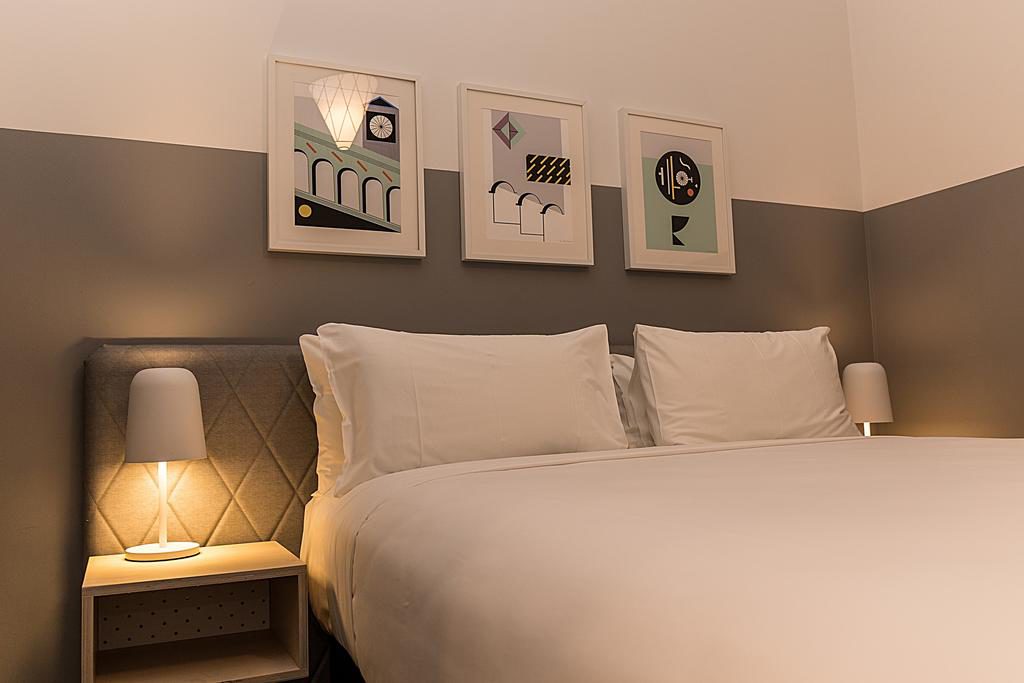 The Ultimo Boutique Hotel $$ – Hip with Location
Chinatown is an exciting part of Sydney's CBD that offers amazing food any time of the day and late into the night (south of Sydney's CBD). Malaysia Laksa, Chinese Dumplings, Korean BBQ, Thai Pad Thai, Chongqing noodles and oh so much more!
The Ultimo is an elegant boutique hotel set in bustling Chinatown, originally built in 1911 as a fresh fruit market! Today you'll find a fantastically restored and popular hotel with a wonderful secret!
What's the Secret?
You can book a room here and find out how the stars and planets predict your future with one of The Ultimo's Astrology Packages. There's also an Astrology Library for quiet contemplation and an Astrolo-Tea just for your sign of the zodiac! Spend time with the hotel Astrologer and learn more about your past, present and future.
The Ultimo is affordably priced (under $200) with good sized rooms for 1 to 4 people (and you get to choose the bed layout). Free WIFI, Barista Coffee Station. Easily walk to the Capitol Theatre, Darling Harbour, Powerhouse Museum, and the CBD. Make sure you book the super cheap and delicious breakfast at The Ultimo. Naturally you'll also want to experience the fantastic food and atmosphere of Chinatown:
Mamak Malaysian Restaurant – satay, laksa and other Malaysian specialities.
Noodle King – affordable handmade noodles, dumplings and congee.
East Ocean – traditional Chinese dishes in a bustling dining hall.
Chat Thai – hip, popular and delicious.
Din Tai Fung – popular global dumpling restaurant.
Marigold – classical Cantonese including Yum Cha. A Chinatown institution!
Food Courts: Dixon House, Sussex Centre, Market City Foodcourt – with oodles of options and great prices.
Conclusion: Book this popular boutique hotel in the heart of Chinatown for an affordable Sydney break and a glimpse into your future.
Now let's head north to upmarket Chatswood…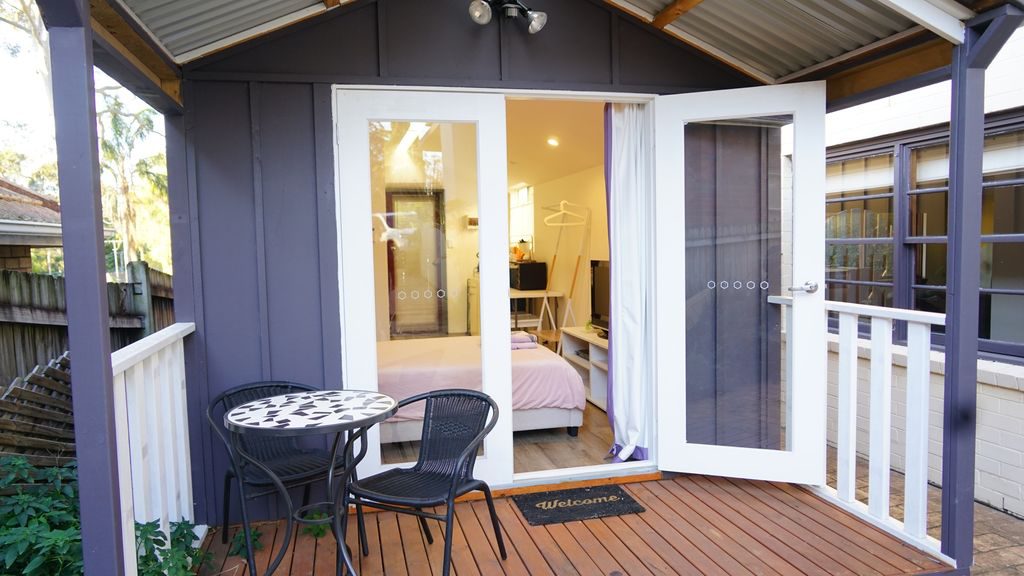 Boutique Self Contained Tiny House – Homeaway $
Head over the Harbour Bridge from Sydney's CBD and 10kms north in the upscale and leafy northern suburbs you'll find the Chatswood business district and this super affordable tiny house. Not just all business Chatswood offers excellent cafes, amazing Asian restaurants, e.g. Khao Pla Thai eatery, lots of shops, plus art and culture at the Concourse. You're close to the amazing northern beaches – read on for the list. FYI: From the airport you can catch a train to Chatswood.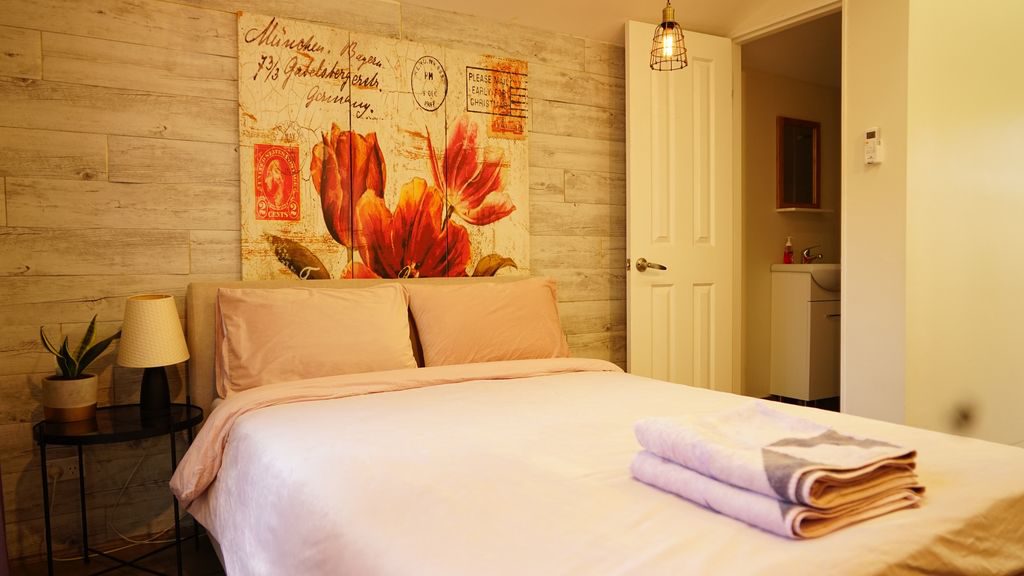 This budget-friendly stylish cabin aka Tiny House offers a comfortable stay for solo travellers or a couple. The cabin has an en-suite, wifi, air conditioning and all linens are provided. You have access to a kitchen and washer and dryer. Out on the quiet deck you can relax with a wine or cuppa. Or grab your towel and swimsuit and head to a beautiful beach…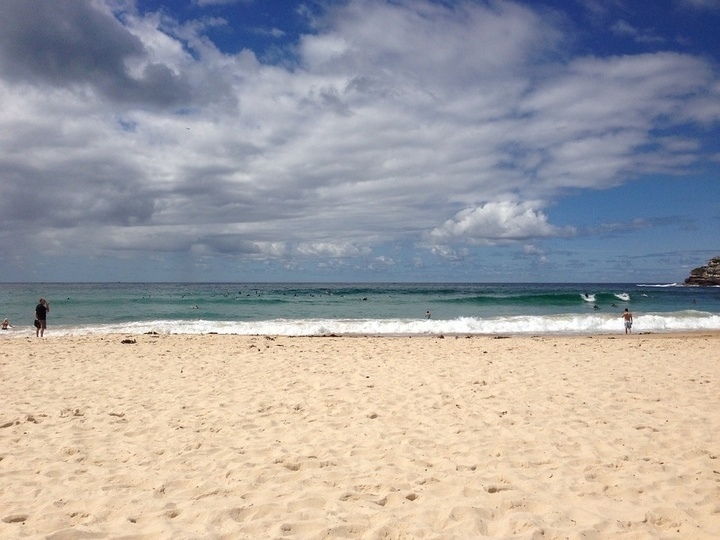 Why not venture beyond Bondi and Coogee Beaches and discover these beauties on the North Shore?
Balmoral Beach – cafes, gorgeous white sand, calm waters, can get crowded.
Chinamans Beach – not sure about the name of this beach but it's never crowded, ocean but not big waves, green park nearby, lots of water sports. Picnic spot.
Freshwater Beach – sheltered cove, swim in the sea or the ocean pool, picnic, relax.
Echo Point Beach – this is Ku-ring-gai park's only beach, includes a park for picnics, mangroves, walking tracks and playgrounds.
Narrabeen Beach – stunning and never busy, waves for surfers, lagoon for calmer swimming, cafes nearby.
Conclusion: Don't miss this super affordable 'tiny house' on Sydney's northern suburbs.
Now let's escape to blissful Pittwater before we head back to Camperdown…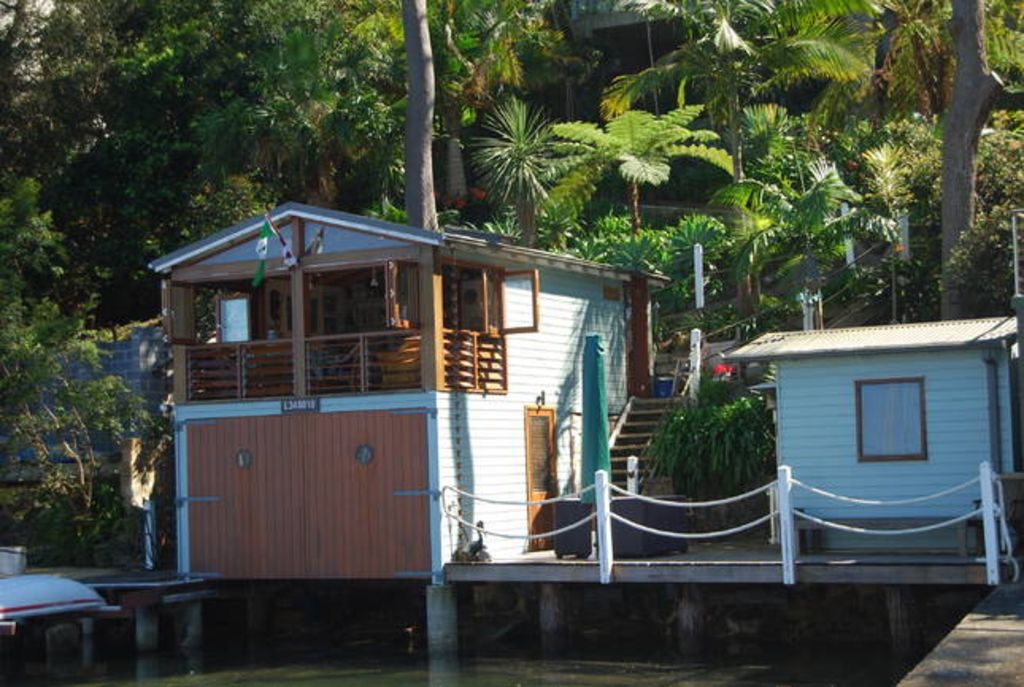 Salacia Boathouse, Pittwater – Homeaway $$1/2
Although a bit more expensive the Salacia Boathouse is a real bucket list place to stay. Sleep in your own little boathouse right on the water's edge with a jetty for dining and launching your kayaks. Escape the city and explore the beautiful Pittwater waterway – you're sleeping right on it. How cool is that!
The Pittwater Estuary is sandwiched between the majestic Ku-ring-gai Chase National Park (a must see) and the beautiful Northern Beaches. The waterway is adventure central for swimming, fishing, kayaking, SUP boarding, sailing and soaking up the atmosphere.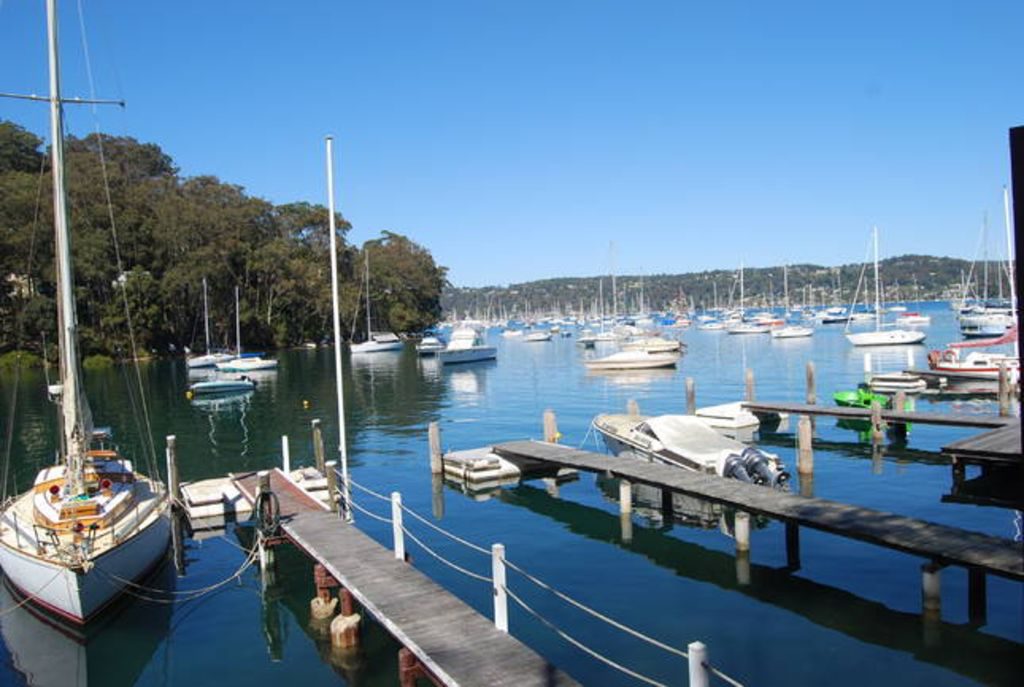 The Layout:
Salacia Boathouse is open plan accommodation on Refuge Cove with lots of attention to detail and friendly hosts. Designed in a holiday nautical theme there's bedding for 3 people: a double bed and bunk bed above for a child. It's a small space but you've got everything you need: kitchenette and microwave, fridge, dining table looking out at the view, lounge, TV, CD, air conditioning, and a bathroom with toilet and shower. Breakfast is also included.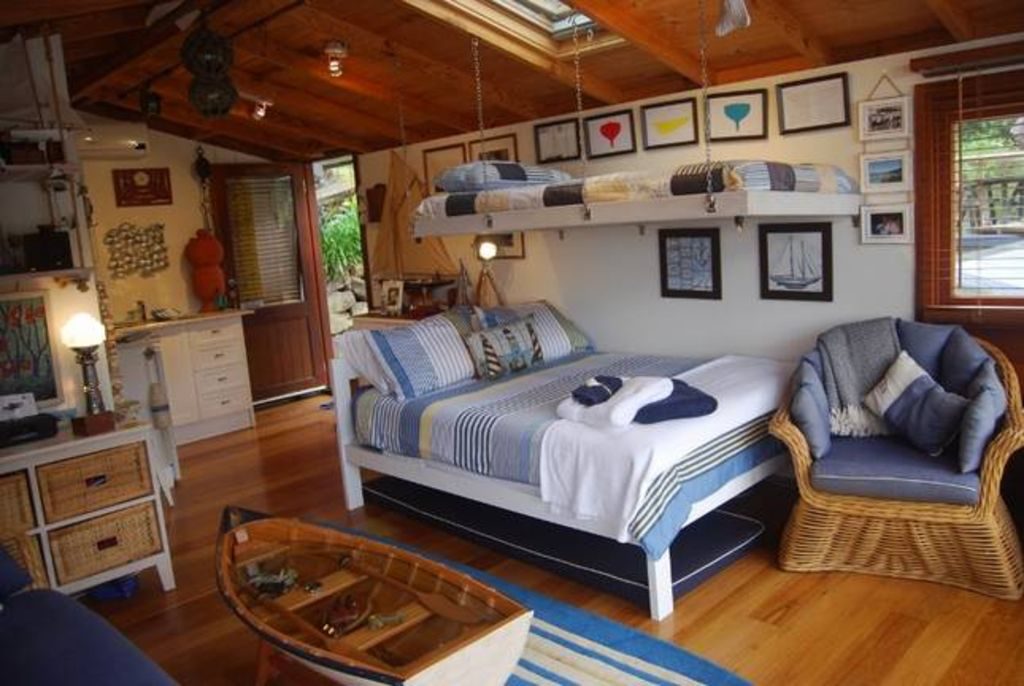 Relax on the Jetty:
Out on the deck is a comfy and contemporary dining set with BBQ and beautiful views out over the cove. In winter the boathouse is warm so you can visit this gem any time of the year.
You can arrive by car or boat but you've got quite a few steps down from the road so don't bring too much luggage! This is an opportunity to relax and unwind in paradise! If you want to venture a bit further you can take the scenic drive to nearby Avalon Village for cafes, shops and beach.
Guests rave about the boathouse: "A summery afternoon with all the windows in the boathouse open and the breeze blowing through – absolute bliss! "
Conclusion: If you're looking for a seaside oasis then the Salacia Boathouse is perfection.
We're leaving paradise for some cool digs in Camperdown…
The Collectionist Sydney $1/2 – Quirky & Cool
This boutique hotel in Sydney's inner west epitomizes eclectic and quirky at a great price. Each room is designed individually in unique styles but comfy at the same time. There's no reception so you check yourself in, if you need help the friendly hosts are only a phone call away. Under $200/night studios.
FYI: we're back in Camperdown so you've got buses and train nearby, shops and restaurants in Newtown only 5 minutes walk away. Sydney University is very close too.
At the fun Collectionist you get high speed internet, air conditioning, private bathroom, balconies for outdoor living, luxury bedding and kitchenette in some of the studios. The studios accommodate 1 or 2 people and you can choose doubles or singles – great for couples or travelling friends!
Conclusion: Quirky, cool and location at a fabulous price!
Click here for: Where's the Best Place to Stay in Sydney: Splurge Vs Save Part 1
Now it's your Turn!
If you enjoyed this post, I'd be very grateful if you'd help it spread by emailing it to a friend, or sharing it on Twitter, Facebook or Pinterest. If you'd like more information feel free to leave your comments below. Thank you!