Want a holiday with adventure – tick. Want the freedom to go where the fancy takes you – tick. Welcome to a Jucy Campervan New Zealand adventure. Travelling in a campervan is a fun way to see New Zealand with the flexibility to go anywhere you want with everything you need.
Imagine meandering through the Coromandel Peninsula and you come across an idyllic beach (one of many!), you can stop for a gourmet picnic lunch prepared in your onboard kitchen. When it's time for a siesta relax on your camper bed for a peaceful snooze. Bliss!
I'll describe the features of each campervan, who they're suitable for, and compare the range (with a comparison table) so you can choose the right campervan for your dream trip.
---
Who are Jucy?
Started by two New Zealand brothers, Dan and Tim, who come from a family of travel entrepreneurs. Dan and Tim wanted a campervan business that "gives you the green light to (re)discover happiness and fun. They also want experience seekers (that's you!) to have the adventure of a lifetime". The bold green campervans create a club of like-minded adventurers when you're out on the road.
---
Take a Video Tour
---
What each Jucy Campervan New Zealand Includes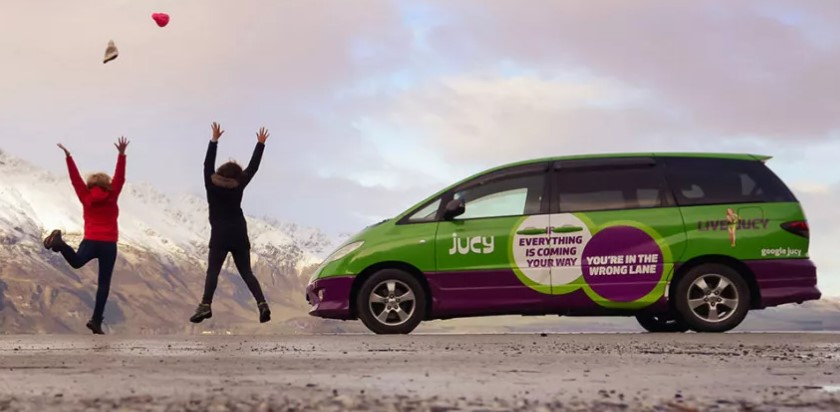 Cabana for Couples
Best for – 2 Seatbelts, solo travellers, couples, budget, not self-contained so stay in campgrounds, short trips.
The Cabana is designed for campground stays which means you can enjoy facilities like full kitchens, BBQs, pools, and trampolines. You get to meet fellow travellers and swap stories. There's nothing like 'word of mouth' to learn the best travel tips.
I did a quick search for the cost of powered sites at campgrounds around New Zealand and Top 10 Taupo can cost up to $90 per night in peak season, while a remote campground in Colville in the Coromandel can cost around $17 per night.
Expect to pay somewhere between these prices, depending on the location and facilities on offer. You pay more for the Top 10 parks dotted around NZ because they offer a higher standard and excellent facilities.
What the Cabana Includes
---
The next two campervans are self-contained. The Condo has a cassette toilet and basin, while the Chaser has a toilet, basin, and shower.
---
Chaser for Freedom Camping
Best for – 3 Seatbelts, Solo, Couple, Family, Small Group, Freedom Camping, Campground, Short and Long Trips, Budget Travel (save $$ if you freedom camp), Only camper with Shower
The Chaser is designed for travellers who want a bit more space with the option to stay at campgrounds or to freedom camp with a shower onboard, so longer trips are more comfortable. Suitable for solo, couples, families, or a group of 3.
What the Chaser Includes
---
See this great map of freedom camping sites in New Zealand
https://jucy.rankers.co.nz/filters/jucy-campgrounds.
---
Condo for Freedom Camping and Kids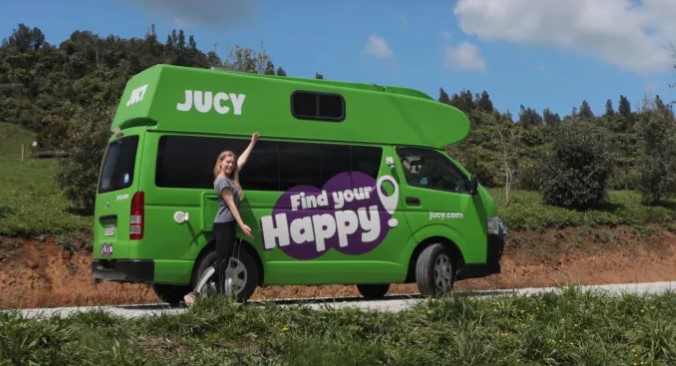 Best for – 5 Seatbelts, Family, Group, Kids, Freedom Camping, Campground, Short and Long Trips, Budget Travel (save $$ if you freedom camp), Spacious Kitchen, USB Ports, only camper with space for 2 car seats or baby capsules
The Condo is designed for families with children or a group of friends. No shower but you do have a cassette toilet. You can always buy a cheap camping shower for your adventures. Here's a link to The Market's range of affordable camping showers.
The Condo also includes the JUCY BurgerFuel Campervan.
What the Condo Includes
---
Campervan Comparison

---
FAQs
1. Jucy offers a range of compact campervans with automatic transmission that make them easy to drive.
3. Insurance includes three options with varying levels of coverage: Risk-taker, Stress-Free (most popular), and Stress-Free Plus.
4. Security bonds are required for the use of debit cards.
5. You can also hire cars from Jucy including an 8-seater van for the whole whanau, a compact SUV for comfy trips, and an affordable small hatch.
6. Campervan and Car Rental Locations are at Auckland Airport, Queenstown Airport, and Christchurch Airport.
7. Jucy now also offers Mercedes-Benz Sprinter Motorhomes, 4 and 6 berth. These are larger and self-contained. Rental locations are at Auckland Airport and Christchurch Airport.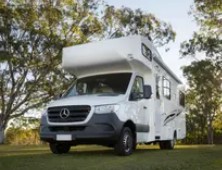 ---
Top Travel Tips
Check out Jucy's Relocation Page and the Promotions Page for special deals and prices depending on the season. If you have the time relocation deals are unbeatable, for example driving a campervan north to Auckland for $1 a day! Be quick – these deals get snapped up!
Jucy recommends you take your clothes and personal items in a soft bag, not a big suitcase. These will fit better in the campervan.
Pack sunscreen, insect repellant, torch (flashlight), clothesline, drink bottle, first aid kit, and your driver's licence (essential)
For the kitchen bring dishwashing liquid, rubbish bags, containers for leftover food
Download Google Maps so you can access directions offline. You can also hire a GPS from Jucy
Bring an AUX cord so you can attach your phone to the stereo and listen to your own music
---
Wrapping Up
I hope you've sorted out which Jucy campervan New Zealand is the right one for you. Jucy Campervans are a great way to travel around New Zealand and discover all the secret spots….The vehicles are easy to handle, economical to run, and a lot of fun to drive.
---
SEE QUIRKY PLACES TO STAY