Discover unique and affordable places to stay with this list of Tiny Houses Big Island Hawaii. There's something for everyone in the rainforest with a mix of off-grid jungle cabins, yoga retreats, tropical stays, and little cottages with beds from 1 to 6 guests.
The Big Island is a popular destination for adventure and nature lovers, with two magnificent volcanoes – Kilauea and Maunaloa and the surrounding cultural and geological landscapes (source). So take sturdy walking shoes for hiking on the sharp lava and warm clothes for the cooler mountain evenings.
Type of Accommodation: Tiny House
Location: Big Island |  Hawai'i
Price Range: $ – Cabin/Hostel | $$ – Budget | $$$ – Mid-range | $$$$ – Luxury
Links are to: Booking.com and VRBO | Prices can vary depending on the season.
This post may contain affiliate links. As an Amazon Associate, I earn from qualifying purchases. See Affiliate Disclaimer.
---
1. Tiny Orchid House, Ocean View, $$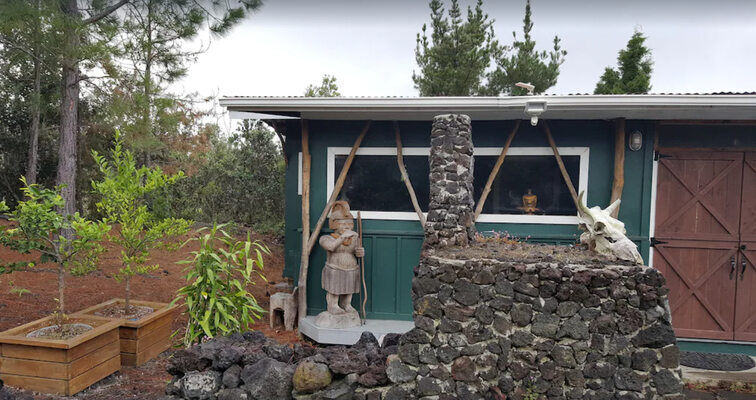 Off-grid mountain sanctuary with fruit and vegetable gardens, near the green sand beaches. Relax in the cozy lounge, enjoy cooking in the kitchen, and dine al fresco on the deck.
Refresh in the invigorating outdoor shower, serenaded by birdsong, and gaze up at the star-studded canopy at night. This intimate retreat is the perfect escape for two. See more at VRBO
What's a green sand beach? Mixed into the sand is olivine which is a gem from the earth's upper mantle. Olivine is made from ferrous iron which creates a green color!
---
2. Modern Off-Grid Tiny Home, Haleiwa, $$$$
Nestled on a remote farm in Haleiwa, this unique Off-Grid Tiny Home offers the best of both worlds: the peace and tranquility of nature with the convenience of a short drive to town.
The modern 40′ container home is equipped with all the essentials you need for a comfortable stay, including a queen bed, air conditioning, electricity, and Wi-Fi. But be prepared for a truly off-grid experience, as the home relies on solar power and rainwater harvesting.
Spend your days exploring the surrounding area, hiking to waterfalls, swimming in the ocean, or simply relaxing on your private lanai. In the evening, stargaze from the outdoor fire pit or enjoy a meal cooked on the barbecue grill.
The Off-Grid Tiny Home is a great option for travelers looking for a more sustainable and eco-friendly vacation experience. See more at Booking.com
---
3. The Phoenix House – EPIC Tiny Home Gem on Volcanic Lava Field! Kehena, $$$$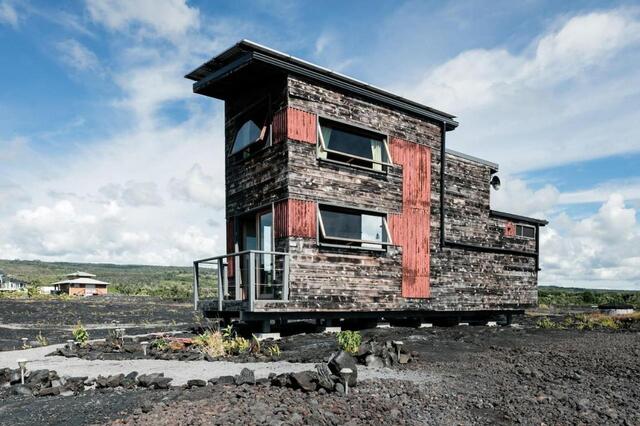 Sleep at the feet of Kilauea Volcano in this off-grid designer tiny house. At The Phoenix House, you're on the Kalapana Lava beds, with everything you need – kitchen, hot shower, free WIFI, and comfortable furnishings.
Managed by a Soul Guide and Medicine Woman, who also offers sound healing, Lomi Lomi massage, yoga, and lots more. Prepared to be amazed! See more at Booking.com
---
Travel Resources
Hiring a car gives you the freedom to explore the volcanoes, beaches, waterfalls, national parks, and jungles of Hawai'i. See Rentalcars where you can compare prices all in one place.
Don't forget travel insurance. VisitorsCoverage will cover your trip to Hawai'i so you're always prepared for the unexpected.
---
4. Red Writers Cottage, Holualoa, $$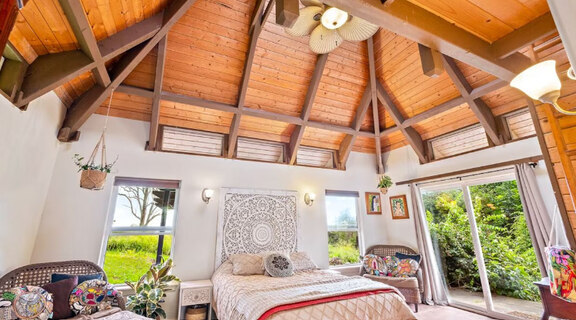 In Kona Coffee Country, in a cloud forest on the slopes of the Hualalai volcano, you'll find four tiny cottages. You're only a few minute's drive from downtown Kailua-Kona.
Red Writers Cottage includes a bedroom and a sleeping loft, with a queen bed in each and bunk beds for up to 6 guests. Children are welcome.
You have a kitchenette, bathroom, lounge, and outdoor dining with a BBQ Grill. Enjoy the outdoor waterfall jacuzzi! Ask your host about the yoga and dance classes.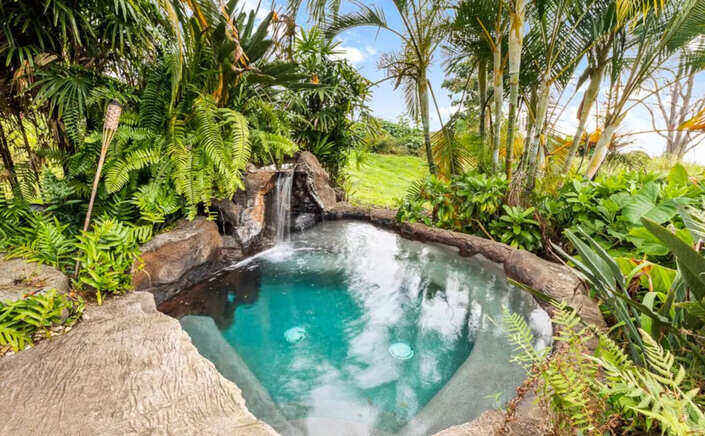 Guest Review
The cottage was adorable, clean, fresh, and tucked in a peaceful location where we were serenaded by birds and frogs and even geckos every morning and night, and surrounded by flowers and fresh mountain breezes.
Book your stay at these charming tiny cottages in Kona Coffee Country. See more at VRBO
---
5. Green Dancer's Cottage, Holualoa, $$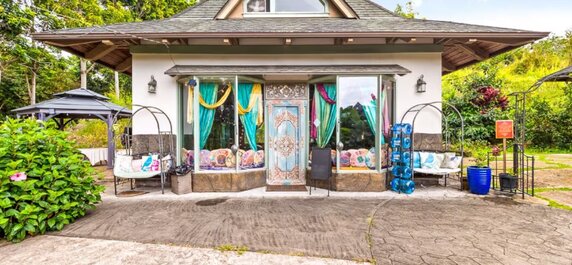 Part of the same 5-acre estate as the Red Writers Cottage. With everything you need for a magical escape!
With 2 bedrooms (one is the loft), a kitchenette, bathroom, lounge, outdoor dining, and BBQ grill. Room for up to 6 guests. Fun for kids. Spa pool, yoga, and dance. Book at VRBO
---
6. The Ohana House, Amazing Tiny Home on A Volcanic Lava Field! $$$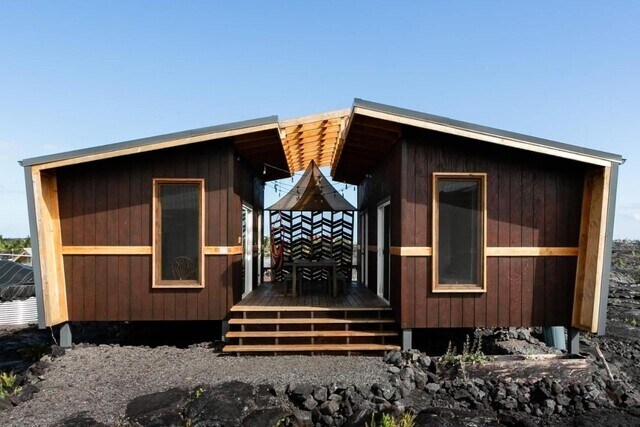 This one-of-a-kind home sits on a volcanic lava field, offering otherworldly vistas that transport you to another planet!
Two tiny pods are separated by a covered lanai that offers a cool outdoor space. Relax in the contemporary indoor spaces, with a kitchen and dining, two bedrooms, and a bathroom.
Managed by the owners of The Phoenix House who offer Lomi Lomi massages, and healing services. This cool tiny home has room for four guests. See more at Booking.com
---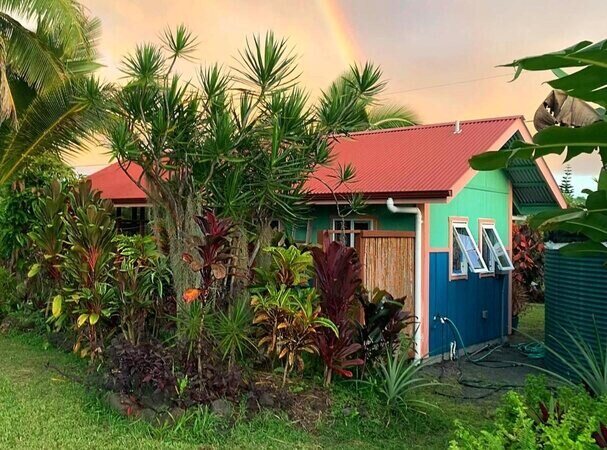 7. Tropical Zen Bungalow, Pahoa, $$
Escape to your own private arty oasis near captivating Kehena Black Sand Beach. Tropical Zen Bungalow is an inviting and eco-conscious cottage amidst lush tropical gardens.
Unwind in the covered lanai, surrounded by the sounds of nature. Prepare a light meal in the kitchenette or cool off in the outdoor shower. Just right for 2 Guests. See more at Booking.com
---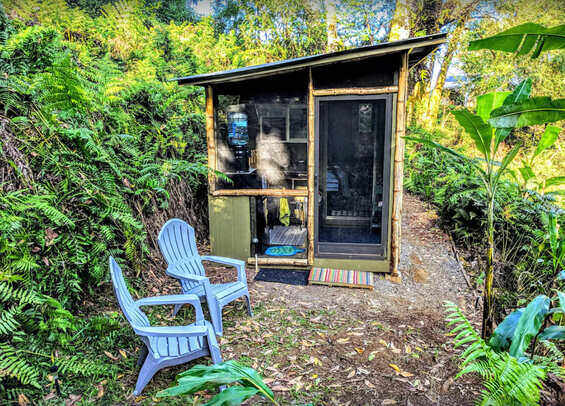 8. River View Rainforest Tiny Cabin, Hilo, $
Escape to a secluded jungle oasis in this cute tiny cabin. Experience the best off-grid living, with solar power, rainwater harvesting, and a private waterfall swimming hole.
The cabin sits in lush tropical vegetation beside a waterfall and swimming hole, with everything you need for a relaxing stay, including a kitchenette, bathroom, and two beds for three guests. Enjoy the fresh jungle air and the sounds of nature. See more at VRBO
---
---
Take a Cool Tour of the River View Cabin
---
Hope you've enjoyed this List of Tiny Houses Big Island Hawaii – see more cool places to stay in Hawai'i: