If you're visiting the Big Island to see the active volcanoes of Kīlauea and Mauna Loa then these Unique Places to Stay in Volcano Hawaii are as close as you can get! Choose from a Forest Cottage, Tiny House on the Lava, Rainforest Retreat and more…
Volcano Village is a quaint place to stay near the entrance to Hawaiʻi Volcanoes National Park, a UNESCO World Heritage site. This rainforest village is a friendly and creative spot with art galleries, restaurants, cafes and rustically cool accommodation. Perfect if you're looking for somewhere authentic to base yourself while hiking the park trails and volcanic landscapes, exploring the archeological sights and the rich rainforest environment….
Travel Tips:
A week's stay in this area will give you plenty of time to explore the park, take a tour and venture further to the black sand beach of Punaluu and the larger town of Hilo.
You'll need to hire a car to explore this side of the island. The temperatures are cooler in Volcano (you're 3,000 feet above sea level) so, even in the summer months bring a warm rain jacket, and warm clothes. You'll have plenty of trails to explore so bring sturdy shoes and a water bottle.
I hope you enjoy listening to the Bird Dawn Chorus at Kīpuka Kī (courtesy of the National Park Service) while you read:
Type of Accommodation: Tiny House | Rainforest Retreat | Country and Bush
Location: Volcano | Big Island | Hawai'i
See also: Bliss out at this Eco-friendly Treehouse in Volcano Hawaii. and more Unique Places to Stay: Cool Volcano Hawai'i Vacation Rentals, Cabins and Tiny Houses
Price Range: $ – Cabin/Hostel | $$ – Budget | $$$ – Mid-range | $$$$ – Luxury | $$$$$ – Super Luxe
Prices can vary depending on the season
1. Volcano Places – Laukapu Forest Cottage
Best for: Handcrafted Holiday Home, Privacy, Rainforest, Couples, Sleeps 2, $$$
This hand-made wooden cottage is the perfect rainforest retreat for a couple wanting seclusion and a chance to explore Volcano. You're 3.5 miles to the entrance to Hawaii Volcanoes National Park and only 1.5 miles to the Volcano Art Centre Gallery.
Laukapu Forest Cottage is light and spacious with one-bedroom and a large comfy bed that is super long. The house includes a fully-equipped kitchen, bathroom, dining area, and lounge. The covered patio is perfect for outdoor dining and lounging listening to the sounds of the jungle.
Things to Do Nearby: Walk the Crater Rim Trail for a close up look of Kilauea, visit the art galleries around Volcano, visit the nearest beach – Punalu'u Black Sand Beach is blessed with coconut palms and turtles. See more Things to Do below…
Good to Know at this Volcano Hawaii Cottage Rental:
---
2. Octopus House – Ocean and Lava View from Off-Grid Tiny House
Best for: Tiny House, Affordable, Eco-Friendly, Sunsets, 'Glamping', Couples, Sleeps 2, $
This is a truly unique stay on Pele's living and moving lava field. Octopus house is off-the-beaten-path in an area called Kalapana Gardens (although it's all black lava with tropical plants miraculously starting to grow through the lava!)
This area was once a Hawai'ian traditional fishing village and black sand beach but in 1990 the lava from Kilauea covered the area. I recommend you read this article in Honolulu Magazine to learn more about this wild place where the residents are called lava dwellers and have made their homes in this amazing environment.
A stay in this off-grid tiny house will give you the experience of a lifetime – a taste of living on one of the most active volcanoes on earth! For another Kalapana Lava Vacation Home – see an amazing Container House in this post here.
Learn More about Lava Living:
You're at the end of the bumpy road so it's recommended you hire a 4X4 vehicle to get to this moon-like environment. The house is fully equipped but keep in mind that the power is solar so keep your showers short, plus you can't use power-hungry appliances like hair dryers, coffee maker or toaster.
Octopus house includes one-bedroom with double bed, bathroom, lounge, kitchen and dining, and fabulous sea and lava views. Watch the incredible sunrises and sunsets from your porch and whales playing in the ocean! You can literally head out from the house for hiking on the lava – but wear sturdy shoes – the lava can be sharp.
Top Tip: bring food, snacks and drink with you because you're a distance from any shops.
Take a Tour of Octopus House:
Happy Guest:
A great base-camp for lava-rock hiking and star-gazing.
Good to Know:
Location of Octopus House:
You're near Volcano but the drive takes an hour because of the landscape. Here's a map to show the way: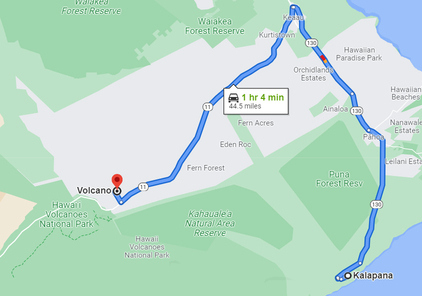 ---
3. Chalet Kilauea – Rainforest Retreat
Best for: Unique Boutique Chalets, Hot Tub, Gardens and Koi Pond, Afternoon Tea, Couples, Friends, Groups $$-$$$
Chalet Kilauea offers unique chalets nestled in Ohi'a and Hapu'u rainforest in Volcano Village. You're near the park entrance, restaurants and a grocery store. This popular accommodation offers tea/coffee making facilities, a microwave and don't miss a soak in the hot tub after a day exploring the volcanoes.
Things to Do Nearby: Drive up the Mauna Loa Access Road to the Lookout area, take a Blue Hawaiian helicopter flight over the Volcano National Park and see the majestic volcanic landscapes from the air. The flight leaves from Hilo – See more about the tour here.
Good to Know at these Unique Places to Stay in Volcano Hawaii:
---
4. Volcano Teapot Cottage – Fairy Tale Stay
Best for: Cute Holiday Home, Gardens, Freestanding Bath, Four-Poster Bed, Breakfast, Couples, $$
This gorgeous two-bedroom cottage is surrounded by delightful gardens and includes a spacious lounge and dining, four-poster bed, freestanding bath and shower in the bathroom, and a sweet patio for gazing at the gardens. Continental breakfast is served daily.
Guests love the country interiors with floral patterns, French-style furnishings, organic textures and pops of colour. The exterior of the house is also architecturally pretty and colourful!
Good to Know:
---
Take a Local Tour:
---
5. Lotus Garden Cottages (Zen-inspired, Gardens) B&B
Best for: 4 Star Bed and Breakfast, Spa and Wellness Centre, Gourmet Breakfast, Hot Tub, Couples, 2 Guests, $$$
Thoughtfully designed, these handcrafted wooden cottages are set in beautiful tropical gardens. This a lovely place to relax, enjoy nature and appreciate life.
Each open-air cottage offers a lounge, kitchenette, dining area, king-size bed and en-suite. The outdoor-covered terrace is a quiet spot to eat breakfast and listen to the morning bird call.
Good to Know:
---
Things to Do in Volcano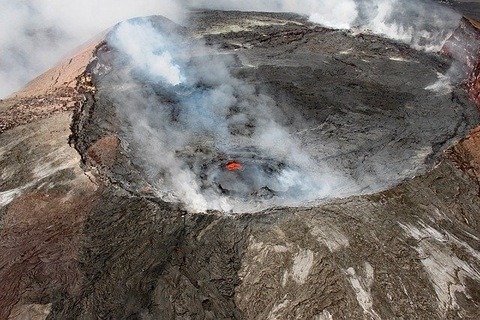 ---
Travel Essentials:
---
Happy Travels!
I hope you've enjoyed this list of Unique Places to Stay in Volcano Hawaii. You might also like: Bliss out at this Eco-friendly Treehouse in Volcano Hawaii. And see more options below…
---
More Accommoation Options in Volcano
---
Latest Accommodation on Staytopia: