Samoa lies halfway between Hawaii and New Zealand. A true South Pacific paradise, life in these glorious islands is guided by fa'a, the traditional Samoan way of life. Today you can experience authentic Samoa by staying in one of the friendly family-run Samoa Beach Fales dotted along the stunning South Coast of Upolu, Samoa's main island.
Type of Accommodation: Beach Fale | Traditional
Location: Lalomanu Beach | Upolu | Samoa
Price Range: Cabin/Hostel $ | Economy $$ | Mid-range $$$ | Luxury $$$$ | Super Luxe $$$$+
This post may contain affiliate links. As an Amazon Associate, I earn from qualifying purchases. See Affiliate Disclaimer.
---
What's a Fale?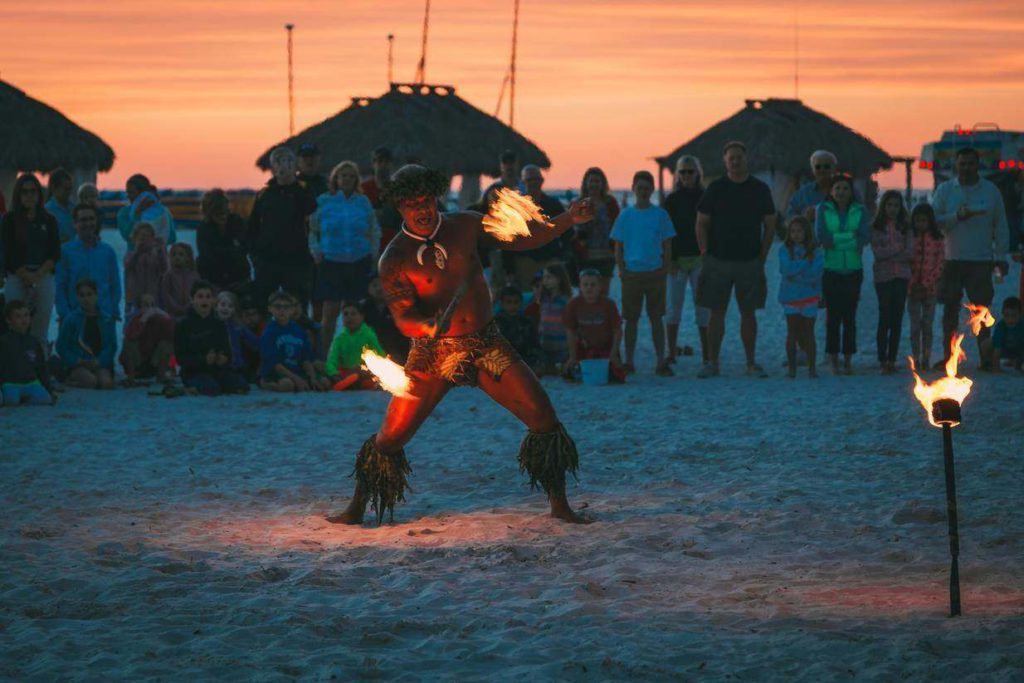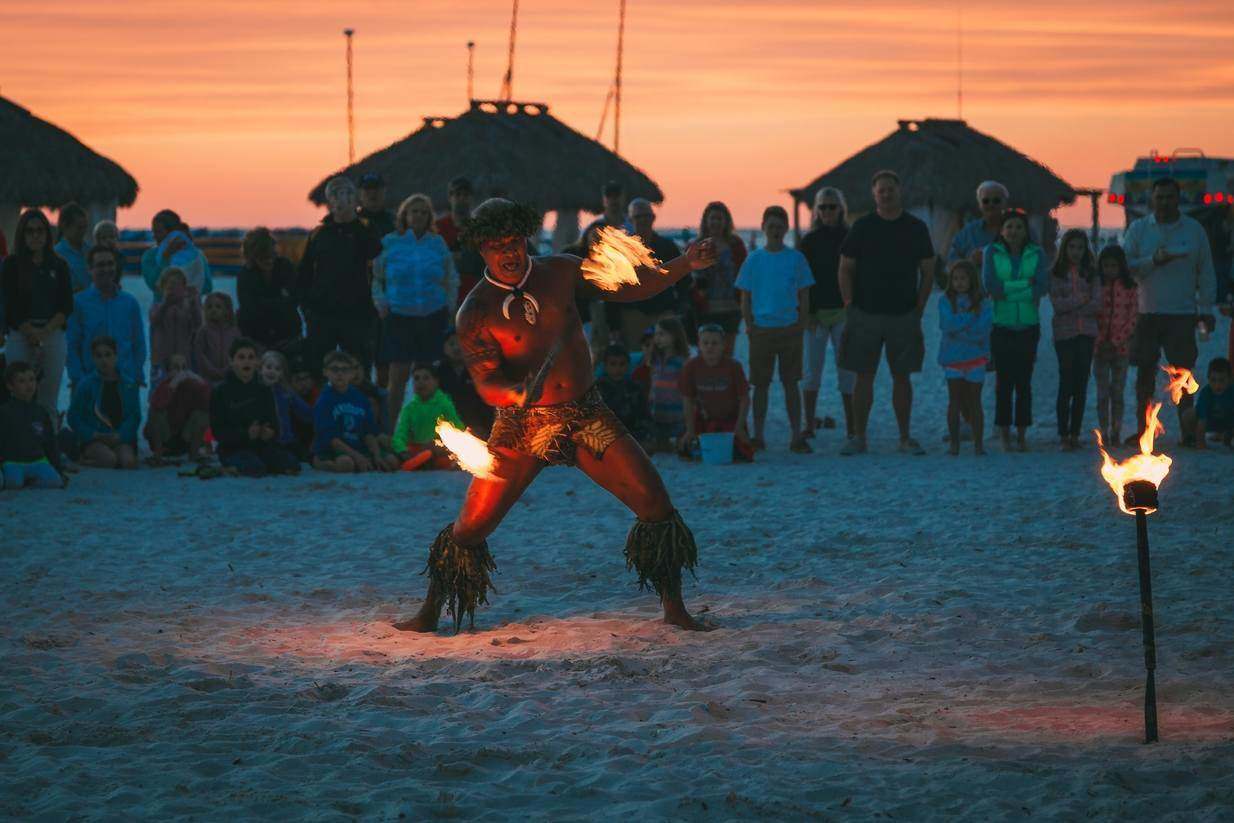 In Samoan, fale means building. Beach fales are usually run by a family and are built with thatched roofs; some with open sides while others are enclosed.
They're low-key, simple, very affordable, and may just be a mattress on the floor of a thatched open fale. But what a unique experience falling asleep to the sound of the Pacific Ocean!
Authentic Fales with Picture-Perfect Views
If a mattress on the floor is a bit too much like camping then you can choose a Fale with walls and a bed. With affordable prices, Fales are popular with adventurous travellers who want to meet the locals in amazing locations. Visitors come for the stunning beaches and stay for the friendly people.
---
When's the Best time to Visit Samoa?
The wet and hot season is November to April
The dry season is from May to October
Cyclone season is from January to March
So the best time to visit is June to September when it's not too hot or wet
---
1. Taufua Beach Fales – Popular – 2.5 Stars $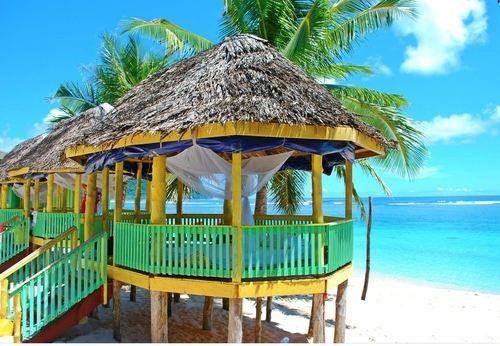 Location: Lalomanu Beach on the south coast of Upolu Island
Best for: Open fales on stunning beach, weekly feasts and shows, friendly, popular
Book: Read Reviews and book at Tripadvisor
If you're looking for a laidback beach holiday, that's gentle on the wallet then Taufua Beach Fales is your perfect match. These colourful fales lie along Lalomanu Beach, the most beautiful beach in Samoa. This is low key and rustic with a lot of character! Solo travellers, groups, and families are all welcome.
You can choose an open sided fale, or if you want more privacy, one with walls. If you adore views then you'll love the clifftop villas. At this friendly family hotel you'll experience authentic island life and feel like part of the community.
Breakfast and dinner are included in the price and all the guests dine together, so you'll meet travellers from around the world. This gives Taufua a genuine communal feel.
In the evenings, the locals put on a fiafia show of dancing and fun and, usually on a Sunday your hosts cook your food in an umu (underground oven).
"You haven't experienced beachfront until you sleep in a beach fale."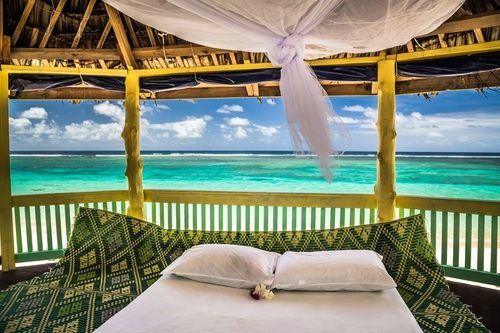 Pick your Fale
Closed Fale Ensuite Mountain View Aircon – up to 3 guests (2 kids) 3 twin beds
Closed Fale Ensuite Mountain View with Fan – up to 3 guests (2 kids) 3 twin beds
Beachfront Open Fale (Mattress on Floor) – up to 4 guests (2 kids) 4 futons
Beachfront Enclosed Fale – up to 3 guests (2 kids) 1 double bed, 1 twin bed
Enclosed Ensuite Beach Fale – up to 3 guests (2 kids) 1 double bed, 1 twin bed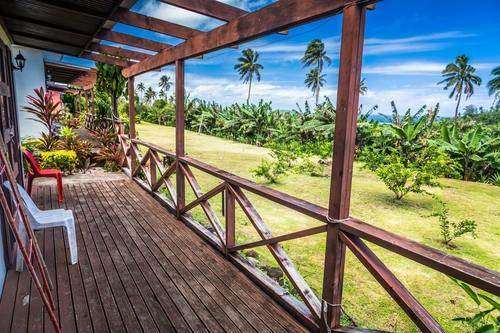 Handy Tips
Free coffee and tea available
Airport shuttle (surcharge) – 1.5 hours from the international airport
Bring your own snorkelling gear
Beach fales have shared bathroom facilities – bring your own towels, shampoo, conditioner, soap and mirror
Fales are close to nature – expect bugs so bring your own mossie net if you can (theirs may have a few holes)
Breakfast and dinner included in room rates
Children welcome
Beds are a bit hard
There's a bar but sometimes they don't have alcohol to make cocktails
Vegetarians are catered for but remind the staff.
Upshot
If you are searching for a traditional South Pacific experience then Taufua Beach Fales is an amazing slice of paradise. Book at Tripadvisor.
---
2. Litia Sini Fales – Attention to Detail – 2.5 Stars $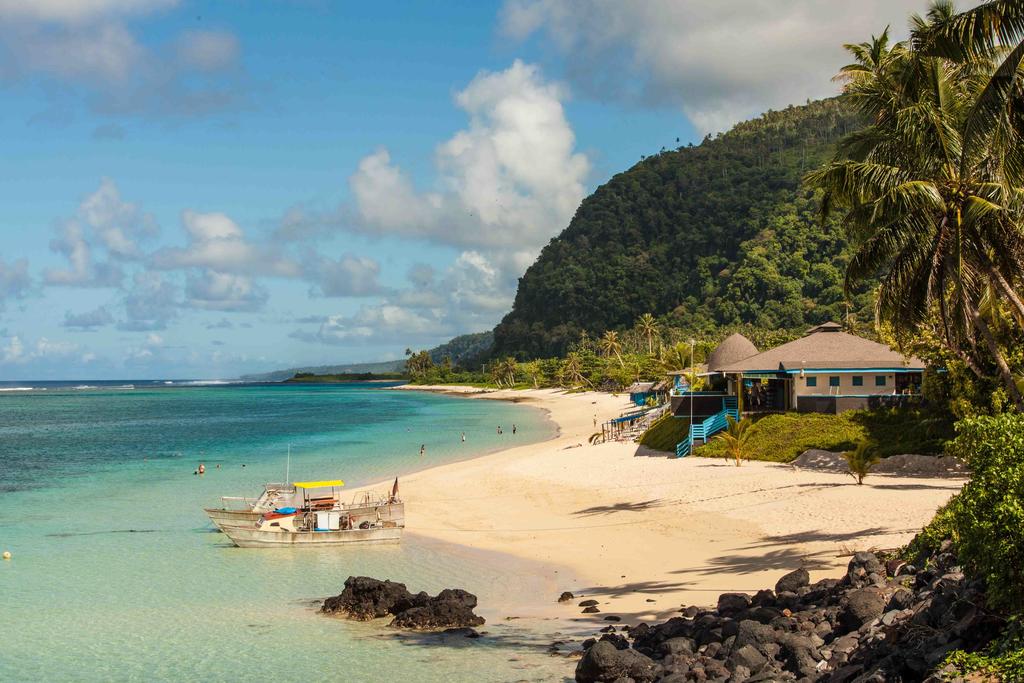 Location: Lalomanu Beach
Best for: Delicious food (special diets catered for), Closed Fales right on the Beach with Balcony, Beds for up to 5 guests
Book: At booking.com for Litia Sini Fales
Litia Sini Fales offers a more upmarket experience. Litia Sini is highly rated on Trip Advisor and is also located on stunning Lalomanu Beach. Sitting above the sand these beach fales are private with walls, windows and ceiling fans for balmy evenings.
Relax on your balcony with a book (or cocktail) and enjoy the incredible ocean views. You'll appreciate your friendly host's attention to detail, with fresh towels and flowers delivered to your fale every morning. You're a short walk away from the two blocks of clean shared bathroom facilities with no waiting times.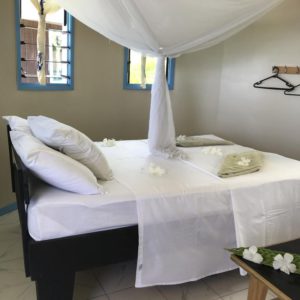 "The food is out of this world. Fresh and different breakfasts and dinners everyday!"
Breakfast and evening meals are included in the price of your fale and everyone raves about the delicious food at Litia Sini. The friendly chef can prepare gluten free, vegetarian and vegan options. Check with the staff if you have any other specific dietary requirements. Food is a tasty mix of local and European cuisine.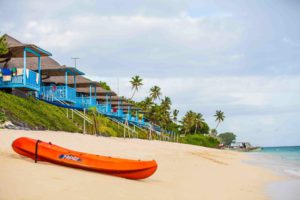 "The water is crystal clear for some excellent snorkelling."
When you're not relaxing it's time to experience some excellent snorkelling just beyond your fale. The snorkelling gear is free to use. The beach-side Cool Bar serves divine cocktails and a couple of nights a week a traditional show is put on by the locals. You can book a tour with your hosts to visit local villages and markets, feed the turtles and climb a volcano.
Pick your Fale
Fale – Beach Front: up to 4 guests
Family Fale – Beach Front: up to 5 guests
Garden Beach Fale with Sea Views: up to 4 guests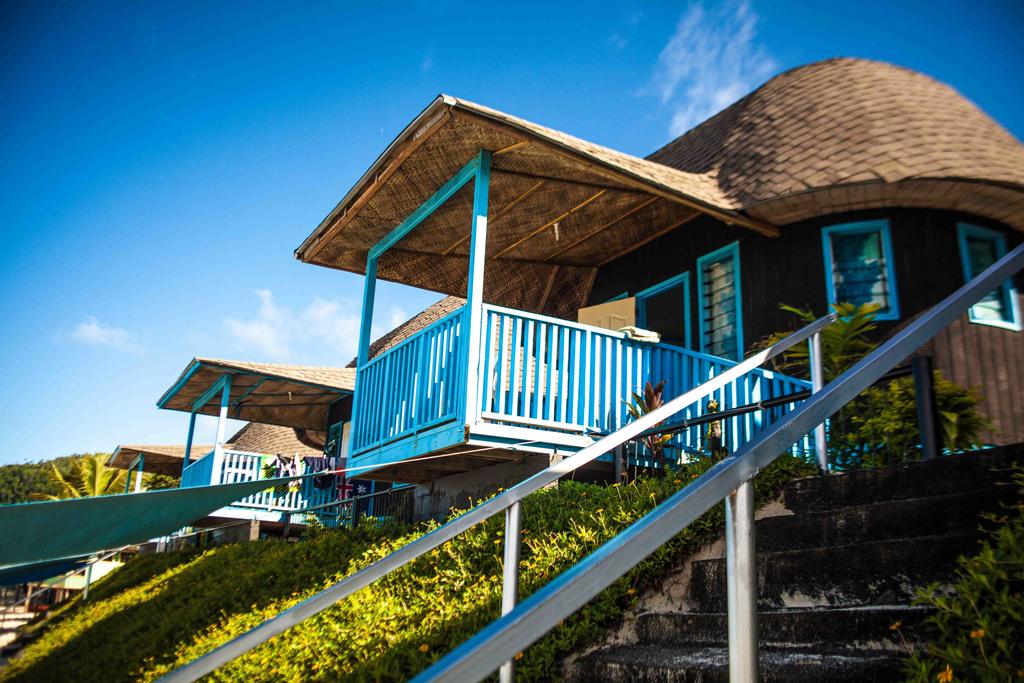 Handy Tips
Fales sleep up to 5 guests
Beach fales have shared bathroom facilities
All bed linen, towels and mosquito nets provided
Free cold filtered water, tea and coffee available 24/7
Short distance to the Coastal Walk and To Sua Ocean Trench
2 hours from the airport
Upshot
You'll love these private fales with balconies only a few steps to crystal clear water. For foodies – delicious food awaits to suit all tastes! Book at booking.com
---
3. Faofao Beach Fales – Friendly Traditional Stay – 3.5 Stars $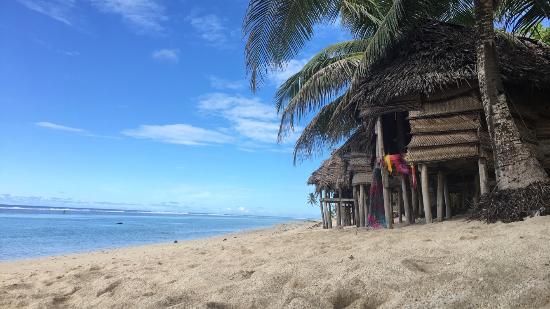 Location: Saleapaga, South Coast of Upolu Island
Best for: close to sightseeing, peaceful, fiafia show
Book: Read Reviews and Book at Tripadvisor
"You've got the beach to yourself!"
Faofao Beach Fales are 5.7km along the coast from Lalomanu Beach at Saleapaga. Relax and chill at this beautiful beach – it offers a quieter stay than Lalomanu Beach. Your hosts are super friendly and welcoming.
These fales are very affordable and you'll sleep right on the beach. Each fale is thatched, with mosquito nets and mattresses on the floor. Facilities are basic but clean and the shared showers are private but open to the sky!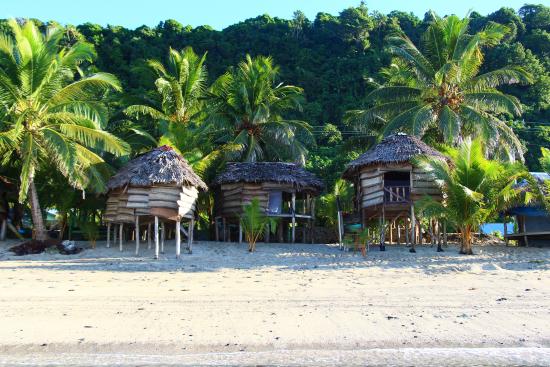 Want to get Active?
At Saleapaga you're closer to the sights and ferries. You can choose a local tour with your Faofao hosts who have a shuttle available to whisk you away. Or you can try one of the Viator Sightseeing Tours. They handpick activities and test them out themselves before recommending them to visitors. You can also read customer reviews to see if it's the tour for you.
The Savaii Food and Cultural Tour is popular and includes an umu feast at a local village, siapo-making demo, swim at Afuaau Falls, and lots more eating!
Here's some local sights and the distance
Lalomanu beach – 5.7 km
To-Sua Ocean Trench 7.2 km
Piula Cave Pool – 33.3 km
Papapapaitai Falls – 45 km
Sopoaga Waterfalls – 13 km
Namua Islands – 10 km
Togitogiga Waterfall – 30.8 km
"Crystal clear ocean swims just a few steps from my Samoan beach fale!"
Handy Tips
Free coffee and tea
Price of fale includes half board (breakfast and evening meal)
Shared bathroom facilities
Airport shuttle (surcharge)
Convenience store nearby, restaurant and bar on site
Make sure you book a fale and not one of the rooms in the concrete structure.
Enjoy the fiafia show put on by the locals with lots of dancing and fun
Upshot
Quietly unwind on the white-sand beach at Faofao Fales and sign up to exciting local activities. Book your stay at Faofao Beach Fales with Tripadvisor.
---
Happy Travels!
Hope this list of Samoa Beach Fales on the South Coast has inspired you to take action.
Please share with your friends:
Images for Samoa Beach Fales: Alex Perez on Unsplash, Holger Detje from Pixabay
---
READ THIS NEXT