It's nighttime you're on the balcony of your banyan tree house watching the crazy fireworks from Mount Yasur volcano. It's perilously close to where you're perched! You can even feel the ground rumble and groan from the roars of the volcano. If you love living on the edge then a stay at a unique Tanna Island accommodation is for you!
Tanna island is one of Vanuatu's tiny remote tropical paradises in the South Pacific and a popular destination for adventurous travelers of all ages. With so much to do from climbing the volcano to snorkeling in an underwater cave, to visiting ancient tribes, you won't regret jumping on a plane to get here!
Destination: Tanna Island | Vanuatu
Type of Accommodation: Tree House | Underground
When you buy through links on my site, I may earn a commission at no extra cost to you. As an Amazon Associate, I earn from qualifying purchases. See Affiliate Disclosure
---
Tanna Island Accommodation
Flights from Port Vila to Tanna Island's Whitegrass airport take 45 minutes. The airport is in the north of the island and the volcano is in the southeast. For Tanna Island travel tips see my guide here.
The ride from White Grass Airport to the south on the 4-wheel drive roads can take 1.5-3 hours depending on the road conditions. Be prepared to pay around US$50+ for the drive to the accommodation in the south.
Where's the Accommodation?
In the north for upmarket resorts
On the east or west coast at one of the low-key beach resorts
In the southeast near the volcano in a family homestay treehouse or cabin in the jungle.
---
Map of the Island and Accommodation
This Booking.com map gives you an overall view of the island and the location of the accommodation options when you pop in your dates:
---
Resorts in the North near the Airport
White Grass Ocean Resort and Spa
Oh my goodness, you're going to love this amazing 4-star resort! They have these incredible tropical Bures nestled in the most stunning gardens you've ever seen! And that's just the beginning – there's also a restaurant, swimming pool, tennis court, massage services, mini golf, and even croquet! And get this – breakfast is included in the price of your stay! How awesome is that?!
Check prices here – you'll stay on this page:
The Space
White Grass Ocean Resort and Spa is conveniently located near the airport and provides a shuttle service for guests. This stunning tropical destination boasts breathtaking ocean views and is only 100 meters from an enchanting coral reef.
Their knowledgeable guides can take you on exciting adventures such as snorkeling, visiting the volcano, exploring the tribes, diving into an underwater cave, and surfing. With a wide range of island tours available, you'll be thrilled to experience everything this resort has to offer.
The lovely bures are recently refurbished, with en suite bathrooms, fans, mini fridge, tea/coffee making facilities, and 24-hour electricity (which is a luxury on Tanna Island).
Review: Snorkelling on site was incredible, and the tours were organized very well. Extremely beautiful view. The cocktails were great and the food was good!
Good to Know
Bures with sea or garden views for up to 5 guests
Hot water showers
Free WIFI in the restaurant/bar area
Breakfast is included
---
Rockwater Resort
The Space
You'd never imagine staying in an underground hotel in tropical Vanuatu but welcome to the popular 4-star Rockwater Resort! Cleverly built into the side of a limestone hill, the circular shape of the cave rooms creates a unique organic design à la Mediterranean!
Pop your dates in – you'll stay on this page:
Why not take a leisurely stroll through the exquisitely designed subtropical gardens and fruit tree orchards, followed by a relaxing dip in the pool with a refreshing drink? Then venture out to discover the resort's private beach. This ocean haven spans over 25,000 square meters and is a protected marine park, making it the ideal spot for snorkeling.
Review: John and Silvana have created an eco-friendly resort that has environmental and community sustainability at the heart of its character. Our room is a testament to their vision – the rock wall was a key feature and the room comprised all the amenities commensurate with this resort style.
Good to Know
Free WIFI and Free Airport Shuttle
Suites for up to 2 or 4 guests. Each includes an en-suite with a bath and some include a patio.
Guests must be 12 and over, due to the cliffs and caves in the area
You can savor a meal indoors or al fresco at the scrumptious restaurant on-site.
2 swimming pools
Tours can be arranged by the hotel
---
See the Majesty of Mt Yasur in this Video
---
Why Not Stay Close to the Volcano with the Locals?
Staying with the locals is affordable (backpacker prices) and it helps support the local economy. Some of these accommodation options are in the south and only a 30-90 minute walk away from the mighty Mt Yusur and that's really close so you get to enjoy the volcano's pyrotechnics every few minutes!
The homestays are around 1.5 – 2 hours away from the airport (depending on the state of the roads) so don't get surprised since this ride can cost quite a lot but petrol is expensive for the locals. Bring cash with you to the island since there are few ATMs or EFTPOS.
---
Castle Tree House and Bungalow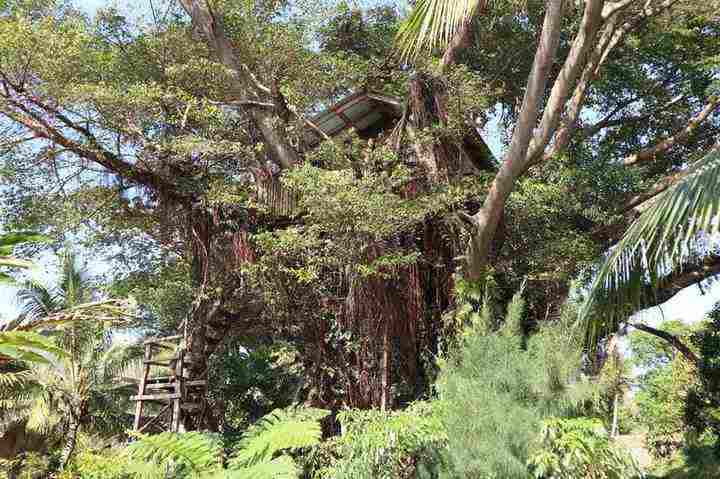 The Space
Feel the heat because you're super close to the volcano at these traditional and simple bungalows set in a beautiful rainforest on the southeast side of the island.
These are backpacker-priced jungle huts and a tree house run by a very helpful Mike and Lena. Double rooms are super affordable and include tropical or vegetarian breakfast.
Review: The view from the treehouse was incredible and a 10-minute drive to the volcano entrance. All tours and transfers were easy to arrange and on time. The food was amazing and great value.
Check your dates at the Tree House:
Good to Know
Cool down in the crystal clear river that's only a minute's walk away from the bungalows.
Very remote if you're a woman travelling alone but your hosts will look after you.
Very simple huts and shared bathroom facilities but amazing views of the volcano.
Walk to Mt Yusur at sunset on the easy path that takes 90 minutes.
Don't miss the trek to the hot springs. Go caving in nearby Port Resolution. (see more activities below)
Mike can organise tours for you.
---
Tanna Volcano View Tree House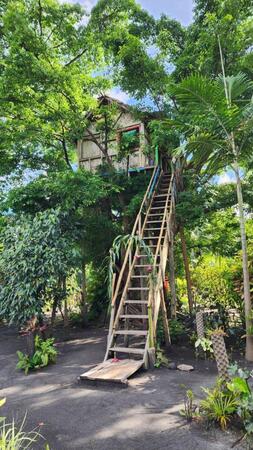 The Space
Watch the red glow of the volcano from your tree house close to Mount Yasur. This popular and highly rated tree house accommodation is opposite the gates of the volcano park and is run by a local family. This is your chance to experience authentic Tanna Island life.
At Tanna Volcano View Tree House Robert and his family have created an amazing retreat in the jungle, with three tree houses and two cultural custom huts located at ground level. You can choose from a short or a tall banyan tree house, but the taller one has better views.
The home-cooked meals are delicious and they cater to specific dietary requirements. FYI: Power is limited to certain hours of the day.
Robert can organize tours for you: Volcano tours, ash plain, kite surfing, dune boarding, horse riding, culture village tour and performances, cultural village trek, Port Resolution white beach, surfing tours, and more.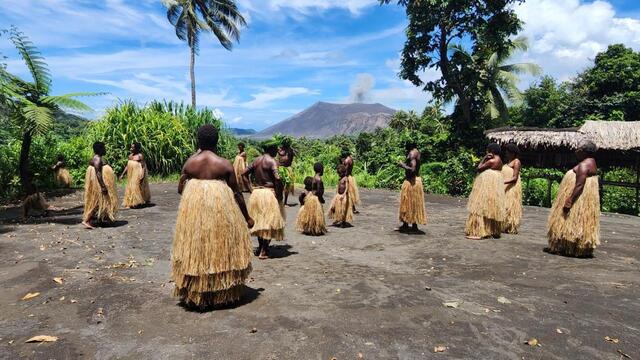 Review: Amazing location (opposite entry gate to the volcano) with super friendly hosts that make you feel welcome to their family and community, where you'll learn much about local culture & customs and experience it first-hand!
Don't Miss:
Walk to the volcano at sunrise or sunset but if you can manage sunrise then that's your best bet.
Don't miss a dip in the nearby hot springs at sunset.
Walk around the jungle and visit the local villages.
Don't miss one of the cultural dance shows.
---
Tanna Island Hotel at the Beach
Friendly Beach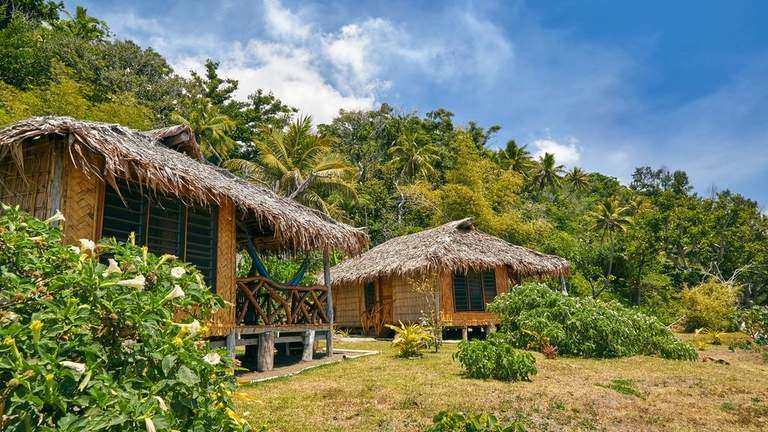 The Space
North of Mt Yasur at Lowalcas Cove sits these popular traditional beachfront bungalows. Each beach house is made from local natural materials (wood, stone, coral, and bamboo) and has a sea-view balcony with a hammock.
Friendly Beach is in a very remote location with no internet, telephone, or TV so you can enjoy this timeless place. You're close to Mt Yasur on the north side and it's easy to book tours with the friendly staff.
Pop your dates in and see availability – you stay on this page:
---
Tours
If you'd like to go on a tour of Tanna Island and have everything organised for you then Viator runs a 4-day Tanna Island tour. You get to stay at the White Grass Ocean Resort and activities include 4WD to Louniel Waterfall, a Volcano excursion, and lots more. You can read more here.
---
What to Bring for your Stay at Tanna Island Accommodation?
Limited ATMs on the island so take plenty of cash which you can get in Port Vila before you fly to Tanna Island.
You're in the tropical jungle, so there are plenty of bugs – so take mosquito repellent and a first aid kit
Take a mosquito net if you're concerned about bites
Take a flashlight/torch
Good walking shoes and reef/aqua shoes
Rain jacket and an umbrella
Take a warm jacket if trekking to the volcano at night
Your accommodation will provide meals but take snacks and drinks
The locals are very poor so you can take t-shirts for kids, balls, medicine, and school books if you would like to donate to the local tribe.
---
Happy Travelling! Thanks for visiting this page. I hope this gives you a good overview of Tanna Island accommodation and the amazing opportunities you'll have to experience a wilderness adventure and an insight into an authentic and traditional way of Melanesian life.
---
SEE MORE IN THE PACIFIC