It's night you're standing on the balcony of your banyan tree house watching crazy fireworks from a perilously close live volcano. Tanna Island accommodation is unique with an edge of excitement. You can feel the ground rumble and groan from the roars of Mount Yasur. Tanna island is one of Vanuatu's tiny remote tropical paradises in the South Pacific. You won't regret jumping on a plane to get here! Here's why…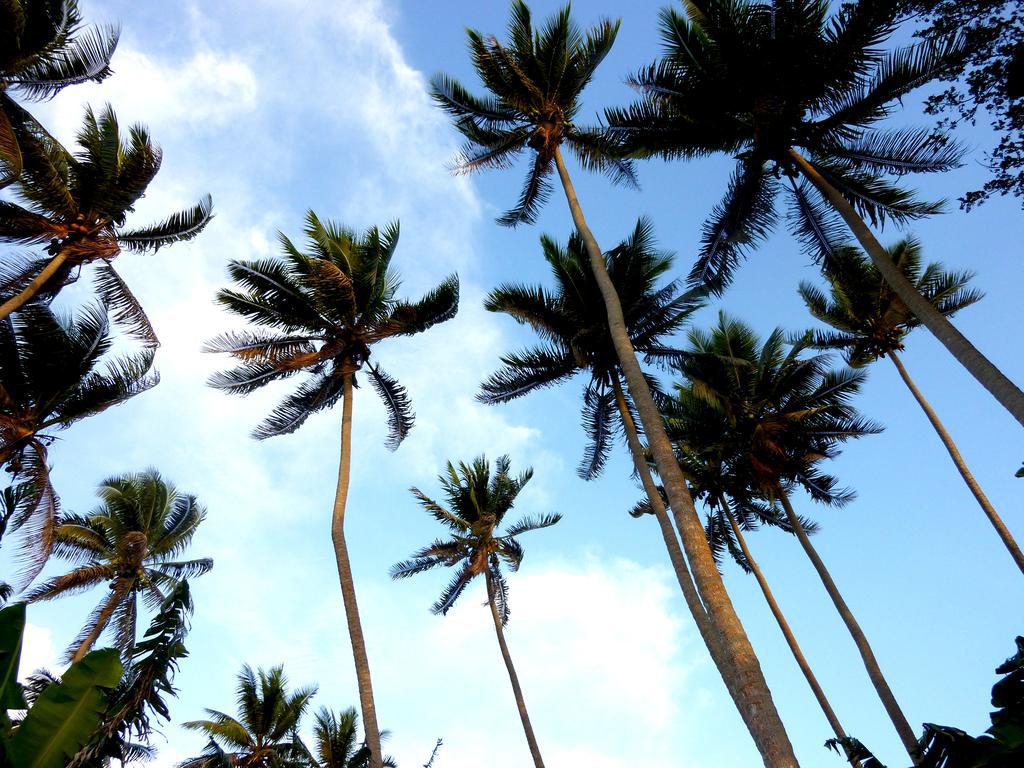 Your flight from the capital of Vanuatu, Port Vila to Tanna Island takes only 45 minutes but once there you've stepped back in time thousands of years to an ancient culture with a rich and complex history.
I've put together this mini-guide to the island so you're prepared for what life is like on a small remote island far from all the mod cons.  You want positive experiences not negative ones so with that famous motto – 'be prepared' you're all set for a very unique encounter.
Culturally you'll get to experience authentic traditional Melanesian island life plus the chance to overload on a range of awesome adventures across this volcanic landscape. Of course, climbing the volcano to the fiery crater is top of the list. For a small island there's a lot to do!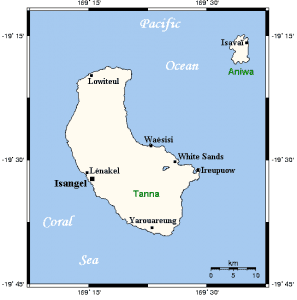 Get to know the Tribes:
Tanna Islanders don't have much money so staying with one of the local families is a really great way to support the community, get to know the families and their tribe, and enjoy life in the jungle. Read on for my Tanna Island accommodation recommendations which also include some awesome tree houses with views of the volcano.
What You Need to Know First:
Hot water, electricity, passable paved roads, these are all luxuries on the island so come prepared to step back in time and enjoy a slower pace of life.
Tanna is low-tech living with no ATMs on the island so bring plenty of cash.
A lot of the homestays have Solar panels and generators to supply power but don't expect 24 hour power or any power.
No WIFI but you can buy a SIM card in Lenakel Town
Let your hosts know if you are vegetarian before or at least as soon as you arrive.
Most of the bungalows and tree houses are remote and nowhere near any shops.
Further on I'll give you a list of things to bring so you're prepared for the trip of a lifetime!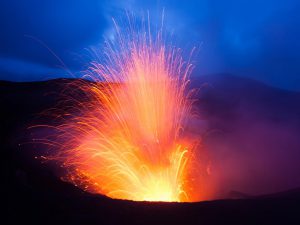 Where to Stay on Tanna Island?
A few tips first: The airport is in the north of the island but the volcano is in the south. In heavy rain these roads can be impassable and that means if you stay in the north you could miss out seeing the volcano.
The ride from White Grass Airport to the south on the 4-wheel drive roads can take 1.5-3 hours depending on the conditions. Be prepared to pay around US$50 for the drive to the accommodation in the south.
Why Not Stay Close to the Volcano!
Some of the accommodation options I recommend in the south are only a 30-90 minute walk away from the mighty Mt Yusur  and that's really close so you get to enjoy the volcano's pyrotechnics every few minutes!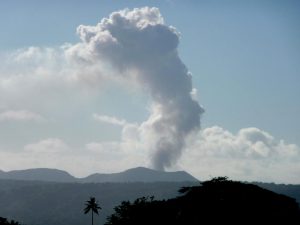 Stay with the Locals!
The options for Tanna accommodation include overseas owned low-key resorts but why not stay with the locals and support the local economy? Tanna Island was severely damaged by Cyclone Pam in 2015 so visitor dollars help with the recovery.
Tree Houses and Bungalows:
Don't get the first two mixed up because they have similar names:
Yasur View Bungalows:
Feel the heat cause you're super close to the volcano at these traditional and simple bungalows set in a beautiful rainforest on the south-east side of the island. These are backpacker-priced jungle huts run by a very helpful Mike and his family. 1.5-2 hours away from the airport so don't get a shock since this can cost $50. Double rooms cost around US$40 and include tropical or vegetarian breakfast.
Cool down in the crystal clear river that's only a minutes walk away from the bungalows.
Walk to Mt Yusur at sunset on the easy path that takes 90 minutes.
Don't miss the trek to the hot springs. Go caving in nearby Port Resolution. (see more activities below)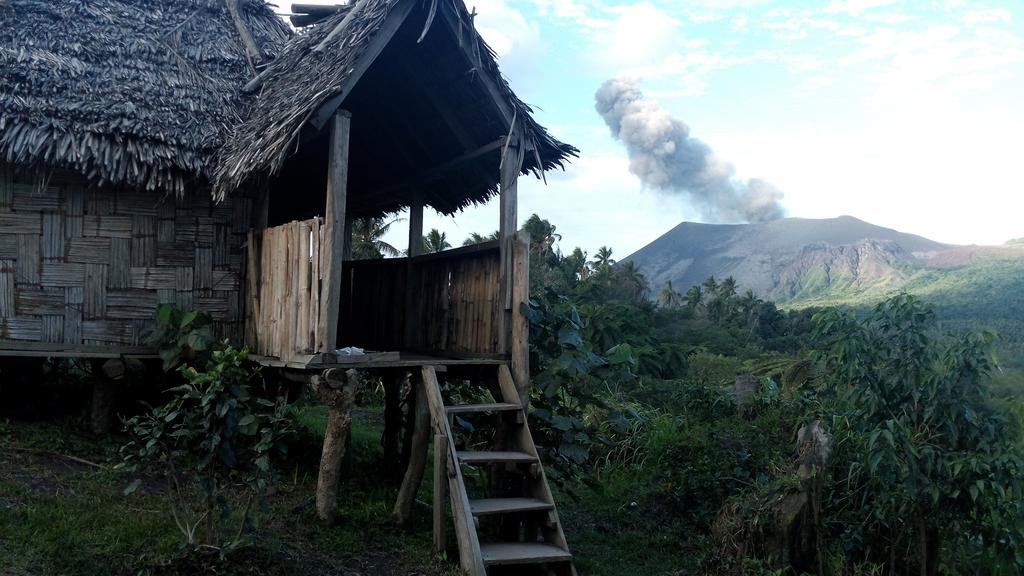 Yasur Camping Ground and Tree House:
This enterprise is run by Thomas and you're only a 45 minute walk from the volcano here. Watch lava explosions from your own tree house, go camping or stay in a bungalow. Enjoy the gardens and the simple rustic atmosphere. Double in the tree house is around US$32 which includes breakfast while camping is much cheaper. For more information and to book on their website click here>>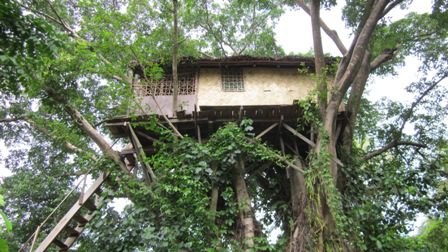 Tanna Tree Top Lodge:
This is run by Fred and Nancy (who is a great cook). They have 3 bungalows – one is a tree house which was the first one built on the island for guests. One of the bungalows is for a family – 3 people.
A highlight here is watching the impressive volcanic firework show at night from the balcony of your own banyan tree house. Tree Top Lodge is so close to Mr Yusur you'll drift off to sleep to the rumblings of the volcano!
Fred is very helpful and can organise everything for you from accommodation, food, things to do, and your volcano visit. Breakfast  is included in the price of accommodation. There's a flush toilet but no hot water. Nancy cooks delicious lunch & dinner at reasonable prices. You can book Tanna Tree Top Lodge here>>
Tanna Accommodation in the Tribe (Tafea Tourism Council):
This Tanna Island accommodation is a community project led by some of the local chiefs. You get to stay with the local tribe! They are on the west side 5 minutes drive from the largest town of Lenakel and a 10 minute walk to the beach.
Stay in a tree house or a bungalow – they all have electricity and can fit singles, families or groups.
They can organise for you to meet with Chief Yamiju and learn about Tanna and drink Kava. They have an on-site museum and can organise tours like Yakel Village, John Frum Village, and the waterfall. Watch Local women from the Nalakwang Tribe perform traditional dance. The small amount ($10) you pay for this goes towards paying for children's school fees. Contact: tannaaccommodation@gmail.com or Learn more and Book here for Tanna Accommodation in the Tribe>>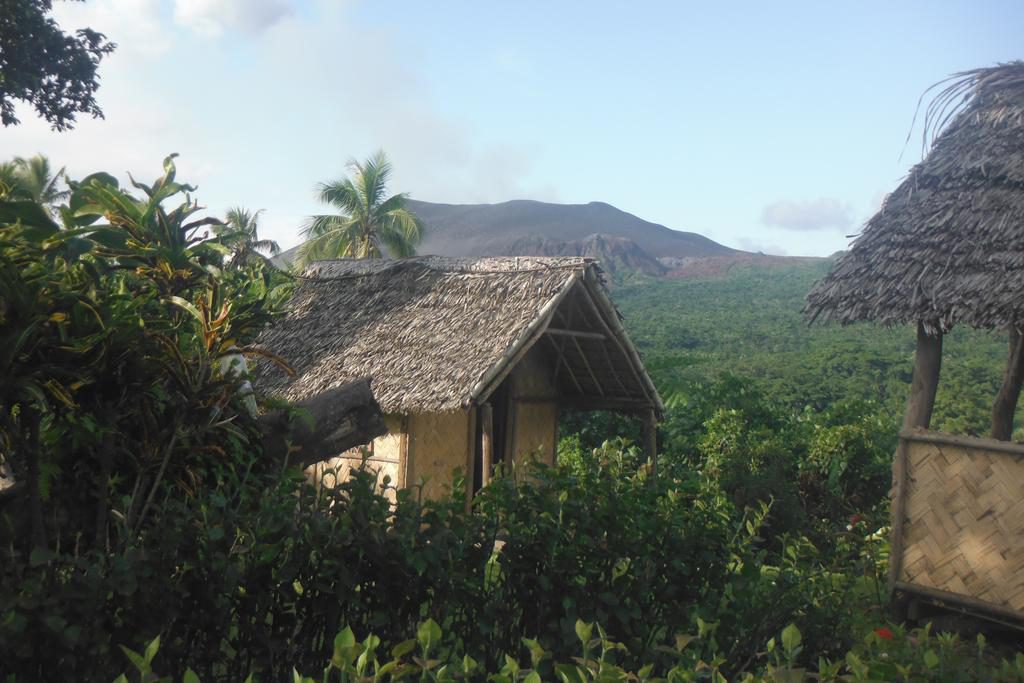 Volcano Island Paradise Bungalow:
Experience life in the jungle with this friendly and lovely family – Morris and Suzie and their 6 kids. Morris helps guests with tours and Suzie cooks delicious food for everyone. Great value for money – you get to stay in a simple rustic hut in the jungle. You have a wonderful of view of Mt Yasur erupting and you're only 30 minutes walk to the volcano entrance.  No electricity. You can take a cool swim in the nearby river. Single room less than US$20.
Book Here>>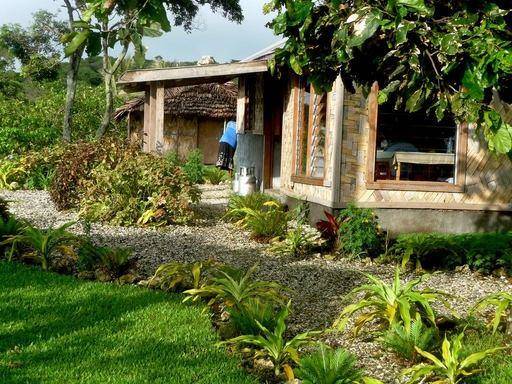 Tanna Adventures:
Tanna Adventures is run by Esso and Rachael and has lots of good reviews. It's a bit more upmarket with great accommodation, delicious food, lovely gardens and a tour desk for all island tours and that's reflected in the price. Everyone loves how the hosts make them feel like family! It's not far from the airport in the north east (around 30 minutes).  Each traditional bungalow has a balcony with sea views. Costs around US$80 for two, bungalow for four costs around US$160. Here's some feedback: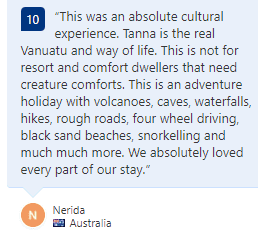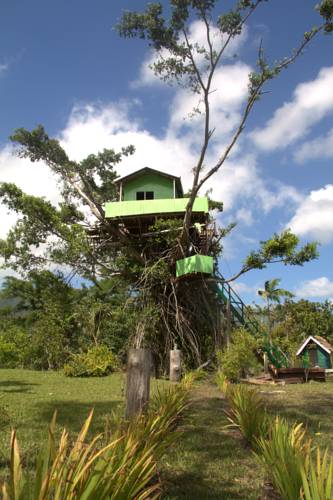 Jungle Oasis Bungalow
Run by the very hospitable Kelson and Joyce and their family. You can choose to stay in very high tree house perched in a bunyon tree. This accommodation is very close to the volcano and 8km from Port Resolution. They have a 4 -wheel drive vehicle for tours. Delicious meals and mosquito nets in each bungalow. Guests love this accommodation and it's very affordable. Book Here>>
More Tanna Island Accommodation Options Here >>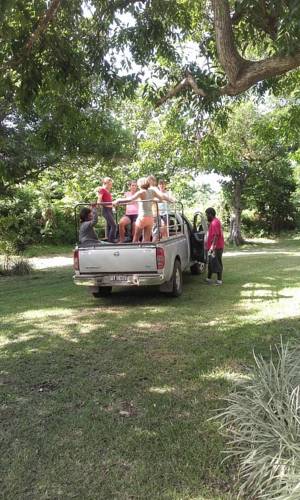 Things to Do:
Hot Tip: Double check what the tour does or doesn't include: Transportation costs, guide, entry fee. See below for rough prices for some of the tours.
The no. 1 activity is climbing the volcano and walking to the rim of fire – but why not try it at night when you get to see live fireworks!
Visit the traditional village of Yakel who live an ancient lifestyle. They reject outside influences and wear traditional woven fibre skirts.
Drink Kava with the local chief
Trek through the lush jungle
Swim at tropical waterfalls and rivers
Watch cultural tribal dancing
Snowboard down the volcano – called ashboarding
Swim and snorkel at the beaches and coral reefs of Port Resolution. See dolphins, whales,  turtles and other marine life.
Swim and snorkel in underwater caves
Lenakel Market Day
Nekowiar (Toka) festival – hundreds of men and women in traditional grass skirts and vividly painted faces, 3 days of incredible dancing and ceremonies.
Visit the John Frum Cargo Cult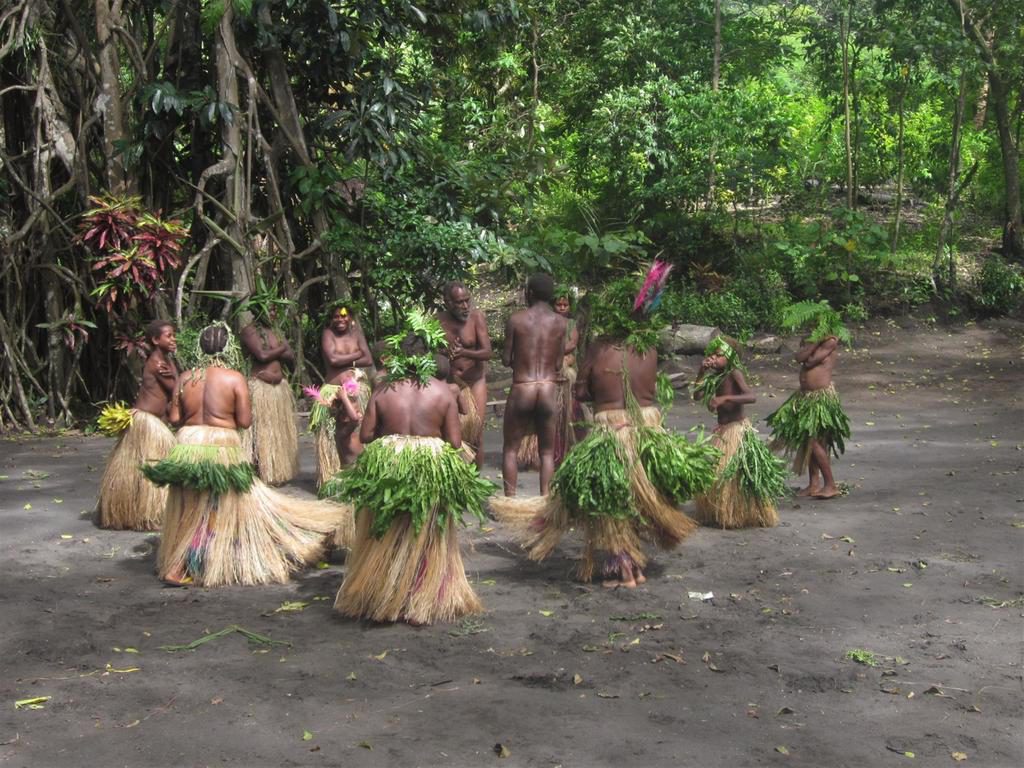 What is the John Frum Cargo Cult?
If you've studied anthropology then you'll know about Cargo cults. This movement gained in popularity during the 2nd world war when US soldiers brought supplies (cargo) to the island and conducted military drills. The islanders connected this ritualistic-type behaviour with the arrival of cargo so they created their own belief system.
Today the John Frum Cargo Cult is still strong on Tanna Island and you can visit the group on a Friday and watch them march around and raise flags in the hope that cargo will magically appear just like it did in World War II. (Wikipedia)
There is also a more modern cult on the island and that is the Prince Philip, Duke of Edinburgh Cult!
Watch this video about the John Frum Cargo Cult:
What to Take?
No ATM on the island so take plenty of cash
Take mosquito repellent
Take a mosquito net if you are staying in very cheap accommodation
Take a flashlight/torch
Good walking shoes
Rain jacket, umbrella
Take a warm jacket if trekking to the volcano at night
Your accommodation will provide meals but take snacks and drinks
Tell hosts you are vegetarian when booking or when you arrive
The locals are very poor so you can take take t-shirts for kids, balls, medicine, and school books if you would like to donate to the local tribe.
I hope this has given you a good overview of Tanna Island accommodation and the opportunities you'll have to experience an authentic and traditional lifestyle along with a range of awe-inspiring adventures!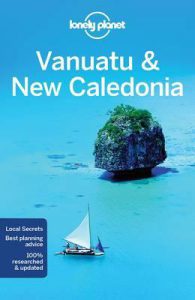 Now it's Your Turn!
Thanks for visiting this page all about Tanna Island Accommodation and Things to Do. Do you have any questions, ideas, thoughts or reviews? Please leave your comments below…
More Tree Houses: