Houseboats are designed literally as a comfy floating house on water! Don't think cramped quarters and narrow galleys, the Murray River Houseboats in South Australia are floating holiday houses with everything you'll need for a unique river adventure in a striking destination.
You've probably got a few questions about hiring a houseboat so I've created this FAQ to help answer your questions…
For starters you'll find a home away from home on your chartered houseboat! (Source) An open plan lounge and kitchen, dining table and chairs, double bedrooms, decks, BBQ and if you're lucky a spa pool! The Murray River Houseboats are comfortable, and some are very luxurious. You can see a list of houseboats further on…
The Murray River region is an amazing destination and taking a houseboat down the river is perfect if you're looking for relaxation, amazing bird life, a spot of adventure and a nice glass of wine! P.S. This is wine country.
If you're keen to ride on a paddle steamer or take a small boat cruise see my post here: Best Murray River Cruise Packages.
What's coming up?
Travel Guide
Map of the Murray River with the Houseboat Docks
Murray River Information
Tips on Houseboating, e.g. how do you moor a houseboat!
Map of some of the South Australian houseboats
List of Murray River Houseboats in South Australia you can hire for a trip you'll always remember!
Travel Guide:
The great Murray River is Australia's longest river and a houseboating dream. You'll have lots of fun aboard your own houseboat with a changing riverscape, calm water, exotic birdlife, incredible sunsets (and sunrises), and enjoyable activities on water and land.
As you meander along this panoramic river you can take in the scenery or stop for a spot of swimming, fishing and kayaking.
Want a bit more action? Moor your boat, hop off and hike on scenic trails, enjoy delicious food at local eateries, cool down with a beer at one of the boutique breweries, and venture out to South Australia's famous food and wine trails:
You can also organise tours with your houseboat company like the Champagne and Bush Tucker Breakfast and the Adelaide Hills Safari.
For unique and amazing places to stay see: Queensland Treehouses, Underground Accommodation at Coober Pedy, Luxury Boutique Hotels in Sydney.
Watch the video if you want to get a feel for gliding down the river…
Map of the Murray River with the Houseboat Docks: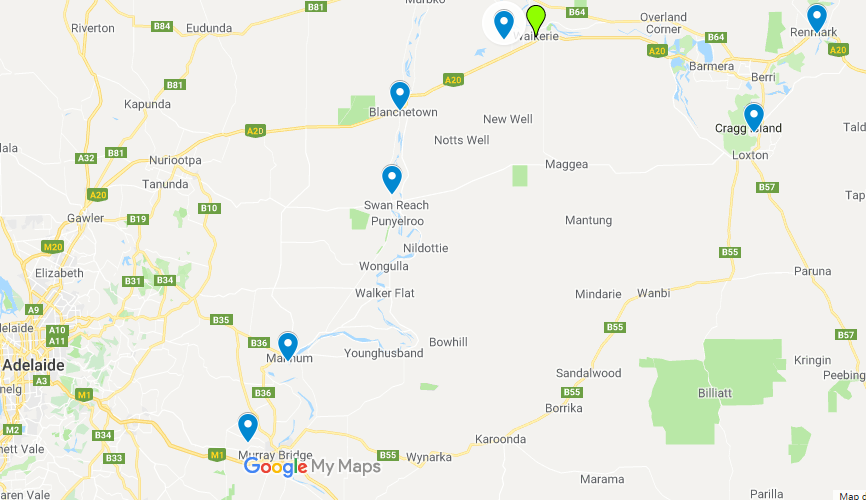 The Murray River:
The Murray River is 2,508kms long from the Australian Alps, through New South Wales, Victoria and finally completing it's journey near Gowla in South Australia. It's wide in some places, narrow in others and flows through lakes like Lake Alexandrina, catchments and even locks.
The Murray has cultural significance to the Aboriginal people who believe the river was created by ancestor, Ngurunderi as he pursued Pondi, the great Murray cod.
By the 19th Century European settlers used Paddle Steamers and Paddle Wheelers to ferry goods up and down the Murray. Some paddle steamers are still running today and you can ride in one at Murray Bridge – the day trip offers sightseeing and lunch. You can see the Viator Paddle Wheeler Lunch Cruise price here.
Nowadays the Murray River is still an important water resource and recreational destination for houseboating, swimming, and watersports. Now on to tips about houseboating…
Information and tips on hiring a Murray River houseboat:
Where can I hire a houseboat?
The main docks are at: Renmark/Paringa, Mannum, Blanchetown, Murray Bridge, Morgan, and Waikerie. The Houseboat Hirers Association has a list of recommended houseboats that they have accredited. All of their houseboats are licensed, surveyed and insured. Also see further on for houseboats at the various docks.
What are the facilities on a houseboat?
Modern kitchen with stove, microwave, fridge, freezer, pantry
Dining table and chairs
Lounge suite and coffee table
Queen beds, linen, towels and storage spaces
Well appointed bathrooms with showers (the bigger boats might have two bathrooms)
Air conditioning for cool and heat
TV, DVD, sound system
Outdoor furniture, BBQ
Some boats have spa pools
Some of the smaller boats for two are more compact and more like a campervan.
How many people does a houseboat accommodate?
From 2 to 12 berth. The houseboats are 1, 2 or 3 decks high. You can travel as a couple, a few friends or a big group but the cost will come down per person if you hire a houseboat as a group.
Do I need a boat licence to drive a houseboat?
Most of the South Australian Houseboat hire companies only require that you have a car licence to drive a houseboat. You'll travel at a leisurely 5-7kms/hour. Hirers must be over 21 (or 18) years of age.
How do I drive a houseboat?
Modern houseboats are easy to drive. Before you set off the company will come onboard and give you a lesson on how to navigate and operate the boat.
Hot tips: You can't drive the houseboat after sunset. Watch out for overhanging trees when you are mooring the boat – these can damage the boat.
Where do I moor the boat?
Your houseboat company will give you a map of all the moorings you can stop at along the way. Some houseboaters stop at a mooring and spend their whole holiday there while others travel along the river.
How do I moor a houseboat?
Willows and gumtrees line the Murray River and this video gives you a good guide to mooring a houseboat to a tree (you'll also hear the lively sound of kookaburras)…
What if the houseboat breaks down?
Mechanical breakdowns can sometimes occur so make sure your houseboat company has a technician you can call on to fix the problem.
How much does it cost?
The more luxurious houseboats cost more. Obviously the more people you have on the boat then you can share the cost. But if you want a romantic getaway for two then you can choose a smaller boat. For example at Unforgettable Houseboats the low season is June 1 to August 31. The luxury Parachilna which is 2-4 berth is A$2590 for 7 nights.
Insurance & Bond: When you book your houseboat ask about insurance and the bond. Is insurance included in the daily price? How much is the bond and what constitutes a loss of bond?
Hot Tip: your houseboat will include fuel when you set 'sail' but the cost of the fuel will come off your bond at the end of the trip. You're only travelling around 7kms/hour and most people travel around 3-5 hours per day so you won't use too much fuel.
How long is a houseboat hire?
Usually the company will have a set number of days with recommended stops and activities. For example, Unforgettable Houseboats offer 3, 4 or 7 day hires.
Is a week to long on a houseboat?
Absolutely not! The pleasure of houseboating is to enjoy the scenery, your fellow company, the serenity, good food, wine and music. You can moor the boat and take a walk along the shore or at night houseboaters like to sit under the stars around a campfire on the river's bank.
Birdwatchers: You'll see amazing birds like pelicans, kookaburras, ibis, rosellas, galas and many more waterbirds (and bats!) Here's a birdwatching guide to the Murray River.
When's the best time of year?
Summer and school holidays are popular with families and this is when the river is busiest. So if you want a quiet, restful break then spring, autumn and winter are ideal. You'll enjoy off-peak rates and serene boating with crisp mornings and sunny days. It won't be too hot so you can hop off for some fun activities on land like hiking and wine trails. Click here to check school holiday dates.
What food do I need to bring on board?
You can stock up on food at the supermarket at your departure point. There are general stores along the route that are within walking distance but they will cost more. You'll be able to buy bread, milk, canned food, bottled and frozen food, alcohol and takeaways. Depending on the part of the river you choose you may have cafes and restaurants on shore for dining out.
Supplied Food: Your houseboat company may also supply the food for your trip ahead. If you feel like splashing out you can organise an on-board chef too!
What water is on board?
You'll have filtrated drinking water on board. Your showering water is from the river so (as a general rule of travel) remember to keep your mouth shut when you shower.
What should I bring?
Casual clothes, warm jacket for winter, hiking shoes or boots, food, drinks, camera, music, binoculars, swimsuit for summer. You can even bring your own kayaks.
Is there wheelchair access?
Some houseboats do have wheelchair access with accessible cabins so always check with the houseboat company before you book. See Houseboat Heaven below.
Are there optional extras?
Check if you can hire canoes, kayaks, fishing gear (or take your own), water skis, and jet skis. Hiring kayaks is a 'must do' so you can explore beyond the river to the quieter streams and lagoons.
Are spa pools a must?
Yes! They're so relaxing and especially at night when you can gaze at the stars.
Is it safe to swim?
The Murray can run fast in some places so always check with your houseboat company which parts of the river are safe for you to swim in.
Can I take my pet?
Griffens Marina Houseboats at Blanchetown have a few pet-friendly houseboat options. Riverfun Houseboats at Renmark also have houseboats where you can holiday with your pet.
Are there tours I can take from the houseboat?
Yes! For example, popular Unforgettable Houseboats offer:
Barossa Valley Winery Tour
Barossa Valley Clubs and Vines Tour
Adelaide Hills Safari
Outback Pub Crawl
Big Bend By Night Tour
Big Bend Sunset Dinner Tour
Champagne and Bush Tucker Breakfast
Langhorne Creek Discovery Tour
You could also include the Intrepid Adelaide to Alice Springs Overland 7 day trip before or after your houseboat hire. They often have special deals which you can see here.
Is there cellphone reception on the Murray River?
You'll find there is cellphone reception on parts of the Murray River but feel free to turn off, go off grid and relax!
Can I just book a berth on a Murray River Cruise?
Yes, the Proud Mary offers cruises every day of the year. You can relax and have everything done for you. Your berth will include a queen size bed and ensuite. The captain navigates the boat and the chef cooks all your meals. See also my post: Best Murray River Cruises.
During the cruise they'll also take you out to nature-based excursions on land. Obviously you'll share the boat with the other guests but what a great opportunity to meet new people and make new friends!
Murray River Houseboats in South Australia: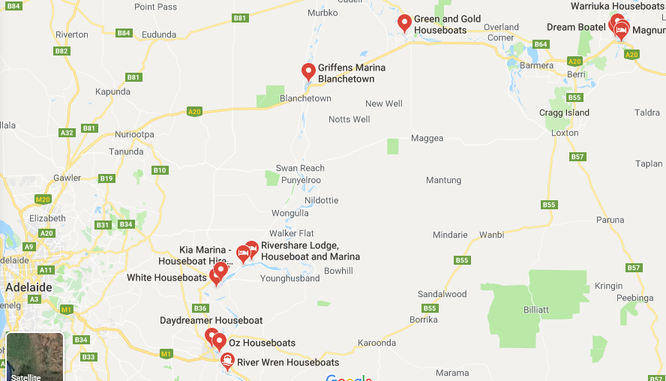 Renmark:
Renmark (at the top right of the map) is a great place to hire houseboats with lots of cafes and restaurants, Ruston's Rose Gardens and Angoves Winery all nearby. Houseboat companies include: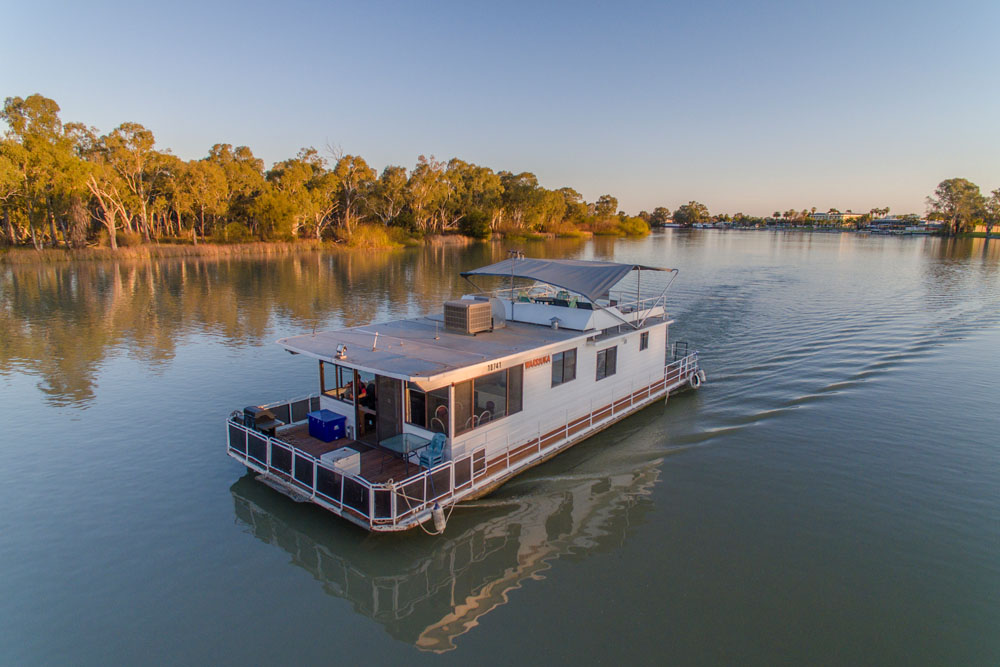 Blanchetown:
You'll get to experience boating through Lock 1 at Blanchetown. This is an uncrowded stretch of the Murray River so nice and quiet. Visit Blanchetown Hotel and local winery, Burkes Salters. Houseboat company: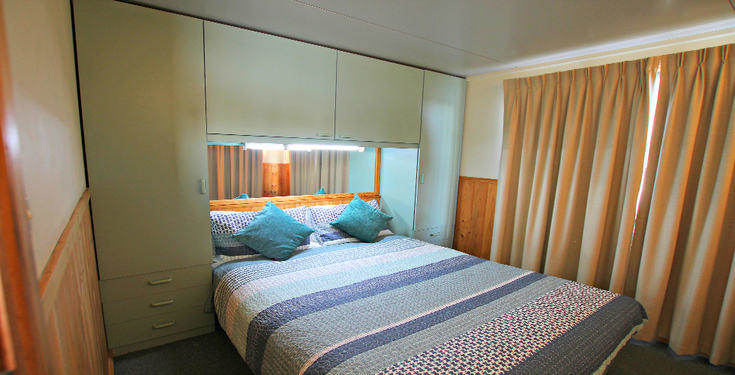 Griffens Marina Blanchetown – small houseboats for couples, dog friendly. Blanchetown is 145kms from Adelaide through the Barossa Valley.
Hear about Unforgettable Houseboats in Mannam:
Unforgettable are a very popular houseboat company. Mannum to Swan Reach is a popular route. Watch the video for a tour…
Loxton:
Loxton is known as the garden town of Riverland and is 240km east of Adelaide. Don't miss the Loxton Historical Village. Houseboat company:
Riverland Houseboats Loxton – affordable houseboats on a beautiful stretch of river.
Kingston on Murray
Don't miss the Banrock Station Wine and Wetland Centre – a 3 hour loop. Houseboat company: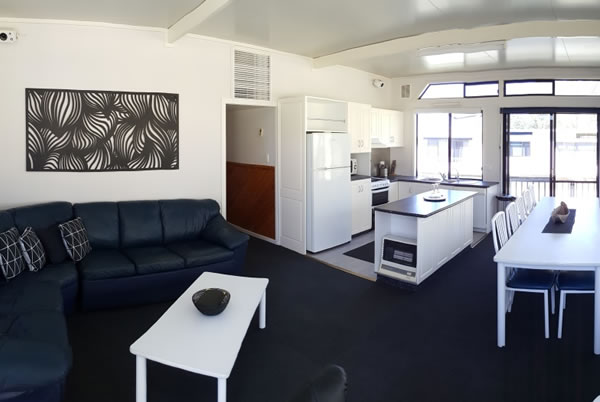 Golden Leisure Houseboats – affordable, for big groups. Lots of flora and fauna and red cliffs.
Resources:
Hire Car: Auto Europe Car Rentals is a comparison site with a good rating on Trustpilot. They reply to every review. Customers find they give good comparison prices and are better value for money than the actual car company. Best of all, if anything goes wrong, they have a 24 hour phone line. You can save up to 30% on your car rental. Check here to see what discounts they're offering today.
Flights:
Check out
Skyscanner's Deals Updated Weekly
!
Adelaide Holiday Home: Homeaway Sass & Beau Cottage – State Heritage restored cottage with luxury interiors. 2 bedrooms, sleeps up to 5 guests. Read reviews and book here.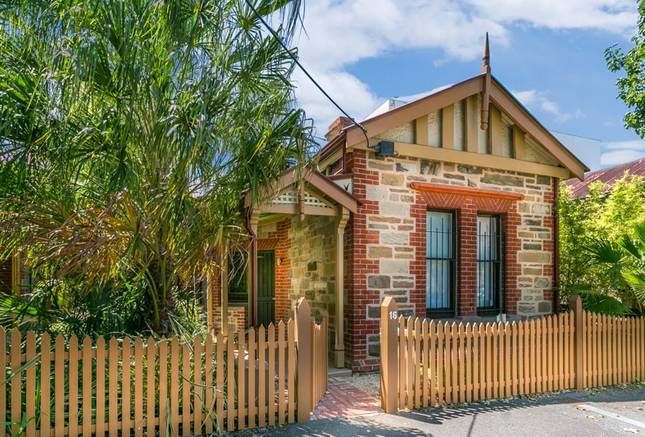 Conclusion:
You'll never know what's around the next bend on your scenic houseboat adventure with one of the Murray River Houseboats in South Australia. Gliding down the river listening to birdlife, moored to a willow watching sunset over the red cliffs, or toasting marshmallows on the bank under a starry sky – you'll have an awesome and unique trip.
If you want to see Kerala Houseboats in India see my post here or check out my posts about other unique places to stay in Australia click here.
Happy travelling! If you need any more information or want to join the conversation please share in the comments section below.