A whopping 2 billion people around the globe enjoy a cup of tea every morning. At the Amba Estate Farmstay in Sri Lanka's Uva Highlands, this charming small-scale enterprise produces heritage tea that is both fair trade and organic.
Destination: Sri Lanka
Type of Accommodation: Eco-friendly and Organic
This post may contain affiliate links. As an Amazon Associate, I earn from qualifying purchases. See Affiliate Disclaimer.
Overview
You've never tasted artisanal tea as delicious as this and if you're looking for a fair trade tea estate off the beaten path then this community development enterprise is well worth the exciting journey. Here's why…
The People
The Amba team are passionate about growing the best coffee, tea, and spices with sustainable methods and running a social enterprise that is fair for all.
Once your driver has negotiated the winding hill roads (don't look down!) you'll arrive at this welcoming homestay in incredibly lush countryside with breathtaking views of Ella Gap and Lipton's Seat.
---
You can watch a quick video about Amba here:
Amba Estate – Ambadandegama, Sri Lanka from Tealet on Vimeo.
---
Amba Estate Farmstay B&B
Best for: Homely, Community Ethos, Delicious Sri-Lankan home cooking, Tea plantation tour, Tea tasting session, Hiking around the hills
If you want to see the inside of an ethical tea enterprise then Amba is a must-see. The price of your stay here also benefits the community. The surroundings are peaceful and the countryside is lush with lots of walking opportunities for a spot of healthy scenic exercise.
If you don't have time to stay then you can book a day tour instead (but try and stay if you can).
---
Amba = Fair Trade
The staff work in safe and healthy working conditions. Each earns a wage and receives a percentage of the profits.
Everyone at Amba is passionate about the enterprise and as you're shown around the plantation you'll learn about their environmental and social activities and goals.
---
Getting There
You can get to Amba Estate Farmstay by car, bus or trishaw. The trip is 10-15 kms from Ella or Bandarawela depending on which direction you take and should take 30-50 minutes. The directions are here>>
---
Unique Accommodation Options
Amba Farmhouse is 180sqm with 1 double, 2 king beds, and 8 twin beds
Clove Tree House is 200sqm with 2 queen and 4 twin beds
Clove Tree Cottage is 60sqm with 2 queen and 3 twin beds (recommended)
Clove double, twin, or single rooms
Farmhouse double, twin, or single rooms
The original Tea-workers' Quarters – Linerooms – double, twin, or single
---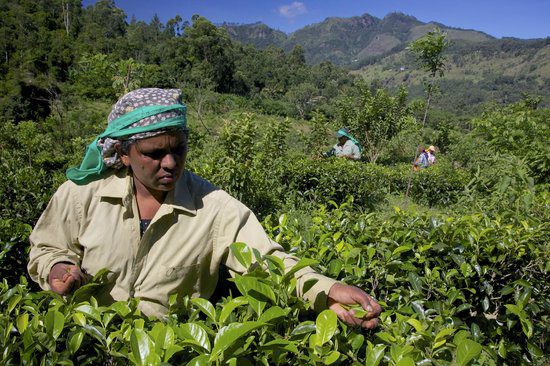 Good to Know
The main house has plenty of room with 4 double bedrooms and 2 shared bathrooms plus a dining room, lounge, and kitchen
Bungalows are suitable for families
Your hosts and the guests all eat together so it's a very friendly environment and you'll enjoy fascinating conversations with locals and global travellers
Top Tip: Everyone recommends you stay at least 2 nights but wouldn't 4 be even better to relax and watch the working farm in action especially if you're interested in sustainable farming and fair trade!
---
Things to Do
Guided Plantation Tour – learn how the philosophy of the estate guides the farming and employment practices.
Tea Tasting – what an opportunity trying the tea straight from the source…and no food miles!
Enjoy the countryside with a walk to: Ella Rock
Plenty of fresh air and exercise when you hike around the Estate.
---
Booking at Amba
Amba Estate Farmstay gives you the opportunity to relax, experience a tea plantation and enjoy their friendly company, and in return your stay benefits the community and the enterprise. Now that's travelling with a conscience.
Book your accommodation: https://www.ambaestate.com/
This is the Amba Estate Farmstay Facebook Page where you can message them and it's regularly updated: Facebook: https://www.facebook.com/ambaestate/
---
Travel Resources
Don't leave home without your travel insurance all sorted. It only takes a few minutes to organise with VisitorsCoverage.
Viator has an excellent range of day and multi-day tours around Sri Lanka. Let someone else do all the organising!
---
SEE MORE