Before you book your Kerala Houseboat rental read these tips so you choose the right boat with the right crew at the right price.
Cruising around the lush lagoons and palm-lined canals of Kerala's backwaters on the deck of a thatched barge is amazing. Are you ready for this once-in-a-lifetime experience?….
Location: Kerala | India
Accommodation Type: Houseboats and Boats
This post may contain affiliate links. As an Amazon Associate, I earn from qualifying purchases. See Affiliate Disclaimer.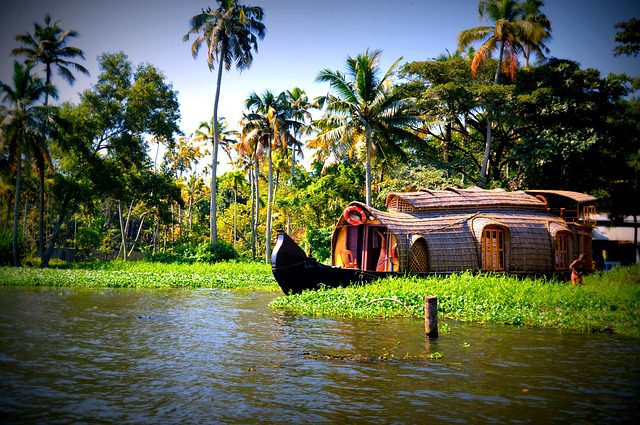 ---
1. What is it Like to Stay in a Houseboat?
Kerala houseboats are like floating hotels with comfy suites, clean en-suites, food service, lounges, and decks to lounge on as you drift through tropical scenery.
Most houseboats have 1, 2, or 3-bed suites with en-suite. Some are single story and some are double-deckers.
But if you want your own private houseboat then choose a deluxe houseboat with AC.
The crew is usually a captain, an oarsman, and a cook. The food is delicious local Keralan cuisine and seafood is a specialty.
The houseboats have showers with hot and cold water (but always check on this). Some also have WIFI.
Some boats have mosquito nets but not all – Bring your own in the rainy season! The lights are kept low at night so you're not bombarded by millions of insects.
Did you know? Kerala's stunning backwaters of meandering waterways and
rainforest covers 900 km of the Arabian Sea coast.
---
2. What's the History of the Houseboats?
Long ago Kettuvallam Barges plied Kerala's network of lakes, canals, and estuaries ferrying rice, cashew nuts, and commodities.
Today these barges, made from bamboo, wood, palm leaves, and coconut ropes and coated in cashew nut oil, are converted into bamboo houseboats for visitors from around the world.
Natural ecosystems and traditional village life meet at the water's edge and the best way to see this stunner of a landscape is from the deck of your very own converted Kerala houseboat rental.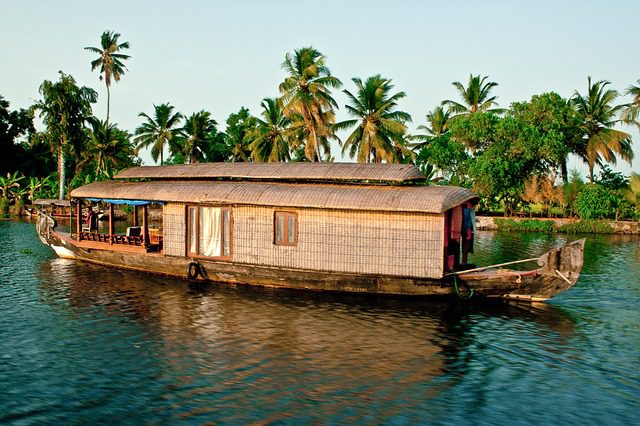 ---
3. How much does a Kerala Houseboat Rental Cost?
Words out about Kerala Houseboats! So expect to see visitors galore and expect to pay tourist prices. It's not cheap compared to Indian prices but YES…it's worth the cost. Expect to pay from US$100+ per night for two guests.
Strategies to Save Money
If you share a boat with others it's cheaper, e.g. a houseboat with more suites.
Booking at the dock is cheaper especially if you haggle. Visit the dock before 9 a.m., and have a good look at the houseboats before you choose one – qualities vary and you want to discuss the route. This tactic isn't easy in the busy season.
if you are staying at a resort or hotel you can book your houseboat from them but this costs more than the dock.
A houseboat with AC costs more. Deluxe and Luxury houseboats cost more but are ideal for honeymooners and if you want more comfort.
Strategies to Avoid Disappointment
This is a once-in-a-lifetime experience. If you know your dates then booking and paying in advance means you're assured of a booking, especially in the busy season. You're also not including this cost in your daily budget.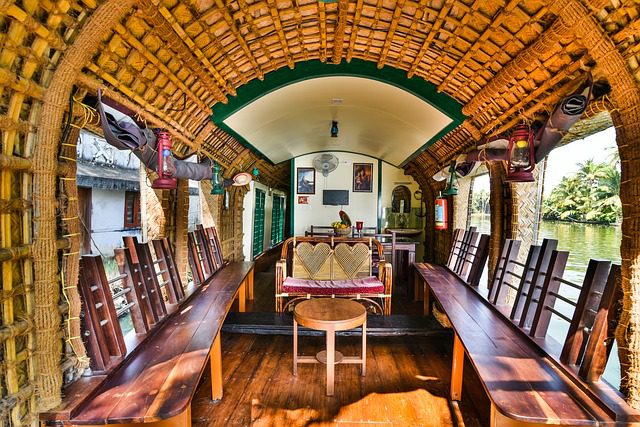 ---
4. How Can I Book My Kerala Houseboat Rental?
You can book online through Booking.com, Expedia, and Agoda.
Here is a selection of highly-rated houseboats. See the slideshow and pop your dates in to see the best prices across the internet.
Why Not Houseboat
Guest Review: This houseboat exceeded our expectations and helped us enjoy the beauty of the backwaters. Food was very authentic and tasty.
---
Grand Villa Houseboat
Guest Review: The boat was very clean and the chef was a 5-star professional chef and the food tasted awesome.
---
Aqua Castle
Guest Review: It was such a unique and incredible experience, very exclusive! We had the chance to have the whole boat and the crew for just the two of us as a couple and we couldn't have enjoyed it more! The trip, navigating the canals was amazing!
---
5. When's the Best Time to Visit?
September to March has the best weather – warm but not too sweaty and hot – so this is a great time to visit.
December to February. This is the busy season and the weather is good but the houseboat prices are at their highest and the waterways are busy.
April and May are very hot and humid so try to avoid this time.
Monsoon Seasons. Kerala has 2 monsoons. One starts in June to August and the other from October till November.
Don't be put off by the monsoon season, like other parts of Asia it doesn't rain all day. It will pour for 1 or 2 hours, the sun comes back out and everything sparkles. And of course, it's warm rain!
TOP TIP: Monsoon season is the best time of the year to experience an Ayurvedic spa treatment.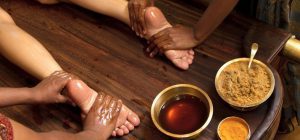 ---
6. How can I get the most from my Houseboat Cruise?
Book a houseboat with a top deck – you get the best view and can take wonderful photos from this angle.
Animals, insects, and birds to watch out for: butterflies, otters, kingfishers, turtles, flying squirrels, monkeys, crabs, and Indian cormorants. Kerala has 453 species of birds!
If you are vegan, vegetarian, or gluten-free (or have other dietary requirements) make sure the crew knows this before the trip.
If you want a sip on a beer as you float through the canals or have a wine with your meal book this before or bring your own – usually there is no alcohol on board.
Go to bed late and get up early so you make the most of your cruise. The houseboats moor at night and usually set off after breakfast.
Dinner is served early to avoid insects that are attracted to the boat lights.
Water is available on board but take your own soft drinks.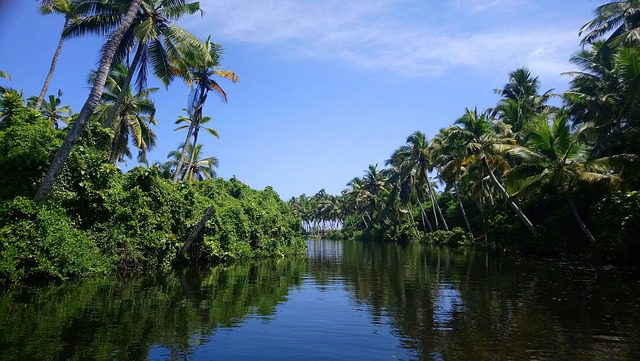 ---
7. Can you Recommend Activities?
As you drift through the rice paddies, villages, and palm trees your Number 1 activity is to…relax and de-stress!
TOP TIP: Ask your captain before you leave what activities are on offer. Some of these may include:
Fishing from your houseboat
Ask the captain to visit a floating market or local vege market and choose your ingredients for dinner
Visit a Toddy Shop and try the locally brewed Kerala Palm alcohol
Visit a local village and meet the locals
Your houseboat can only travel down the wider canals so hire a canoe and boatman when you dock in the afternoon. Glide down the narrower waterways to catch close glimpses of backwater life – rice paddies, villages, and wildlife.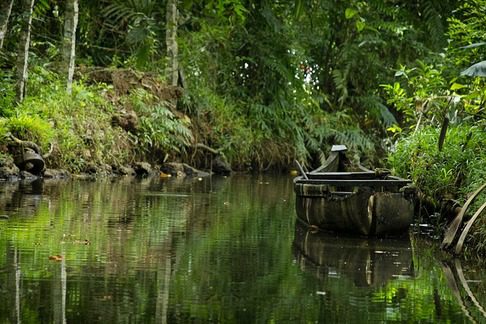 ---
8. Where does the Houseboat Stop?
You can ask the captain to stop wherever you like so long as there is a dock or deep water. Houseboats must stop at 5.30 in the evening so that local fishermen can fish at night.
---
9. What are the Popular Routes for a Kerala Houseboat Rental?
Houseboats are in no rush and travel around 40-50 km per day.
Alleppey Roundtrip through Kuttanad:
Alleppey is known as the 'Venice of the East'
Beautiful paddy fields and villages
Coconut palms and forest
11th century Buddha Statue
Farming is done below sea level!
Alleppey Roundtrip through Kumarakom:
Kumarakom is a lovely lake village ideal for eco pursuits
Bird Sanctuary
Vembanad Lake Life
Resorts dot the banks
Alleppey One Way to Alumkadavu (near the old Arabian Sea Port of Kollam):
Takes 8 hours to get there on the first day
Coir Village
Paddy Fields below sea level
Kumarakodi – the resting place of poet, Asan (1873-1924)
Alleppey to Thottappalley:
traditional houses on the banks
11th Century Buddha Temple and other temples
Punnamada Lake
So what are you waiting for? Booking a Kerala Houseboat Rental is a once-in-a-lifetime opportunity cruising through the vibrant, lush backwaters on India's Arabian Coast.
[Image by Photo by Kyran Low on Unsplash]
---
SEE MORE ON STAYTOPIA