At the Oberoi Rajvilas the designers and artisans have crafted a majestic hotel with details like canopied tents, Mughal arches, gold leaf frescoes, crystal chandeliers, teak floors, Persian blue pool tiling, and local pottery. All with a traditional charm that you'll always remember. For travellers this is a luxurious escape from the hustle and bustle of the city…
5 Star – Heritage – India
Location: The Oberoi Rajvilas in Jaipur sits by Lake Pushkar, 8kms from the city.
Best For: Lake Front, Gardens, Spa, Luxury, Palatial, Peacocks
What's Unique? A pink fort crafted by local artisans
Price Range: $$$$+
Book directly at: The Oberoi website. Special deals often on offer, for example 20% discount.
Compare prices at: Booking.com
Why choose The Oberoi Rajvilas in Jaipur?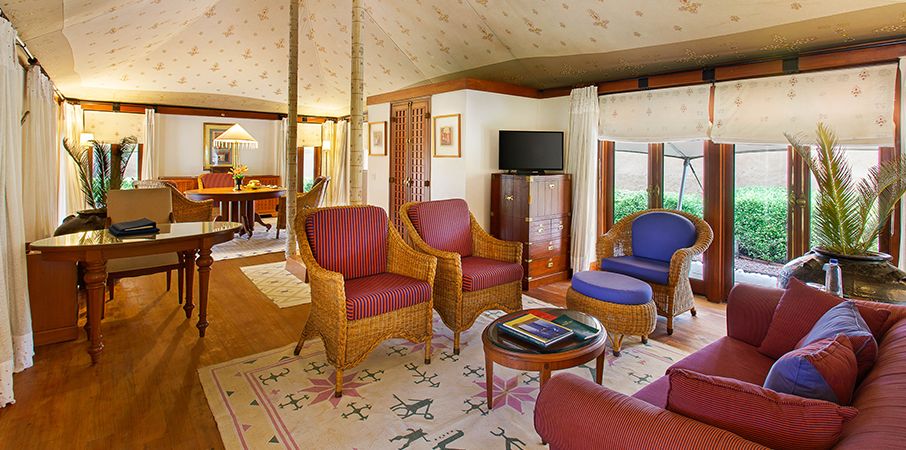 The Pink City of Jaipur is a now a UNESCO World Heritage Site and part of the golden triangle that includes Delhi and Agra. Jaipur is described by Lonely Planet as the palace 'gateway to India's most flamboyant state', and it's truly a beautiful pink gem in the crown of Rajasthan with architectural wonders and rich cultural traditions.
Here's a video tour for you to watch:
Some of the Services include:
⇨ Air conditioning
⇨ Airport Pick-up
⇨ Two restaurants and bar
⇨ Surya Mahal – Indian Cuisine
⇨ Rajmahal – fine dining, and alfresco
⇨ 24 hour front desk and room service
⇨ Spa – full treatments
⇨ Ayurvedic, Aromatherapy
⇨ Helipad
⇨ Free WIFI
⇨ Tours can be arranged
⇨ Car to take guests to town
⇨ Daily housekeeping
⇨ In Room Safe
⇨ Croquet and Golf Course
⇨ Jogging Track
⇨ Tennis Court
⇨ Pool
⇨ Yoga Classes
Loved the puppet show and Indian dancing on every night.

Guest Comment.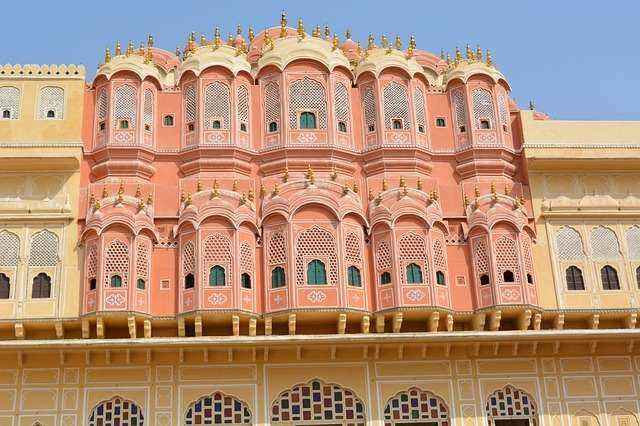 Why is Jaipur Pink?
The history of the pink city goes back to the 1876 Royal visit to India by Prince Albert. The Maharajah of Jaipur, Sawai Ram Singh, wanted to impress the English aristocracy with a visit from the prince so he cleverly built a Concert Hall in the Prince's honour, named the Albert Concert Hall (a popular tourist destination today). Then the Maharajah had the entire city repainted in the colour pink!
Traditionally pink represents hospitality and welcome in India so it's truly a fitting colour. After the prince's visit the Maharajah's first wife loved the pink so much, that the law was changed to require every building in the city to be painted pink. This law is still in effect today! Nowadays, Jaipur is a popular destination because it's a good walking city and there's plenty of historic and architectural wonders to explore….see things to see below…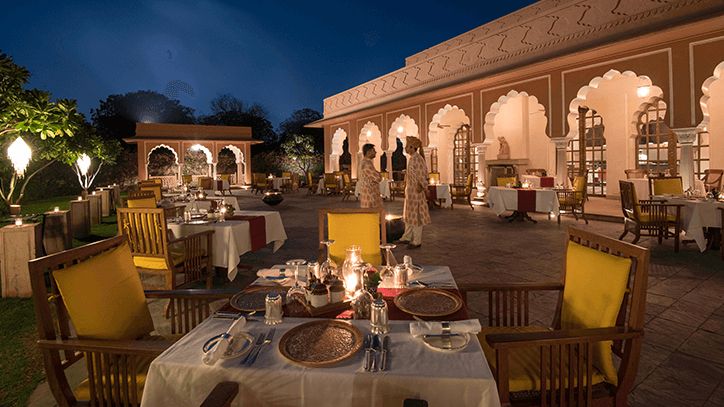 Palatial and Peaceful:
Jaipur is a bustling city but the Oberoi Rajvilas is perfectly positioned 30 minutes away from the hurly burly of the city in a peaceful spot by Lake Pushkar. This award-winning hotel is designed as a luxurious and relaxing retreat surrounded by extensive gardens and landscaping, exotic birdlife including magnificent peacocks, and decorative blue pools. Constructed around an 18th century temple to Shiva, the designers have created a contemporary hotel in the architectural style of a classical Indian fort.
This oasis of calm is tranquil and peaceful in the middle of frenetic, chaotic India.

Guest Comment.
Choose your Accommodation: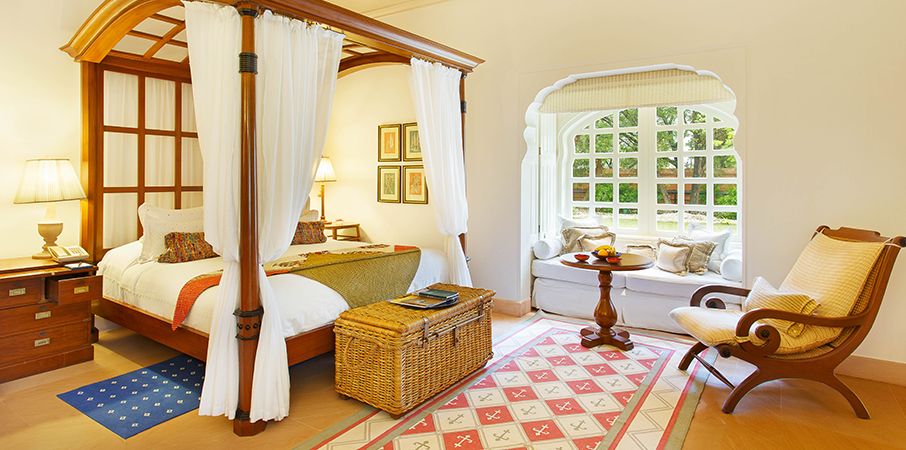 Each type of accommodation looks out to the extensive gardens. You can choose from an authentic collection of rooms – 71 in total. Solo travellers, couples, groups and families are all welcome.
Premier rooms – four-poster bed, sunken bathtub, private courtyard.
Luxury Tent – inspired by long ago desert caravans, offers clawfoot bath, king-size bed, AC.
Royal Tent – inspired by traditional royal caravans, offers dining area, lounge, king-size bed, private garden.
Luxury villa with private pool – 355 m2 of luxury.
Kohinoor Villa with private pool. Outstanding accommodation.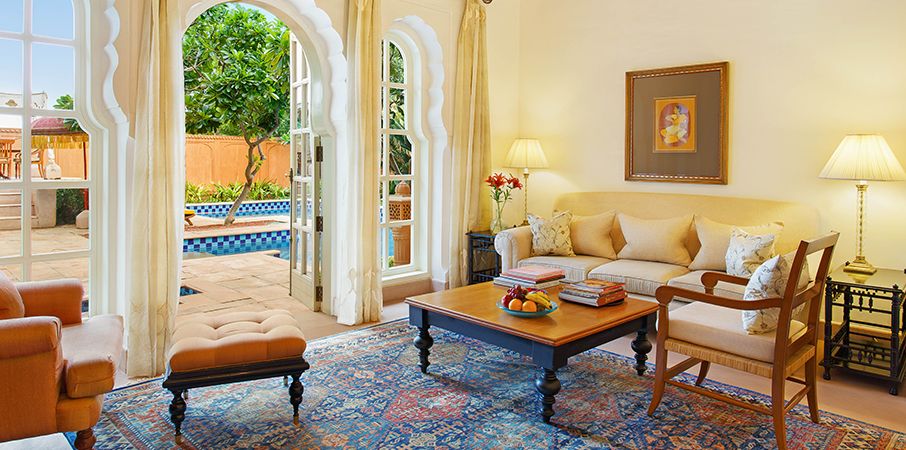 History of Rajvilas:
Back in the 1990's Rajvila's owner wanted to build an elegant hotel based on traditional Rajasthani artisanship, with contemporary luxury, and as a benchmark for Indian 5-star hotels. He found that India's renovated palace hotels just weren't living up to the expectations of visitors, so he created a game-changing hotel experience in Jaipur. While guests adore the architecture and ambiance of Rajvilas they also comment that the staff are incredibly professional, kind and considerate. You'll find Rajvilas is a safe and peaceful retreat while you experience the sights of Jaipur…
Jaipur Things to See: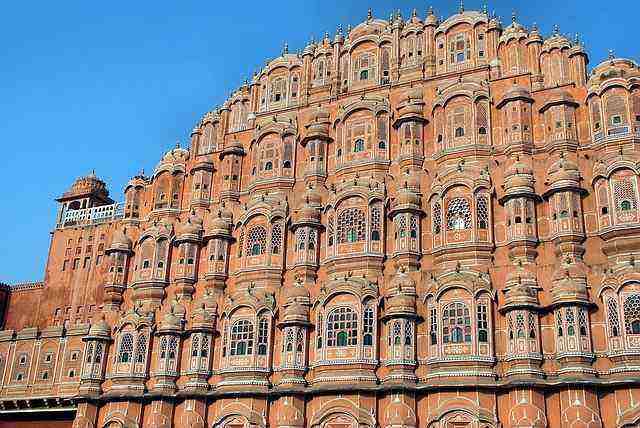 UNESCO sight of Jantar Mantar
City Palace and Amber Palace
Hawa Mahal Palace
UNESCO sight of Amer Fort
Enjoy a Thali meal at one of the local restaurants
Maharaja Sawai Mansingh II Museum
Central Museum
Chandpole Bazaar
Isarlat Minaret
Nahargarh Fort
Royal Gaitor Cenotaphs
You can also see the Viator list of tours here.

The Oberoi Rajvilas, Jaipur
Upshot:
At the Oberoi Rajvilas of Jaipur you'll receive the royal treatment at this elegant Fort hotel designed to evoke yesteryear with contemporary stylish touches. With it's privacy and tranquility you'll feel safe and sound at this oasis of beauty near India's rose-tinted city of Jaipur.