Looking for affordable Nouméa, New Caledonia accommodation on your dream tropical escape? It's true, New Caledonia costs more than other South Pacific destinations. Food in these idyllic isles costs 73% more than in France and dining out is expensive. So, to stretch your money further in Nouméa the trick is: to book an affordable place to stay with a kitchen.
You'll save cash if you shop at the local supermarket for delicious French cheeses, tropical fruits, and local ingredients with a stop at the boulangerie for pain au chocolat and baguettes. You'll eat like a local and save money.
Check out these three fun options. Each accommodation has self-catering options near Nouméa's white sand beaches, island water taxis, French Bistros, boutique shops, and public transport. Read on…
1. Résidence Les Cactus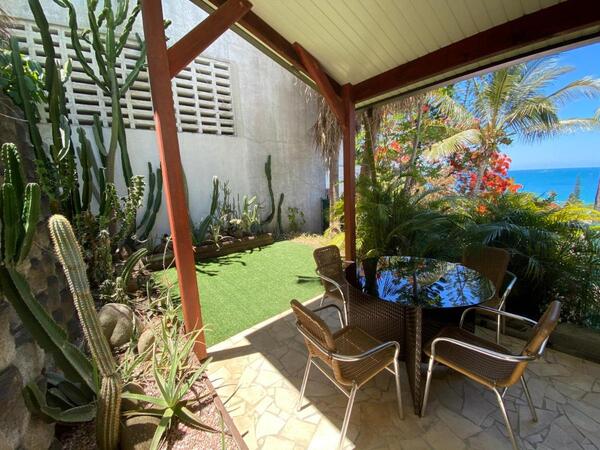 ---
Résidence les cactus, a 450-metre stroll from Baie des Citrons Beach, is an air-conditioned residence in Noumea. The one-bedroom cottage includes a fully-equipped kitchen, a dining area, a flat-screen TV, bedding, towels, a spacious bathroom, and a patio with garden views
Parking is provided on-site and free Wi-Fi is available. Guests can walk to Baie des Citrons Beach in 5 minutes.
The daily price is very low so why not relax and settle in for a week and feel like a local, not a tourist. The advantage of staying 7 days is the low price – 7 nights here costs less than 2 nights in a resort!
Self Catering in Nouméa
The other budget saver is the kitchen. You can buy food cheaply from the local hypermarket and cook at home saving a tonne of money. Relax and dine outdoors on the small covered terrace, where you're protected from the hot sun, while you bask in the tropical ambiance. On that note, you've got air conditioning in the cottage, which is essential during the hot season.
Close to Beaches
The local bus is an easy (and affordable way) to get around and see the sights of Nouméa. You're close to the popular beaches of Anse Vata and Lemon Bay – Plage de La Baie des Citrons. Swim and snorkel at the beach, browse the shops and stop for coffee at one of the chic cafes.
Conclusion:
An affordable cottage with a kitchen and terrace for dining and relaxing in the garden.
---
2. Hôtel Le Lagon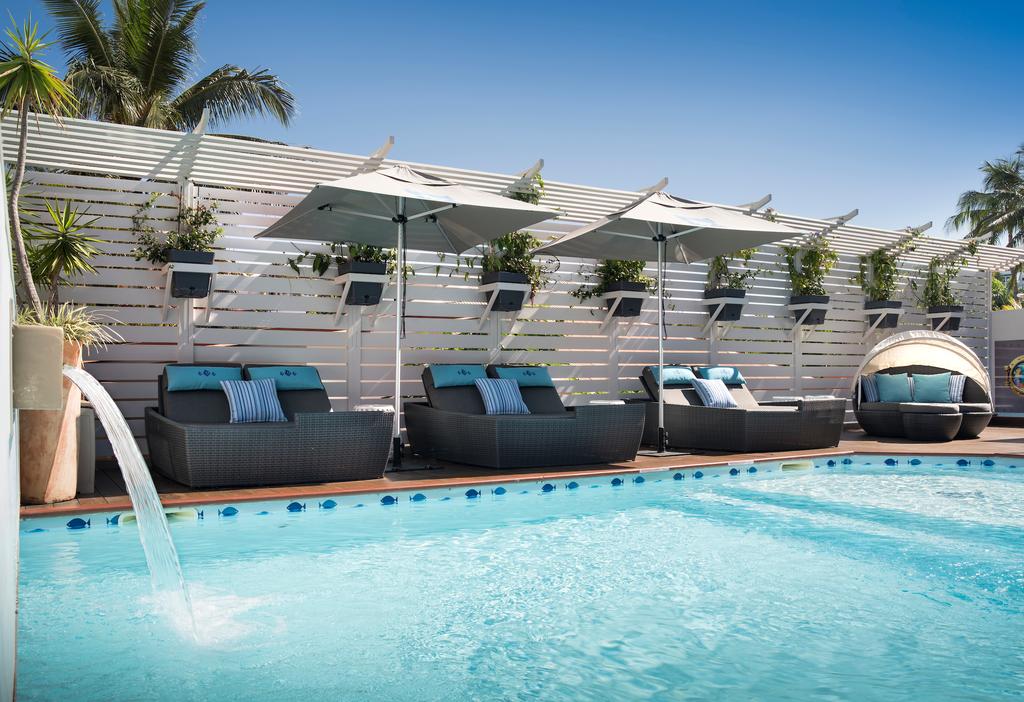 ---
Located close to the beach, local eateries, and shops at L'Anse Vata, Hôtel Le Lagon is popular for its location and wonderful amenities. At the top of the price range in this list, but more affordable if you are a group of four.
Workout, Swim, Relax:
Book an apartment with a kitchen for self-catering and easily stay within budget. Enjoy a spot of food shopping at the local supermarket and boulangerie only minutes' walk away.
Le Lagon has oodles of amenities for everyone – families love the kid's pool and tennis courts. Why not tone up at the gym, relax with an indulgent spa treatment, dive into the pool for a refreshing dip and let your worries melt away in the Jacuzzi.
Boutique Accommodation with Kitchen and Balcony:
No worries about sand in your apartment or suite – they're serviced daily. You can choose from apartments or suites for 4, or studios and suites for 2 – either by the pool or with a sea view. Make sure your stay includes breakfast so you fill up before your 3-minute walk to the beach!
Tip: Ask for an apartment on the quieter seaside of the hotel.
Conclusion:
Hôtel Le Lagon is a popular boutique hotel with pools, apartments with kitchens, and spot-on beach and restaurant locations.
---
3. Marina Beach "Maison de Famille"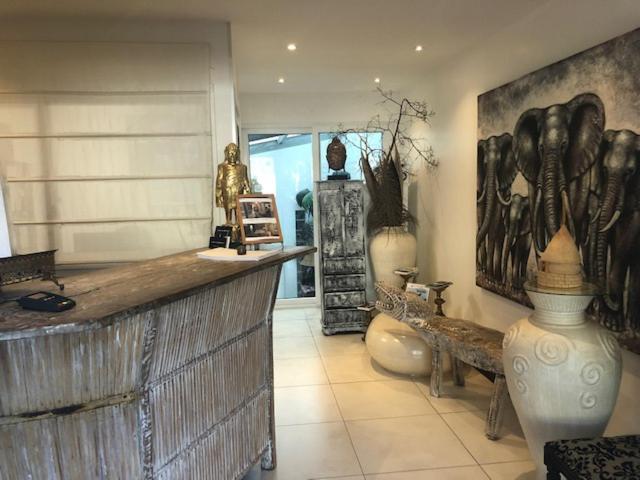 ---
This small private hotel emphasizes relaxation and wellness. Book a Shiatsu massage when you arrive, slow down, and de-stress at Marina Beach "Maison de Famille".
Location Location Location:
Marina Beach doesn't have a pool but it's near the swimming and snorkelling beach, Baie des Citrons (Lemon Beach), and the Marina. The Marina is where you catch the day-trip water taxis out to the little islands beyond Noumea.
Stock up on your ingredients for cooking at the local supermarket, or stroll over to the nearby shopping mall, restaurants, bars, and cafes. A bus stop is near the hotel and Aquarium des Lagons is only 1kms away.
This friendly hotel has studios for two, with indigenous art, stylish furnishings, a kitchenette, en-suite, and AC. Their minimum stay is 3 nights but the price is very reasonable.
Conclusion:
Marina Beach "Maison de Famille" is a stylish, affordable, and friendly hotel in a great location.
---
Things to Do in Nouméa
Now it's Your Turn:
I hope this list of Affordable Nouméa New Caledonia Accommodation with Self Catering helps you plan your next dream trip. Feel free to add to this list or let me know if you have any questions or thoughts!