Looking for rustic local accommodation as you plan your New Caledonia holiday? Here are 5 Authentic Places to Stay on your Dream New Caledonia Holiday on the main island, Grande-Terre. Each gives you a taste of local life along with an unforgettable South Pacific adventure…
Don't waste your money on beige forgettable hotels, this list takes you from charming French-style Gites to traditional Melanesian Beach Huts, and they're all near Noumea so you don't have to travel far to escape, soak up beach life, surf, hike through rainforests and meet the locals…
Types of Accommodation: Eco-friendly and Organic | Traditional | Gîte | Kanak Hut
Location: New Caledonia
Price Range: Hostel $ / Budget $$ / Mid Range $$$ / Luxury $$$$
What is a Gîte?
Popular with the French these were around long before Airbnb. Like a B&B stay with a family in individual rooms or you can hire the whole home.
1. Nekweta Fish and Surf Camp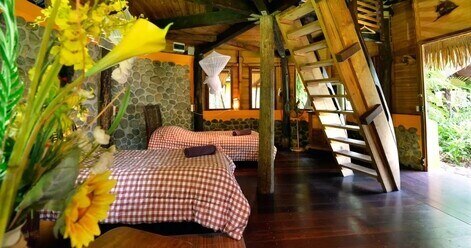 Type: B&B Guesthouse $-$$
Best for: Melanesian Kanak Huts, Delicious Food, Surfing, Fishing, Conservation
Location: La Roche Percée
Step away from the modern world at this quiet and friendly tropical retreat. Not just for surfers – everyone is welcome at this family-run B&B near La Roche Percée beach. You'll find island-style, thatched-roof Case in a tropical garden.
FYI: 'Case' is French for huts. Some Nekweta case have bathrooms and others shared facilities. Relax and pay for full board or half board and enjoy the delicious mostly home-grown cuisine.
Location:
For an adventure the environmentally-conscious owner takes guests for:
Boat trips to Green Island marine reserve to observe the coastal habitats
Take to the ocean on fishing expeditions
Plus Surfing sessions are available for 4-6 hours of surfing.
Only a short walk from Nekwata is a turtle nesting beach.
Only Room for 10 Guests:
Nekweta has room for only 10 guests so you'll meet travellers from around the world as you all eat together around the large dining table. Meals are dependent on what's fresh and special diets are catered for.
People come here for surfing, fishing, and relaxing in this quiet locale but they leave charmed by the friendly owners who are passionate about protecting their pristine environment.
Nekweta Fish and Surf Camp is recommended more for adventurous adults than families.
See Surfing at Nekweta (a bit blurry but gives you an idea):
---
2. L'effet Mer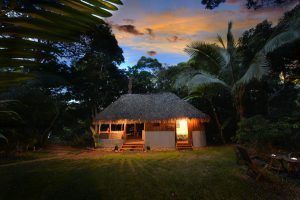 Type: Boutique Guest House $-$$
Best for: Hideaway, White Sandy Beach, Hikes, Surf Boards for Hire, Turtles, Gourmet Food
Location: Bourail
For independent travellers, friendly L'effet Mer offers a choice of thatched garden bungalows near a beautiful beach. The friendly spirit of L'effet Mer and the remote location are perfect for nature and sea-loving visitors.
You can relax all day on the beach and swim or step it up a few notches and try snorkeling, diving, cycling, hiking, windsurfing, golfing, or fishing! Share your adventure stories with other travellers in the outdoor traditional-style lounge.
Handy Hints:
Some bungalows share bathroom facilities.
You can only pay by cash for your accommodation but use a credit card to secure a booking.
Delicious meals are cooked on site but if you're vegetarian or vegan you may not be catered for – so contact them first.
Popular with backpackers.
Families are welcome
Location:
The guest house is only 90kms from the airport.
---
3. Les Cases De Plum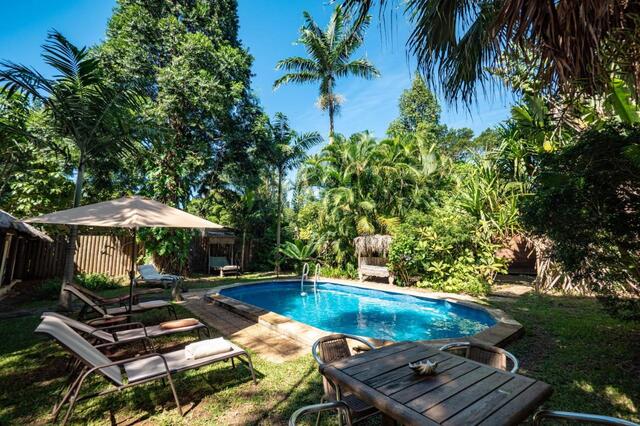 Type: 4-Star Unique Hotel $$
Best for: Oodles of Character, Beachfront, Family-Friendly, 'Resort' with Heart
Location: Mont Dore
Gorgeous unique thatched-roof bungalows run by very friendly hosts only 35 minutes from Noumea City. Set in a pretty tropical garden around a pool. Plum Beach is just across the road for beach activities so it's perfect for families, couples, and solo travellers.
Room & Food:
Each Case has air-con to keep you cool, TV, WIFI (if you need them in this hideaway), and BBQ's for outdoor cooking. Some of the bungalows have kitchens for self-catering but more tempting is the unbelievable food cooked at the on-site restaurant.
Location:
---
4. Tour du Monde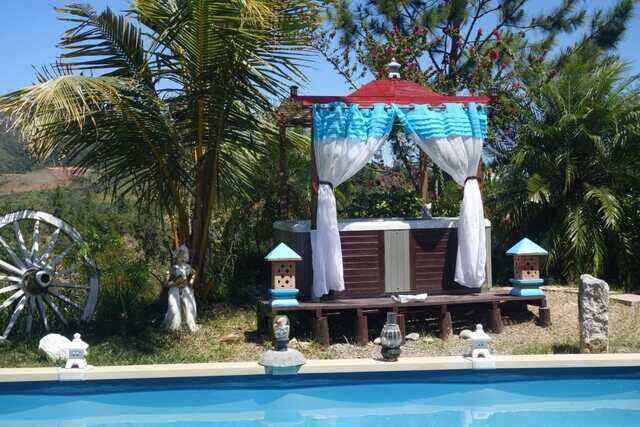 Type: B&B, Gîte $
Best for: Affordable, Friendly, Home-cooked Meals, Hiking, Pool, Children and Pets Welcome
Location: Dumbéa
This super friendly gîte is set amongst trees in the picturesque hills of Dumbéa, only 16kms from Noumea and 25kms from La Tontouta Airport. Your hosts will organise a shuttle to pick you up from the airport (and drop you off after your stay). The owners are extremely helpful and if there's a place in New Caledonia where you can practice your French, this is it!
Bungalows:
Each garden bungalow is unique with a kitchenette and mod cons. Cook for yourself or enjoy the delicious meals, called table d'hôte, cooked by Dan and eat in a social setting along with other travellers from around the world.
Travel:
Tour du Monde is a bit out of the way if you are on public transport although do-able. You can hire a car from the gîte if you want independent transport.
Check it out here:

Get fit hiking the many trails around Tour du Monde and when you need to cool off, the pool is available all year, or ease your weary muscles in the hot tub.
If you're looking for an affordable New Caledonia holiday Tour du Monde is very good value for money with a relaxing friendly vibe.
Location:
---
5. Kanua Tera EcoLodge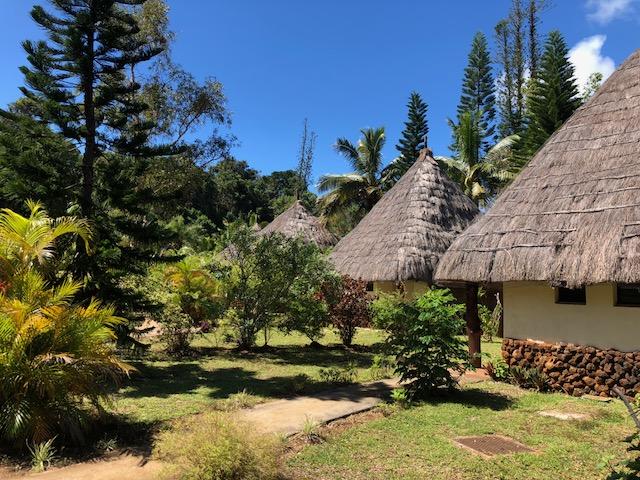 Type: Beachfront Hotel $$$
Best for: Paradise, Water Laps at your Bungalow, Kayaking, Hiking, Scuba, Snorkelling , Pool
Location: Yate Beach
Escape and unwind at this boutique Melanesian hotel set in lush rainforest on the water at Port Boise Bay. Families are welcome. More 'eco' by location than sustainable practices, the bungalows are so close to the water you'll feel closer to nature.
Breakfast is included with your nightly stay, plus lots of free beach activities like kayaking and snorkelling. Kanua Tera has a good restaurant on site with limited but delicious choices. FYI: Alcohol is expensive.
Tips:
The location feels remote and secluded but you're only 2 hours by car (91 km) southeast of busy Noumea.
The road is pot-holed so take your time and enjoy the adventure!
There are no shops nearby, except the restaurant on site, so take snacks with you
Kanua Tera EcoLodge is recommended for a few nights of relaxation by the sea with a spot of snorkelling, swimming and nature walks in the forest.
See the EcoLodge:
---
Tours: relax and let someone else do the organizing!
Now it's Your Turn:
I hope this list of 5 Authentic Places to Stay on your Dream New Caledonia Holiday helps you plan your trip. Feel free to add to this list or let me know if you have any questions or thoughts!