Wellington is a fun and cosmopolitan city. A hotbed of culture, nature, art, foodie heaven, quirky cafés, theatres, local breweries, beautiful harbour and the occasional windy day! These 9 unique places to stay in Wellington are set in some of Wellington's popular neighbourhoods and offer quirky and memorable stays…
Boutique – Lighthouse – Keep – Heritage – Beach – Off-Grid – Art
See also: What are Free Things to do in Wellington
---
1. U Boutique Hotel: Affordable, Stylish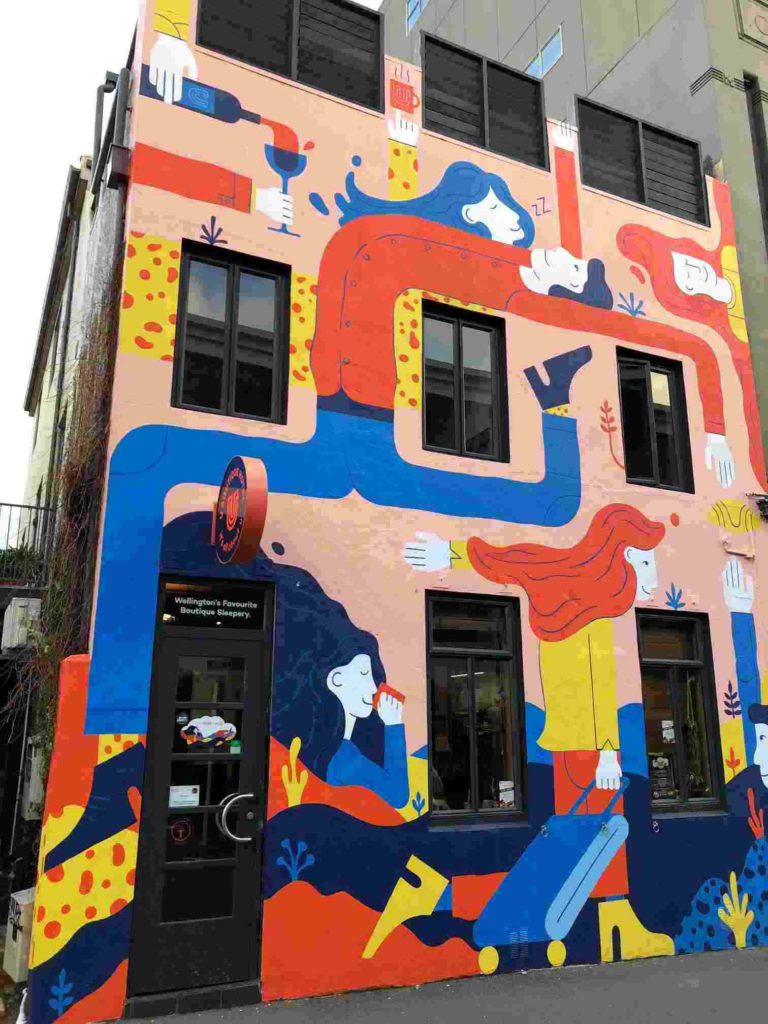 Type: 3.5 Star Hotel $
Best for: Location, Affordable, Contemporary
Location: Frederick Street, Inner City
Once a printing factory and a Masonic Lodge this 1925 inner city building is now a stylish and affordable boutique hotel. In the heart of Welly you're walking distance to restaurants, theatres, the nightlife of Courtenay Place (even for just a stroll), Te Papa, the waterfront, and art galleries. You're 3kms to the Ferry Terminal so U Boutique is a great stop off on your journey north or south.
Enjoy the free scones and coffee/tea on offer in the lounge.
Breakfast is included in the price.
Free WIFI
Spa pool on the roof
Top Tips: When you book check if your room includes en-suite or shared bathroom. Breakfast starts at 7.30 – this may be too late for you if you're booked on the early morning ferry.
U Hotel keeps the customer in mind with a variety of suites to choose from in a number of configurations to suit solo travellers or groups up to 5. The prices are all within the very affordable range.
Suites on offer:
King Bed and en-suite, big deck and hot tub on the top floor
Queen Studio with private bathroom located next door (not en-suite)
Family Suite – 1 queen bed and 3 single beds. Private bathroom or en-suite. Up to 5 guests.
Queen Studio with queen-size bed, shared bathroom next door
Twin Studio with twin beds, shared bathroom next door
Triple Studio one single and two single bunk beds with shared bathroom next door. Up to 3 guests.
King Studio: 1 king size bed and 1 single bed with en-suite
King Studio: 1 king size bed and 1 single bed with en-suite and kitchenette (28m2). Up to 3 guests.
Self-contained King Studio: 1 king size bed and 1 single bed with en-suite, living area and kitchenette (50m2)
Self-contained Double Studio with double bed, en-suite, kitchenette, TV, deck for the budget-conscious traveller
Check where you can grab the best price:
---
2. Aro Valley Historic Townhouse: Homestay, Spacious
Type: Holiday Home $$
Best for: Large House, Inner City, Parking
Location: Aro Valley
This olde-worlde townhouse is spacious and centrally located in inner-city Aro Valley. This area is popular with students and definitely feels cool/grungy, which may or may not be your cup of tea, but Aro Valley has a strong community feel.
For history buffs Aro Valley is an amazing 'largely untouched remnant of old Wellington' (Source). If you're interested in 19th Century architecture then Aro Valley is a time warp with workers cottages and historic homes lining the valley. You're a quick walk to funky Cuba Street with lots of quirky shops, great restaurants and cafes.
Wellington is compact so it's not far to walk to the Beehive, Te Papa, and Oriental Bay. You can read more about Aro Valley on my post here: Free Things to do in Wellington.
Hot Tip: Get the free Welly Walks App on your phone which has instructions and maps to explore history, art, boutiques, nature, breweries and hidden gems around the city.
Aro Valley Historic Town House is a holiday home so you're booking the whole place which can accommodate up to 9 guests. If you're only 2 people (or less than 9) then they'll close off the other bedrooms. The best and quietest room is the garden view room with queen bed.
The interior is modern and you've got all the mod cons and free wifi. Feel at home in the comfy lounge, kitchen, sunny courtyard and cook your sausies on the BBQ in summer with al fresco dining. There's parking for one car and pets are negotiable. The cleaning fee is a whopping $100 so you might want to ask the owners about that one. Book here
---
On your way to the South Island? The Intrepid South Island Discovery Tour is an easy 10 day tour and affordable. Trek the Catlins, cruise to Doubtful Sound, wine tasting, Queenstown, Maori cultural visit, Stewart Island and lots more. Check here to see if they have any special deals at the moment.
---
3. Woodroyd Estate Belmont – Grand Stay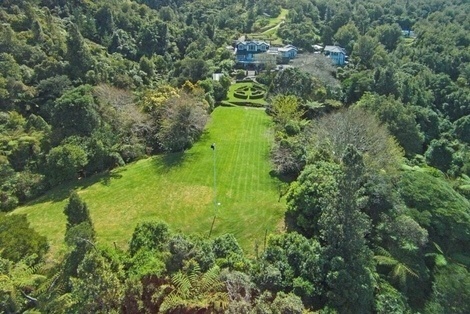 Type: Holiday Home $$$$
Best for: Special Occasions, Romantic, Huge Bedrooms, Expansive Gardens and Walks
Location: Belmont, Lower Hutt
This Tudor-Style home is the perfect escape for special occasions and a chance to treat yourself! Grand gates lead you down a beautiful drive past gardens and two waterfalls to this magnificent property on the hills above Lower Hutt, 15 minutes to Wellington.
The home's quality is on full display with carara ceilings, matai floors, leadlight windows and crafted wooden interiors. This magnificent property has room for 10 guests with four bedrooms, master suite, tiled expansive bathrooms, wine cellar, and even a powder room near the entrance. Formal and informal lounges, a large farmhouse-style kitchen and a games room with a bar create a space for entertaining and special occasions.
4. Abigail Bay Bach – Off Grid Homestay, Remote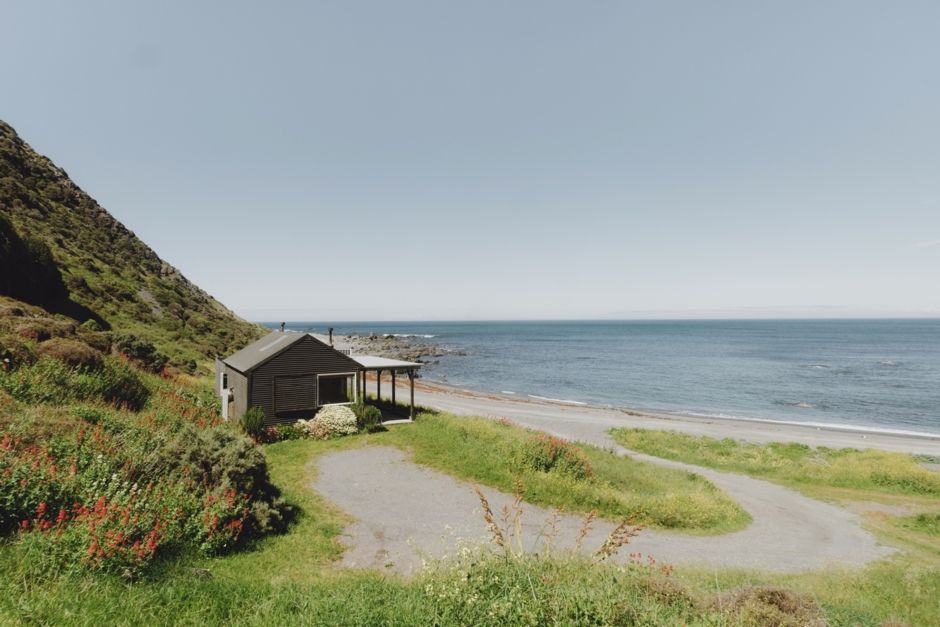 Type: Holiday Home $$
Best for: Wild Location, Remote, Comfortable
Location: Red Rocks
Close to the city and yet so remote! This cute bach for 2 guests is set on Wellington's wild south coast with seals for company in the winter months (May to September). To get there ideally you need a 4X4 vehicle but just possible with a car. Nestled in a Karaka tree grove the bach looks out over the rocks and onto Cook Strait and the Antarctic as the crow flies!
Bach Info:
A wild location and totally off-grid with solar lights, gas for hot water and cooking. There's no fridge at this coastal hideaway so bring some bags of ice (buy at petrol stations) for the chilly bin (called an esky in Australia). Linen is included. According to bach traditions you're expected to do the dishes and clean the bach at the end of your stay.
Things to do:
Walk around the coast past gannets, seals, sand dunes, and rockpools or stay warm by the super-efficient fireplace, read a book or play one of the board games. Abigail Bay Bach is a fantastically serene place to relax. Read reviews and check prices at VRBO here.
The owners also have a bigger off-grid bach near this one, Hunter Bay Bach – see that one here. Pics of that bach here:
---
5. The Lighthouse and The Keep Wellington – Quirky
Ever dreamed of staying in a lighthouse? This B&B is definitely one of the most unique places to stay in Wellington! On the south coast near the airport you can be a lighthouse keeper for the night or why not book the keep? What's a keep you may ask – well, traditionally in the middle ages this was built by the nobility as a fortified tower within the confines of a castle. (Source). Now you can sleep in your own keep or lighthouse on the coast with lovely sea views.
The Lighthouse: purpose-built as a quirky place to stay the Lighthouse is comfortably furnished but nothing flash. Includes lounge, kitchen, and bathroom on the ground floor. The bedroom is on the first floor. The top floor has a seating area and access to the circular balcony with lovely sea views.
The Keep is 1 kms away from the Lighthouse. On the ground floor you have the entrance and toilet, first floor is lounge, kitchen and dining. The top floor has a queen bed, spa bath, toilet and shower.
Both quirky accommodation options include breakfast which you prepare for yourself. So this unique accommodation gives you a wonderful chance to be a lighthouse keeper for a night or king or queen of your very own castle keep! (Photo)
---
6. QT Wellington – Luxury, Contemporary Art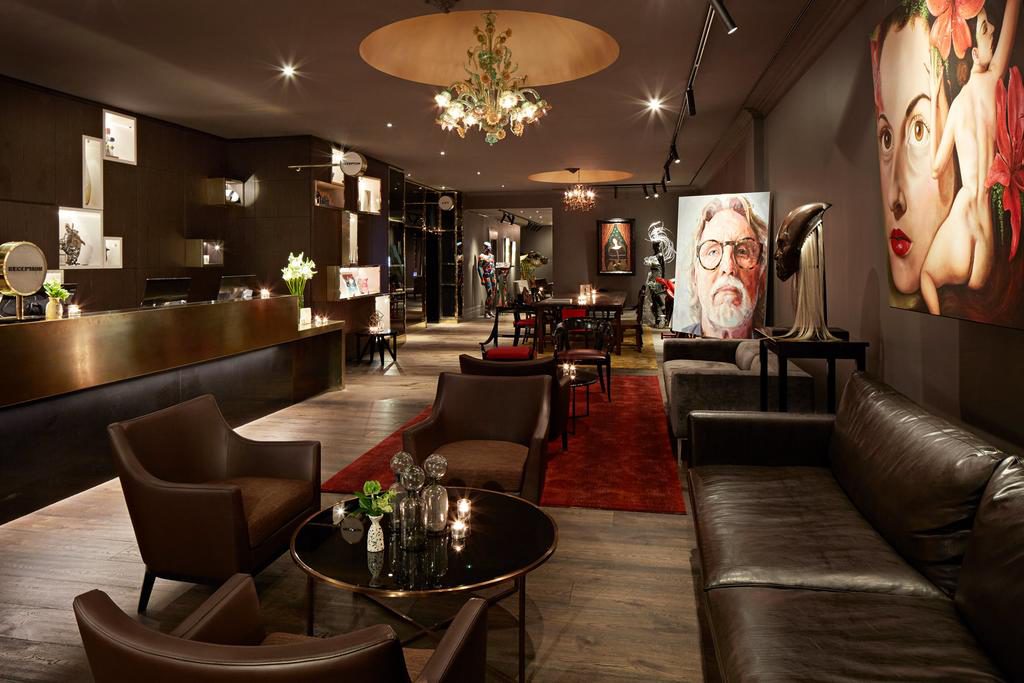 Type: 4.5 Star Hotel $$$
Best for: Art, Art, Art! Central Location, Luxury
Location: Cable Street (across from Te Papa and the Waterfront)
With an enormous golden hippopotamus at the front of this hotel you're definitely in for a treat of glorious art and design at QT Wellington. This beautiful design hotel features New Zealand contemporary art around every corner and each guest room is uniquely designed. Even the bathrooms look like an art gallery!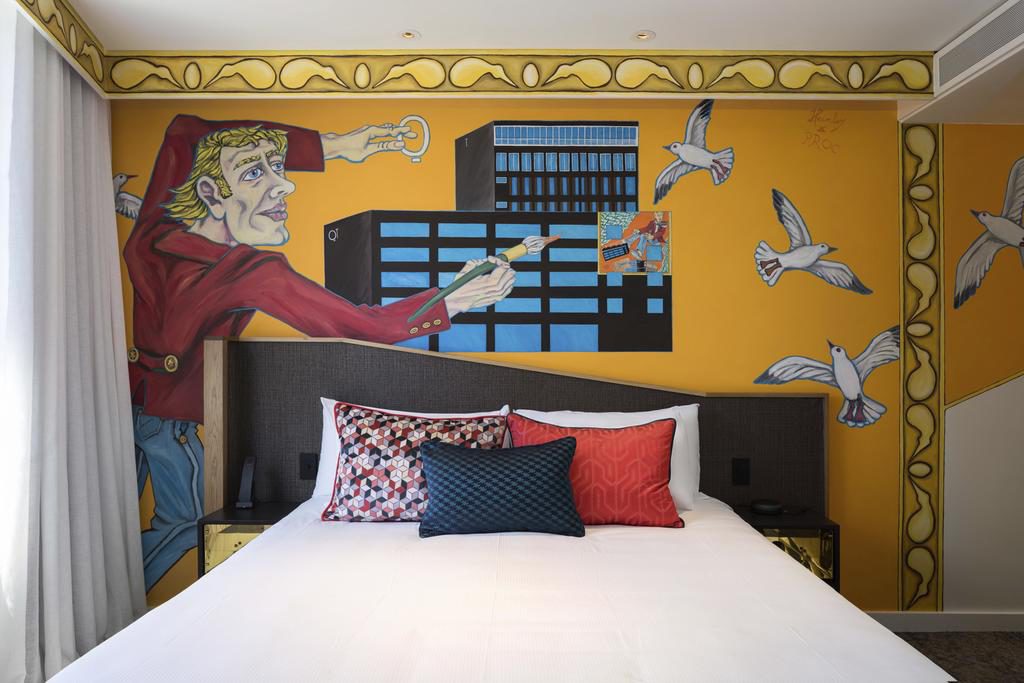 On Wellington's waterfront across the road from Te Papa QT Wellington is in a top spot. The hotel's leisure facilities are excellent too with a well-equipped gym, spa pool, indoor pool, and spa and beauty treatment centre. Dine in luxury at the Hippopotamus French-inspired restaurant or stylish Hot Sauce, their new Asian Eating House and Bar. If you're too relaxed just order room service.
You'll be amazed by the creativity and luxury of each suite with: stylish furnishings, bose sound systems, Nespresso machines, 42 inch TVs, and some with decks.
Choose from QT Superior King, QT Deluxe King, QT Gallery King, QT Harbour View King, QT Gallery Harbour View King or apartments for longer stays. Guests rave about how well they sleep at QT (hint: beds are QT Gel beds designed for maximum comfort!) The gallery suites feature contemporary art from well-known New Zealand artists.
QT Wellington is a beautiful art-filled boutique hotel on Wellington's waterfront that you'll love.
Search for the best price:
---
7. Beachfront Wellington Bed & Breakfast – Quaint, Elegant
Type: Bed & Breakfast $
Best for: Heritage Stay, At the Beach, Affordable
Location: Worser Bay
Read reviews and book at Booking.com here.
This beautiful B&B is at the beach at Worser Bay and next door to the lovely village of Seatoun. Name dropping: this is The Hobbit Director, Peter Jackson's neighbourhood!
The B&B is an elegant Victorian mansion that is cosy, comfortable and full of character. Hearty and delicious breakfasts every morning to start your day off fantastically. Fabulous views from every window too. Book here.
---
8. Ohtel Wellington – Designer Vibe, Oriental Bay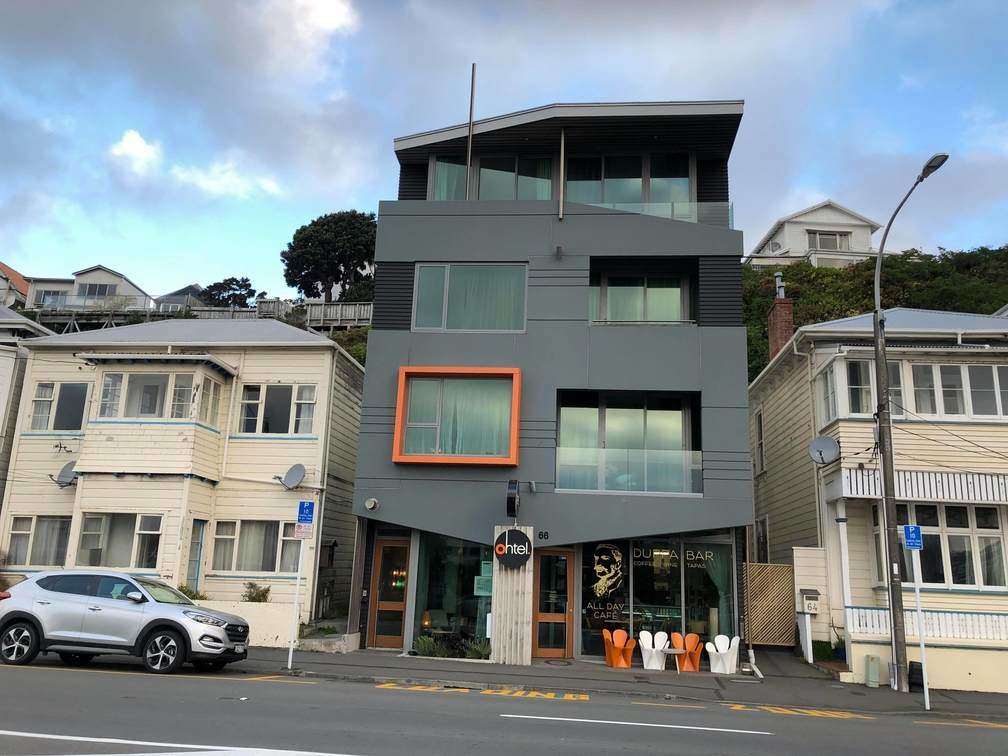 Type: 5 Star Boutique Hotel $$
Best for: Mid-Century Elegance, Marble Bathrooms
Location: Oriental Bay (city end)
With oodles of urban chic this designer boutique hotel is perfectly positioned in beautiful Oriental Bay. You can choose from studio, deluxe, superior rooms or a suite – all with king size beds. Looking out over Port Nicholson Marina and the harbour you're also close to night life, Te Papa, and the waterfront walk.
---
9. BONUS: Recommended Cheap Eats in Cuba Street:
Aunty Mena's for vegan and vegetarian
Midnight Espresso for vegan
Olives for delicious French and Italian-inspired food and the hidden back garden for brunch
Fidel's for coffee, hip counter food (pictures of Fidel everywhere – remember you are in Cuba Street!)
Little Penang for cheap Malaysian dishes around the corner in Dixon Street
Rasa for South Indian and Malaysian (try the yum dosas!)
Inner city supermarkets are New World Willis Street, New World Wellington City on Wakefield Street, New World at the Railway Station, cheapest supermarket is PaknSave Kilbirnie.
Moore Wilson's Food Hall is worth a visit for delicious specialty and deli food. Corner of Tory and College Streets.
Happy Travelling! I hope you've enjoyed this awesome list of 9 Unique Places to Stay in Wellington. If you need any more information or want to join the conversation please share in the comments section below. Alisa 🙂
Have you heard about SiloStay in Banks Peninsula? Read about that here.