Wellington is a fun and cosmopolitan city. A hotbed of culture, nature, art, foodie heaven, quirky cafés, theatres, local breweries, beautiful harbour and the occasional windy day! These 12+ unique places to stay in Wellington are set in some of Wellington's popular neighbourhoods and offer quirky and memorable stays…
Read on for an amazing selection of accommodation: Lighthouse, Art Hotel, Off-grid Bach, Keep, Historic Holiday Home, and more…
Types of Accommodation: Boutique and Spa | Quirky | Art Hotel
Location: Wellington | North Island | New Zealand
Price Range: Hostel $ / Budget $$ / Mid Range $$$ / Luxury $$$$
See also: Cool Glamping Near Wellington
---
1. The Intrepid Hotel – Edgy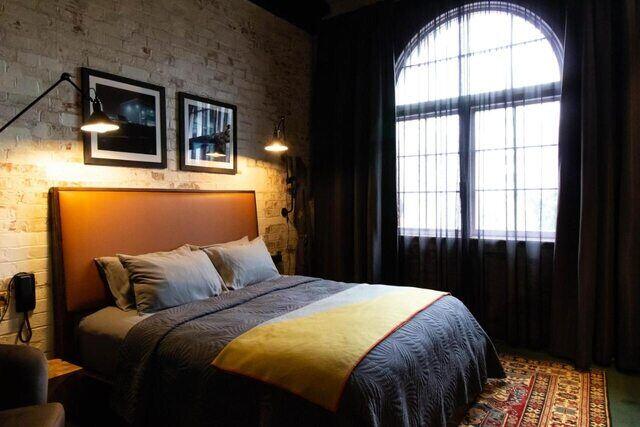 Type: Boutique Hotel $$
Best for: Stylish, Central, Croissants, Cocktail Bar
Location: 60 Ghuznee Street, Cuba Quarter
Don't miss a stay at this luxe quirky hotel – book at Booking.com
This Industrial chic hotel with a New York vibe lies in the heart of Cuba Quarter, near restaurants, bars, and nightlife. But the rooms are soundproof and peaceful. Reviews on TripAdvisor are absolutely gushing! Choose from Queen, King, Superior and Deluxe Suites for 2-3 guests.
Guests Love:
Valet parking
Delicious croissants and orange juice for breakfast (included in nightly stay)
Special touches – turndown service with chocolate, guest robes, complimentary drinks and snacks
Puffin Bar on the ground floor
Comfortable bed and big bathroom
---
2. U Boutique Hotel: Affordable, Stylish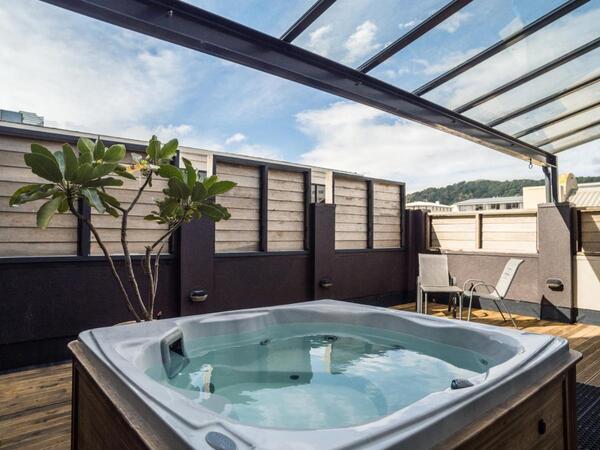 Type: 3.5 Star Boutique Hotel $$
Best for: Inner City, Affordable, Contemporary, Family Rooms
Location: Courtenay Quarter
Book at Booking.com
Once a printing factory and a Masonic Lodge this 1925 inner-city building is now a stylish and affordable boutique hotel. In the heart of Welly you're within walking distance to restaurants, theatres, the nightlife of Courtenay Place (even for just a stroll), Te Papa, the waterfront, and art galleries.
You're only 3kms to the Ferry Terminal so U Boutique is a great stop off on your journey north or south.
The Spaces:
U Hotel keeps the customer in mind with a variety of suites to choose from in a number of configurations to suit solo travellers, couples, families, or groups of up to 5. The prices are all within the very affordable range…
Top Tips: When you book check if your room includes an en-suite or shared bathroom. Breakfast starts at 7.30 – this may be too late for you if you're booked on the early morning ferry.
Good to Know:
Enjoy the free scones and coffee/tea on offer in the lounge.
Breakfast is included in the price.
Free WIFI
Spa pool on the roof
---
3. Naumi Studio Wellington – Whimsical
Type: 4 Star Boutique Hotel $$
Best for: Glam-Chic Art Hotel, Affordable, Lola Rouge Restaurant and Bar
Location: Cuba Street
Book a Weekend Stay at Booking.com
Review: We checked into this gorgeous hotel billed as a 'Place of Whimsy' on the first day of winter. It felt like checking into a warm woollen blanket, the black and white tartan carpet creates a warm, cosy feeling. The central heating is out of this world! Art everywhere.
The room was small but heavenly with everything you need – fridge, iron, tea/coffee, side marble tables, soft bed and creative headboard. I adored the wine-red bathroom with crisp white marble and stark black tapware. The body wash smelt of sweet green apples. All in all the room was a great combo of art, design and warmth.
Don't miss breakfast, cocktails and eats at Naumi's popular Lola Rouge Restaurant and Bar.
---
4. Mövenpick Hotel Wellington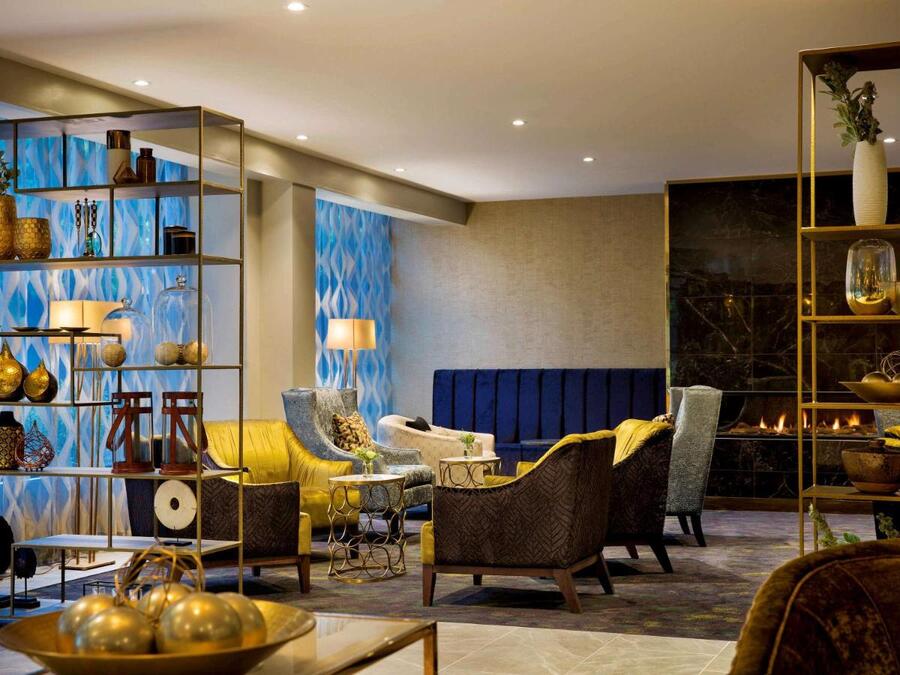 Type: 5-Star Hotel $$$
Best for: Chocolate Hour, Sauna, Pool,
Location: Central
Book your fun stay at Booking.com
Chocolate hour is a highlight at this centrally located elegant hotel. Mövenpick Hotel is popular with couples, families and groups with lots of amenities on offer (gym, pool, sauna) and ice cream for the kids.
"Aesthetically beautiful. 24 hour reception and room service. Friendly concierge even at 1:20am! Easy to get late checkout given our late check in."

Happy Guest
Guests Love:
Free snacks at the pool
Free tea and cookies at the entrance
Slippers and gowns in each room
Fitness Centre
Smart TV, Free WIFI
Āmiki Manuka honey amenities
Executive Rooms and Suites also feature a Bose sound system and Nespresso coffee machine
---
5. Ohtel Wellington – Designer Vibe, Oriental Bay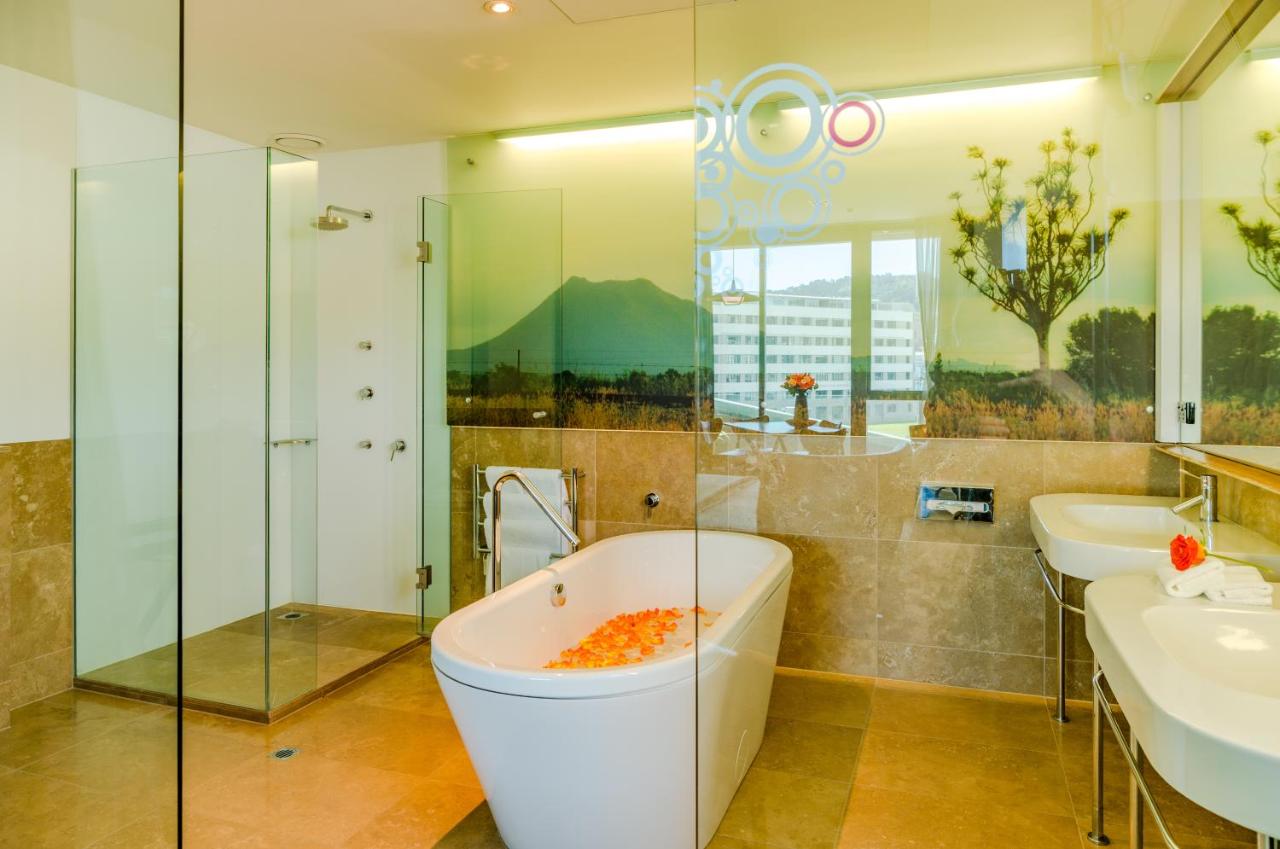 Type: 5-Star Boutique Hotel (adult only) $$
Best for: Mid-Century Elegance, Marble Bathrooms
Location: Oriental Bay (city end)
With oodles of urban chic, this designer boutique hotel is perfectly positioned in Oriental Bay. You can choose from studio, deluxe, superior rooms or a suite – all with king-size beds.
Looking out over Port Nicholson Marina and the harbour. You're also close to the nightlife, Te Papa, the beach, and the waterfront walk where you can hire e-bikes. Take a hike up Mount Victoria for expansive city-wide views. See walking maps here.
Guests Love:
Location near The Embassy Theatre, Bats Theatre, Mockingbird Vegan Restaurant and Bar, Chow Tory, Sweet Mother's Kitchen, and the Ortega Fish Shack
Spacious Suites with retro furnishings
Vinyl player with selection of vinyls
Ask for a room with a balcony and view of the bay
---
6. QT Wellington – Luxury, Contemporary Art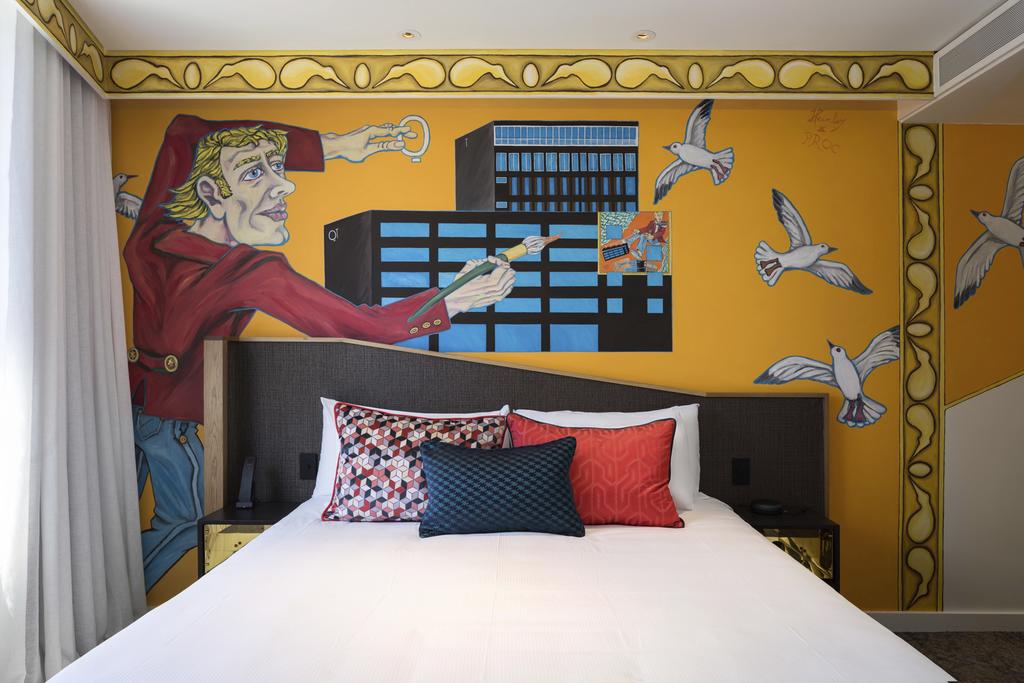 Type: 4.5 Star Hotel $$$
Best for: Art, Art, Art! Central Location, Luxury
Location: Cable Street (across from Te Papa and the Waterfront)
With an enormous golden hippopotamus at the front of this hotel, you're definitely in for a treat of glorious art and design at QT Wellington. This design hotel features New Zealand contemporary art around every corner and each guest room is uniquely styled. Even the bathrooms look like an art gallery!
On Wellington's waterfront across the road from Te Papa, QT Wellington is in a top spot. The hotel's leisure facilities are excellent too with a well-equipped gym, spa pool, indoor pool, and spa and beauty treatment centre.
Dine in luxury at the Hippopotamus French-inspired restaurant or contemporary Hot Sauce, their new Asian Eating House and Bar. If you're too relaxed just order room service.
Each suite includes: Bose sound systems, Nespresso coffee machines, 42-inch TVs, and some have balconeys.
Choose from QT Superior King, QT Deluxe King, QT Gallery King, QT Harbour View King, QT Gallery Harbour View King or apartments for longer stays.
Guests rave about how well they sleep at QT (hint: beds are QT Gel beds designed for maximum comfort!)
QT Wellington is a beautiful art-filled boutique hotel on Wellington's waterfront that you'll love.
---
7. Cheap and Quirky Stay at Marion Hostel in Cuba Precinct
---
You'll feel spoilt at this elegant Villa with luxurious furnishings and interiors. Why stay in a bland hotel when you can experience gorgeousness! The guest suite includes the master bedroom, a separate lounge, a separate dining area, and your own bathroom with bath and shower. The suite can fit up to 3 guests.
---
9. Abigail Bay Bach – Off-Grid Homestay, Remote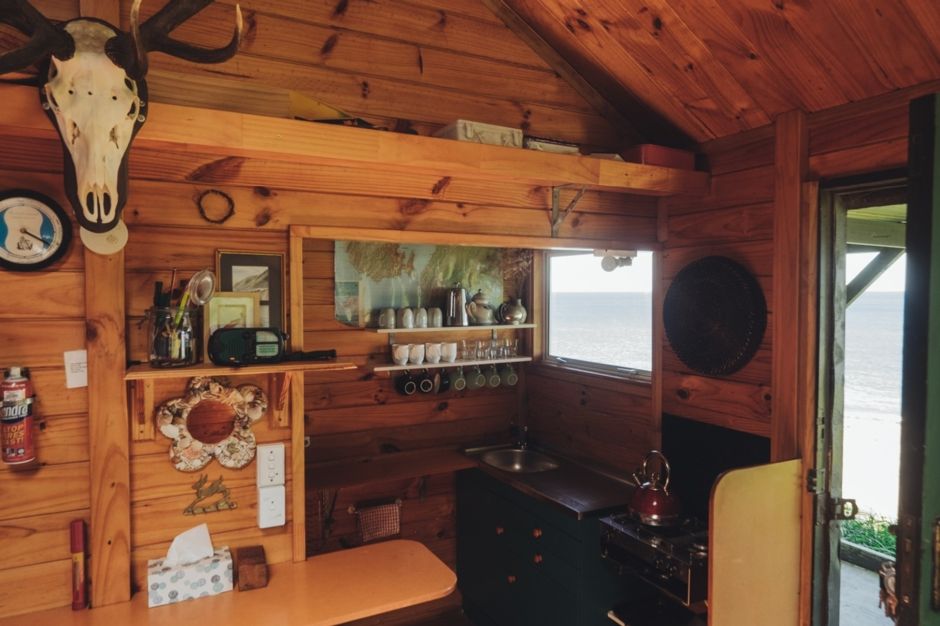 Best for: Remote Holiday Home, Wild Location, Comfortable, Private, Red Rocks, Couples, Friends $$
Close to the city and yet so remote! This cute bach for 2 guests is set on Wellington's wild south coast with seals for company in the winter months (May to September).
Nestled in a Karaka tree grove the bach looks out over Red Rocks and onto Cook Strait and the Antarctic as the crow flies!
Bach Info:
Abigail Bay Bach is in a wild location and totally off-grid with solar lights, gas for hot water and cooking. There's no fridge at this coastal hideaway so bring some bags of ice (buy at petrol stations) for the chilly bin (called an esky in Australia).
Linen is included. According to bach traditions you're expected to do the dishes and clean the bach at the end of your stay.
Things to do:
Walk around the coast past gannets, seals, sand dunes, and rockpools or stay warm by the super-efficient fireplace, read a book or play one of the board games. Abigail Bay Bach is a fantastically serene place to relax.
---
10. The Lighthouse and The Keep Wellington – Quirky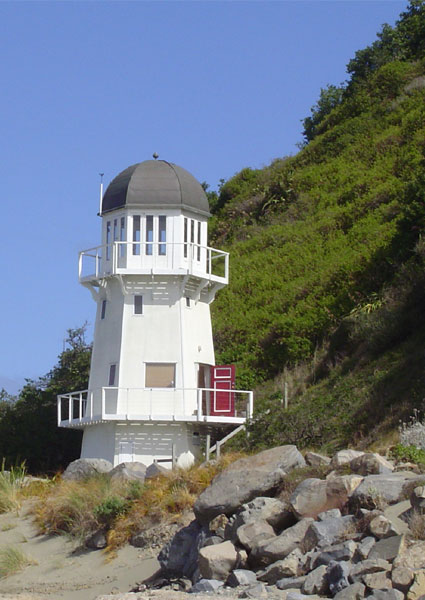 Ever dreamed of staying in a lighthouse? This B&B is definitely one of the most unique places to stay in Wellington! On the south coast near the airport you can be a lighthouse keeper for the night or why not book the keep? What's a keep you may ask – well, traditionally in the Middle Ages this was built by the nobility as a fortified tower within the confines of a castle. (Source). Now you can sleep in your own keep or lighthouse on the coast with lovely sea views.
The Lighthouse: purpose-built as a quirky place to stay the Lighthouse is comfortably furnished but nothing flash. Includes lounge, kitchen, and bathroom on the ground floor. The bedroom is on the first floor. The top floor has a seating area and access to the circular balcony with lovely sea views.
The Keep is 1 kms away from the Lighthouse. On the ground floor you have the entrance and toilet, the first floor is lounge, kitchen and dining. The top floor has a queen bed, spa bath, toilet and shower.
Both quirky accommodation options include breakfast which you prepare for yourself. So, this unique accommodation gives you a wonderful chance to be a lighthouse keeper for a night or king or queen of your very own castle keep! (Photo)
---
11. The Historic

Dwellington Hostel

near The Beehive, Railway Station and Ferries $
---
12. Beachfront Wellington Bed & Breakfast – Quaint, Elegant
Type: Bed & Breakfast $
Best for: Heritage Stay, At the Beach, Affordable
Location: Worser Bay
Read reviews and book at Booking.com here
This beautiful B&B is at the beach at Worser Bay and next door to the lovely village of Seatoun. Name dropping: this is The Hobbit Director, Peter Jackson's neighbourhood!
The B&B is an elegant Victorian mansion that is cosy, comfortable and full of character. Hearty and delicious breakfasts every morning to start your day off fantastically. Fabulous views from every window too. Book here.
---
13. Wellesley Boutique Hotel – Charming
---
BONUS: Tips and Recommended Cheap Eats in Cuba Street:
Wellington is compact so it's easy to walk to the Beehive, Te Papa, Cuba Street, Lambton Quay and Oriental Bay. Catch the cable car (on Lambton Quay) up the hill to the Botanic Gardens and Space Place at Carter Observatory.
Hot Tip: Get the free Welly Walks App on your phone which has instructions and maps to explore history, art, boutiques, nature, breweries and hidden gems around the city.
Eats:
Aunty Mena's for vegan and vegetarian
Midnight Espresso for vegan and variety
Olive for delicious French, vegan and Italian-inspired food and the hidden back garden for brunch
Fidel's on Cuba for coffee, hip counter food (pictures of Fidel everywhere – remember you are in Cuba Street!)
Little Penang for cheap Malaysian dishes around the corner in Dixon Street
Rasa for South Indian and Malaysian (try the yum dosas!)
Inner city supermarkets are New World Willis Street, New World Wellington City on Wakefield Street, New World at the Railway Station, cheapest supermarket is PaknSave Kilbirnie.
Moore Wilson's Food Hall is worth a visit for delicious specialty and deli food. Corner of Tory and College Streets.
Happy Travelling! I hope you've enjoyed this awesome list of Unique Places to Stay in Wellington. If you need any more information or want to join the conversation please share in the comments section below. Alisa 🙂
---
Staytopia's Latest Posts: