You'll find Coober Pedy underground accommodation surprisingly cool, cosy, and spacious. Named 'dugouts' by the locals, 60% of this town live underground so staying for a while in Coober Pedy means you'll discover what it's like to live in a cave!
Incredibly the town's pubs, shops, art galleries, and churches are all underground too. It all started when the early opal miners chose to live in the opal mines to stay cool in this hot desert climate (source). Over time this style of living took over the whole town.
If you want to know more about Coober Pedy in South Australia read my post about this iconic mining town here>>
Destination: Coober Pedy | South Australia | Australia
Accommodation: Underground
Bookings can be made at Expedia, Booking.com and Agoda where you'll see the prices and can book the style of cave that best suits you…
1. Desert Cave Hotel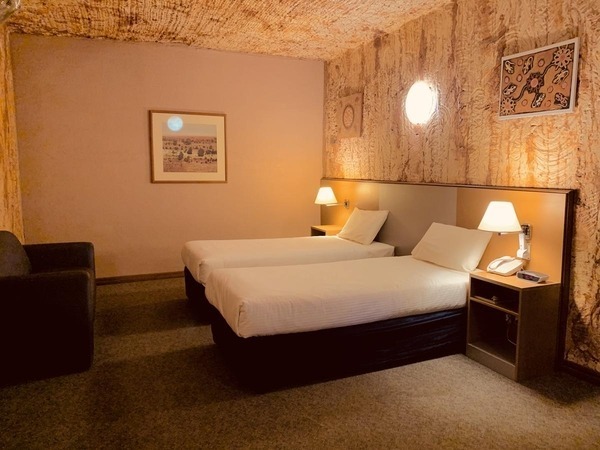 Best for: 4-Star Hotel, Central Location, Swimming Pool, Room Service
Escape the heat and dust inside one of Coober Pedy's most well-known hotels, Desert Cave Hotel. Right in the centre of town, this 4-star international hotel has all the comforts you want after a long drive in the outback – refreshing swimming pool, WIFI, bar/lounge for a relaxing cold drink, air-conditioning to cool down, room service – and of course you get to check into an underground suite!
FYI: The hotel also has above-ground suites which are listed when you book.
You can grab a bite to eat at the hotel restaurant and bar which are both underground and highly recommended. On the activities front check out the hotel's tunnel museum showcasing Coober Pedy's mining history, hotel staff can arrange tours for you, and golfing is available 3kms away – with no grass in sight! The hotel is a short walk to an IGA, restaurants, and shops so you can stock up on supplies.
Good to Know:
Breakfast served in the restaurant (extra charge)
Bar fridge in room, Coffee Pod Machine, and Tea Making
Toiletries included
Book at Booking.com or check prices and availability here – you'll stay on this page:
---
2. Underground Bed and Breakfast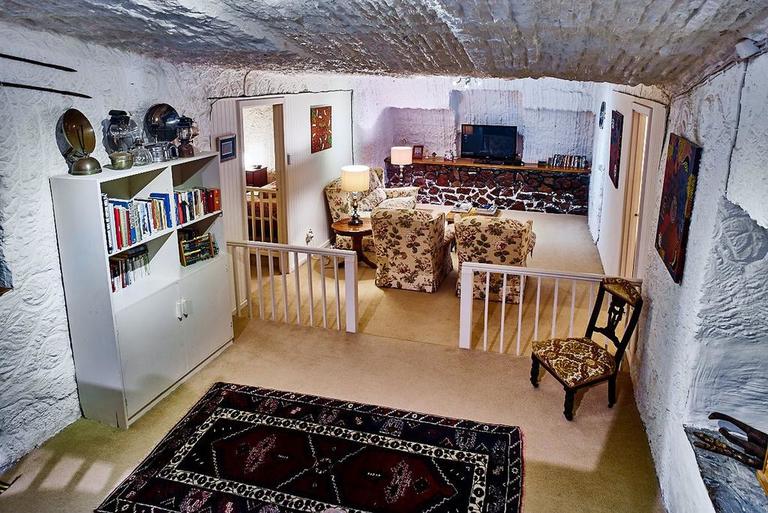 Best for: B&B, Couples, Solo Travellers, Families Welcome, Spa Pool, Pet Friendly
Just outside town this comfy B&B is friendly and good value for money. This dugout is 18 metres underground and the temperatures at this level are perfect. A shared kitchen is available if you feel like cooking at home or utilise the outdoor BBQ for casual outdoor dining. Grab one of the bikes and ride around town. Includes a delicious breakfast, hot jacuzzi and free safe parking.
Good to Know:
Air-conditioning and fans
Dining and Lounge area
Airport pick up/drop off
---
3. Comfort Inn Coober Pedy Experience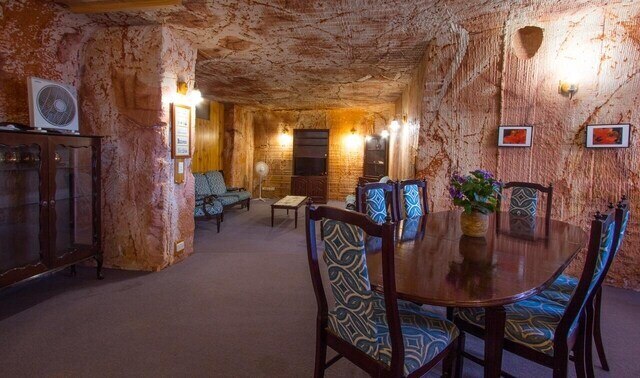 Best for: Motel, Rooms, and Apartments, Near the Old Timers Mine, Pet-friendly
Originally an opal mine from 1918 to the 1960s, you'll love the friendly welcome at this popular motel. The rooms are spacious and the staff will pick you up for free from the airport.
Lots of room and apartment options, and the two-bedroom apartment can accommodate up to 8 guests. All of the accommodation is underground and the temperature is a comfy 19-23 degrees celcius. The motel includes a gift shop and cafe and the tour desk can organise tours for you, including the famous longest fence in the world, the Dingo Fence.
Good to Know:
Be sure to pre-book the pet friendly accommodation
Rooms include a kitchenette with a microwave and fridge
Umoona Opal Mine and Museum is a 10 minute walk away
---
4. Dugout B&B Apartments
Best for: B&B, 1-3 Bedroom Apartments, Desert Views, Rustic Interior Design
Art by local artists decorate the curved walls of this rustic and stylish cave stay. Guests love the attention to detail in this highly rated B&B, plus the cleanliness, breakfast and the views of the starry skies from this location 4kms from town. Originally an opal mine, all of the charming apartments are underground, each hewn by hand from the pink sandstone rock.
"We stayed two nights in one of three underground homes. Our dugout was first class."

Comment by Wendy
Good to Know:
Kitchen facilities
BBQ and fire pit above ground
Free airport shuttle
---
5. Ali's Underground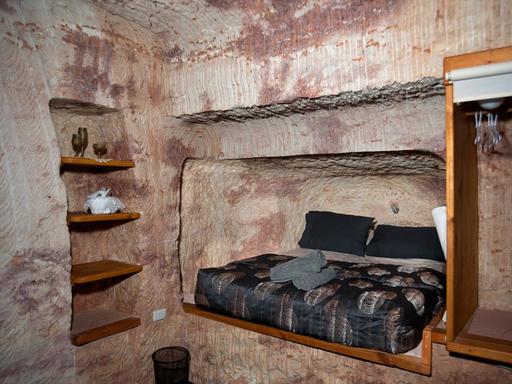 Best for: Studio Apartment, Privacy, Kitchen, Laundry, Star Gazing
Act like a local in your very own underground studio apartment. Includes a kitchen and all the mod cons. Cosy and quiet for up to a group of four. Excellent views of the desert landscape from the hill above the studio.
Good to Know:
The beds are in the living area
The kitchen includes stove, microwave, fridge, cutlery, and crockery
Washing machine
1.4kms from centre of town, free parking on site
---
6. The Underground Motel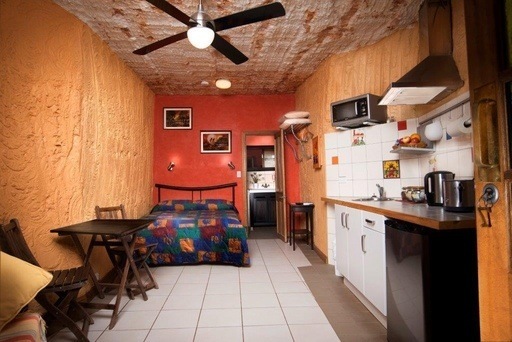 Best for: Affordable, Undercover Parking, BBQ, Free WIFI, Free Breakfast, Laundry, Views
Built in 1984 into a sandstone hill, this was Coober Pedy's first motel. On the outskirts of town, it's got everything you need for a stop-off on your outback trip (kitchen, laundry, parking, breakfast, luggage storage, and daily housekeeping).
The motel's verandah curves around the hill with the entrance taking you into the hill and your room. The suites have their own verandahs and hill entrance. From this location, you have fabulous views of the Stuart Ranges and the Breakaways. Don't miss the wonderful sunsets!
Good to Know:
Standard rooms have a double bed, and en-suite and use of shared kitchen
Suites have a double bed, en-suite and own kitchenette
Two-bedroom suite has one double bed and two bunk beds for 6 guests, a bathroom, and kitchenette
Play area for children
Free airport shuttle
Pop your dates in and see availability and prices – you'll stay on this page:
---
I hope you've enjoyed and been inspired by this List of Coober Pedy Underground Accommodation, talk about unique! See also: Inside Scoop: Underground Accommodation of Coober Pedy
---
Travel Deals:
---
See more Places to Stay in Australia: