If you are on the hunt for a unique eco experience then staying in a Tree house hotel in Thailand can take you to the heart of nature! Perched high in the trees with birds for company you'll feel at one with planet earth but if you're thinking jungle experience then this particular tree house may surprise you…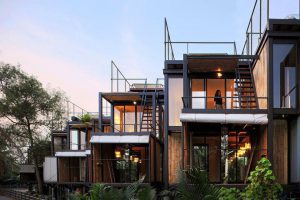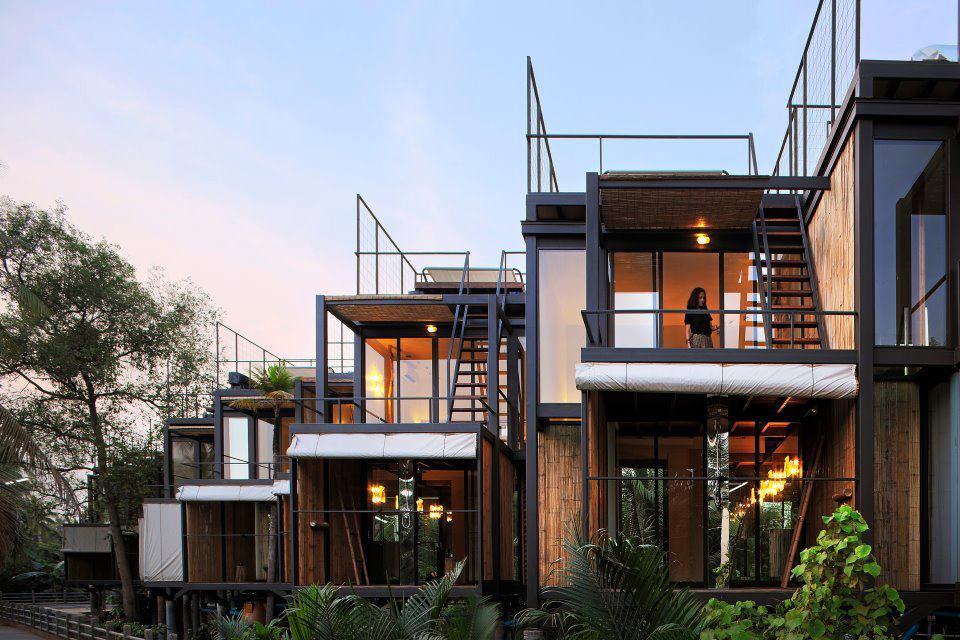 Smack bang in the middle of tut-tuting, exotic, bustling Bangkok is a shrine to 'simple living in natural surroundings'…
Bangkok Tree House: An Oasis in the Heart of the City!
The stylish 'nests' of Bangkok Tree House sit high on an island amidst fruit orchards and native vegetation alongside the Chao Praya River. The island is a garden oasis described as the 'Green Lungs of Bangkok'.
Not far from the Floating Markets, the only access to these very cool and eco-friendly treehouses is on foot or by long-tail boat ride.  Truly unique – you can choose to stay in a hip air con nest, a totally open-air nest or the river nest – aka a floating double bed on the river!

4 Star Rustic meets Modern Design:
If you are looking for a good place to chill in the heart of Bangkok with oodles of eco design and modern gadgets then Bangkok Tree House might be just what you are looking for with…
eco-bamboo construction and repurposed juice carton insulation for the walls!
each 'nest' has aircon (except the open air nest)
family 'nest' for up to 4 people
outdoor showers
rooftop hammocks
solar and wind power
beautiful green roofs and walls growing veges
2 restaurants serving delicious organic food (vegan friendly)

Sustainable is Awesome!
The hotel has fair sustainable practices and only hire local staff who can walk to work. They buy locally from local companies and markets plus they love upcycling.
Your restaurant meals are prepared with carbon free cooking by solar and the leftovers are composted.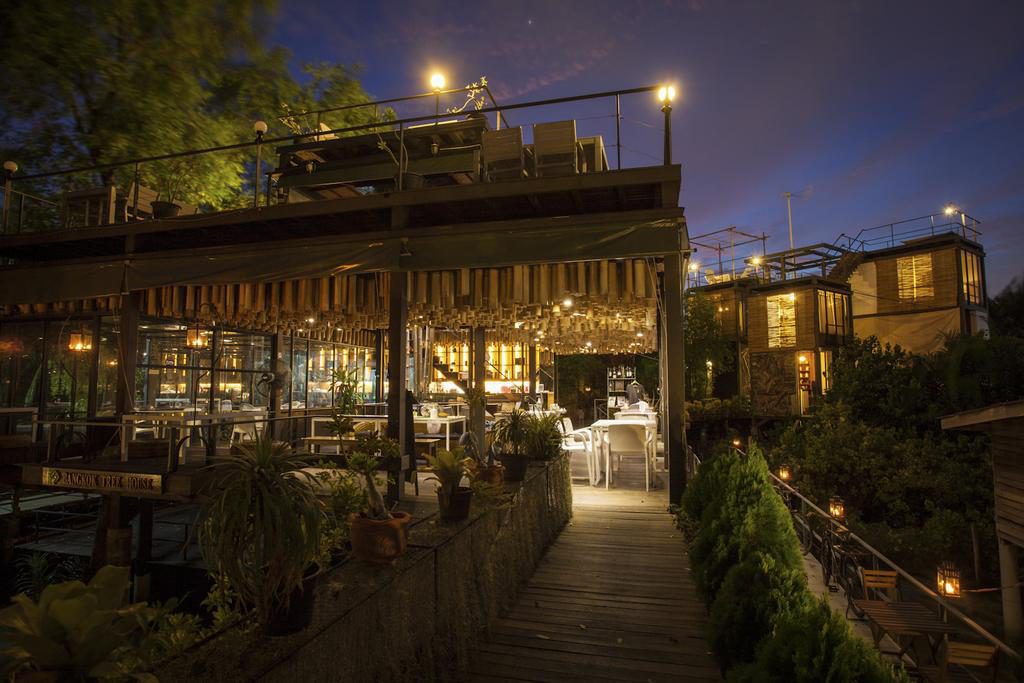 Is it for me?
This unique accommodation is not for everyone though, the owners advise, but it is a true natural experience in an urban environment.
The common areas are open to the elements so you'll see lizards, birds, butterflies and insects but the owners advise that the river breezes should keep the mozzies at bay.
Our advice: As in any tree house hotel in the tropics you will see mozzies at dusk and dawn – cover up and apply insect repellent.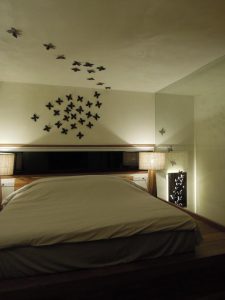 Things to Do:
free bikes
free ice cream daily
firefly boat trip
book the 'View with a Room' Nest that lets you sleep under the stars. This room has no walls or ceiling!
visit the Floating Market
relax and enjoy Thai Herbal Teas
These tree houses might be rustic but they are sleek and come with 4 star hotel services at a good price:
around USD$115 per night (for 2 people)
smoke free
24 hour front desk
airport shuttle
daily maid service
free rental cell phones with local numbers during the entire stay.
2.7 km from Udomsuk BTS Skytrain Station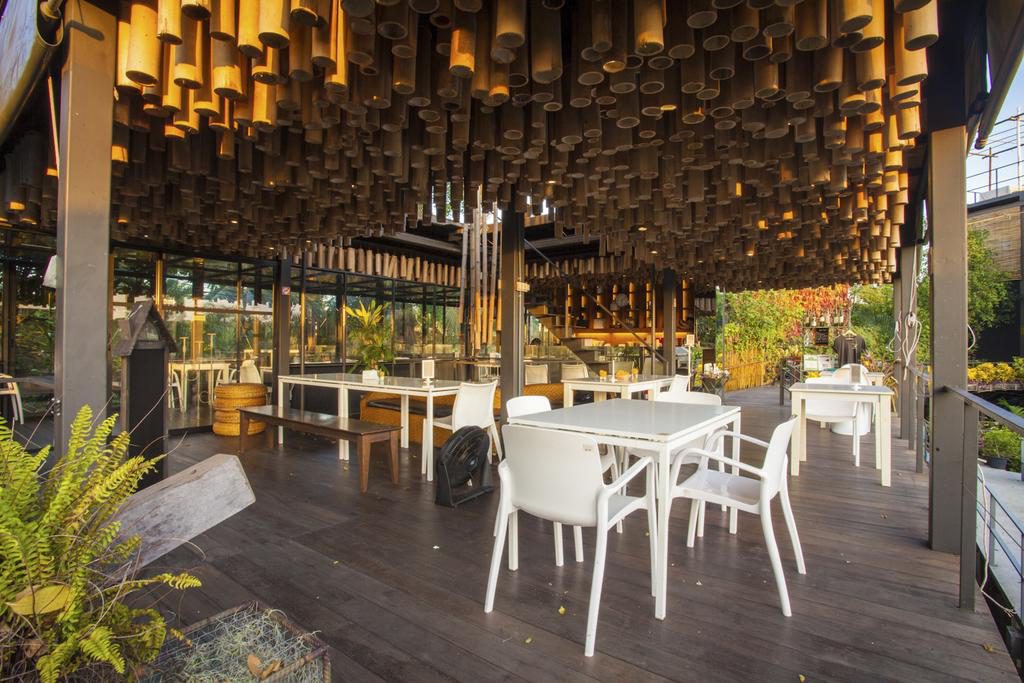 Pros:
High eco cred with 4 star services
A stylish and sustainable hotel in the heart of Bangkok
Cons:
You're back to nature so avoid insect bites.
Conclusion:
This awesome Tree house Hotel in Thailand gives you 'Sustainable meets hotel meets design' in Bangkok's green oasis. Centrally located to get out and enjoy Bangkok's amazing things to do – temples, gardens, markets, shopping, Thai food, museums – or chill out up in the trees in your very own Tree House!
Want to see other Tree House Hotels in Thailand?
Picture Yourself Sleeping in a Tree House Hotel in Thailand – Rabeang Pasak Tree House Resort near Chiang Mai>>
Now it's your Turn!
Thanks for visiting this page and I hope you enjoyed learning about the Bangkok Tree House. Please do '''like'' and ''share'' so that others will get the opportunity to see this information. Do you have any questions, ideas or thoughts? Leave your comments below…Alisa 🙂