Don't be deceived by your first impressions of this small South Australian outback town. Hidden below dusty sandstone hills you'll find the incredible underground accommodation of Coober Pedy.
This isolated mining town may be the most unusual place you'll ever visit! Locals live in underground dwellings called 'Dugouts' and in fact most of this desert town is deep underground.
If you want to experience sleeping underground then a visit to Coober Pedy is as quirky as it gets. You've also got the added bonus that Coober Pedy is the Opal Capital of the world!
Type of Accommodation: Underground
Destination: Australia | South Australia | Coober Pedy
So let's take a look at Dugouts…
That first feeling of excitement as you walk into your dug out is priceless and you'll be surprised at the sense of spaciousness. Underground Bed & Breakfast is 18 metres underground but as you walk down into the earth you realise these are not teeny tiny cave rooms – we are talking plenty of space with all your home comforts and mod cons.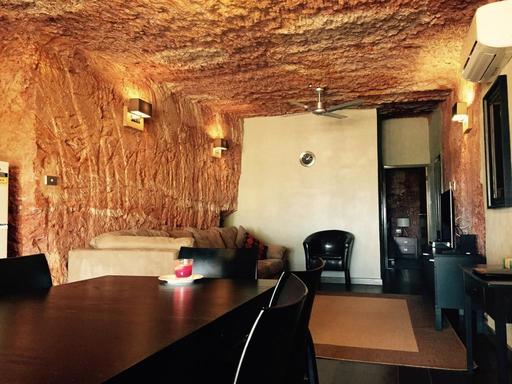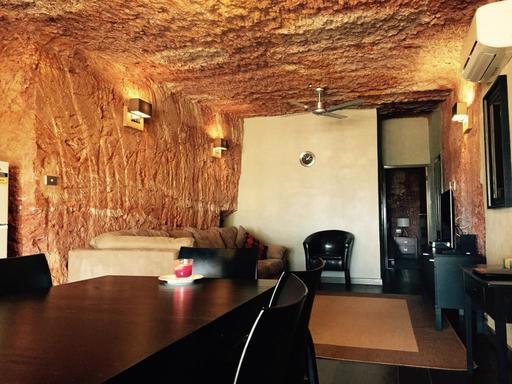 But Isn't it Hot?
YES and that's the best part. This underground town is cool once you step down into the earth where all the action is happening.
60% of the town is underground!​
Unbelievably the underground accommodation of Coober Pedy ranges from backpackers to hotels to holiday/vacation homes.
What you find above ground you get below ground with modern kitchens, bathrooms, your choice of room with comfy bedding and don't forget to visit the ​underground shops, galleries, pubs and churches.
How do you get in!
The dugout entrances are above ground at the sides of hills and from there you descend deep underground. But don't worry they have support beams in place!
You know there's a dugout under a hill when you see air shafts sticking out the top like antennas. Some of the dug outs feel a bit stuffier than others and this all depends on these fresh air vents.​​​​
So What Are My Accommodation Choices Underground?
Multi room backpackers – cheapest prices for those on a budget.
Apartments – good for families or independent travellers who want a home away from home and if you want to cook your own food
Motels – well priced with kitchen facilities, pools, and BBQs
Hotels – with restaurants attached and other services
B&Bs – experience life underground with a friendly local family. A more personal experience and the generous breakfasts save you money.
Vacation/Holiday homes – some sleep up to 8 – great for big groups.
What's the History of the Underground Accommodation of Coober Pedy?
Originally the opal miners lived in their mines to avoid the melting desert heat but as time went by the locals carved out their own dugout homes into the sandstone hills (Wikipedia). Showing ingenuity and resilience they carved by hand, explosives, jackhammers, bulldozers, and tunneling machines.
The Comfort Inn Coober Pedy Experience was originally an opal mine from 1918 to the 1960's! As you walk through corridors and rooms you can see the organic patterns carved into the rock of the walls and ceilings.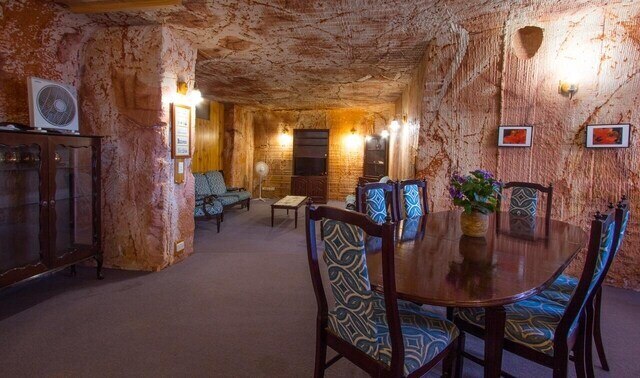 Although staying in one of the underground accommodation of Coober Pedy isn't camping – be warned. Bits of stone may fall on you as you sleep. That's all part of the dugout experience!
On the pet front there's great news if you are on an epic adventure around Australia with your pets you'll even find pet friendly dugout accommodation in Coober Pedy.
I recommend you watch this video for some inside knowledge about the town
At 6:12 hear what one of the town's underground motels found when they dug out new rooms! Also at 6:23 another fantastic find when building a new step.
It's a totally different feeling sleeping underground with its 'natural' temperature control. The sound is eerily quiet and when you turn the lights off the borough-like environment is very dark. If you have trouble sleeping this is the perfect space for a great night's sleep!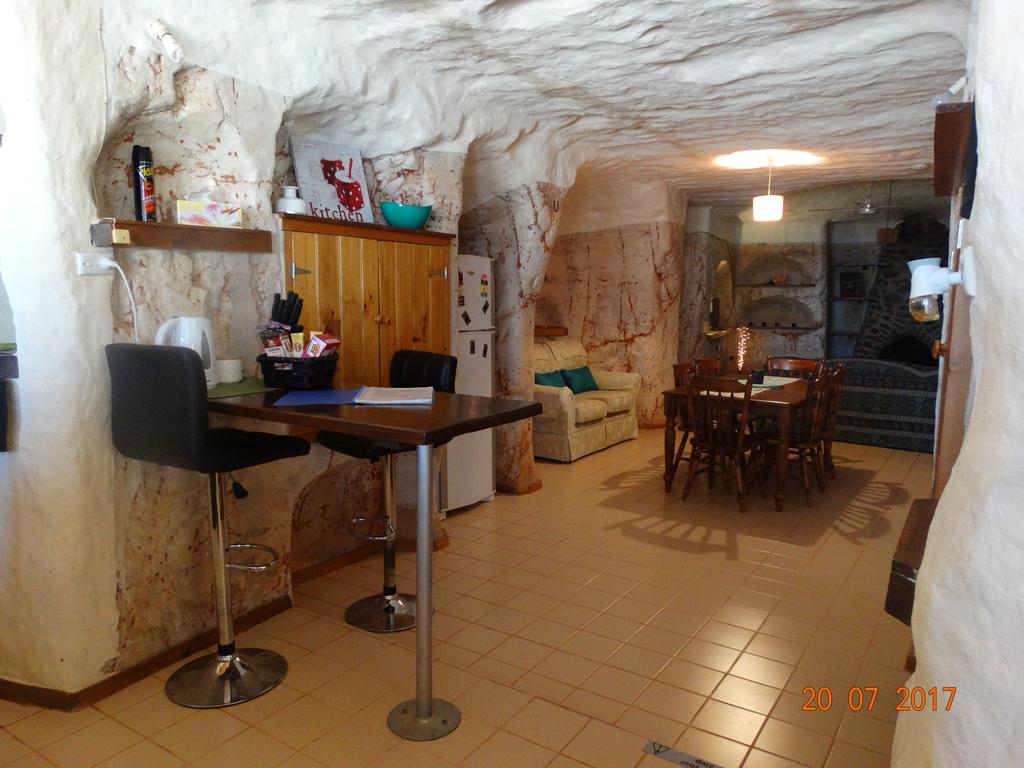 Travel Tips
If you're claustrophobic then you might want to choose a dug out with a window. Most don't have any!
You could consider Dug Out B&B ​which has a kitchen with a window to the outside world.
Cover-More Travel Insurance cover COVID-19 amendment and cancellation costs, 24/7 emergency assistance and 80+ adventure activities plus lots more.
Most of the underground accommodation of Cooby Pedy is either in town or just out of town.
So if you are on foot and eating out you might want to book a dugout in town near food places.
Cooby Pedy is very dark at night and it could be a long walk back to your dug out.
Of course dark nights make for amazing star watching. Don't miss heading above ground and enjoying the night sky. But wrap up warmly in winter – temperatures drop very low at night.
Dugouts with Free Private Parking
If you are travelling by motorbike, car, RV/campervan then these dugouts have free private parking:
Lookout Cave Underground Motel
Dugout B&B
Comfort Inn Coober Pedy Experience,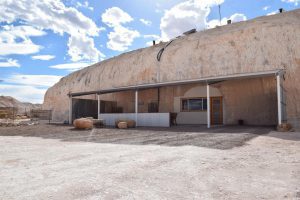 Don't miss a game of desert golf!
With no blade of grass in sight a desert golf course sounds unbelievable but just out of town the Coober Pedy Opal Fields golf club welcomes players. It doesn't matter if you're not a golfer you have to try this very unique experience. You carry your patch of artificial grass around with you to tee off with but make sure you wear a fly net. The flies bombard you and the heat fries you…but don't miss it!
Things to do and they're all unusual
Breakaways Mountains 20 kms away
How about enjoying a drink at the Desert Cave underground pub?
Fly over the incredible Eyre Lake
Tom's Working Opal Mine
Old Timers Mine
Umoona Opal Mine & Museum
Faye's Underground Home – Faye dug this out by hand!
Josephine's Gallery & Kangaroo Orphanage
Crocodile Harry's Underground Nest
So if you are looking for a unique experience then sleeping in a cave in the underground accommodation of Coober Pedy ticks all the boxes! Don't miss this iconic desert town in the heart of Australia's outback.
Featured photo courtesy of Steve Collis
---