Ever wanted to spend a night in jail? Now you can find out without breaking the law! The Old Mount Gambier Gaol is a former prison, transformed into a quirky boutique hotel.
You can sleep in a real cell, explore the historic building, and mingle with other adventurous travellers.
---
Best for: 3-Star Boutique Hotel, Affordable, Tennis Courts, BBQ, Shared Kitchen, Stylish Interiors, Garden, History
The Old Mount Gambier Gaol isn't your typical accommodation. It's a place where you can experience history, culture, and fun in a unique way. If you're wondering about the word 'gaol', that's the 'olde' British way of spelling 'jail'!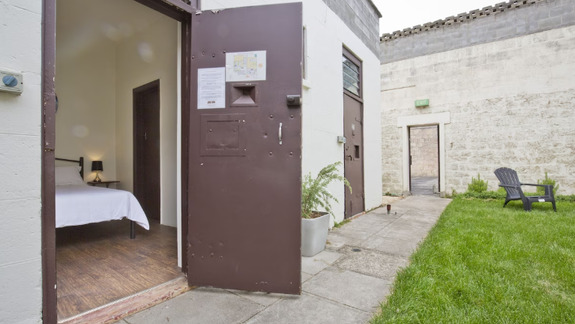 This historic jail has various accommodation options to suit your budget and preferences.
Ideal for solo travellers, couples, friends, and groups you can choose to stay in a double cell, a twin cell, a family cell, or a dorm room, and enjoy the facilities and amenities of the property.
You can also learn about the history and stories of the jail with a self-guided tour, or join the events and activities that are often held in the courtyards, including summer concerts.
---
Location
The Old Mount Gambier Gaol is conveniently located near Blue Lake and the main street of Mount Gambier, where you can find shops, restaurants, and the Riddoch Art Gallery. It's also the perfect base to explore the Limestone Coast. See Things to Do further on.
---
Take a Video Tour of the Gaol
---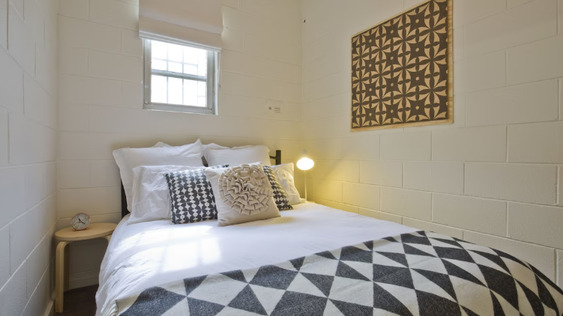 Sleep Soundly in your Cell!
Dorms: for groups or families the dorm rooms have 4, 6, or 8 bunk beds. You have use of the shared bathrooms, kitchen, lounge, and free WIFI. Experience the authentic prison atmosphere in a friendly setting.
Double cells: If you want more privacy, you can stay in a double cell with a double bed, fresh linen, towels, an electric blanket, and a private toilet. These cells include the original heavy prison door and little window for prison ambiance! Includes access to shared bathrooms, kitchen, lounge, and free WIFI.
Double cell with no toilet: as above but costs a bit less.
Family rooms: If you're traveling with your family or friends, you can stay in a family room with a queen bed in one bedroom and bunk beds in the other. For four guests, and includes free WIFI. With a kitchenette, bathroom, and lounge/dining. You're self-sufficient, but if you want to meet other 'prisoners' you also have access to the shared kitchen, dining, and lounge.
Twin Cells: Experience 'prison life' with your bestie in a twin cell with bunk beds (singles), fresh linen, towels, a handbasin, a heavy prison door, and a little window.Includes access to shared kitchen, lounge, and free WIFI.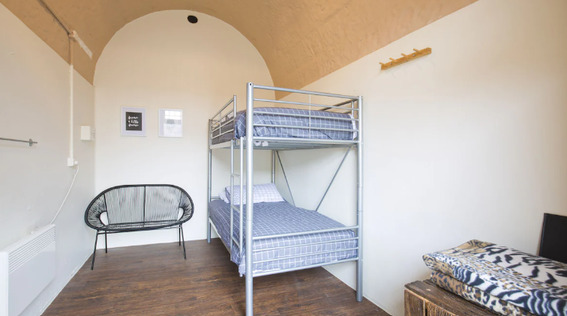 ---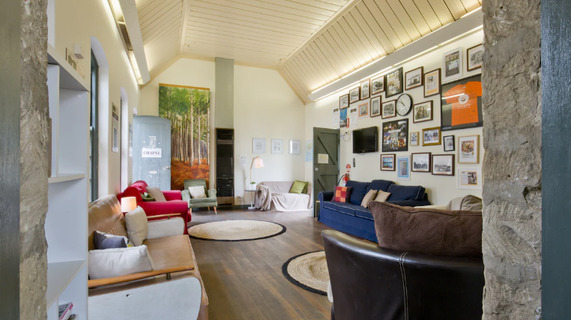 The Comforts of Home in Prison!
No matter what option you choose, you have access to the following facilities and services:
A communal living room where you can relax, watch TV, play games, or read books.
A shared kitchen where you can cook your own meals, store your food, or use the microwave, toaster, kettle, or fridge.
Free WIFI throughout the property where you can stay connected, browse the web, or stream your favorite shows.
A garden with high walls, where you can't escape! But you can enjoy the fresh air, admire the flowers or have a picnic.
Parking on-site where you can park your car safely and conveniently.
A bar on site where you can have a drink, chat with other guests, or join the events and activities.
---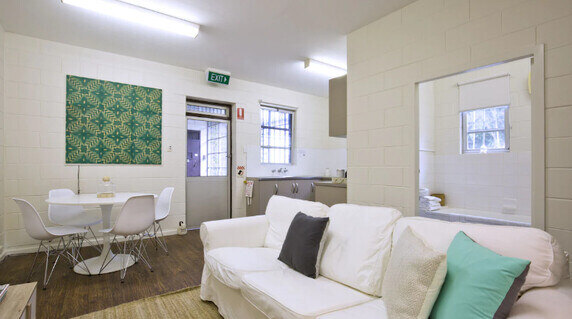 Experience the Thrills and Chills of a Night in Jail 
Staying at The Old Mount Gambier Gaol is not only affordable but also fun and educational. You get to experience what it was like to be a prisoner but with way more comfort and freedom! You also meet other travelers and locals who share your interest in this quirky and unique place. 
Book your stay today and see for yourself! See more at Expedia or pop your dates in and see the best price…
---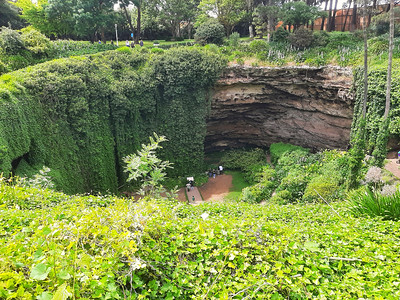 Things to Do in and Near Mount Gambier
1. Explore the Blue Lake
This stunning lake is renowned for its striking cobalt-blue hue, which changes dramatically throughout the year. In the summer, the lake is a deep blue, while in the winter, it turns a silvery white. You can take a guided tour of the lake to learn more about its unique geology and Aboriginal significance.
2. Hike to the top of Mount Schank
This extinct volcano offers stunning panoramic views of Mount Gambier and the surrounding countryside. You can hike to the summit of the mountain via a well-maintained trail, or take a scenic drive to the top.
3. Descend into the Umpherston Sinkhole
This collapsed limestone cave is a truly awe-inspiring sight. You can take a guided walk down into the sinkhole to explore its lush gardens, towering cliffs, and crystal-clear springs. The sinkhole is also home to a variety of wildlife, including bats, frogs, and lizards.
4. Discover the Cave Gardens
This network of interconnected limestone caves is home to a dazzling array of stalactites, stalagmites, and other cave formations. You can take a guided tour of the caves to learn about their geological history and see these incredible natural wonders up close.
5. Visit the Coonawarra Wine Region
This world-renowned wine region is just a short drive from Mount Gambier. You can visit some of the region's many award-winning wineries for tastings and tours. Be sure to try some of Coonawarra's famous Cabernet Sauvignon wines. See the Get Your Guide tours to wineries.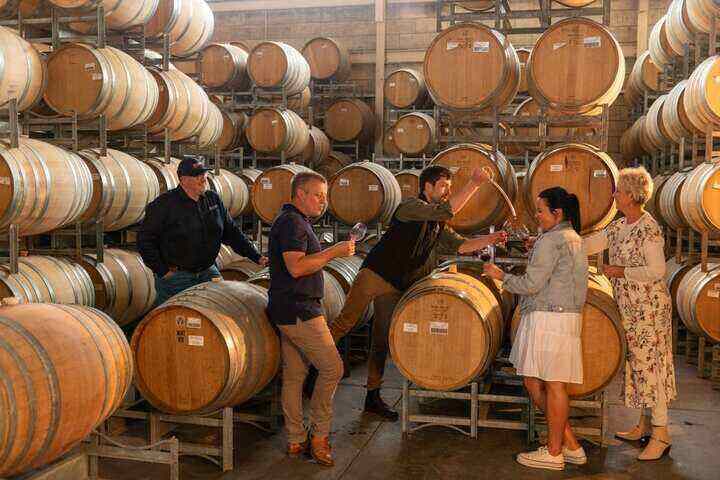 Pic of Umpherston sink hole gardens by denisbin Flickr Creative Commons
---
SEE MORE UNIQUE PLACES TO STAY IN SOUTH AUSTRALIA