With 2,508 kilometers of dramatic riverscape, the Murray River is Australia's longest river and a popular cruising destination. These Murray River Cruise Packages are very popular and include specialty activities on water and land.
Cruising on the Murray River
This list gives you the choice of a historic paddle steamer or paddle-wheeler to meander down the river or a small boat cruise that explores the smaller byways along the Murray River.
You can start your cruise package from Adelaide or start your trip at one of the small dock towns like Renmark and Echuca. So, what type of cruise are you interested in?
Top Pick
| | | |
| --- | --- | --- |
| 1. | PS Emmylou Paddle Steamer | Best for Boutique / Small Group (Top Pick) |
| 2. | PS Murray Princess Paddle Wheeler | Best for Older Travellers |
| 3. | Spirit of Australia Catamaran | Best for Cruise by Day, Sleep Ashore at Night |
If you want to hire your own houseboat see my post here: Murray River Houseboats in South Australia
---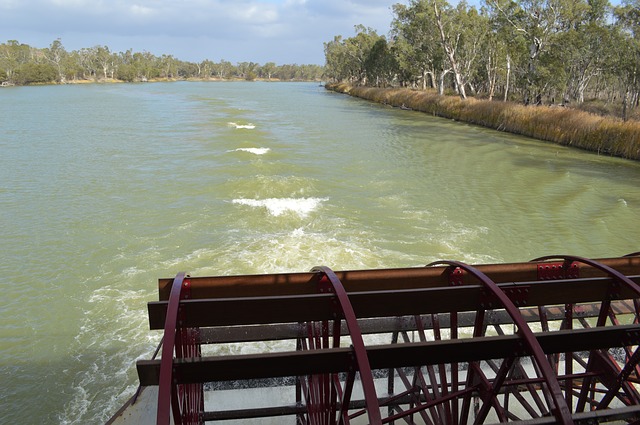 Landlubber or Sailor?
Here are the options for confident 'sailors' who are happy to sleep on the boats, or landlubbers who prefer to sleep on solid ground:
Stay in a berth with an en-suite on the boat. In the large PS Murray Princess or the boutique PS Emmylou.
Cruise the river by day and stay at hotels/motels at night on the Spirit Australia catamaran.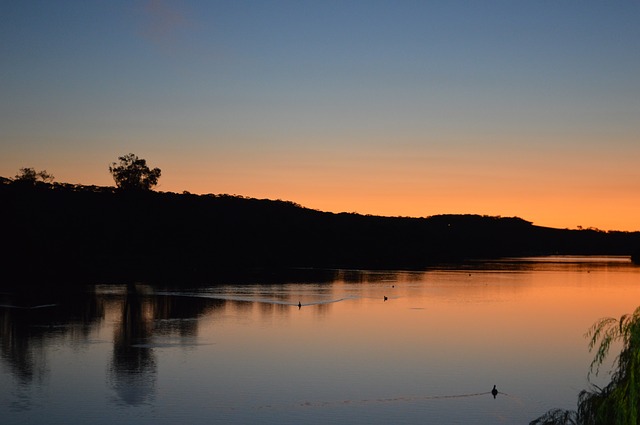 ---
Murray River and Cruise Guide
The Murray River is sacred to indigenous communities and a striking destination for cruising.
With changing landscapes, red cliffs, willow and gumtree-lined riverbanks, exotic birds, and native wildlife like koalas – it's a real wonderland of flora and fauna (don't forget your walking shoes and binoculars!)
Things to Do
The cruises wind through historic villages, lakes, locks, catchments, nature reserves, wine country, foodie towns, and archaeological sites in Victoria and South Australia.
Depending on your cruise, you'll have the opportunity to do wine tasting, enjoy a locally brewed beer, visit historic towns, dine at local restaurants, and visit significant archaeological sites.
Activities can include small-boat safaris, nature walks, kayaking, swimming, fishing, and bonfires on the riverbank under a starlit sky!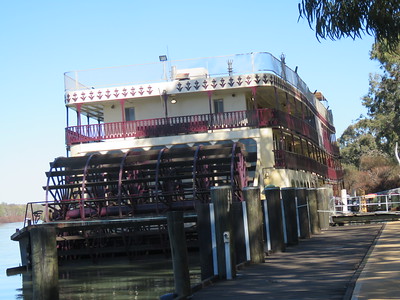 Guide to Paddle Steamers
Paddle steamer cruises are the original mode of transportation on the Murray River and are very popular for day cruises or multi-day cruises.
You can stand in the wheelhouse and watch the skipper navigating this great river, with a changing landscape around every bend.
Lunch Cruise
Don't have time for a multi-day cruise? You can take a Lunch Cruise on board the Captain Proud Paddle Wheeler that leaves from Murray Bridge here's a link to Viator to read more.
Top Tips
The PS Emmylou is the only paddle steamer powered by local red gumwood.
The PS Murray Princess is a paddle-wheeler and bigger than the Emmylou. This cruise is a lot more touristy. If you want more boutique then the Emmylou or Spirit of the Murray may be for you.
You can watch the videos further on to get a feel for cruising on the paddle steamers…
---
Cruise FAQ
What Does My Cabin Include?
The Murray River Cruise packages with cabins on board include comfortable staterooms, linens, and an en-suite.
Included in the price are all meals. You'll find the staff is always very helpful on all the cruises.
Do I need to be fully Mobile?
The cruises are designed for active seniors but are also set up to help those travellers who are less mobile.
Where do the Cruises Leave from?
Cruise packages may include return transfers from Adelaide or Melbourne (depending on the cruise you choose).
What's the Best Time to Cruise?
Summer is very hot along the Murray. The cabins have air conditioning but if you want to avoid the heat then best to travel in the cooler months (April to October).
I've checked out the Viator's Murray River tours and found the most affordable multi-day cruises plus I've chosen one of the excellent Spirit of Australia cruise packages. Read on for the trip of a lifetime…
---
Current Viator Cruises
---
1. Four-Day, Three-Night Murray River Cruise by Classic Paddle Wheeler PS Murray Princess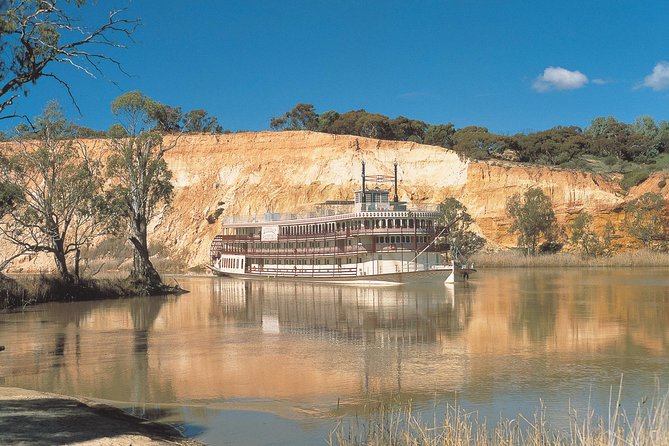 Best for: Nature and Wildlife, Includes a Small-Boat Safari, Food, and Wine Tasting. Transfers from Adelaide.
The focus of this 4-day classic cruise is nature and wildlife and is designed for older travellers. You sleep in your own cabin on the paddle-wheeler.
On board the PS Murray Princess everything is organised for you with well-equipped cabins and en-suites, meals, tours, and presentations to keep you busy. All at a good price.
Even when you're relaxing and cruising there are so many birds to see and hear – pelicans, kookaburras, ibis, rosellas, galas, and even bats!
Take a Tour of the PS Murray Princess
See what's on offer on the PS Murray Princess Cruise
You're picked up from Adelaide and transported to your classic paddle wheeler – the largest in the Southern Hemisphere!
The cruise includes an expert guide who gives interesting presentations and takes you on a fascinating small-boat safari of the backwaters where you're sure to see some amazing wildlife.
What does the trip include?
Nature Walk
Talks about the river, history, flora and fauna
Monarto Zoo (entry fee to pay)
Local Food and Wine Tasting
Visit to historic Murray Bridge
Round-trip transfer from Adelaide
All meals included
Not wheelchair accessible but service animals are allowed
60 staterooms to choose from
---
How about the Five-day, Four-night cruise on the PS Murray Princess?
For just a little bit more the 4-night cruise also includes:
Visit Swan Reach Museum and the Native Wildlife Shelter
A tour to see the ancient rock carvings at Ngaut Ngaut Conservation Park, one of Australia's most significant archaeological sites.
---
2. 4-Night Murray River Explorer – PS Emmylou – TOP PICK
Best for: 4-nights on-board, Restdown Winery, Barmah Wetlands, Campfire Nights
Named after the country singer Emmylou Harris, this comfortable paddle steamer departs from Echuca Dock.
Get ready to unwind and recharge your batteries on this 4-night journey along 200km of the majestic Murray River.
On this Murray River Explorer, you'll learn about the rich history of the region, and how paddle steamers turned Echuca into Australia's largest inland port!
Things to Do
During this boutique cruise, you'll enjoy onshore tours, including the impressive Torrumbarry Weir, the iconic Perricoota Station, the delightful Restdown Winery, and the breathtaking Barmah Wetlands, a UNESCO World Heritage site.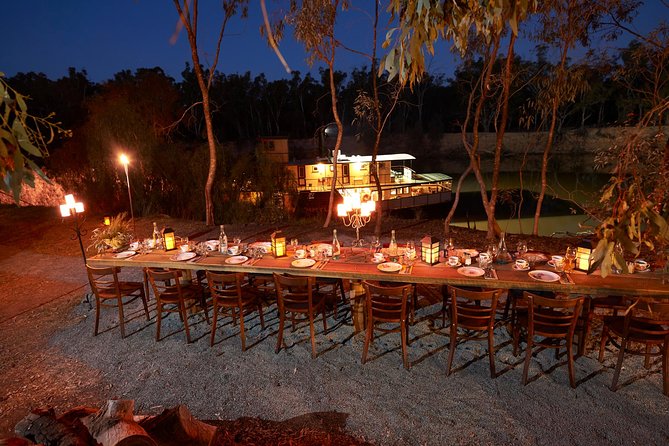 And when the day is done, dine riverside under the dazzling Southern constellations. Trust me, this relaxing getaway is the perfect way to explore a truly iconic part of South Australia.
FYI: Meals are included. Plus, get ready for cosy campfire nights, where you'll roast marshmallows and share stories under the stars.
Take a Tour of the PS Emmylou (and lively Kookaburra calls!)
Good to Know
Only 16 guests
Not wheelchair accessible
Check-in 45-minutes prior to departure
---
3. 8-Day, 7-Night Goolwa to Mildura Spirit of Australia Catamaran Cruise by Day, Sleep on Land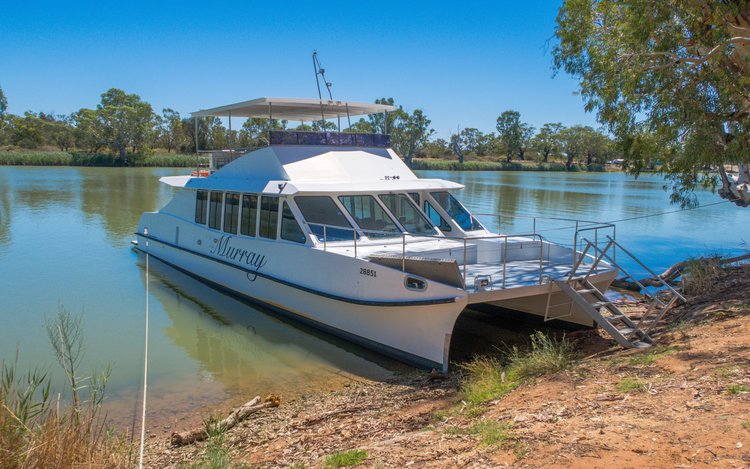 Info about the Cruise
Spirit Australia Cruises have a wonderful selection of Murray River Cruise Packages to choose from. I've chosen this one to feature but check out their website for more options.
This is a fascinating section of the Murray River that takes you from the site of the first paddle steamers to the end of the Murray at Goolwa on the South Australian coast. 878 Kilometers in total! With lots of see and do in between.
Your boat, Spirit of the Murray, is a small catamaran so you can travel down the narrow byways of the great Murray, enjoy the striking natural scenery, and stop for visits to local sights, meals, and your accommodation at night.
See the Spirit of the Murray
The cruise passes through 11 locks! Stops and sights include:
Historic Riverport of Morgan with a talk by the local historical society.
Banrock Station Winery for wine, lunch, and a wetland tour.
Berri Township.
Chowilla and Ana Branch Stations.
Tailem Bend, Murray Bridge, Walkers Flat, Big Bend, Swan Reach
Pass under Paringa Bridge as it's lifted.
Watch for koalas in the redgums.
The cruise includes breakfast, lunch, dinner, and morning and afternoon teas. Special price for seniors. Solo travellers pay 12% more than twin share – so bring a friend! You can book this cruise at their website here.
---
Wrapping up
If you're fine with a bigger boat and a more touristy experience then the PS Murray Princess is for you.
TOP PICK: The PS Emmylou trip is more boutique with fewer passengers and more of a 5-star experience.
The Spirit of Australia cruises are great for travellers who want to cruise by day and stay on land at night.
Photos courtesy of Michael Coghlan, flickr creative commons, David Sam Levinson on Unsplash, vs soccer_starlet from Pixabay and Alan & Flora Botting from Flickr
---
More Amazing Places to Stay in South Australia!
---