Sleep in style at one of these Quirky Places to Stay in Brisbane, where a fusion of distinctive style and rich history awaits. From glam designer hotels and charming heritage cottages to cosy tiny houses and vineyard pavillions, your unforgettable journey begins here.
Destination: Brisbane | Queensland | Australia
Type of Accommodation: Tiny House | Boutique and Spa Hotel | 5-Star
Price Range: Cabin/Hostel $ | Economy $$ | Mid-range $$$ | Luxury $$$$ | Super Luxe $$$$+
This post may contain affiliate links. As an Amazon Associate, I earn from qualifying purchases. See Affiliate Disclaimer.
---
Top Choices – Unique and Quirky Places to Stay in Brisbane
| | | |
| --- | --- | --- |
| No. | Accommodation | Rating |
| 1. | Incholm by Ovolo | Best Boutique |
| 2. | Crystalbrook Vincent | Best Location |
| 3. | Tiny House at Camp Hill | Most Affordable |
| 4. | Sanctuary by Sirromet Safari Tents | Most Unique |
| 5. | The Calile Hotel | Most Instagramable |
---
1. Emporium Hotel South Bank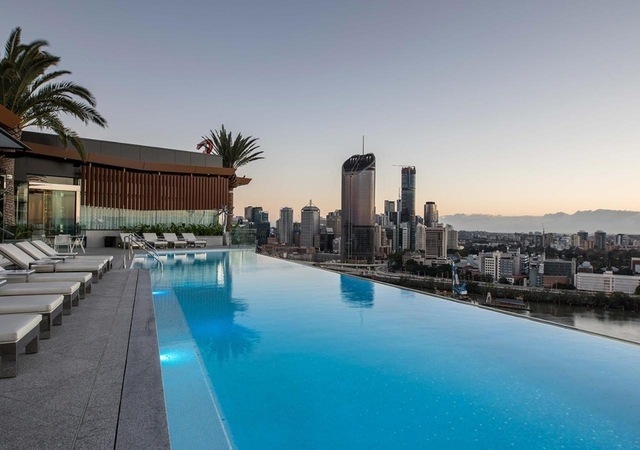 Best for: 5-Star Boutique Hotel, Rooftop Bar, Infinity Pool, Chauffeur Service, Art Galleries, Streets Beach, $$$$
The moment you enter the slick glass and marble entrance you're in hotel heaven at The Emporium. Your stay is carefully curated with luxurious suites, an impressive rooftop bar, and an infinity pool.
Suites at this One-of-a-Kind Urban Sanctuary
Discover a world of unparalleled luxury with an array of suites tailored to your desires. For an intimate retreat, indulge in the 40 sqm Vista Suite designed for two. Or share unforgettable moments with loved ones in the spacious 45 sqm River City Suite for four guests.
For an extraordinary escape, immerse yourself in the opulence of the 145 sqm Frangipani Suite.
This unique Brisbane accommodation features soaring 3-metre-high ceilings, an elegant grand piano, an entertainment-filled media/karaoke room, a lavish full-size bar, a sophisticated study, sumptuous interiors, and breathtaking views that will leave you in awe.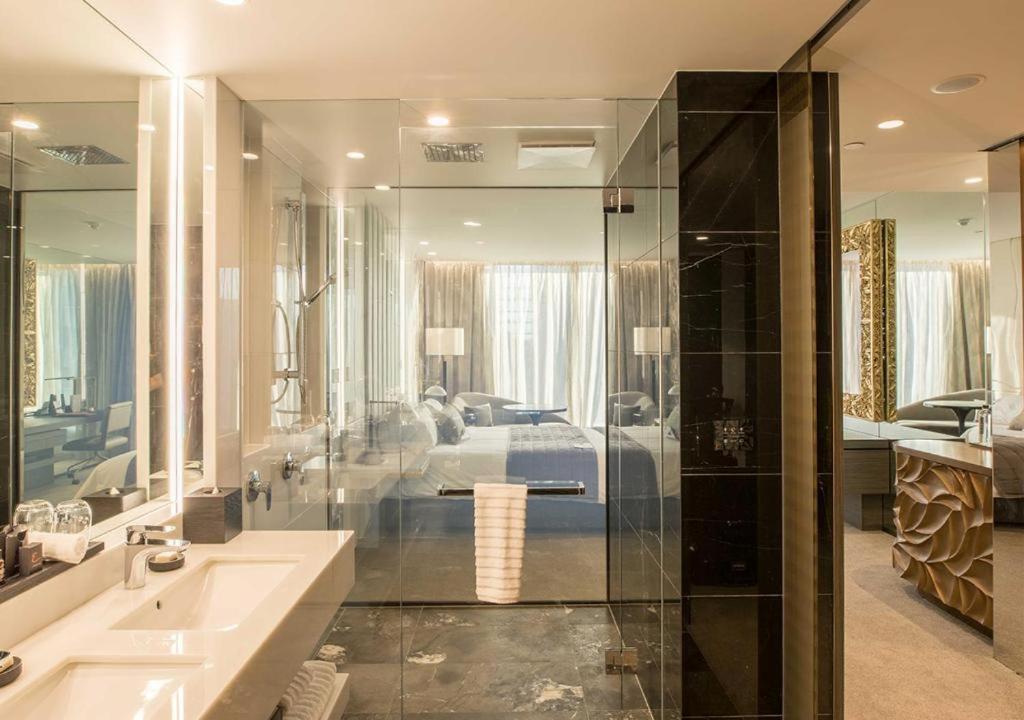 Exploring Southbank
Discover the cultural soul of Brisbane at Southbank. With the Queensland Museum, Queensland Art Gallery, and the Gallery of Modern Art.
Experience live performances at the Queensland Performing Arts Centre. After all this art take a leisurely stroll along the river promenade. Then jump on the Wheel of Brisbane Ferris Wheel. Best at night for the city lights!
Finally, let the waves of Streets Beach, embrace you as you plunge into the refreshing waters of this inner-city beach and lagoon. Adventure and inspiration abound in the heart of Southbank.
Good to Know at The Emporium
See the Slideshow: Try your dates here, you'll stay on this page and you'll see the recommended price and the best site to book. Live your best life.
---
2. Crystalbrook Vincent – Howard Smith Wharves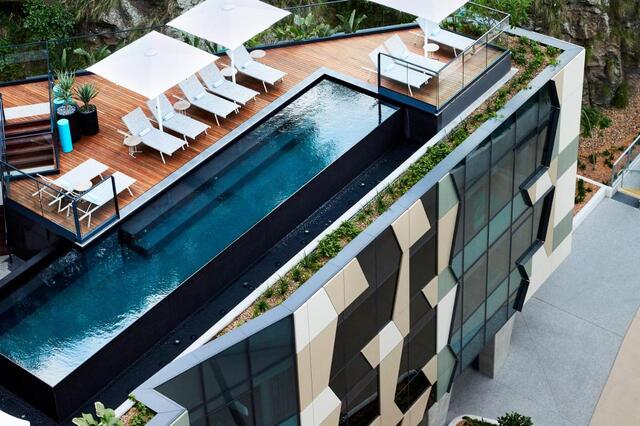 Best for: 5-Star, Rooftop Bar and Pool, Art, Penthouse Suite, Entertainment Precinct, $$$
Discover the extraordinary allure of Crystalbrook Vincent, an exceptional 5-star sanctuary nestled in the heart of Howard Smith Wharves on the banks of Brisbane River.
With daring and audacious design, this hotel radiates vibrant energy and promises an unparalleled experience for guests.
"Brave, bold, and bursting with energy."
Art and vibrancy guide the hotel's vision with over 180 artworks and 500 giclée prints from artist, Vincent Fantauzzo.
Eateries and Bars
Experience LA rooftop party energy at the Fiume rooftop bar and pool. At laneway-inspired Mews find a table on the alfresco terrace and enjoy shared plates and cocktails. On your doorstep explore Howard Smith Wharves for breweries, a Gelateria, a cocktail bar, and an extravaganza of global cuisine.
Take a Tour of this Unique Brisbane Accommodation
Eco-friendly Suites
Crystalbrook Vincent aims to minimize its ecological footprint while offering a world-class hospitality experience.
The hotel is a single-use plastic-free environment and you'll find 100% waste-free bathroom luxe Immersion amenities in your suite.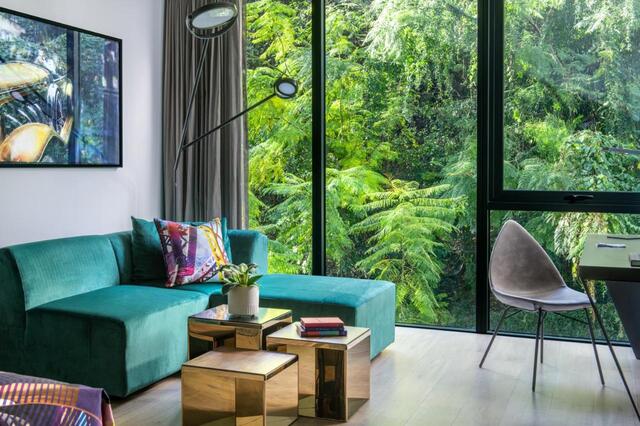 Experience the enchanting embrace of nature in the Nature Wall Suite, designed for two, with lush tropical plants adorning the cliff face beneath Brisbane's iconic Story Bridge.
Surrender to the beauty of the River Master Suite, featuring a magnificent super king bed or cozy twin beds for your traveling companion, as you gaze upon the tranquil river.
Book the Penthouse
Elevate your stay in the luxurious Penthouse Two-Bedroom River Luxe Suite, complete with a private balcony boasting panoramic views, a fully equipped kitchen, an elegant dining area, and an inviting lounge – the perfect sanctuary for groups or families seeking captivating moments.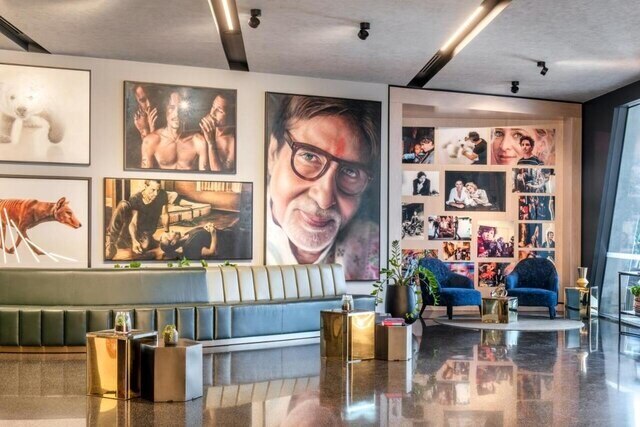 Good to Know at Crystalbrook Vincent
See the Slideshow: Embark on a journey of luxury, where every moment is crafted to captivate your senses and leave a lasting impression. Add your dates here, you'll stay on this page and see the recommended price and the best site to book.
---
3. The Incholm by Ovolo – Spring Hill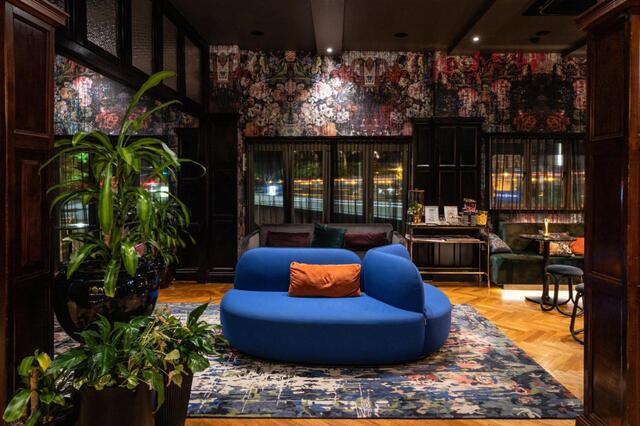 Best for: 5-Star Boutique Hotel, Pet-friendly, Bridal Suite, Breakfast, Fitness Centre, The Inchcolm Bar, $$$
Cross a Rock in Roll vibe with a Parisian salon with an eclectic heritage hotel. This 1930s hotel was originally a private residence and a medical practice.
Today, the intimate Incholm by Ovolo is a smart, centrally located boutique hotel, with Martini hour!
Review: "Interesting decor, fabulous artwork, loved the lift and the sweet jars full of my favourite sweets"
Hip & Heritage Suites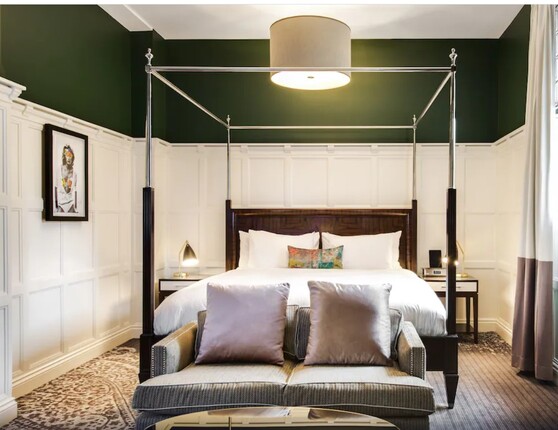 Luxury suites for up to 4 guests. Enjoy 40 winks in the special beds made by Sealy called The Incholm Signature.
Location: Near the Brisbane Central Station, Museum of Brisbane, and the Queen Street Mall. 12 km from Brisbane Airport.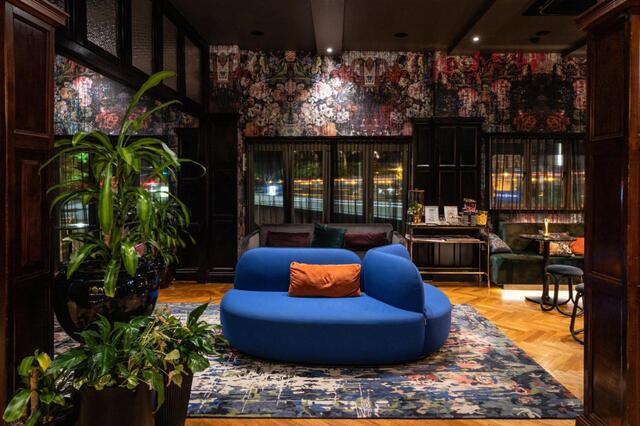 Good to Know
See the Slideshow: Experience the perfect blend of history, luxury, and modernity at Inchcolm by Ovolo Brisbane, where every stay becomes a story worth sharing – don't hesitate. Add your dates to see the best price, and start your adventure today!
---
4. Spicers Balfour Hotel – New Farm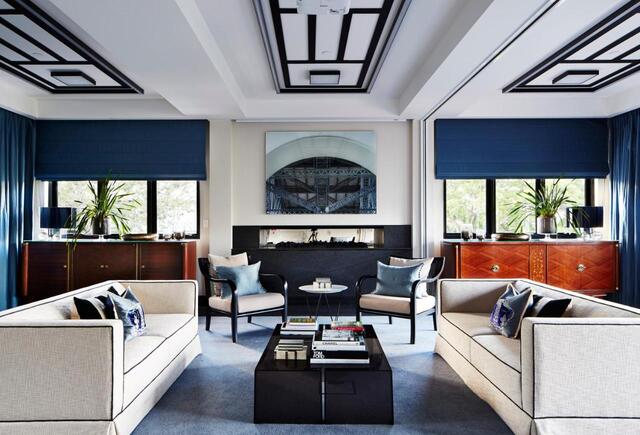 Best for: 5-Star Boutique, Eco-Friendly, Hotel, Elegant Interiors, Vietnamese Cuisine, Rooftop Bar, Art Deco, $$$$
The real highlight of Spicers Balfour Hotel Brisbane is the rooftop bar, where you can enjoy panoramic views of the city skyline and the Story Bridge.
A burst of rich green bamboo and ivy pops against the moody, sensual blacks of a historic Queenslander.
This award-winning hotel is the perfect spot to sip a cocktail, nibble on some tapas and watch the sunset. You can also dine at The Balfour Kitchen and Bar, an award-winning restaurant that serves contemporary Australian cuisine with a Vietnamese twist.
Suites
The luxury suites are located in the Queenslander building and in the swish art deco building next door. Designed by leading interior designers the suites offer sumptuous furnishings and intriguing surprises.
What's Nearby: Leafy New Farm offers stylish boutiques, restaurants, bars, and the Brisbane Powerhouse. A cultural centre with theatres and restaurants. You can walk or bike on the Riverwalk to the city centre from New Farm.
Good to Know
See the Slideshow: Indulge in the charming elegance of Spicers Balfour Hotel Brisbane, where personalized service and sophisticated style await you. Add your dates, you'll stay on this page and see the recommended price and the best site to book. Seize the moment!
---
Travel Resources
---
5. The Calile Hotel – New Farm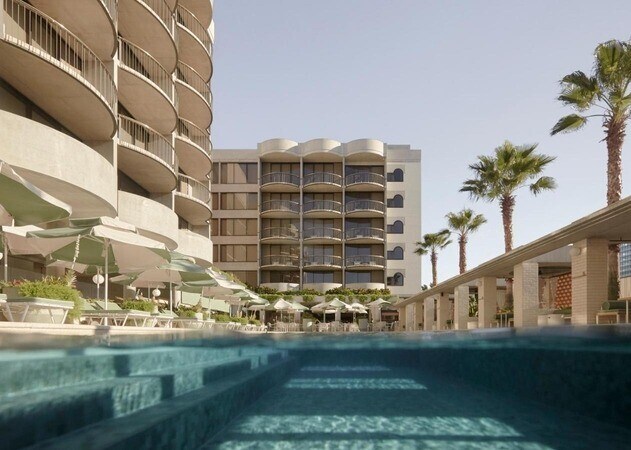 Best for: 5-Star Hotel, Celebrity Hangout, Spa Services, Gym, Pool, Library, Lobby Bar, Hellenika Greek Restaurant, $$$$
The Calile is easily one of the coolest hotels to stay in Brisbane perfect for hipsters, Millennials, Gen Zs, and celebrities. With a contemporary 1970s sleek look and Miami vibes, the Calile Hotel is a popular stay.
Imagine yourself waking up in the spacious Urban Room, with a king-sized bed and natural light streaming through the floor-to-ceiling windows, or relaxing in the chic Poolside Cabana Room, where you can take a dip in the sparkling pool just steps away from your private terrace.
Hip Designer Hangout
Accommodation is very chic. Contemporary with open hallways and a fresh approach for an Australian hotel. The location on James Street is superb.

Review
See the Slideshow: add your dates and see the best prices. Expect the unexpected.
---
6. Hotel X Brisbane, Vignette Collection – Fortitude Valley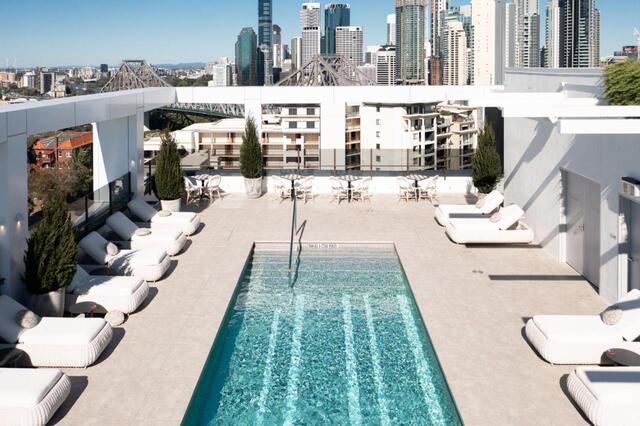 Best for: 5-Star Hotel, Yoga by the Rooftop Pool, Avant-garde Design, Gym, Entertainment Precinct, $$$$
Hotel X is an upscale and outstanding hotel perfectly placed in the heart of Brisbane's fashion, nightlife, and restaurant scene.
If you want to party, then Hotel X is an excellent base to dance the night away at a club in Fortitude Valley.
"Somewhere decadent, somewhere different, somewhere wild."
This is a designer hotel near James Street's specialty shopping. With fashion showrooms, design emporiums, and award-winning restaurants and bars. You're also near Howard Smith Wharves for fab eateries and bars.
The hotel's eateries are the Iris Bar and Restaurant and Bisou.
Good to Know
---
7. Sanctuary by Sirromet Safari Tents – Mount Cotton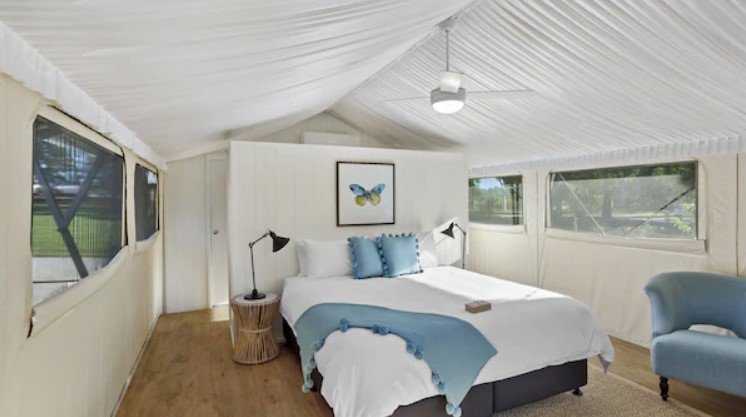 Best for: Vineyard Safari Tents, Continental Breakfast Included, Winery Tour, Restaurants, Room Service
Check into your luxury glamping tent at Sirromet Winery in Australian bushland. You're only 26 km from the centre of Brisbane but feels like a world away. The Sanctuary by Sirromet is perfect for a wedding or a romantic staycation!
It's like you're staying in the country rather than a short distance from Brisbane. The trees and wildlife were great. Enjoyed the restaraunt.

Review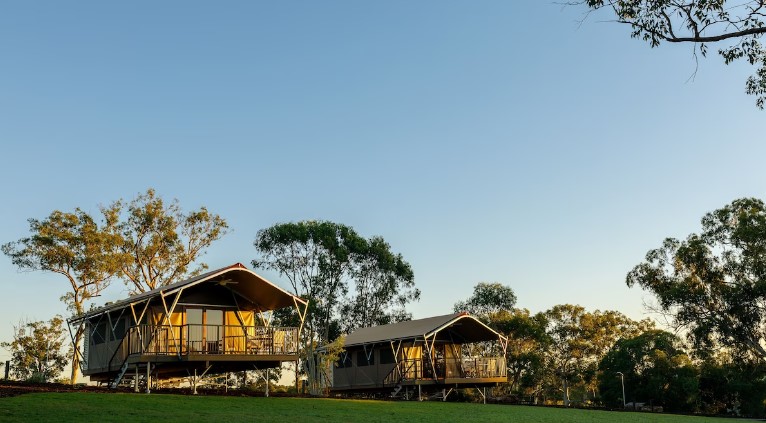 Stylish Pavillions
The luxury Pavillions are well-appointed safari glamping tents. With all the mod-cons they provide sophisticated comfort and style. Each can accommodate up to 2 or 4 guests.
Each pavilion is equipped with a minibar, tea, and pod coffee-making amenities, a sandwich press, and a microwave. The roomy ensuite, with plush bathrobes, and high-quality toiletries enhances the luxurious experience.
Good to Know
See the Slideshow: Experience the perfect blend of luxury, serenity, and exquisite winery surroundings. Pop your dates in to see the best price. Love is in the air.
---
8. Tiny House at Camp Hill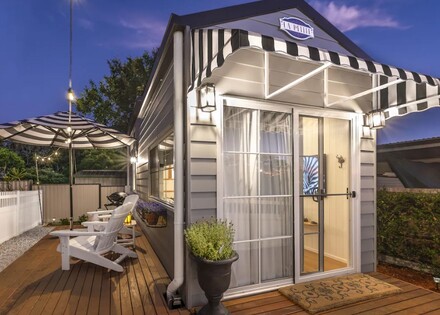 Best for: Tiny House, 2-Night Min Stay, Pet-friendly, Sleeps up to 3, King-size bed, Kitchen, $$
The Tiny House at Camp Hill provides a comfortable living space with a well-thought-out design.
This is one of the more quirky places to stay in Brisbane. But despite its small size, the house is equipped with everything you need for a great stay.
It's in an inner city suburb too, so you're close to Brisbane's attractions.
What's Inside?
In the loft, you have a king-size bed and skylight for stargazing. Downstairs the sofa turns into a bed – ideal for a child.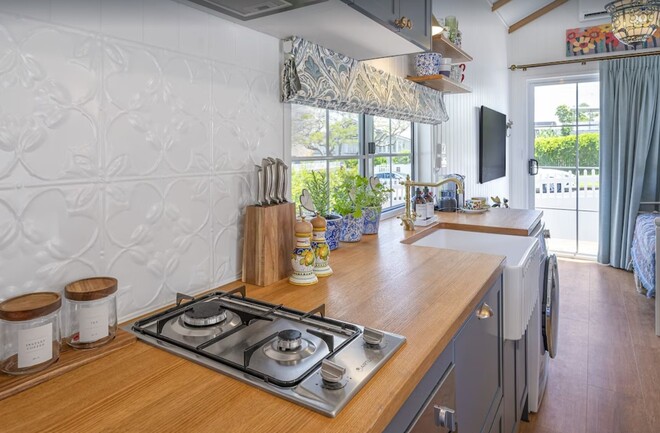 We loved this tiny house. It was immaculate and beautifully presented with many thoughtful touches. Great location close to the city.

Review
The kitchen offers high-end appliances, including a dishwasher. You have internet access, air conditioning, a TV, a washer and dryer, and parking facilities.
These features make the Tiny House a home away from home, for a comfortable stay.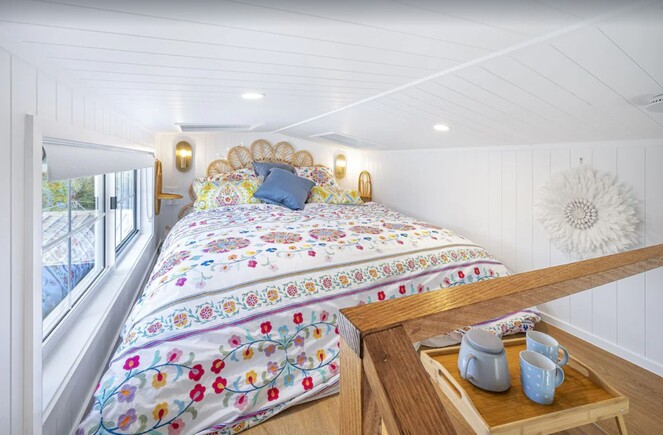 Good to Know
---
9. Inner City Sanctuary Historic Cottage – Dutton Park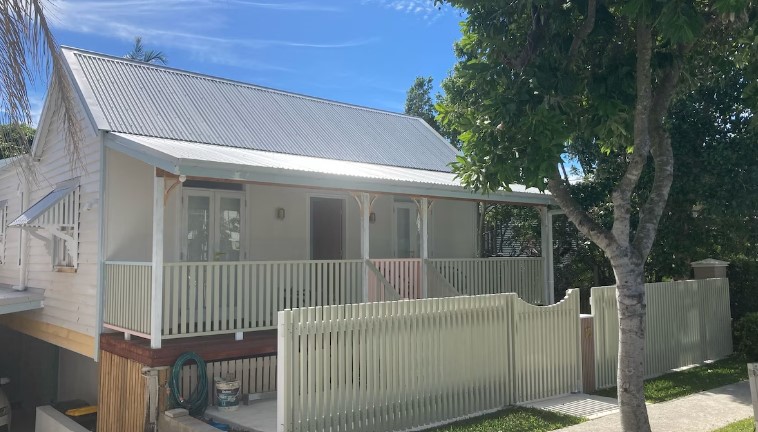 Best for: Heritage Cottage, Affordable, Bike-friendly, Dog-friendly, Fenced, Kitchen, For 2 Guests (and 2 kids) $$
This 1 bedroom historical cottage was built around 1883 and was originally owned by Edward Deighton, a clerk in the Colonial Architect's office.
Heritage Meets Contemporary
Today contemporary furnishings create a calming space at this Inner City Sanctuary. The interior is open-plan, with a large covered deck with outdoor dining, looking out at a lush garden.
The accomodation was clean with a well equipped kitchen and very comfy bed. It was lovely to begin the day with a coffee in the garden. The best part was that our little dog, Whisky, could come too.

Review
The cottage includes a large bedroom, living, dining, laundry, a full kitchen, and a small study. This can be fitted out with bunk beds for small kids.
What's Nearby? The Gabba is a 2-minute drive away. The local cafe is Penny Coffee Co, and a local brewery is Brisbane Brewhouse. Check out Red Brick Hotel for pub meals, and Stanley Street for eateries.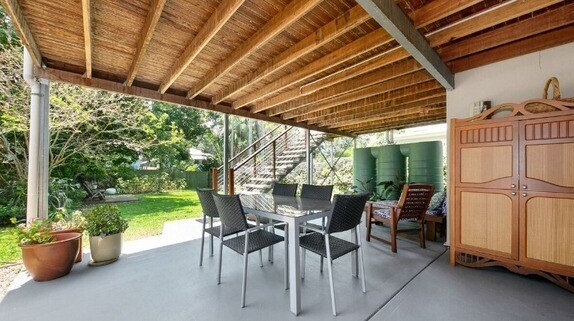 Good to Know at this Quirky Place to Stay in Brisbane
---
Hope you've enjoyed these Quirky Places to Stay in Brisbane – Happy Travels!
Embrace the captivating allure of Brisbane, a contemporary and dynamic city teeming with experiences that captivate your senses from sunrise to sunset.
Embark on a thrilling night kayaking adventure on Moreton Island, or immerse yourself in the vibrant arts and culture scene at the Southbank Cultural Precinct. Wander through the city's lively laneways adorned with vivid street art, indulge in world-class dining and cocktails at the Howard Smith Wharves, and revel in the breathtaking skyline from the city's exquisite rooftop bars.
---
SEE MORE QUEENSLAND ESCAPES