The Barossa Valley, one of Australia's most iconic wine regions, is a haven for weekend getaways. With idyllic villages, wineries, gin distilleries, an artisan farmer's market, a cool chocolate company, world-class Shiraz, music, and award-winning restaurants, there's something for everyone to enjoy.
But where to stay? With so many incredible Barossa Valley winery accommodation options to choose from, it can be tough to decide. Here are a few of our favourites…
Destination: Australia | South Australia | Barossa Valley
Accommodation Type: Vineyard Accommodation
Price Range: Cabin/Hostel $ | Economy $$ | Mid-range $$$ | Luxury $$$$ | Super Luxe $$$$+
This post may contain affiliate links. As an Amazon Associate, I earn from qualifying purchases. See Affiliate Disclaimer.
---
Top Picks – Places to Stay in the Vines
Whether you're looking for a luxurious cottage with vineyard views or a charming bed and breakfast in the heart of the valley, there's a winery accommodation to suit every taste and budget.
| | |
| --- | --- |
| Best for | Top Pick |
| Luxury | The Louise |
| Affordable Price | Barossa Vineyard Cottages |
| Unique | Hutton Vale Farm |
| Romantic | Jacob's Creek Retreat |
| Groups | Barossa Shiraz Estate |
---
1. The Louise Hotel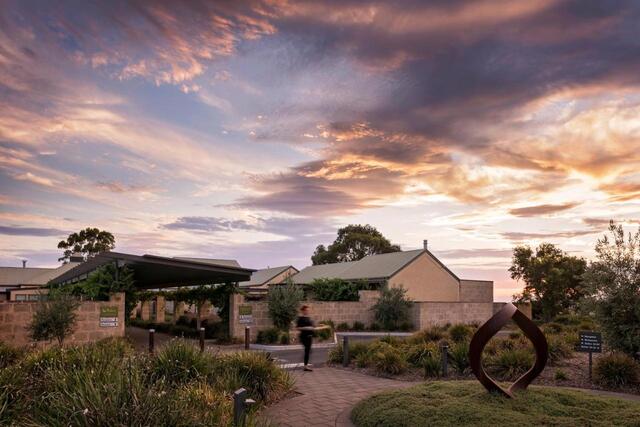 Best For: 5-Star Hotel, Romantic, Spa, Pool, Sauna, Fitness Centre, Marananga, $$$$
You're in for a treat at The Louise, a 5-star luxurious hotel in the heart of picturesque vineyards, incorporating art, nature, and European style.
The hotel is now a member of the Baillie Lodges' portfolio of luxury lodges.
A highly rated retreat, you'll enjoy wine tasting with local winemakers, and world-class dining at the Appellation Restaurant.
The hotel also features an outdoor infinity swimming pool, sauna, and fitness centre.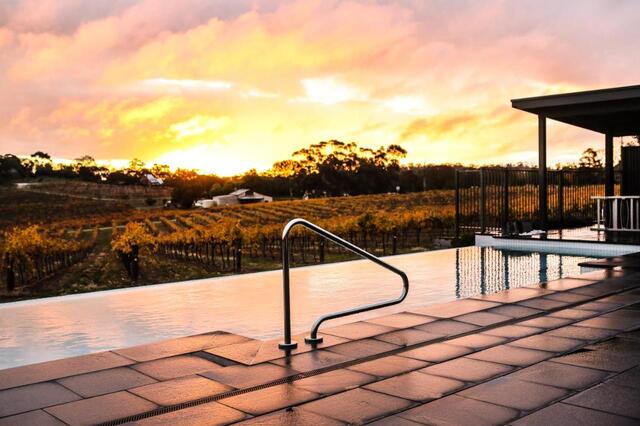 Luxury Suites
The private villa-style suites offer a relaxing escape, with French doors out to a private balcony with vine and country views, an outdoor shower, and a spa bath to soothe body and soul.
Each suite is high-ceilinged and well-appointed, with king-size beds, and marble bathrooms.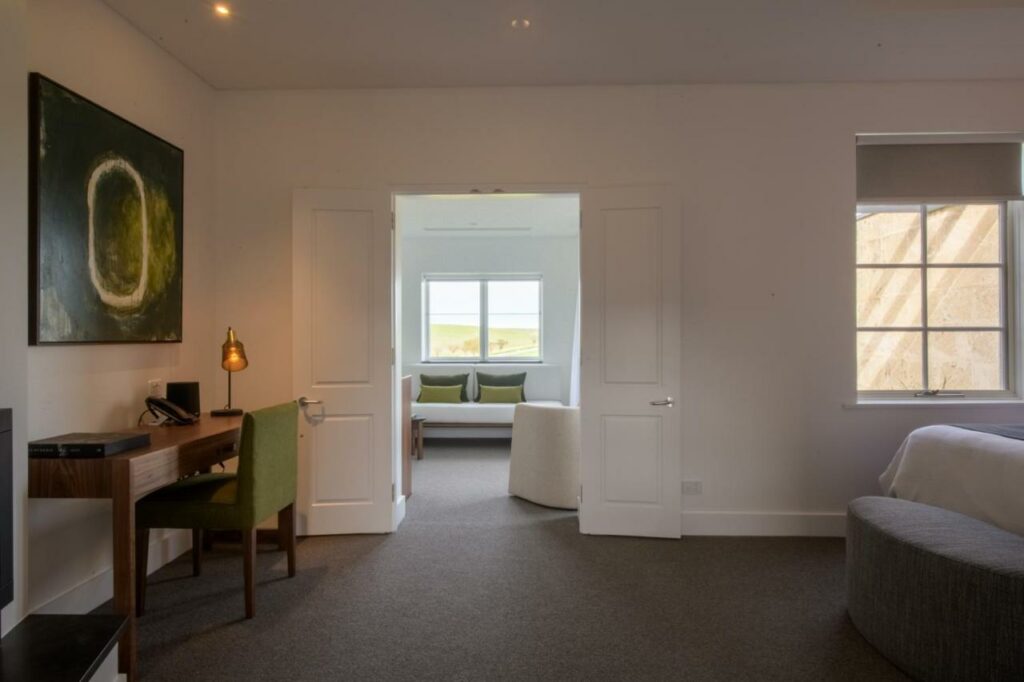 Guest Review
If I could give The Louise 20/10 I would. It was exceptional. The food was amazing, the service was outstanding, the staff were so friendly. You feel like a King or Queen the moment the front door is opened for you.
Book Your Stay at The Louise
The Louise is the perfect destination for a luxurious retreat amongst the vineyards. See more at Expedia.
---
2. Barossa Vineyard Cottages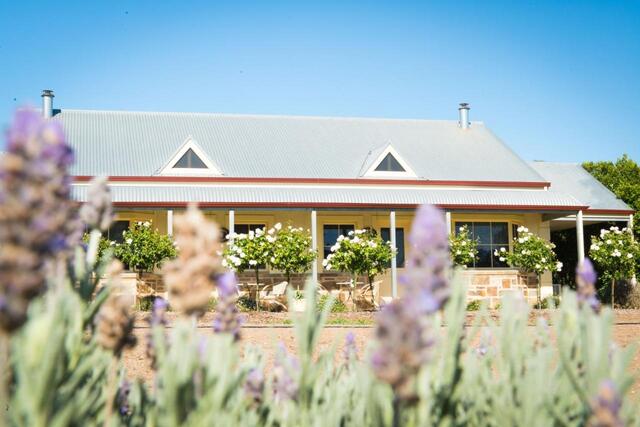 Best for: 4.5 Star Cottages, Hot Tub, Fireplace, Kitchen, Breakfast, Bethany $$$
Step into history as you enter your heritage stone-walled cottage, boasting high ceilings and traditional furnishings for that authentic vintage feel at Barossa Vineyard Cottages.
Each cottage comes with a fully equipped kitchen, making it your culinary haven in the heart of Barossa Valley. All cottages have a queen or king-size bed, except the Biscay which has 2 queen beds.
Sink into plush lounge chairs, with a flickering fireplace to keep you warm on those frosty winter nights. And when you need some rejuvenation, the spa bath awaits you for a soothing soak.
Create Unforgettable Moments
Elevate your evening with a glass of fine wine, enjoyed on the verandah with panoramic views of Tanunda and the majestic Barossa Ranges.
Wake up to a farm-fresh breakfast, featuring local produce and bread, baked fresh daily. Take time to appreciate the beauty of nature with a tranquil stroll through the Kaiserstuhl Conservation Park, just a short 6.2 kilometers away, or immerse yourself in local culture at the Barossa Regional Art Gallery, 1.8 kilometers from your doorstep.
Guest Review
Everything provided for self catering. It was a beautiful and serene location. Only 2 km outside Tanunda but wonderful location to explore the vineyards and valley.
Book your Barossa Vineyard Cottage
You'll love the location of your cottage surrounded by vineyards, and the world-class hospitality! See more at Agoda or Booking.com.
Pop your dates in to see the best prices here…
---
3. Jacobs Creek Retreat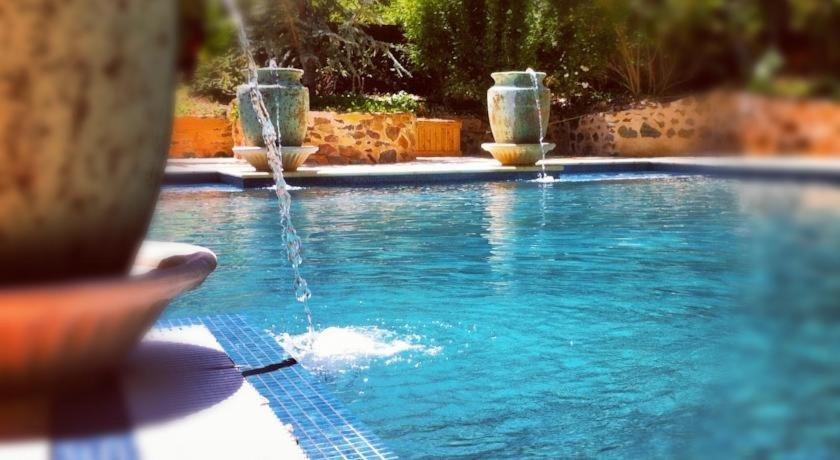 Best for: 4-Star Boutique Hotel, Swimming Pool, Romance, Massage, Gardens, $$$$
Get ready for a journey through time at the spectacular Nitschke Family's ancestral estate, now transformed into a breathtaking boutique hotel!
At Jacobs Creek Retreat take your pick from an array of extraordinary suites, each boasts a king-size bed, a luxurious spa bath, and premium interiors.
Kickstart your day with a serene breakfast on the terrace, basking in the view of the organic vineyards. Eager for adventure? Embark on a journey across the region's wineries, chauffeured by the Retreat's very own driver, uncovering 'secret' cellar doors.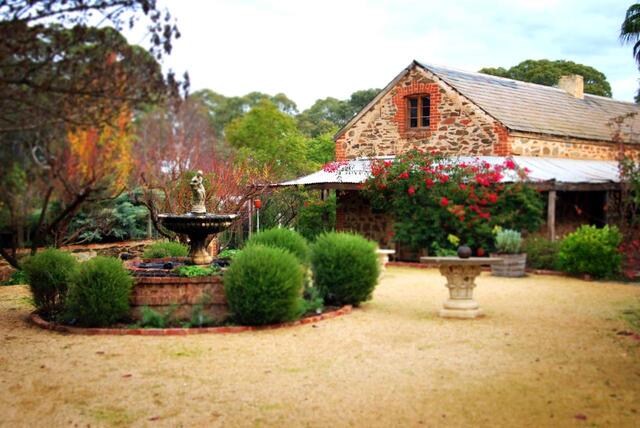 Guest Review
Absolutely gorgeous scenery, the serenity was unreal. Very relaxing, had the most wonderful stay. We loved playing croquet in the gardens, and the proximity to the wineries is great.
After a day brimming with wine tasting, retreat to the hotel for an indulgent, stress-melting massage and on hot days cool off in the crystal-clear swimming pool, taking in the awe-inspiring views around you.
Book Your Stay at Jacobs Creek Retreat
Unwind at this romantic retreat, where serenity flows like the finest wine. See more at Agoda.
---
4. Stonewell Cottages and Vineyards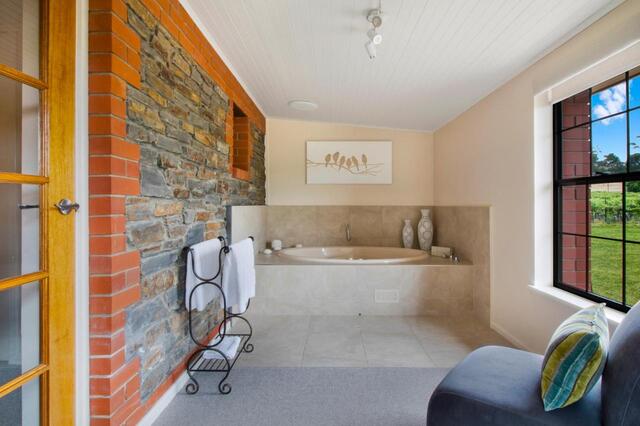 Best for: 4.5-Star Luxury Boutique Cottages, Spa Bath, Fireplace, Tanunda, $$$$
Experience a relaxing weekend retreat at Stonewell Cottages and Vineyards, an exclusive waterfront vineyard estate. Each contemporary cottage is nestled within the lush vineyards, boasting stunning views of the tranquil private lake.
Step inside to discover modern, chic interiors and a kitchen that's well-equipped, and generously stocked with delectable breakfast provisions.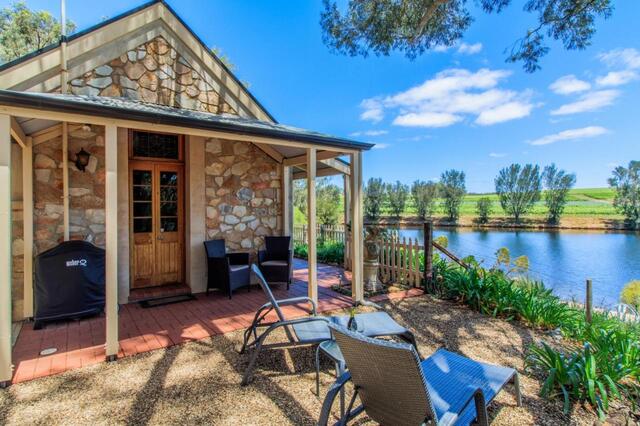 Where Lazy Days Melt into Romantic Evenings
For lazy afternoons your own private courtyard awaits, complete with BBQ facilities, outdoor dining, and sun loungers. And for a dash of romance – why not take a rowboat out on the lake with your special someone!
Guest Review
Very cute, we were provided with more than enough food for our 4 days stay, wood for the fire inside & outside was a lovely thought, coffee pods with so many varieties, the tea leaves tasted so good, we had several pots every day.
Book Your Stay at Stonewell Cottages and Vineyards
Near the Seppeltsfield Road wineries, it's time to make memories at this unique Barossa Valley Winery Accommodation. See more at Agoda or Expedia.
---
5. Hutton Vale Farm JHA Stone Cellar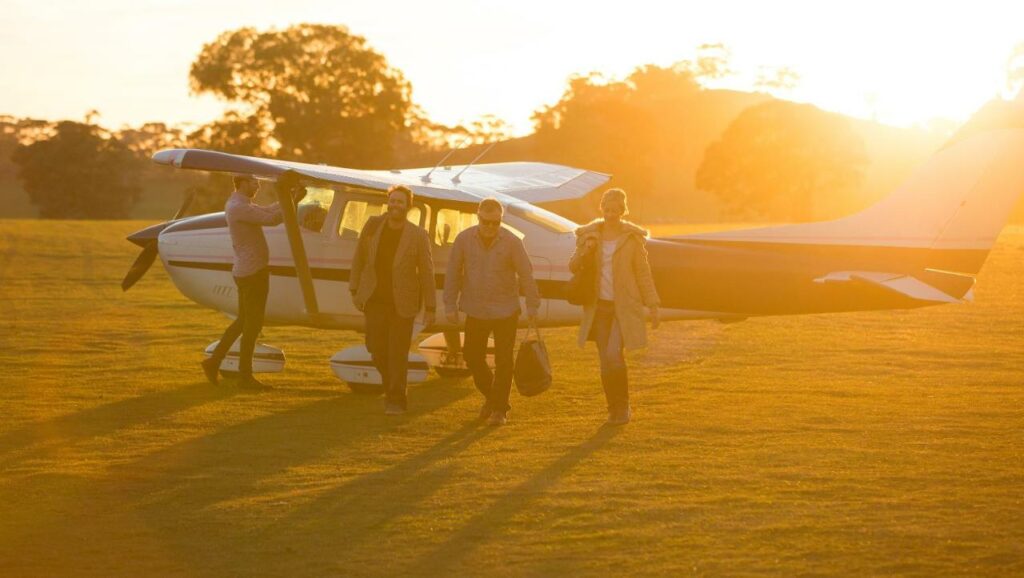 Best for: B&B Premium Villa, Breakfast Hamper, Outdoor Shower, Up to 4 Guests, $$$$$
Imagine this: you're whisked away on a private plane for a 'Fly and Stay' weekend. Destination? The historic Hatton Vale Farm JHA Stone Cellar in the heart of Barossa Valley. They've spared no expense to give you a luxurious vineyard stay you'll never forget.
Get ready to step into the world of high-end interiors and premium comforts. You're lodging in a beautifully restored homestead that oozes charm and history. Your taste buds are in for a treat too with a gourmet breakfast crafted from the finest locally-sourced, seasonal produce.
Your Shiraz Sanctuary
The JHA Stone Cellar is a luxury 2-bedroom and 2-bathroom villa on a gentle slope overlooking the Shiraz vineyards. Nearby wineries include Flaxman, Thorne-Clark, Lambert, Yalumba, and Henschke Wines.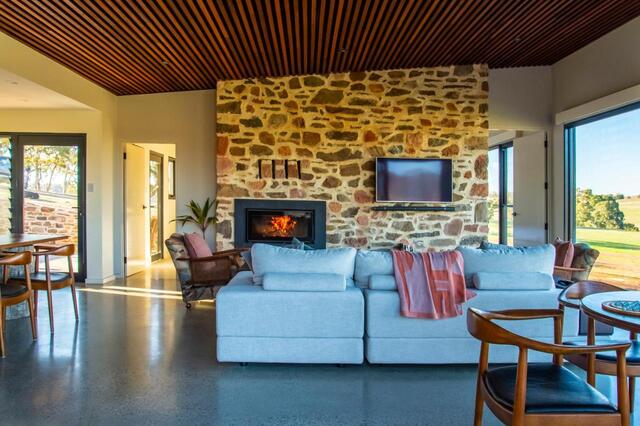 Good to Know at this Barossa Valley Winery Accommodation
The villa has 2 bedrooms, 2 bathrooms, lounge, kitchen and dining
Breakfast is supplied
WIFI, washing machine, and dryer
Outdoor dining
Book the Hutton Vale JHA Stone Cellar Villa
And the best part? You don't just taste the farm life, you get to live it. So, are you ready for an unforgettable Barossa Valley experience that's a class apart? See more at Booking.com.
---
6. Seppeltsfield Vineyard Retreat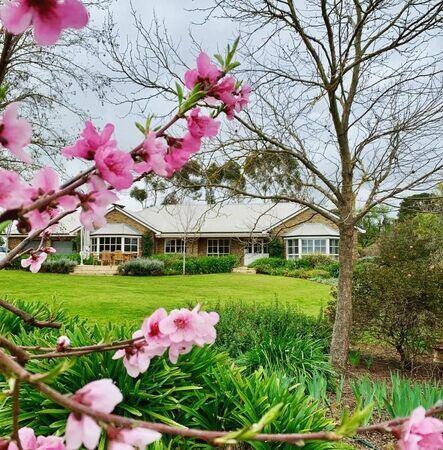 Best for: Boutique Cottage B&B, Private Vineyard, Over age 12, Up to 6 Guests, $$$$
Bring your besties for a weekend at the Seppeltsfield Vineyard Retreat. A luxurious three-bedroom holiday haven in the heart of Seize the Day wine estate. Close to the Seppetsfield Road wineries.
Wake up to the serene vineyards, the morning sun bathing the grapes in a warm glow. You're not just staying near a vineyard; you're living right in the middle of it!
You can easily walk to the famous Seppeltsfield Vineyards and the gourmet hub of Hentley Farm. How about a spontaneous winetasting tour to kick off the day?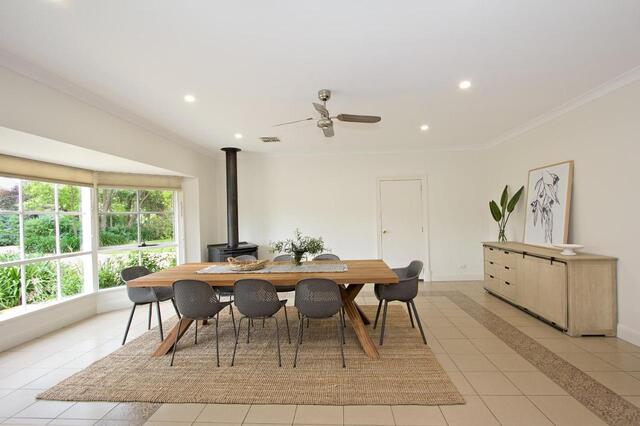 Vineyard Vista
Step inside your contemporary country-style home, where chic meets rustic, with room for up to six guests. The spacious lounge invites late-night chats, board games, or a movie marathon. And the fireplace awaits those cosy wine-infused nights, where you can exchange fun stories.
Outside, the garden calls for an alfresco dining experience. A hearty breakfast spread out on the outdoor dining table while you soak in the breathtaking scenery. Or a BBQ under the stars, with great company and the best wines the estate has to offer.
Book your Seppeltsfield Vineyard Retreat
Escape the ordinary for a vineyard weekend. So pack your bags and get ready for an experience that's bound to leave you with more stories worth telling! See more at Booking.com.
---
7. Barossa Shiraz Estate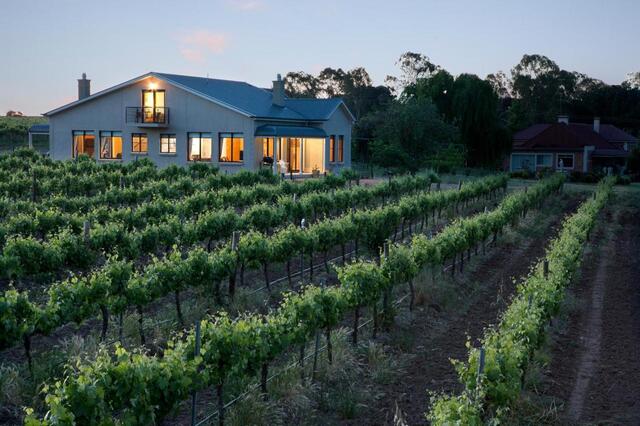 Best for: Luxury B&B Cottages, Private Vineyard, Spa Bath, Breakfast, Therapeutic Massage, Bike Hire, Lyndoch, Up to 6 guests $$$$
Kick back in the lap of luxury at the Barossa Shiraz Estate in the enchanting town of Lyndoch.
Originally a Royal Mail Coach Station this gorgeous property now offers unique cottages for couples and groups.
Each cottage offers captivating interiors, cosy log fires and is surrounded by the vineyard, creating a backdrop straight out of a postcard.
Find Your Perfect Cottage Getaway
The Loft Cottage is the ultimate party pad, comfortably housing six guests. Or perhaps the intimate Vine and Residence Cottages, perfect for a romantic getaway for two. The Willows Cottage is your haven for a group of six, while the Barn Cottage is tailor-made for a group of four seeking comfort and tranquility.
Guest Review
The whole house was heated. Perfectly stocked kitchen. The bathrooms had Vasse Virgin products, very premium and nice way to showcase an Australian brand. House was very clean. 
Discover Local Wineries
Fancy a leisurely walk to the neighbouring wineries? You're in luck! Hemera Estate and Kellermeister Winery are a minute's stroll away.
Feel like exploring a bit more? Take a breezy 8-minute walk to the Barossa Chateau, or a 19-minute amble to the McGuigan Barossa Valley.
If you don't mind a short drive, Chateau Yaldara is 4 minutes away, offering even more wine-tasting adventures.
Good to Know
Port wine, chocolates, and biscuits on arrival
Free breakfast daily
Free WIFI
One, Two and Three-bedroom cottages and villas
Spend a wonderful weekend at Barossa Shiraz Estate. See more at Expedia.
Book Your Cottage at Barossa Shiraz Estate
Raise a glass to camaraderie and laughter with your friends at this popular Barossa Valley Winery Accommodation. See more at Expedia
---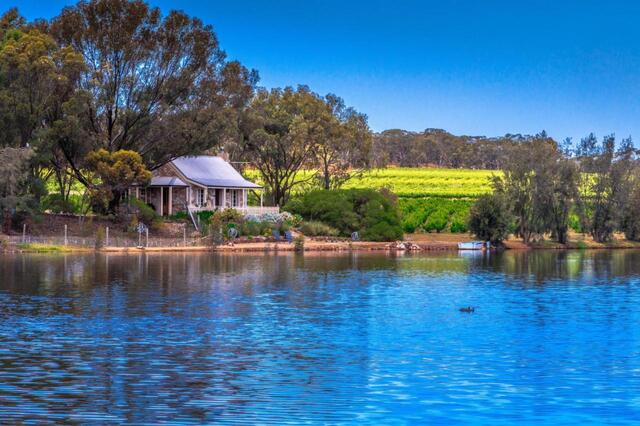 Weekend Activities
Start your Saturday morning with a visit to the Barossa Farmers Market, a vibrant hub for fresh and artisanal food. Browse stalls selling fresh produce, local wines, and artisan goods.
Visit the Barossa Heritage Trail. This scenic route takes you past some of the region's most important historical and cultural sites.
Visit the Maggie Beer Farm Shop, where you can sample Maggie's famous jams, chutneys, and other culinary delights. Then, take a walk through the beautiful gardens.
Visit the Whispering Wall. This unique acoustic phenomenon allows you to hear the other person's whisper from over 140 meters away.
Go for a bike ride through the vineyards. The Barossa Trail is a great way to explore the region at your own pace and enjoy the stunning scenery.
Barossa Valley Chocolate Company with a chocolate kitchen, a chocolate shop, and an ice creamery.
Visit Seppetsfield Estate with bespoke wine tasting and the on-site JamFactory for arts and crafts. With the artists in residence including a milliner, shoemaker, potter, and knifemaker. You can book to make your own knife.
Enjoy a cappuccino at Octeine Coffee and Cafe, and shop for luxe olive oil body products and food made by Vasse Virgin. (also at Seppetsfield Estate).
Outdoor Activities: Enjoy cycling through the Barossa Trail.
Wellness Retreat: Pamper yourself with a spa treatment or yoga session at Endota Spa or Barossa Valley Yoga.
For garden enthusiasts, the gardens designed by Paul Bangay at Barossa Valley Estate are a beautiful destination.
Seppeltsfield is a wonderful place for walking with gorgeous countryside and an iconic palm-lined road with wineries and heritage buildings.
---
Barossa Valley Wineries
With over 90 Wineries to choose from here are a few to choose from: Torbreck, Two Hands, Hentley Farm, Barossa Valley Estate, Greenock Creek Wines, Kalleske, Whistler, Tscharke, and Seiber.
Langmeil Winery: Known for its rich history and old Shiraz vines, Langmeil is a boutique winery worth visiting.
Peter Lehmann Wines: A family-run winery offering a range of premium wines, from Shiraz to Cabernet Sauvignon.
Torbreck Vintners: This boutique winery is celebrated for its focus on preserving the Barossa Valley's rich viticultural heritage and creating distinctive, high-quality wines.
Henschke Cellars: Renowned for their outstanding wines, particularly their Hill of Grace Shiraz, Henschke offers a unique wine-tasting experience.
Rockford Wines: This winery is celebrated for its traditional wine-making methods and the authenticity of its products, giving visitors a taste of Barossa's wine-making heritage.
---
Wrapping Up – Best Barossa Valley Winery Accommodation for the Weekend
Whether you're a seasoned sommelier or a casual sipper, this list of the Best Barossa Valley Winery accommodation for the Weekend with the fun things to do intricately weave the region's wine culture into every element.
So, pack your bags, uncork your adventurous spirit, and prepare to revel in the unparalleled experiences that only Barossa Valley can offer!
---
SEE MORE