New Caledonia is lavishly endowed with divine beaches, idyllic islands, azure seas, an impressive UNESCO listed barrier reef and two very distinct cultures. This list of 5 Unique Places to Stay in New Caledonia includes: Overwater Bungalows, Gîtes, Tribal Kanak Huts, Camping, Boutique Beach Bungalows…
For a City & Beach holiday start in downtown Noumea for 'France in the Pacific'. Shop at the boulangeries, boutiques and dine at the Bistros for a taste of French cuisine. Escape to the beach and forest and meet the indigenous Melanesian Kanak people. Experience their traditional way of life north east of the main island, Grand-Terre, or on the stunning Loyalty Islands. So let's begin…
1. Hotel L'Escapade Îlot Maître, Ilot Maitre – Unbelievable Over Water Location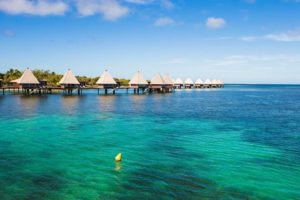 Best for:
Unique Hotel
'Bucket List Must Do'
Dive into Ocean from Room
Couples
$$$$, 2 Star Hotel, Near Noumea
For once in your life stay in an overwater bungalow and L'Escapade Îlot Maître is one of the most affordable over water bungalows in the world. FYI: you're paying 5 star prices for 2 star accommodation but it's worth it! I recommend you stay around two to three nights then venture beyond Noumea to the Loyalty Islands.
The Island:
Îlot Maître is a small island near Noumea that is a protected marine park with crystal clear water. Island ferries carry you back and forth to Noumea.  As you sleep in your spacious over water bungalow you'll hear the water lapping below. In the morning before breakfast dive in and swim with turtles, tropical fish, sea snakes and the occasional reef shark! Yes this is the ocean!
Over Water Bungalow:
Marvel at the beauty all around you as you relax in your deckchair on your bungalow's deck. Each bungalow is designed with woodcarvings, Italian marble bathroom and a big comfy king-sized bed.
Quick Tip: make sure you are booking an overwater bungalow. Some of the resort's bungalows are on the island in the garden.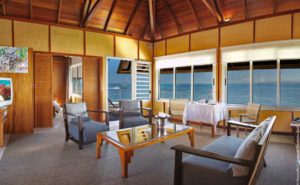 Dining Buffet:
Your room includes free breakfast so fill up on this and eat the snacks you've cleverly brought over with you from Noumea for lunch. Snacks on the island are very expensive. Some travellers have been disappointed by the evening buffet saying it's expensive and the quality is unreliable. If you don't want the resort buffet you can catch a water taxi to Noumea and dine in one of the bistros.
FYI: the late ferries only run on Friday and Saturday nights.
Quick Tip: Bring lots of bottled water with you too.
Things to Do:
L'Escapade Îlot Maître is an escape from the stresses and worries of life – swim, snorkel and relax (except weekends – see below). There's not much else to do. The snorkelling gear is free to use but  you have to pay for the kayaks and paddle boards.
Quick Tip: In the weekends all of Noumea flocks to L'Escapade Îlot Maître to swim in the crystal clear sea and IN the hotel pool. So don't expect to find a pool lounger then. Best to relax on your deck!
On a more positive note make sure you watch the amazing sunsets from the wooden jetty.
Conclusion: amazing 'bucket list' bungalows over beautiful crystal water, stay 1 to 3 nights during the week, bring snacks and bottled water…and relax.
P.S. If you want to visit Escapade island without staying you can book a day tour with Dal Ocean Charter here.
Hope this helps too: Affordable Noumea Accommodation with Self Catering>>

2. What is Accueil en Tribu?
Accueil en Tribu translates to 'home in a tribe' or Tribal Homestay. In New Caledonia you can stay with a local tribe. This gives you an authentic Kanak experience and a chance to learn about tribal heritage and customs. But take care to respect their customs, for example:
Swimsuits are for the beach only.
If you are visiting a village, dress appropriately.
It is polite to greet people as you pass.
La Coutume – when you visit tribal land it is customary to give a small gift, e.g. food, textile.
Make sure you ask your hosts if you can try the traditional New Caledonian dish called Bougna. This slow cooked meal can contain yam, sweet potato, taro, banana, fish, prawns, and chicken – all cooked in banana leaves in  a Melanesian earth oven.
To book this accommodation (the only contact details may be a phone number) click here and also read on…
Nataiwatch Tribal Homestay – Experience Melanesian Life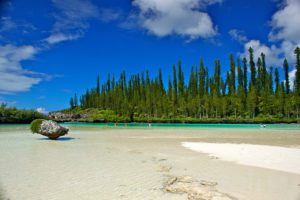 Best for:
Accueil en Tribu
Stunning Beach
Rustic Bungalows
Families, Couples, Groups, Solo
$, Traditional Hut, Camping, Ile des Pins
Nataiwatch is set by the most beautiful beach in the world on the most magical island in the world! The Ile des Pins is a quick 25 minute flight from Noumea or a thrilling ferry ride from Noumea's marina.
Quick Tip: if you suffer from seasickness the flight is your best option.
Set in a beautiful natural forest you're looked after by hosts, Guillaume and Eulali Kouathe. The accommodation is simple and natural and more like backpacking. Stay in one of their traditional bungalows or pitch your tent in the shade with shared facilities.
Some of the bungalows have kitchens and bathrooms so check on this when you are booking. Barbecue your seafood on the shared BBQ and meet global travellers in the communal dining area.
You can arrange adventure activities through Nataiwatch:
Don't miss sailing in a traditional canoe with a trek through ancient forest to an incredible natural swimming pool.
Explore the ocean and reef with a boat trip to outer islands: îlot Brosse and îlot Moro.
Conclusion: Incredible Beach Location on the Ile des Pins staying with a lovely Kanak Family.
3. Hotel Nengone Village, Maré Island – Long White Sand Beach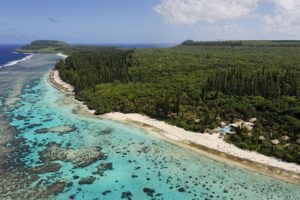 Best for:
Boutique Beach Bungalows
Peaceful
Amazing Coral and Snorkelling
Families, Couples
$$, 3 Star Hotel
Fly or ferry to Maré Island and embrace adventure. Join a guided reef dive over the Hnalé Bay Drop, visit Vanilla Plantations, meet traditional Melanesian Sculptors and take home their incredible Kanak art based on traditional beliefs. Hotel Nengone Village Hotel is the perfect spot to base yourself on Île Maré.
Beach Bungalows:
Each beach bungalow at Hotel Nengone Village has unbelievable views of crystal clear waters and white sand beach. This isolated and private locale will leave you feeling relaxed and peaceful.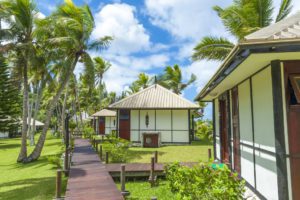 Nengone sits in a lush tropical garden by a pristine beach. Snorkel out to the reef and see multi-coloured coral. Take a dip in the hotel pool or wander over to the beach that seems to go on for ever. Feel like exercising? A special walking trail starts from the hotel along the beach path. Families welcome.
Quick Tips:
Cafe and restaurant on site but bring snacks to save on money.
 You can book local activities through the hotel.
Rent a car to get around the island.
Rent bikes from the hotel.
4. Oasis de Tendea – Forest Stay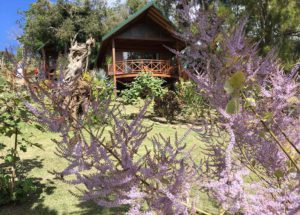 Best for:
UNESCO World Heritage Site
Mountain biking and Hiking
Waterfall and River nearby
$$, Bungalow, Farino
New Caledonia isn't just beach. Head 1.5 hours north-west from Noumea to Farino and explore tropical forest teaming with wildlife.
Forest Bungalows:
At the Oasis de Tendea stay in one of four beautifully handcrafted bungalows set on a forested slope by a river. Each bungalow has a kitchen and a deck overlooking the beautiful lush scenery.
Quick Tip: Maximum 4 people per bungalow.
Nearby is a river and water hole for swimming and a short walk to a beautiful waterfall. Breakfast includes delicious warm croissants. Make sure you bring food to cook (and for picnics) for your other meals, so you can spend a few days at this oasis of calm and nature, without having to leave.
Things to Do:
Visit the Giant Fern Park, an incredible biodiverse rainforest
Hike, mountainbike or footbike (that's a kick scooter with bicycle wheels) with local guides.
See the red-breasted parakeets and many other tropical birds in this vast forest that is also a UNESCO World Heritage Site.
5. Relais de Poingam Gîte – Adventure in the Far North of Grand-Terre

Best for:
Thatched Beach Bungalows on the Edge of a Lagoon
Camping
Table d'hôte Restaurant
Saltwater Pool
Kayaking
$, Gîte, Camping, Poum
A Gîte is France's version of AirBnB. Rent the whole house or stay in a private room in a guest house. Relais de Poingam Gîte welcomes travellers from around the world with the options of bungalows, a teepee, and camping.
Head North!
This friendly haven is a long way to get to with a spot of 'off-roading' at the very end but worth it! Northern Grand-Terre is spectacular. If you have time take a few days and stop off on the way and see other parts of Noumea – More ideas here: 5 Authentic Places to Stay on your Dream New Caledonia Holiday.
Back to Nature:
Le Relais de Poingam is handcrafted with a special touch and this is a truly 'back to nature' adventurous experience. No WIFI just stunning beach, forest, ocean and wild horses!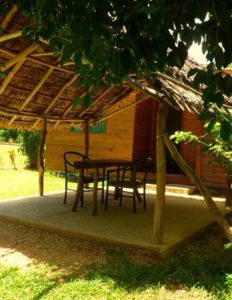 Enjoy solitude in your handcarved simple bungalow set amongst the palm trees. The shower and toilet are open-air outside the room but private. Campers can pitch their tents on the spacious beachfront. Don't just stay 1 night – stay 2 or 3 and immerse yourself in this isolated beautiful location.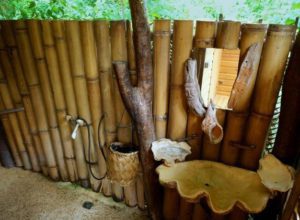 Quick Tip: Bring plenty of insect repellant for the mozzies (they appear at dawn and dusk).
Things to Do:
Take out a kayak and enjoy the ocean – see stingrays, tropical fish and sharks in the shallows.
Hike around the hilly terrain and mangrove bay before cooling off in the saltwater pool.
Don't miss visiting the nearby salt water mine.
Go fishing with local guides.
Dining in Style:
Although isolated the restaurant at Le Relais de Poingam is world-class! The evening meals are French style called table d'hôte which means 'table of the host'. You eat what is fresh and seasonal for that day chosen by the chef/cook at a fixed price. Wine is included in the price. Dining at Le Relais de Poingam is communal around large tables – a wonderful chance to meet travellers from around the world. The restaurant is also open to outside visitors who come from all over New Caledonia to savour the amazing dishes.
Conclusion: adventure and stunning isolation with incredible food!
Also Read: 5 Authentic Places to Stay on Your Dream New Caledonia Holiday>>