New Caledonia is lavishly endowed with divine beaches, idyllic islands, azure seas, an impressive UNESCO-listed barrier reef, and two very distinct cultures. This list of 5+ Unique Places to Stay in New Caledonia includes Luxury Overwater Bungalows, Gîtes, Tribal Kanak Huts, Camping, and Boutique Beach Bungalows…
For a City & Beach holiday start in downtown Nouméa for 'a touch of France in the Pacific'. Shop at the boulangeries, and boutiques and dine at the Bistros for a taste of French cuisine. Escape to the beach and forest and meet the indigenous Melanesian Kanak people. Experience their traditional way of life northeast of the main island, Grand-Terre, or on the stunning Loyalty Islands. So let's begin…
Type of Accommodation:  Overwater and Beach | Traditional
Destination:  Nouméa |  New Caledonia
Price Range: Cabin/Hostel $ | Budget $$ | Mid-range $$$ | Luxury $$$$ | Super Luxe $$$$+
Travel Tips
New Caledonia has glorious warm weather year-round and not too many rainy days. According to New Caledonia Travel, the best months to visit are November to mid-December and February to April. The peak (more expensive) season is September to November.
Cooler Months 20C – 22C: July to September
Summer Months 27C – 28C and higher humidity: January to March
Snorkelling
Snorkelling is the best from June to October when the weather conditions are calm.
The best snorkelling is at La Piscines Naturelle (the Natural Pool) and Kanumera Bay, both on the Isle of Pines. Near Nouméa the best snorkelling is on the offshore islands of Îlot Canard (Duck Island) and Îlot Amédée (with the lighthouse).
Outdoor Activities
The best months for outdoor activities are June to September when it's cooler with low humidity.
Enjoy hiking and birdwatching at Fournier Marsh
Go golfing at Dumbéa, Déva, Tina, and Ouenghi
Challenging mountain bike trails are on the Grande Boucle of the Tango plateau in Koné
Horseriding is popular on the main island of Grande Terre. Ride along the coast of the Lebris peninsula, near La Foa
Go ziplining at Païta and Dumbéa
Laze at the beach, explore the country or choose an adventure! See what's on offer…
---
1. DoubleTree by Hilton Nouméa Ilot Maitre Resort – Unbelievable Overwater Location
Best for: 4-Star Overwater Resort, Swimming Pool, Pool-Side Restaurant, Water Sports Centre, Snorkelling, Romantic, Up to 4 Guests, $$$$
DoubleTree by Hilton Hotels are known for their signature warm and welcoming service, and the Nouméa Ilot Maitre Resort is no exception.
Located on the picturesque Îlot Maître, this hotel offers guests a dream escape in the South Pacific. If you're looking for a relaxing vacation in a stunning overwater bungalow, with beautiful views, then this resort may be just what you're looking for!
The Island
Near New Caledonia's main city, Nouméa, Îlot Maître is a small island and a protected marine park with crystal clear water and colourful marine life. The trip to the island by hotel water taxi takes 30 minutes. The boats travel regularly but check the boat timetable when you arrive on the island.
The overwater bungalows curve over the reef around one side of the island which you can access by a jetty. The hotel's reception, swimming pool, restaurant, and cafe are on the island.
As you sleep in your luxury overwater bungalow you'll hear the water lapping below. In the morning before breakfast, why not dive into the ocean and swim with the turtles and tropical fish?
Pop your dates in and book your holiday of a lifetime! (prices are in US$):
Overwater Bungalow
Each spacious bungalow has air-conditioning and is designed with woodcarvings, stylish white interiors, an Italian marble bathroom, and a big comfy king-sized bed. Marvel at the beauty all around as you relax in your deckchair on your bungalow's deck.
Quick Tips
Make sure you book an overwater bungalow. Some of the resort's bungalows are on the island in the garden.
Don't miss watching the gorgeous sunsets from the wooden jetty
Bring snacks and bottled water with you since they're expensive on the island
Dining
The restaurant offers local cuisine at breakfast, lunch, and dinner. It's fairly expensive but in line with the price of eating out in New Caledonia. If you can drag yourself away from the island you can catch the hotel water taxi to Nouméa and dine in one of the bistros, which could save you money and give you other options.
Review: Amazing island. Secluded and very quiet. The restaurant was fantastic with variety over our five nights. The staff was very helpful. The snorkelling was amazing. Very relaxing stay."
Review: The huts over the water are large, comfortable and well-appointed. Awesome being able to lower your personal staircase into the water to go snorkelling – pack your gear! Swam with a turtle every day.
Good to Know:
Overwater and Garden Bungalows can accommodate up to 4 guests
Buffet breakfast and boat transfer are included in the price of your stay
The resort offers 24-hour reception and daily housekeeping
Only the Deluxe Beach Bungalows have a bath and shower
---
See Viator's Things to Do in Nouméa:
---
2. Gondwana City Art Hotel – Nouméa
Best for: 2-Star Hotel, Central Nouméa, Breakfast, Affordable, Up to 3 Guests $$
Guests love the art, the location, and the affordability. What more could you ask for! Gondwana City Art Hotel is a 3-story hotel in the heart of Nouméa with creatively designed rooms, that include ensuites, a microwave, fridge, TV, and WIFI. A water fountain is on each floor.
A delicious breakfast is supplied daily that you can eat in the lovely outdoor patio area. For swimming, snorkelling, and beach activities you're 2.2 km from Baie Des Citrons Beach, with its white sandy beach and calm bay.
Review: Very cool and artsy hotel. Room and bathroom are exactly like the pictures provided.
Review: Fantastic breakfast, everything was quality, fresh, and very attractively presented. Beautiful light-filled covered patio to eat at.
Overall Gondwana City Art Hotel is popular with guests from around the world who are looking for a cool centrally located place to stay that doesn't cost the earth!
---
3. Accueil en Tribu – Tribal Homestays Across New Caledonia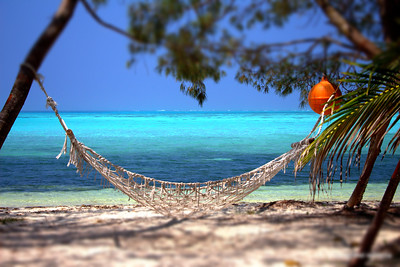 Accueil en Tribu translates to 'home in a tribe' or Tribal Homestay. In New Caledonia, you can stay with a local tribe which gives you an authentic Kanak experience and a chance to learn about tribal heritage and customs.
But take care to respect their customs, for example:
Swimsuits are for the beach only.
If you are visiting a village, dress appropriately.
It is polite to greet people as you pass.
La Coutume – when you visit tribal land it is customary to give a small gift, e.g. food, or textile.
Make sure you ask your hosts if you can try the traditional New Caledonian dish called Bougna. This slow-cooked meal can contain yam, sweet potato, taro, banana, fish, prawns, and chicken – all cooked in banana leaves in a Melanesian earth oven.
To book this accommodation across New Caledonia (the only contact details may be a phone number) you can find details on Le Guide de Nouvelle-Calédonie website and also read on…
---
4. Nataiwatch Tribal Homestay – Experience Melanesian Life on Ile des Pins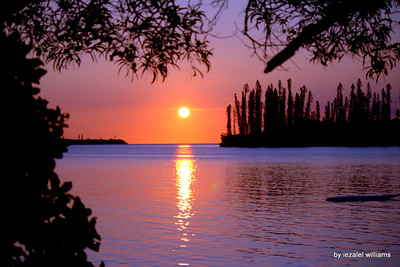 Best for: Tribal Homestay, Stunning Beach, Affordable, Rustic Bungalows, Camping, Ile des Pins, $
Nataiwatch is set by the most beautiful beach in the world on the most magical island in the world! The Ile des Pins is a quick 25-minute flight from Noumea or a thrilling ferry ride from Noumea's marina.
Quick Tip: if you suffer from seasickness the flight is your best option.
Set in a beautiful natural forest you're looked after by hosts, Guillaume and Eulali Kouathe. The accommodation is simple and natural and more like backpacking. Stay in one of their traditional bungalows or pitch your tent in the shade with shared facilities.
Some of the bungalows have kitchens and bathrooms so check on this when you're booking. For meals barbecue your seafood on the shared BBQ and meet global travellers in the communal dining area.
You can arrange adventure activities through Nataiwatch:
Don't miss sailing in a traditional canoe with a trek through an ancient forest to an incredible natural swimming pool.
Explore the ocean and reef with a boat trip to the outer islands: îlot Brosse and îlot Moro.
Conclusion: Incredible Beach Location on the Ile des Pins staying with a lovely Kanak Family.
---
Travel Resources
---
5. Oure Tera Beach Resort – Luxury on the Ile des Pins
Best for: 4-Star Resort, Beautiful Beach and Nature, Water Activities, Swimming Pool, Up to 3 Guests, $$$$
A swimming pool, delicious dining options, and a range of activities make for a relaxing holiday on a heavenly beach at Oure Tera Beach Resort.
Nestled amongst tropical gardens, the handcrafted bungalows and suites have luxury interiors, air conditioning, and a private balcony. Each also includes a satellite TV, a mini fridge, tea, and coffee-making facilities, and an en-suite bathroom with a shower.
The resort has a low-key eco and friendly feel that is welcoming and warm. You have everything for a relaxing stay with two restaurants and free water activities.
The calm bay is perfect for snorkelling, kayaking, and Stand Up Paddleboarding (SUP) so you're sure to see tropical fish and turtles.
Your hosts can also organise tours for you – don't miss the outrigger cruises and visit to the natural swimming pool (a wonder of the world!), plus diving trips, and island lunch tours.
Review: Amazing beach with snorkelling, marine life, and free water activities. All we needed for a relaxing weekend. Its a nature lovers paradise.
---
Another Recommendation on the island is Le Méridien Ile des Pins
This hotel is a 5-Star Luxury Retreat for Romantics, on the other side of the island near the Natural Pool. Stunning suites with high-end interiors, spa treatments, fitness centre, infinity pool, and French cuisine…
---
6. La Case, un espace qui invite à l'essentiel! – Bouloupari
Best for: B&B Case (Chalet), Affordable, Spa Pool, Breakfast, Fishing, Aikido, Bouloupari, Up to 4 Guests $
This unique traditional lodging can be booked through Booking.com. The case is about an hour's drive northeast of Noumea and close to Tontouta Airport and the Giant Tree Fern Park.
The case has a double bed and two futon beds for up to four guests, an outdoor kitchen, a dining area and spa pool, a fireplace, and an eco-composting toilet. Tip: bring a flashlight for nighttime trips to the loo!
Your hosts are great cooks and provide a free breakfast. You can also book dinner, with fresh vegetables supplied from the garden.
Review: A very nice and relaxing welcome and setting, a delicious breakfast prepared with products from the garden, and small touches that make all the difference.
Classes on offer: Aikido, shooting Sarbacane, Origami, and Zentangle – meditative drawing. Fishing trips are also available.
---
7. Oasis de Tendea – Treehouse Forest Stay in Farino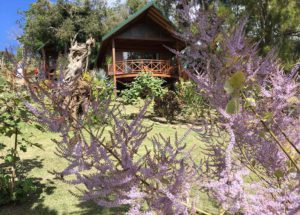 Best for: Treehouse Bungalow, UNESCO World Heritage Site, Mountain biking and Hiking, Waterfall and River, Up to 4 Guests, $$
New Caledonia isn't just beach. Head 1.5 hours north-west from Noumea to Farino and explore the tropical forest teaming with wildlife.
Forest Bungalows:
At the Oasis de Tendea stay in one of four beautifully handcrafted bungalows set on a forested slope by a river. Each bungalow has a kitchen and a deck overlooking the beautiful lush scenery.
Quick Tip: Maximum 4 people per bungalow.
Nearby is a river and water hole for swimming and a short walk to a beautiful waterfall. Breakfast includes delicious warm croissants. Make sure you bring food to cook (and for picnics) for your other meals, so you can spend a few days at this oasis of calm and nature, without having to leave.
Things to Do:
Visit the Giant Fern Park, an incredible biodiverse rainforest
Hike, mountain bike, or footbike (that's a kick scooter with bicycle wheels) with local guides.
See the red-breasted parakeets and many other tropical birds in this vast forest that is also a UNESCO World Heritage Site.
Pics: Flickr gérard and iezalel williams
---
Book your Car with Rental Cars and Discover New Caledonia
---
SEE MORE