New Caledonia is an amazing tropical destination with an impressive barrier reef, white sand beaches, lush tropical forests and ocean adventure. It's a perfect destination for the over 50's. You can relax at a beautiful beach or enjoy activities for culture, adventure or nature lovers. Read on for this Over 50's Guide to New Caledonia: Handy Tips…
Getting to New Caledonia:
New Caledonia is only 2 hours from Brisbane! Besides Australia you can also fly directly from Japan, New Zealand, Fiji, Tahiti and Vanuatu. The following airlines fly to Noumea:
Qantas
Air New Zealand
Aircalin
Air France
Air Vanuatu
You'll fly into Tontouta International Airport which is nowhere near Nouméa! It's 45 km north west so either arrange transport with your hotel or resort, jump in a taxi or book the Arc en Ciel Service airport shuttle service and explorer. Here's their website: http://www.lanavette.nc/
If you don't have any CFP Francs when you arrive use the money exchange counter at the airport so you're not stranded.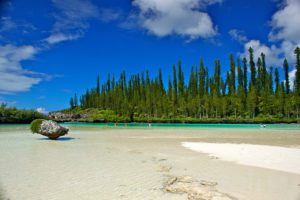 Recommended Trip Ideas:
Because the airport is a distance from Noumea most people usually end up staying at least one night in Noumea or near the airport. Here are a few trip options:
Noumea & Loyalty Islands: Stay one or two nights in Noumea and ferry or fly out to the Loyalty Islands. If you can only visit one then top pick is the closest to Noumea: L'Île-des-Pins – Isle of Pines, nicknamed 'the closest island to paradise!'
Lifou: Close second is Lifou Island with the most incredible white sand Luengoni Beach. Perhaps the best beach in New Caledonia!
Personally I'd regret not seeing at least one of the Loyalty Islands.
Noumea, Amédée, Drive around the main island – Grand-Terre: Stay a few nights in Noumea, take a water taxi to the islands close by (e.g. Amédée trip), hire a car and drive around the main island – Grand-Terre and stop at Poe, Bourail, Hienghene, and the Far North. Roads aren't fantastic so travel times are slower than you may be used to.
See below for accommodation options.
Here's a video of a couple's trip around the island:
Bring with you:
Insect repellent, long pants and long-sleeved tops for dawn and dusk when the mozzies are out. Dengue fever is found in this part of the world.
Suntan lotion with high SPF.
Snorkelling gear so you don't have to rely on hiring.
Mosquito net – depending on the type of accommodation you're staying in.
Hand wipes
Probiotics (help to strengthen your stomach for travel)
Sarong
Hiking shoes and reef shoes
Jandals/Thongs/Flip Flops
Swim suits, towel
Light cotton clothing
First aid kit
Important:
Buy travel insurance and make sure you keep a copy of your passport, visa in a safe place in case of loss.
Talk to your doctor or local medical centre for any possible immunisation needs.
Here is information about visa requirements for New Caledonia: https://www.newcaledonia.travel/nz/passport-visa-customs
Weather:
New Caledonia has two seasons: Hot and rainy, cool and dry.
Best time to go is from April to November. These are the cooler months and the best months for hiking. You'll find clear diving conditions during these months. Budget-wise more tourists visit then so prices tend to rise.
The hottest time to visit is January to March. This is also cyclone season. Just remember in the tropics it may only rain for an hour or so a day and it's cooling. Visitors stay away and prices drop so these months are more budget-friendly!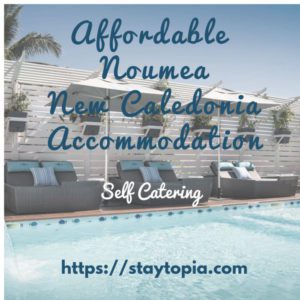 Nouméa – France in the Pacific:
In Nouméa stay close to the beaches of L'Anse Vata and Baie des Citrons (Lemon Bay). On Sundays and Mondays when the rest of Nouméa closes down, this area stays open, so you'll always find beach activities, cafes, restaurants, and shopping.
New Caledonia costs more than other Pacific Island destinations. So, in terms of budget I recommend you stay in Noumea accommodation with a kitchen. Please read: Affordable Nouméa New Caledonia Accommodation – Self Catering. Make sure you include breakfast with your booking so you can start the day with a hearty 'free' meal.
Another food money-saver is to visit Noumea's supermarkets for cheeses and tropical fruits and the local boulangeries for warm croissants and chunky baguettes. Then enjoy a picnic on your balcony or at the beach!
The incredible Jean-Marie Tjibaou Cultural Centre and the Aquarium are both open on Sunday and Monday.
The local buses are very comfortable, cheap and easy to catch around Noumea.
Boat Trips from Nouméa:
The New Caledonian Barrier Reef is the longest in the world and a UNESCO World Heritage site. The reef surrounds Nouméa so don't miss a day trip by water taxi to one of the small islands near the city:
Île aux Canards (Duck Island)
Nature reserve Îlot Maître (you'll find the Escapade Îlot Maître Overwater Bungalows here)
Amédée Islet and Lighthouse
Signal Island
Larégnère Island.
Quick Tip: Choose a boat trip that includes lots of activities so you get more for your money. For example the Amédée Lighthouse Day trip includes island entry, buffet lunch, glass bottom boat tour, cocktail and wine, island dance performance, sun loungers on the beach and demonstrations. So you're getting an action packed day in one price!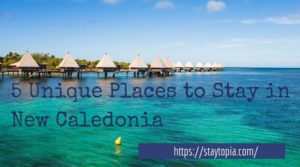 Unique Places to Stay:
Gîte: A gîte is like an Airbnb – you can hire the whole house, apartment or cottage or it may be a small guest house with individual rooms. You'll find gîtes all over New Caledonia. Prices vary widely from low-key to luxury.
The guest house gîtes are homely and friendly places to stay where you get to meet the locals.
Read more here: 5 Authentic Places to Stay on Your Dream New Caledonia Holiday.
Tribal Lodging: This is called 'Accueil en Tribu' which translates to 'home in a tribe'. Many of the local tribes have opened their doors to travellers so now you can experience an authentic Melanesian Kanak homestay.
Quick Tip: This is more like backpacking. You may find a mattress on the floor of a community centre or a bed with en-suite in a traditional thatched hut.
Take care to respect their customs, for example:
La Coutume – when you visit tribal land it is customary to give the chief a small gift, e.g. food, textile.
Swimsuits are for the beach only not the village.
If you are visiting a village, dress appropriately.
It is polite to greet people as you pass.
This website has a list of Accueil en Tribu villages for you to book your stay (which may only be a phone number): https://www.iles-loyaute.com/en/
Over-water Bungalows: Escapade Îlot Maître Hotel offers amazing over-water bungalows on a tiny island nature reserve near Noumea. These are some of the most affordable over-water accommodation in the Pacific!
Read more: 5 Unique Places to Stay in New Caledonia
Quick Tips: They also have garden bungalows so make sure you're booking an over-water bungalow. The price includes breakfast.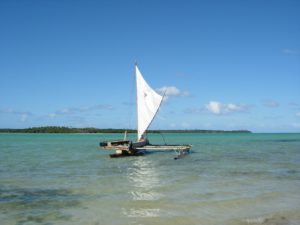 Things to Do & Adventure:
Mountain bike trails: https://www.province-sud.nc/page-votre-province/boucles-tina
Hiking on the islands and on Grand-Terre, e.g. Blue River Provincial Park, Sarraméa, Le Mont-Dore.
Kite Surfing is very popular. Learn here: https://kitesurfnoumea.nc/en/kite-wake-school/
Golf, Horseriding, Fishing.
Birdwatching at Farino Giant Tree Ferns Park, Blue River Provincial Park, and Ouvea Island with Isabelle Jollit. Her website: https://caledoniabirds.com/
Watersports; Kayaking, Diving, Snorkelling.
Visit a local tribe.
Visit Vanilla Plantations and see indigenous carvings by local Kanak artists on the Loyalty Islands.
Go caving on Lifou Island.
Time your trip to experience one of New Caledonia's many festivals, e.g. the Vanilla Festival in October and the Octopus Festival in June!
Take to the air in a small hire plane to experience the vistas from above! Air Alizé and Air Loyauté.
Whale watching in April.
See video of things to do:
https://youtu.be/nBOA3W5XbNo
The Loyalty Islands:
The main islands people visit are:
L'Île-des-Pins. Beaches: Kuto Bay, Kanumera Bay, Upi Bay. Visit: Piscine Naturelle.
Maré. Beach: Yejele Beach.
Ouvéa. Beach: Fayaoue Beach.
Lifou. Beaches: Plage de Luengoni, Easo Beach, Baie de Jinek – snorkelling.
30kms north of Maré is Tiga which currently doesn't have a place to stay.
Accommodation on the islands includes Tribal Homestays, Camping, Gîtes, Beach Hotels and small Resorts.
There's plenty to do on the islands (including major relaxing!) – boat trips, diving, snorkelling, caving, visiting local artisans, and hiking. You can arrange activities with your island host.
Beaches include:
The ferry to the Loyalty Islands: https://www.betico.nc/fr/tarifs-et-rotations/plannings-et-horaires. Sometimes the Catamaran ferry is out of service so check on this.
You can fly to the islands with Air Calin. You may need a night in Noumea to make your connection to the islands. If you're pushed for time smaller planes are available to hire to take you to the islands: Noumea Magenta airport: Air Alizé and Air Loyauté.
Budget Tips:
So in conclusion here's ways to save money while getting the most out of your trip.
Stay in self catering accommodation and shop at the local supermarket and bakery.
For economical accommodation stay at a Gîte or a Tribal Lodging.
Catch the public bus in Noumea.
Free things to do: New Caledonia's incredible beaches, hiking, Notre Dame de Lourdes on Lifou Island, Noumea – Cathedrale St Joseph de Noumea, Port Moselle Market – Tuesday to Sunday from 5 a.m. to midday. Go early. Plage de l'Anse Vata, Plage de la Baie des Citrons (Lemon Bay).
Visit: Tjibaou Cultural Center – Kanak Art and Culture. Not free but a beautiful place to spend a few hours or the day. Cheaper entry price for over 65's.
Aquarium des Lagons – cheaper for over 60's.
Now it's Your Turn!
I hope you've enjoyed this Over 50's Guide to New Caledonia. Let me know if you have any questions, thoughts and comments below. Happy Travels! Alisa…
Resources: