This charming region, known for its vineyards, stargazing, and dreamy landscapes, also houses some truly unique accommodation. From luxurious boutique hotels amongst the vines to quaint strawbale studios in the heart of Martinborough Village to cute tiny houses in rural tranquillity, the Wairarapa offers a range of distinctive stays that promise to make your trip anything but ordinary. Read on for Unique Places to Stay in the Wairarapa for Couples…
Type of Accommodation: Country and Bush | Heritage | Strawbale | Stargazing
Location: Wairarapa | Martinborough | North Island | New Zealand
Price Range: Cabin/Hostel $ | Economy $$ | Mid-range $$$ | Luxury $$$$ | Super Luxe $$$$+
This post may contain affiliate links. As an Amazon Associate, I earn from qualifying purchases. See Affiliate Disclaimer.
---
Martinborough
The country village of Martinborough hums with boutiques and eateries. Hire a bike or walk to the nearby vineyards for wine tasting and upscale dining.
A short drive away in one direction is Lake Ferry and the Pinnacles, made famous by Lord of the Rings. In the other direction, you can visit Wairarapa's version of Stonehenge (make sure you book the guided tour for a fascinating tale of astronomy and history).
---
1. Cosy Strawbale Studio – Martinborough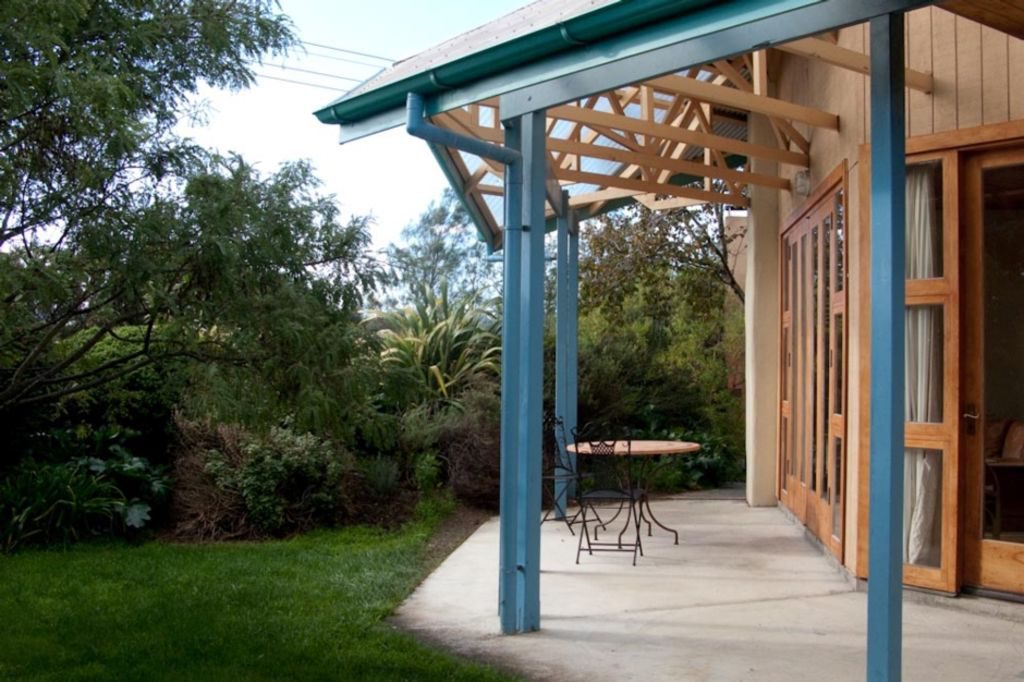 Best for: Strawbale Holiday Home, Adults-Only, Peaceful, Walk to Village and Vineyards, $$
What's Unique? An eco stay in the heart of Martinborough made from strawbale. Not only does the studio have a unique and rustic charm, but its exceptional insulation keeps you cosy in the chilly Wairarapa winter and cool in the dry heat of summer. All while being kind to the environment.
The Cosy Strawbale Studio is within walking distance of the village, vineyards, and restaurants. You're sure to enjoy this warm and peaceful retreat at the heart of Martinborough's boutique and winery scene.
Good to Know
Sleeps 2
1 bedroom with queen bed and 1 bathroom
Linen and towels provided
Internet, TV, Microwave, Outside BBQ
---
2. Parehua Resort – Martinborough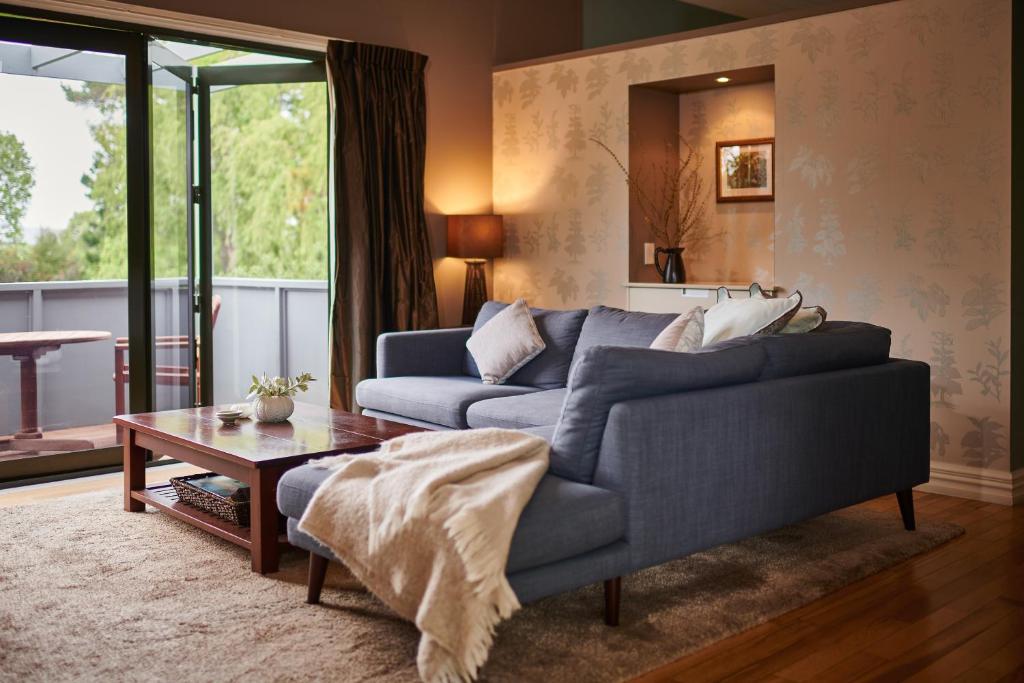 Best for: 5-Star Boutique Resort, Breakfast, Pool, Tennis, Outdoor Bar, Spa, Bistro, Luna Vineyard Winetasting, $$$
What's Unique? Set on a Country Estate, Parehua Resort is an upscale retreat surrounded by rolling hills, vineyards, gardens, and a willow-fringed lake. With a pool and a tennis court, you can slip into a day filled with adventure or relaxation – your choice.
Choose from a Selection of Contemporary Cottages
The Winemakers Cottage includes elegant décor and is a great place to learn about the local wine industry, with its vintage tasting notes and proximity to vineyards.
The Woodland Villa is a perfect retreat for groups.
The Garden Cottage is a great place to relax and unwind, with its private hot tub and cozy fireplace.
The Lakeside Cottage for privacy and romance.
The Secluded Cottage for Honeymoons and special occasions.
Each luxury cottage is complete with a private entrance, kitchenette, open fireplace, and a private deck. Some with private hot tubs.
Your New Favourite Place to Stay
Outdoors enjoy a splash in the heated outdoor pool, a game of tennis, Jenga, or Petanque. Relax with a delicious picnic at the pond. And don't forget about the on-site restaurant, serving up delicious local cuisine
Guest Review
Outstanding rooms, beautiful, clean, and extremely comfortable. Walking distance to vineyards.
Good to Know
Free shuttle around town
EV charger for vehicles
Outdoor beanbags for stargazing
Complimentary wine-tasting at Luna Vineyards
At Parehua, it's not just about a stay. It's about an experience that's uniquely yours. Trust us, you won't forget it! Pop your dates in and see the best prices…
---
3. Whitimanuka Retreat – Martinborough
Best for: Luxury Country Retreat, Adults-only, Stargazing, Highly Rated, $$$$
What's unique? Whitimanuka Retreat is a modern haven for two, surrounded by native bush on a working farm 8 minutes drive from Martinborough.
With luxurious interiors and extraordinary views, this one-bedroom architecturally designed hideaway is a stargazer's dream. Hidden from light pollution you have clear skies to view the sunsets and starry nights.
Escape the Everyday
Whitimanuka Retreat's fusion of style, nature's simplicity, and no WIFI, mean it's time to relax. Cook a meal in the modern kitchen or order a BBQ meal from your hosts and dine on the deck. For activities stroll along the farm's marked trails, picnic amidst the scenic landscape, or simply relax by the fire.
We had an amazing time here! The view is beautiful, and when you first walk in to the retreat you get the "wow" factor right away.
Good to Know at this Unique Place to Stay in the Wairarapa
Linen and Towels provided
Extra long bed
Entire unit wheelchair friendly
See the Slideshow and Pop In Your Dates
---
4. 1876 Heritage Homestead – Whangaimoana
Best for: Heritage B&B, Step Back in Time, Hot Breakfast, $$
What's Unique? Live it up at this charming colonial B&B built in exquisite Italianate style. You'll feel welcomed by your friendly hosts at this historic gem near Palliser Bay. A delicious homemade afternoon tea offered at your arrival sets the scene!
The B&B is 26 minutes south of Martinborough on the way to Lake Ferry.
Like Downtown Abbey!
Learn about the home's history, stroll the grounds at your leisure, or venture out to the Lake Palliser Lighthouse and Seal Colony. Each morning you'll love the delicious cooked breakfast served in the Homestead.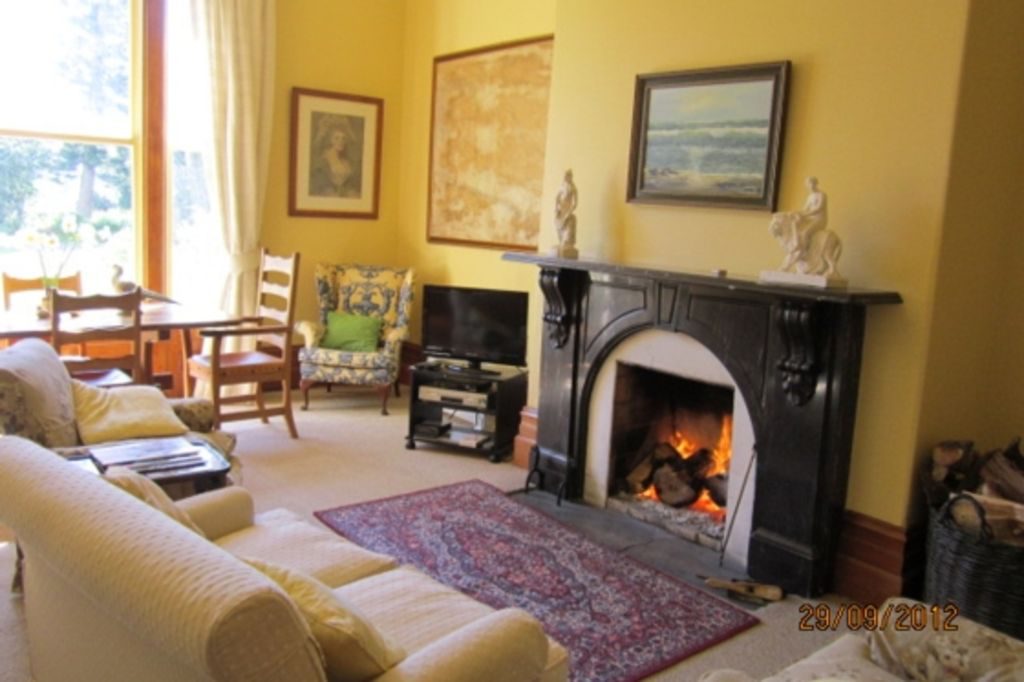 At the 1876 Heritage Homestead stay at home and cosy up to the fireplace, head out for amazing fish and chips at nearby Lake Ferry Hotel, have a glass of wine at Martinborough Village, or climb up to the Pinnacles where Lord of the Rings was filmed.
Guest Review
Greeted with fresh coffee and ginger cake. The fire was roaring and there were fresh flowers in each of the rooms. Huge bedroom, large bathroom with claw foot bath and lovely lounge with heaps of reading material and views across the farm to the mountains. Cooked breakfast each morning was delicious.
Good to Know:
Large one-bedroom with queen size bed and bathroom
Afternoon tea and breakfast included
Minimum 2-night stay on public holidays and special events
Linen and towels included
Fireplace, TV, microwave, BBQ
Children welcome
Experience a touch of luxury and history in this heritage B&B, not forgetting the delicious breakfasts!
---
Travel Resources
Have fun in the Wairarapa with a Get Your Guide Tour – choose from a Martinborough Wine Tour or experience a Float along the Waiohine River on a rubber raft (lots of fun for all ages).
Compare car rental prices between Rentalcars and Discovercars and get the best deal. Explore the countryside and see the Castlepoint Lighthouse, Putangirua Pinnacles, Pukaha National Wildlife Centre, and Stonehenge.
---
5. Luxury Container House – Clareville
Best for: Off-Grid Holiday Home, Kitchenette, Breakfast, Fireplace, Couples $$
What's Unique? The Luxury Container House in Clareville, near Carterton, is a unique, environmentally-friendly stay crafted from recycled shipping containers.
Situated on a working farm, adding a fresh, rural charm, this is the perfect place to unwind and reconnect with nature.
This energy-efficient abode boasts solar panels and double-glazed windows and looks out at rolling hills and fields.
Find Your Happy Place
The Luxury Container Holiday Home is fully equipped with a kitchenette, sofa, comfortable bed, bathroom, and a private deck with mountain views. The fireplace keeps you nice and warm on those sharp winter days.
For things to do visit the nearby Gladstone Vineyard for some wine tasting and the historic Gladstone Inn for the garden bar and a pizza and Amaretto Tiramisu.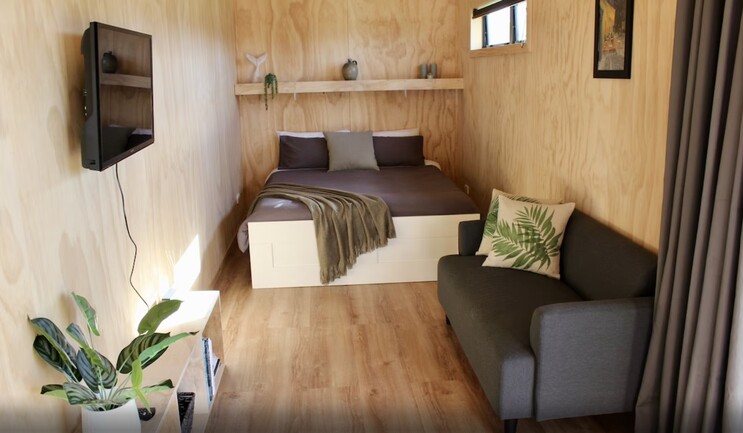 Guest Review
Loved the layout, the decor, the fire, the deck and views of hills & range. Enjoyed knowing we were sleeping in something that had probably seen the world from the decks of many ships before coming to rest in a lush Clareville paddock.
Good to Know
Free WIFI and TV
Breakfast is included
---
6. Taratahi Escape Summa Tiny House – Carterton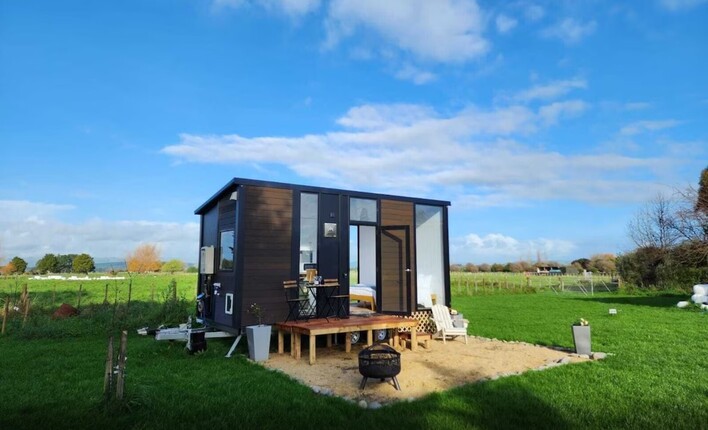 Best for: Tiny House Farmstay, Fire Pit, BBQ, Gardens, Pond, $$
What's Unique? Enjoy an eco-friendly getaway at Taratahi Escape Summa, a contemporary tiny house, on a working farm near Carterton.
Framed by rolling hills and lush greenery, Taratahi Escape Summa is a slice of paradise. Imagine waking up in your tiny house to the chirping of birds, sipping your morning coffee while soaking in the stunning views, and ending the day under a canopy of stars.
Embrace the Simple Things
At the tiny house picture yourself in a well-equipped space with a bedroom, a bathroom, a kitchen, and even air conditioning. Eco-conscious? You'll appreciate the water-saving compost toilet.
Step outside and cook up a BBQ in your outdoor seating area, complete with a heartwarming firepit for nightly stargazing.
You're not alone on the farm with chickens, cows, goats, and lots of birds as your neighbours. Stroll through the mature gardens, explore the paddocks, or relax by the serene pond.
And the adventure doesn't stop there! A short drive takes you to the historic Gladstone Inn, the fragrant Lavender Abbey, and the picturesque Fensham Reserve for scenic walks.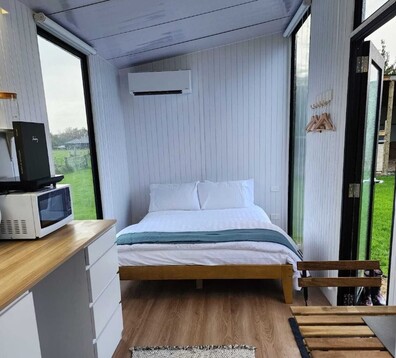 Good to Know
Gas-heated hot shower
2 minute drive to Carterton
The kitchenette has a microwave, fridge, tea/coffee making, utensils, and dishware
This tiny house is one of the quirkiest places for couples to stay in the Wairarapa!
---
SEE MORE