The most popular destination in French Polynesia. Bora Bora is a paradise with turquoise sea and white sand beaches. As author Andrew O'Hagen declares: "If heaven had an architect surely this place would appear on their board!" So you can see why Bora Bora Overwater Bungalow Resorts are romantic havens with beauty straight out of a dream.
If you can drag yourself away from your glass of champagne on the deck of your luxe overwater bungalow then you have a choice of adventures. Lagoon cruises, snorkeling with sharks and stingrays, rainforest hikes, underwater scooters, sunset catamaran sailing and so much more. 
It's tough to choose one resort, so let's see what's on offer and if they're worth the splurge!…See my recommended picks at the end…
Type of Accommodation: Overwater and Beach
Destination: French Polynesia | Bora Bora
See also: The St Regis Bora Bora Overwater Bungalows
Book with: Wotif | Booking | Expedia | Hotels l Lastminute | Agoda | IHG Book Early Deals
Bora Bora Location and Map
Bora Bora is 259 km from Tahiti, the flight takes around an hour. If you're a seafarer then the ferry from Tahiti takes 8 hours. As you can see from the map the InterContinental Le Moana is on the main island while the other overwater resorts are on Motus. These are small coral islets between the island of Bora Bora and the ocean.
---
This post may contain affiliate links. As an Amazon Associate, I earn from qualifying purchases. See Affiliate Disclaimer.
---
1. Le Bora Bora by Pearl Resorts | 4-Stars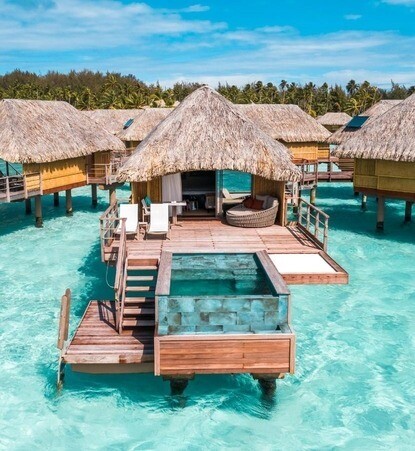 Nestled on stunning Motu Tevairoa, just a boat hop away from the airport lies a boutique-sized resort. Le Bora Bora by Pearl Resorts offers awe-inspiring views of breathtaking Bora Bora Island.
This luxurious retreat boasts tranquil waters, coral gardens, and tropical fish, making it the perfect spot for snorkeling and swimming. Guests can indulge in a variety of water activities such as kayaking and paddleboarding at the private beach.
The overwater bungalows are exquisitely designed and inspired by traditional Polynesian architecture. Each features a spacious bedroom area, an en-suite bathroom with a bathtub and separate shower, a furnished sundeck with a gazebo, and direct access to the lagoon.
The main resort area includes the reception, concierge, restaurants, pool, and beach.
The Miki Miki and Otemanu restaurants serve up sushi, Polynesian and global cuisine that tantalize your taste buds. If you're looking for ultimate relaxation, head over to the TĀVAI spa for divine massages and sensory showers. Don't miss out on a chance to experience this sensational paradise.
Tip: Book activities and dinners in advance to avoid missing out.
Pop your dates in to see prices in US$ – you'll stay on this page. Prices are compared across the internet and you're shown the best price:
The Best Reasons to Stay at Le Bora Bora by Pearl Resorts
Recently renovated Polynesian-style overwater bungalows with deck and lagoon access. Some with a private pool.
Reasonably priced so very popular (quiet months on Bora Bora are April and November)
The resort is near the restaurants on the main island, by boat transfer, if you feel like leaving your lagoon paradise
Pool, Spa, Tennis Courts, and Fitness Centre
Gift bag on arrival
Guests can book day rooms if arriving early or if you're leaving Bora Bora later in the day
Dine out at the Miki Miki Bar and Restaurant – a casual poolside eatery with delicious Buddha Bowls, tuna poke, hot stone dishes, burgers, pizzas, and tropical cocktails
Polynesian Buffet nights are popular (book early)
Review: The overwater bungalow was by far the best and nicest one of our honeymoon in French Polynesia. The entire hotel property is spotless. The views from everywhere you look are stunning. It feels like a 5-star resort, way more than other 5-star resorts on the islands.
---
2. InterContinental Bora Bora Le Moana Resort, an IHG Hotel | 4 star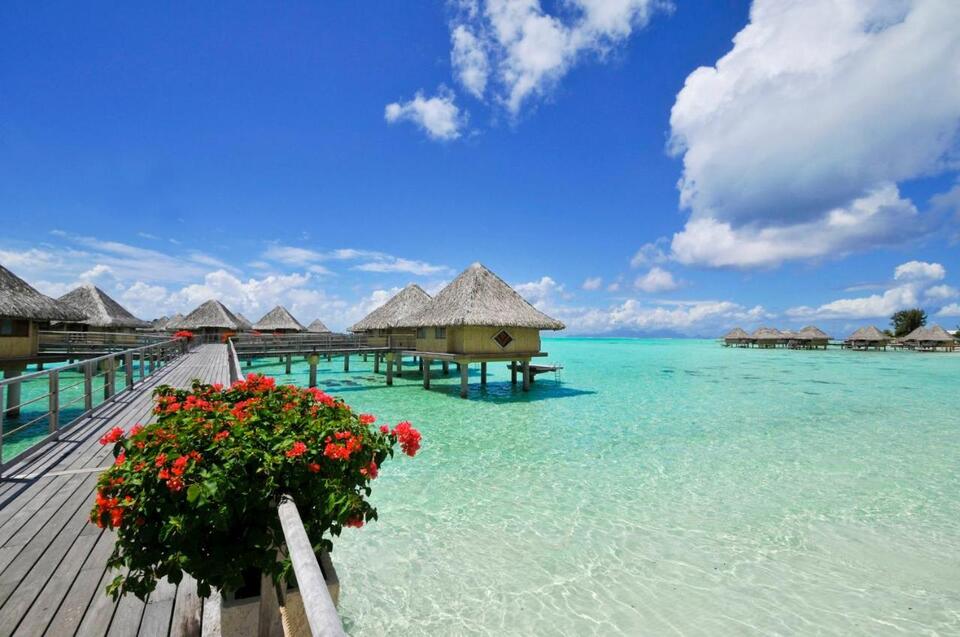 On Bora Bora's main island, these overwater bungalows are pure magic and romance. The interiors of the InterContinental Bora Bora Le Moana Resort are a tribute to Polynesian culture with local woodcarvings, tapa bark cloth, and woven bamboo and pandanus leaves.
Since you're on the main island you have more options to experience the local culture, rent a car and explore the island, and dine at nearby restaurants and food trucks.
Le Moana Resort is involved with coral regeneration efforts. The biorock reefs are produced 10 at a time and connected to solar panels for two years before being released into the natural environment. These reefs attract marine life, giant clams, sea cucumbers, and tropical fish.
Tip: for the ultimate privacy book an End of Pontoon Overwater Bungalow.
Pop your dates in to see prices in US$ – you'll stay on this page. Prices are compared across the internet and you're shown the best price:
What are the Best Bits about this Overwater Resort?
A popular resort for couples – friendly, and excellent value for money.
Quieter than the other resorts, but you can use the facilities and spa of the more expensive sister resort (Thalasso Spa)
These bungalows are over shallow water so you can even walk in the water
A glass coffee table in the living area allows you to watch the tropical fish indoors (at night the fish are attracted to the light)
Perfect base for exploring world-famous Matira beach, local restaurants, villages, pearl shopping, and island life
Don't miss booking the Canoe Breakfast, where your delicious meal is delivered to you on a traditional Polynesian outrigger canoe
Savor island cuisine and cocktails at Vini Vini Bar and Restaurant
The resort concierge can organize tours for you
Your dream wedding can be arranged
Room service is available from 7 am to 9 pm
Review: Amazing overwater bungalow at a more reasonable price than most resorts offering this type of accommodation. The lagoon is wonderful and a snorkel spot is very close by. The hotel provides snorkeling tools and kayaks/SUPs to borrow. The hotel is located on the main island which makes it easier to move around and be more independent, without having to pay the hefty boat trips back and forth between the hotels on the Motus and the main island.
---
3. Four Seasons | 5 Stars
The Four Seasons Resort in French Polynesia offers an exclusive and unforgettable experience on Motu Piti A'au. On a private beach overlooking stunning turquoise waters, with views of Mount Otemanu
You're treated to the ultimate luxury with spacious one or two-bedroom overwater bungalows. Each bungalow and villa is styled with traditional wooden furnishings, high ceilings, and thatched roofs. Some with their own private pool!
Kick off your day with a workout in the outdoor fitness center, and then unwind with a calming visit to the waterfront day spa and hot tub.
For excitement book a free snorkeling tour and explore the lagoon sanctuary and its unique marine life. You can also enjoy kayaking, catamaran cruises, windsurfing, and shark feeding. Make sure not to miss out on the breathtaking sunset views from the Sunset Bar and Lounge!
Pop your dates in to see prices in US$ – you'll stay on this page. Prices are compared across the internet and you're shown the best price:
Why you should Stay at the Stunning Four Seasons
Celebrity and Hollywood hangout. Also, don't miss Bloody Mary's Bar and Restaurant, another Bora Bora celeb haunt (https://www.bloodymarys.com/)
Book the Mountain view over water bungalow suite with a private pool as it offers a spacious living room that opens onto a deck that is perfect for entertaining.
All-inclusive pricing for overwater suites with pool
Daily breakfast is included with all bookings, you can add lunch and dinner to this for an extra charge
Tennis courts and infinity pool
Choose from Beach View, Lagoon View, and Mountain View Overwater Bungalows
Dine at thatched and handcrafted Arii Moana restaurant for fine dining with French and Mediterranean influences.
Review: This is the best hotel in Bora Bora. We loved everything about our stay. If you can afford this hotel, don't bother with any other, you will have the best experience here…the perfect place for a honeymoon. Especially the bathtub with the view of the ocean…The beach and pool are just beautiful, like a fantasy, it's so beautiful that it feels unreal.
---
Travel Tips for Bora Bora Overwater Bungalow Resorts
---
4. Conrad Bora Bora Nui | 5 stars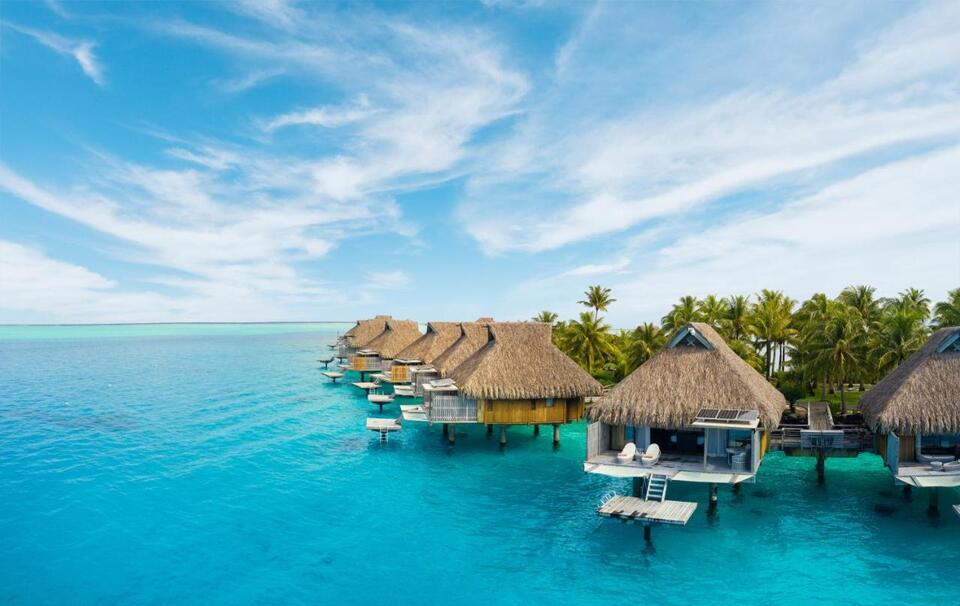 Conrad Bora Bora Nui is a lavish resort located in an isolated cove on Motu To'opua. Offering awe-inspiring views of the sea and the pristine white sand beach. An ideal spot for your dream wedding. To ensure a stress-free stay, a dedicated island Host will handle all aspects of your visit.
Luxurious villas are located in the turquoise waters of the lagoon. Relax at the infinity pool, enjoy spa treatments, or dine at any of the five global restaurants and bars on the property.
The villas are recently renovated with spacious lounges and bedrooms. Each is air-conditioned, with contemporary styling, and elegant marble bathrooms. Feel special with a stay in the Presidential Overwater Villa with 300 square meters of multi-leveled luxury, a private pool, a bath with a view, and your own personal host.
Extras include customizable pillow menus, walk-in closets with vanity desks, free beverages, turndown service, and a private cocktail hour.
Pop your dates in to see prices in US$ – you'll stay on this page. Prices are compared across the internet and you're shown the best price:
What's Special about Conrad Nui Bora Bora?
With the only floating helipad on the island, you can make a grand entrance by helicopter, or take a flight around the island
Overlooking Maupiti Island the hilltop Hine Spa offers French biological skincare, indoor and outdoor treatment villas with whirlpools, deep tissue massages, hot stone treatments, and a range of serene treatments
The signature restaurant is Iriatai offering French cuisine. Five restaurants and bars in total including a pool bar and Beach grill
Tennis, fitness center, infinity pool with cabanas, private beach with snorkeling, kayaks, Stand Up Paddleboards
Room service
Tamariki kids club and a nanny service
Learn to play the ukulele, make a gorgeous lei, and cruise around the lagoon on an outrigger lagoon
Romantic experiences can be arranged, including a sail to Motu Tapu for a champagne picnic
Book with: Booking.com
Review: "The staff greeted us on the pier when we arrived. The resort is beautiful and our overwater villa was stunning. Rooms were cozy and they had Bluetooth speakers on the deck so you can enjoy the overwater villa and listen to your favorite music. I loved the hammock over the water."
---
5. InterContinental Bora Bora Resort & Thalasso Spa, an IHG Hotel | 5-Star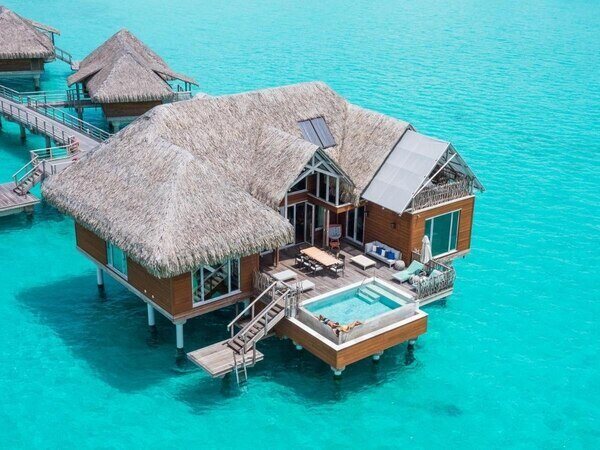 InterContinental Bora Bora & Thalasso Spa offers luxurious overwater villas equipped with air conditioning, a spacious living room, a glass-bottom coffee table, a private pool, and a terrace furnished with sun loungers.
These villas provide direct access to the serene lagoon, where you can explore the underwater world with swimming, snorkeling, scuba diving, and sunset cruises.
This romantic resort also boasts a stunning beach and an award-winning spa to help guests unwind.
Book your romantic and unique wedding in a special chapel with a glass floor. For more romance enjoy candlelit dinners under swaying palm trees and a private cruise on a traditional outrigger canoe. This resort offers the perfect ambiance to experience the allure of the South Pacific.
Pop your dates in to see prices in US$ – you'll stay on this page. Prices are compared across the internet and you're shown the best price:
Why Stay at InterContinental Bora Bora Resort & Thalasso Spa?
24-hour front desk
glass floor chapels for weddings
housekeeping twice a day
Rejuvenate at the Deep Ocean Spa in French Polynesia, the only thalasso spa in the region with mineral-rich seawater treatment from the Pacific Ocean's depths. Don't miss the oxygen massage!
At Le Corail, the signature restaurant, experience exquisite dining and a broad wine selection.
A private beach with beach umbrellas, beach massages, and beachside drinks
A fitness room, a Turkish bath, and an outdoor pool
A glass-bottomed coffee table in each villa so you can see the marine life below
A complimentary boat shuttle service to the main island of Bora Bora
An organic garden that produces fresh fruits and vegetables for the resort's restaurants
Review: 'Welcome to paradise' was the greeting when we arrived and it was. Be prepared to be blown away. Bora Bora is crazy expensive, but this place makes you forget the price tag. So worth it. The food, the staff, the lagoon…. OMG the Lagoon! What a place! Enjoy!
---
Recommended Picks for Your Dream Stay
BEST FOR PRICE: Le Bora Bora by Pearl Resorts
BEST FOR ROMANCE: InterContinental Bora Bora Resort & Thalasso Spa
BEST FOR LUXURY: Four Seasons
BEST FOR LOCAL CULTURE: InterContinental Bora Bora Le Moana Resort
BEST FOR RELAXATION: Conrad Bora Bora Nui
---
Wrapping Up – Bora Bora Overwater Bungalow Resorts
For an unforgettable experience, an overwater bungalow stay on the island of Bora Bora is a must and definitely worth the splurge. It's not a vacation, it's a chance to reconnect with nature, yourself, and your loved ones. Find yourself immersed in a paradise of unparalleled beauty and tranquility. These memories stay with you forever. Trust me, you won't regret it.
---
Book an Adventure with Viator – with Free Cancellation
---
SEE MORE