Moorea is one of the most beautiful islands in the world with not only lush volcanic mountains, and swoon-worthy beaches, but also easy access from Papeete! Manava Beach Resort Spa Moorea is a beautiful 4-star destination with a world-class spa and 28 overwater bungalows that float above the crystal-clear waters of the lagoon.
From sunrise to sunset, you can relax in the warm tropical sunshine, take a dip in the infinity pool, or enjoy a romantic dinner on your private terrace. The resort also offers snorkeling, kayaking, paddle boarding, and boat trips to the stunning coral gardens. Manava Beach Resort in French Polynesia offers the perfect place to unwind but is also centrally located for fun island activities.
Type of Accommodation: Overwater and Beach
Location: Moorea | Tahiti | French Polynesia
Bookings can be made at Booking.com | Expedia | Agoda | Hotels | Wotif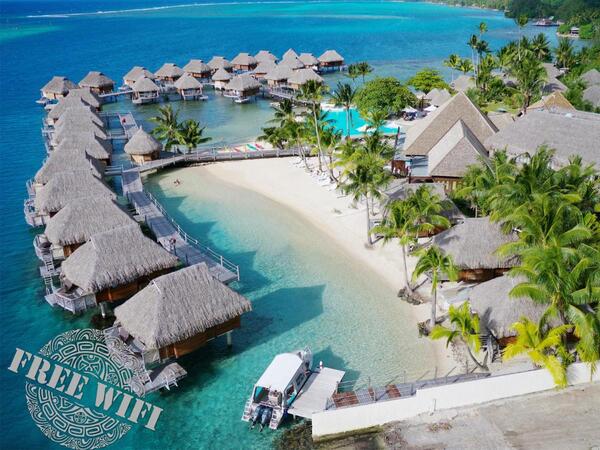 Best for: Overwater Bungalows, 4-Star, Romantic, Great Breakfast, Infinity Pool, Free Snorkelling, Paddle Boards, Kayaks, $$$$$
Moorea Island is part of the Tahitian coral reefs with 150 species of coral that are host to 1500 species of tropical fish and perfect for snorkeling. The water is warm year-round at 80F (26C).
One great advantage of Manava Resort is that the reef around the overwater bungalows is shallow with a multitude of marine life. So you can easily walk, snorkel, or swim in the sea around the resort.
Location of Manava Beach Resort
The resort is on the northeast coast of the island. From the international airport on Tahiti, Moorea is just a 15-minute flight away or a 40-minute ocean ferry ride from the Papeete Wharves.
Moorea Temae Airport is 4.6km from the resort and the Vaiare Ferry Docks are a 15-minute drive away.
You can hire a car for tripping around the island or catch a taxi from the airport or wharf. The 18 holes international golf course designed by Jack Nicklaus® is 3 km away from the resort.
---
The Spaces
Set on an idyllic private beach and the reef lagoon this traditional Polynesian-style resort is a very high standard 4-star and offers 28 overwater bungalows (18 of these are premium), beachfront bungalows, and garden bungalows, some with a private pool.
2023: the resort is currently being upgraded.
---
Overwater Bungalows in the Lagoon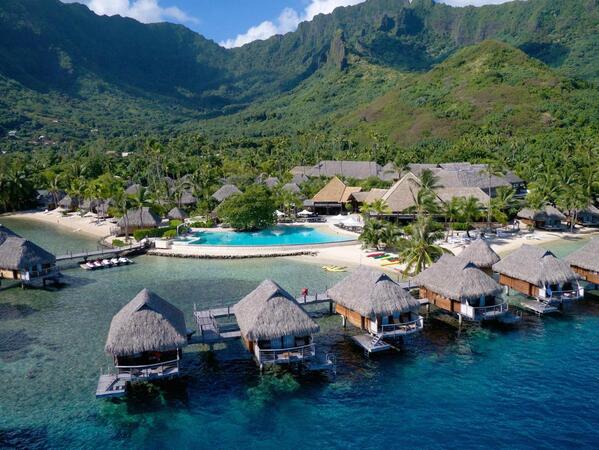 Each spacious Overwater Bungalow accommodates up to 3 guests (2 adults and 1 child) and sits over a shallow lagoon facing the mountains. The Premium Overwater Bungalows face the sea.
The space includes a king-size bed and single bed, an ensuite with a shower or bath, bathrobes, and a sofa and coffee table.
Highlights include the Polynesian art, an indoor and mesmerizing glass floor to observe the reef life, and a spacious sun deck with access to the lagoon for snorkeling and swimming.
Each bungalow also includes air-conditioning, an overhead fan, a direct dial phone, free WIFI, a TV with cable channels, a mini bar, and a safe.
Review: Every part of this resort is immaculate. You really see the care and attention to detail with the facilities and the quality of the rooms. We had so many little gifts waiting for us in our room when we arrived, we felt so special
Take a Tour of the Resort
---
Good to Know at Manava Beach Resort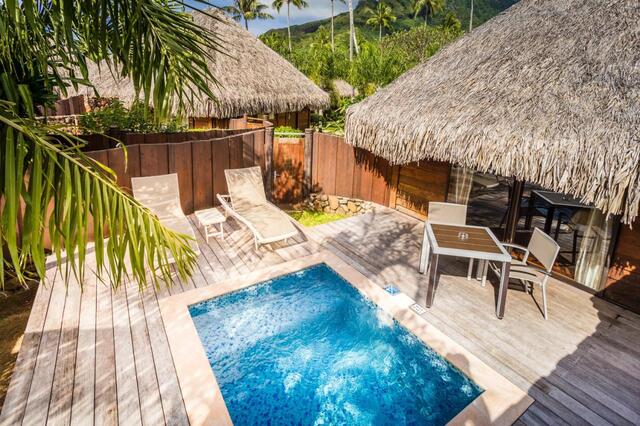 Espresso Machine and tea-making facilities
1 Restaurant and 2 bars
24-hour front desk
Delicious daily hot and cold breakfast included in your stay
Daily housekeeping
18 overwater bungalows
Infinity pool
Diving center on-site with a dive shop
Coral nursery called To'a Nui – regenerating corals
---
Manea Spa for Relaxation
Manea Spa has all the treatments you need to look and feel your best. With a wide range of rejuvenating massages, energizing facials, the special Tahitian Taurumi massage, face, and body treatments, hot stone treatments, the Pineapple Monoi Massage, Polynesian Acupressure massage, exfoliating body scrubs, replenishing body wrap, and lots more.
From traditional massage therapy to exfoliating scrubs, guests can experience a wide range of spa treatments tailored to their individual needs.
Time for a relaxing dream holiday! Pop your dates in and see the prices and availability – you'll stay on this page:
---
Dining at Local Restaurants
The resort's restaurant is wonderful but if you want to experience the local eateries, then you can choose from food trucks, fine dining, outdoor restaurants, and budget-friendly places. You'll need to hire a car (or bike), take a taxi, or depending on the restaurant they may offer resort pick up and drop off. Here's TripAdvisor's most up-to-date list of Moorea restaurants.
Traditional dishes include mahi mahi fish, tuna, marinated fish called Poisson Cru, papaya salad, breadfruit called uru, Tahitian spinach called fafa, sweet potato called umara, tropical fruit, and local-style kebabs. You'll also find pizza and Chinese food (good for vegetarians and vegans).
---
Activities at the Resort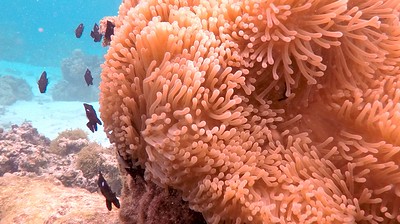 Swimming and relaxing in the infinity pool
Water sports – the kayaking, paddleboards, and snorkeling equipment are all free
Table tennis
Hire a bike from the front desk and cycle around the newly paved bike track that travels the entire coastal road around the island.
Hire a scooter, or mini jeep roadster or rent a car and see the island. This means you can also drive to other restaurants. Avis hire is at Tahiti airport.
Happy Hour at the bar
Polynesian Show – currently on Wednesday and Saturday nights but check first. You can also attend the cultural nights at other resorts, Tiki Village offers an impressive dinner and a show (they can pick you up if you don't have a car).
Moorea Blue Diving Centre is located at the hotel with a range of dive packages for new and experienced divers, diving with sharks and turtles, and the Open Water Course SSI (medical form required).
Review: the water has an amazing color and sparkle I didn't see any place else. The mountains come right down to the sea. There is very good snorkeling & diving.
---
Tours organized by the Resort (extra charges)
Choice of hikes to waterfalls, archeological sites, and coconut plantations.
Safari Jeep Tour to archaeological sites, pineapple plantations, and Belvedere, and a chance to enjoy local fruit juices and liquors.
Coral grafting workshop – learn how to transplant tiny coral cuttings to threatened areas of the reef. Finishes with a guided snorkel around the hotel lagoon.
Horseback riding – a guided trip to Opunohu Valley and its plantations.
---
Other Things to Do
This list includes inland explorations and ocean adventures for activities you can do by yourself or book a tour.
Walk up Magic Mountain or take an ATV tour
Visit Cooks Bay, Temae Beach, Belvedere Lookout, Moorea Tropical Garden, and Afareaitu Waterfall
Swim with Humpback Whales – Highly Recommended
For the adventurous, Moorea is one of the few places in the world where you can swim with humpback whales and see their underwater life! You also swim with sharks and stingrays during this bucket-list experience. Whale swimming is only available between July and November when the whales migrate through French Polynesia. Don't miss this awesome trip if you're visiting during those months!
Tours you'll love
Quad bike tour
Hire an e-bike
Underwater sea scooters (unique)
Visit a pineapple farm
Hire jet skis
Join a local guide and see another side of Moorea with a private half-day tour by 4X4. You'll learn about the island's culture, history, and landscape with Albert Tours (Moorea's oldest tour company). You can book with Viator or directly with Albert Tours.
Drift snorkeling – this is where you drift with the ocean current as you view the coral and tropical fish
Catamaran sailing, parasailing, and night snorkeling
Transparent kayaks, glass bottom boats, and a sunset cruise
Let someone else do all the organizing! Here are some of the exciting trips:
---
Travel Resources
Looking for travel insurance? VisitorsCoverage and Cover-more offer insurance coverage for French Polynesia.
Want to rent a car? Check out the car rental options at Expedia.
Check your flight dates with WayAway which offer cashback on all travel purchased.
---
What to bring to Manava Beach Resort and Spa Moorea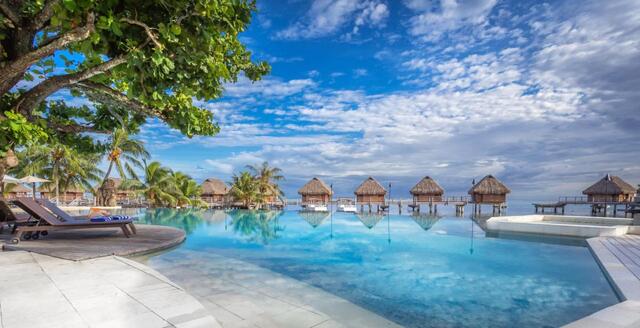 The voltage at the resort is 220V but there's one socket in your bungalow that is 110V. Bring an adaptor with you.
Bring the prescription for any medication you may be carrying.
Bring snacks since food on the island is expensive.
Take photos of your passport, itinerary, travel insurance, etc, and e-mail them to yourself. Also, take a copy and leave this in your suitcase.
Bring your own snorkeling gear so you can jump off your deck into the lagoon any time you like! The reef is sharp and fragile so bring reef shoes or fins.
Cetavlon is good for sunburn (may be able to buy this in Tahiti) and simple white vinegar works wonders.
First Aid Kit (to include aspirin or panadol, ibuprofen, immodium for diarrhea, antibiotic cream, insect repellent, and bandaids) (#paid link)
Clothes for women – sandals, thongs (flip flops), cotton dresses for the day, and a smart casual dress for dinner, shorts, and tops. Also a sarong (called pareo in French Polynesia – you can buy these on the island) and swimsuits. High heels aren't really practical for the island.
Clothes for men – shorts, sandals, thongs (flip flops), t-shirts, swim trunks, smart casual Hawaiian shirt for dinner.
---
Moorea and Manava FAQ
1. When is the best time to visit Moorea? From April to September when the temperatures aren't too hot and the sea is calm.
2. How can I travel to the resort? From Tahiti's airport, you can catch a taxi to the Papeete waterfront. Then jump on a fast ferry to Moorea, which takes 40 minutes. These operate up to 8 times a day. Or you can take a flight from Faa'a airport directly to Moorea with Air Tahiti, which takes 15 minutes.
3. How can I get around Moorea? The road traverses the outer ring of the whole island and ventures inland up to the Belvedere Lookout. Local Buses travel around the island east/west, hire a car or scooter, or catch a taxi. For water exploration and to see the motus you can hire a motorboat, or take an outrigger canoe tour.
4. Is there a beach nearby? The property is set on a beautiful private beach.
5. How do I get from the ferry to the resort? You'll have to organize a taxi yourself.
6. Can I hire a Jet ski? Yes, these can be booked from the hotel.
7. What time is check-in and check-out? Check-in Check-in is at 2 pm and 11 am is check-out.
8. What can I do with my luggage if I arrive in Tahiti early? If you want to have a look around Papeete you can leave your luggage at the airport or at a luggage storage company in Papeete. Fenua Lockers and Radical Storage Papeete offer storage in the city.
9. If I arrive early at the hotel will they store my luggage until check-in time? Yes, the hotel will store your luggage, then you are permitted to use the hotel's facilities, e.g. pool, changing room, toilets, restaurant, bar, private beach etc, or you can explore the island.
10. Will the hotel store my luggage after check out? Yes
11. Can I book a late checkout? Yes, for a fee
12. Can I bike around Moorea? Yes, there's a newly paved bike lane that joins the entire coastal road around the island.
13. Is there a supermarket on the island? Yes, near the ferry terminal and in Maharepa.
14. Where can I get a local meal? There's a food truck at the turnoff to the resort, Rudy's Restaurant (book first), and Allo Pizza.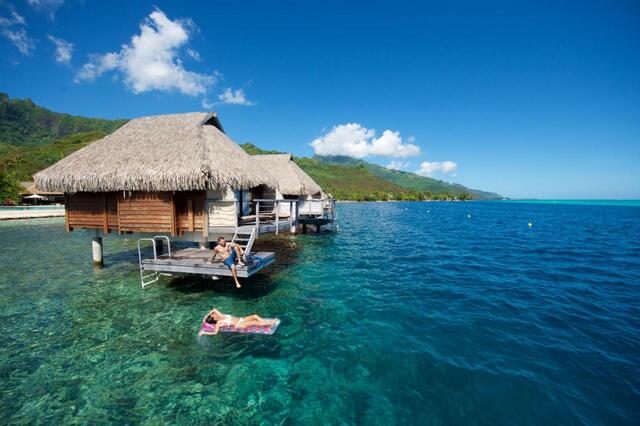 Review: One night we had the bungalow on the water…was magic. Loved jumping off our private balcony into the reef…we had a deep part of the reef too …loads of beautiful marine life. Loved the pool and restaurant too
---
Wrapping Up – Manava Beach Resort Spa Moorea
Manava Resort and Spa in Moorea, Tahiti is the perfect place for a luxurious getaway. From the overwater bungalows that overlook the crystal-clear lagoon to the blissful spa treatments. Get ready for a unique and unforgettable experience.
Enjoy the extraordinary beauty of the island and its white-sand beaches, take a dip in the warm waters of the lagoon, and savor the delicious local cuisine. With plenty of activities to choose from (don't miss whale swimming!), this popular resort is ideal for travelers who want to make the most of their holiday with relaxation and exploration.
---
SEE MORE IN FRENCH POLYNESIA