Looking for a stylish eco bungalow to rent on Rapa Nui Easter Island that supports the local economy? Kona Koa Lodge Easter Island has rave reviews plus they offer everything you need to see those impressive moai statues rising above this remote Pacific island!
Easter Island gives you adventure, exploration and archaeology and friendly Kona Koa Lodge makes it happen… 
BEST FOR: Close to Town and museum, Local Island Guide, Mountain Bike Hire, 4X4 Car Hire, Friendly, Incredible views of beach and sunset from the deck
A place to stay, car hire and a tour guide all in one place
Kona Koa Lodge is a quirky and clean eco retreat for partners, families and groups to comfortably set up base to explore the moai and other cultural and natural sites. It's popular so book early – you don't want to miss out.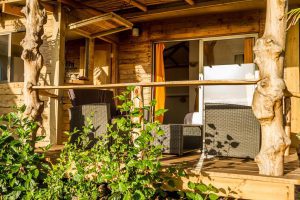 Priority for everyone is touring the archaeological sites and the lovely owners are happy to guide you around the island or they can organise a local guide.
Back at base you'll enjoy the peaceful location of Kona Koa Lodge. It's 2.8 kms from town so if it's not too hot that's around a 35 minute walk, a quick drive in the hire 4X4 car or an exhilarating bike ride!
Space Galore on your Easter Island Holiday:
There's plenty of room at Kona Koa Lodge in each of the three rustic handcrafted bungalows with space, amenities and bedding for 2 to 6 guests. Definitely more affordable and spacious, than a hotel, for a family or group.
Your bungalow is self contained for a comfy stay and fully equipped with everything you need including a kitchen, luxe bedding, large Italian shower, balcony and BBQ for social outdoor eating.
Image standing on your balcony watching the sun set over the Pacific as you contemplate this mysterious ancient culture.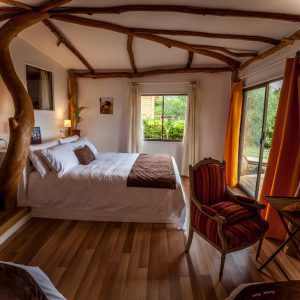 On the ecological front Kona Koa has a low negative impact on the environment thanks to solar panels powering the bungalows.
You can save money by cooking at home with views over the ocean or walk the few kms to town to try one of the popular (and affordable) local eateries.
Feel like one of the family @ Kona Koa Lodge Easter Island
The interior design is a unique blend of Euro-style with a strong Pacific Rapa Nui identity. The beauty of Kona Koa Lodge though is the friendliness of your hosts who'll make you feel at home on your Easter Island holiday.
Airport Shuttle: They'll pick you up at the airport for free and give you a guided tour on the way to the lodge.
June is the cheapest month to fly to Easter Island
Fly from Tahiti or Chile
How can I get Around?
Getting around this tiny island independently is easy by hire car, bike, horseback and even on foot.
At Kona Koa Lodge Easter Island you can rent a car or a bike or ask them for some of the popular hikes. You can walk to the closer Moai but the further ones need a car.
Should I take a Tour?
I recommend a guided tour of the Moai with your hosts or one they recommend. You'll not only see the island giants but you'll learn about the ancient history and the culture of the local Rapa Nui.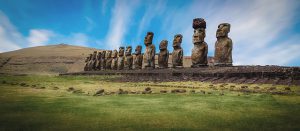 You can take a day tour to the North/East Moai or the South/West Moai – take both if you can. You've travelled a long way to this ancient island so ideally you want to stay on the island for at least 4 or 5 days – 2 days of tours, 2 days of your own exploration and perhaps a relaxing day at the beach.
Tip: Don't miss the Anthropological Museum nearby.
Recap:
Handcrafted Eco Accommodation that supports the local community
Friendly owners can guide you to the Moai sites
You can hire a bike and/or 4X4 car from the owners to get around the island independently
Stunning sunset views from your deck
As you explore this remote island with stunning ancient and natural sights you'll feel at home in your peaceful, inviting bungalow at Kona Koa Lodge with incredible views and super friendly hosts. Heaven!