Ready for a holiday that goes beyond the ordinary? Look no further than the captivating city of Perth in Western Australia! This vibrant metropolis is bursting with unique hotels in the city and enchanting landscapes in the vines and the beach. Buckle up, fellow travellers, because these Unique Perth Getaways are about to steal your heart in the most extraordinary way possible!
Types of Accommodation: Safari Tent | Treehouse | Boutique and Spa | 5-Star
Destination: Perth | Swan Valley | Western Australia | Australia
This post may contain affiliate links. As an Amazon Associate, I earn from qualifying purchases. See Affiliate Disclaimer.
---
1. Alex Hotel – City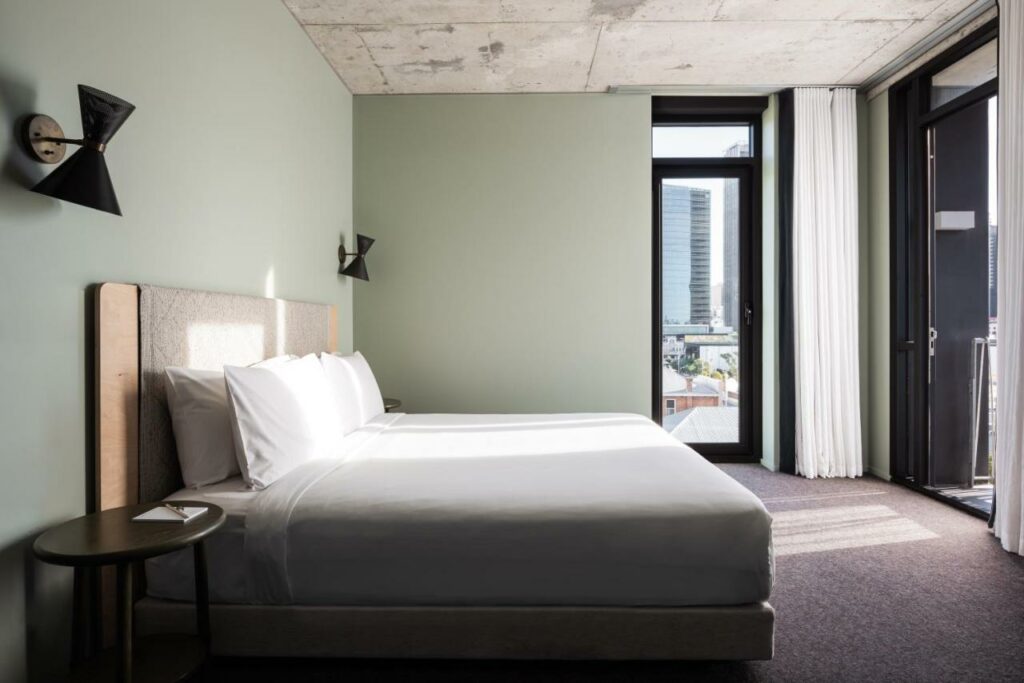 Best for: 4-Star Boutique Hotel, Rooftop Terrace, Free Buffet Breakfast, Free Bikes, Lobby Bar
Location: In the heart of Perth's cultural precinct in Northbridge. The Art Gallery of Western Australia, the Perth Institute of Contemporary Arts, Turner Galleries, and the WA Museum are all at your doorstep.
Overview: Elevate Your Perth Experience at the effortlessly cool Alex Hotel. This friendly and affordable boutique hotel caters to your inner hipster with a dash of luxe. And a collection of thoughtfully designed rooms
The interiors feature a modern, minimalist aesthetic that inspires moments of reflection. Comfort is added with Bemboka blankets, Italian linen, and large TVs and movies. The concrete and glass en-suites feature local Sodashi bath products.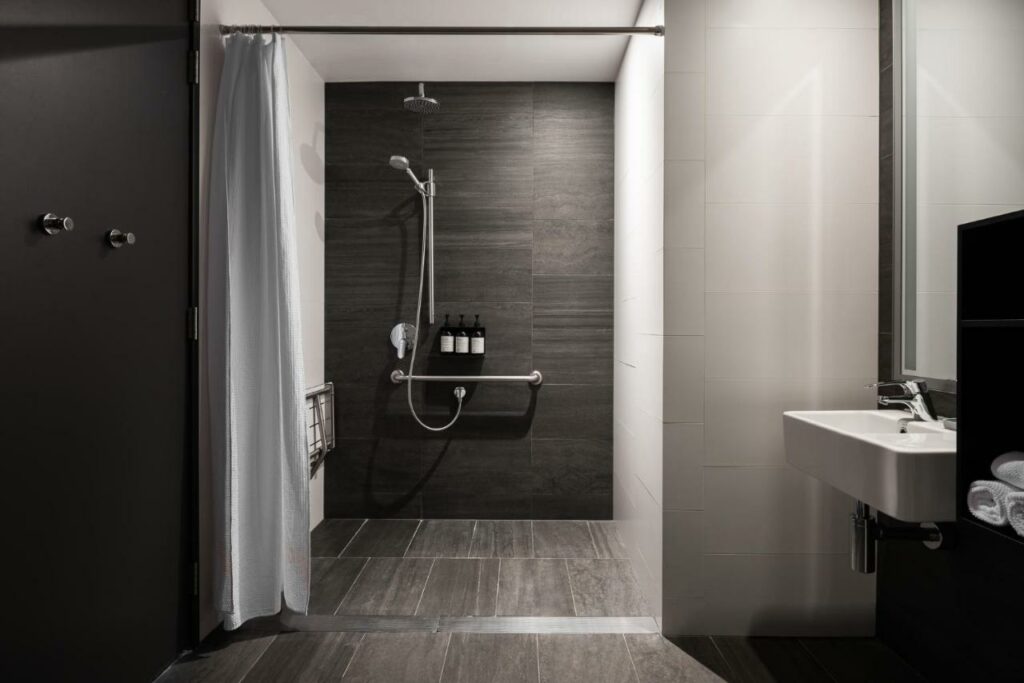 The vibrant communal spaces are a special feature of Alex Hotel and encourage connections.
Enjoy mingling with fellow travelers in the welcoming lobby. And chill out on the rooftop terrace with panoramic views of the city.
Tripadvisor's top restaurants in the area include:
Infuzions with Japanese and Thai cuisine
Afous with Moroccan and Mediterranean food
Bahbq with Brazilian and Latin offerings.
Tripadvisor Review: This place is a little bit of an upmarket Boho sanctuary in the cultural centre of Perth. Plus – the staff are so gorgeously helpful and cheery, the beds are comfortable (best night's sleep), and the whole place is wrapped in soundproofing – so quiet.
Good to Know
Close to the railway station for the airport or Fremantle
Choose from small, medium, bunkbed rooms for groups of friends, large, extra-large, and family rooms
Communal first-floor mezzanine for tea/coffee and relaxation
Shadow Wine Bar Italian Restaurant with local produce
Commitment to sustainability
Explore nearby art galleries, indulge in culinary adventures at quirky cafes, or dance the night away at lively music venues – the possibilities are endless!
So, if you're ready to embrace the Alex Hotel's blend of modern charm and warm hospitality, book your stay for a unique getaway in Perth.
See the Slideshow: Pop your dates in, and you'll stay on this page and see the best prices across the internet. Press book to continue to the booking site.
---
2. Tribe Perth – City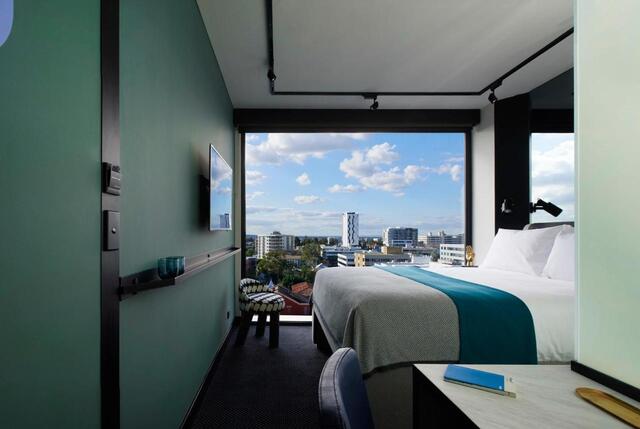 Best for: 4-Star Hotel, Free Bike Hire, Lobby Bar, Rooms for Two
Location: Immerse yourself in the vibrant atmosphere of West Perth's bustling city life, with Kings Park and Botanic Garden across the road.
Overview: Discover the innovative charm of Tribe Perth, where cutting-edge design meets unparalleled comfort.
The vision of the Tribe Hotel group around the world is: "We are design lovers who appreciate affordability."
At the Tribe Hotel in Perth, retreat to your sleek, minimalist room with garden or city views. Equipped with a super comfy bed, coffee pod machine, TV with satellite channels, and a sleek marble and tile bathroom with a rainfall shower.
Sip creative cocktails at the buzzing hotel bar. For nightlife, the friendly staff is ready to give you insider tips on the hottest local spots.
Good to Know
Daily housekeeping
Free WIFI
24-hour front desk
Dry-cleaning service and laundry facilities
Parking costs extra
Tour/ticket assistance, 800 m from Domain Stadium
At Tribe Hotel, embark on a captivating journey. See the slideshow and pop your dates in to see the recommended price and booking site.
---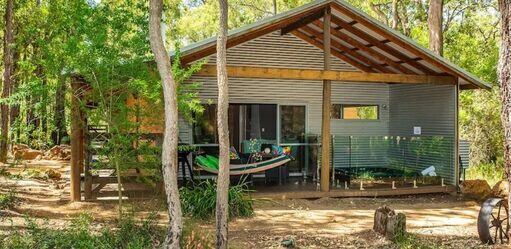 Best for: Romantic Spa Retreat, Spa Services, Hot Tub, Pamper Package
Location: Forest location at Pickering Brook in the Perth Hills.
Overview: Surrounded by nature Hidden Valley Eco Lodges and Day Spa sits in the heart of a lush Jarrah forest for a serene stay. Each luxury lodge has a private jacuzzi, beautiful interiors, and a kitchenette with a stocked fridge with meals. Free Port and cookies.
The day spa is heavenly. You can indulge in a range of treatments, from massages to facials to body wraps. Soak in the hot tub and improve your circulation in the sauna.
Review: The staff was brilliant, friendly, and respectful, while the surroundings were wonderfully decadent. The lodge was stylish and clean, bed was huge, soft, and comfortable. The food provided was fresh and the champagne was chilled to perfection. The spa was lovely and relaxing especially the divine couple's massage. The perfect romantic getaway.
Go hiking, kayaking, bike riding, and golfing at the course 3 km away.
What's Nearby: Core Cider House 910 m, Pickering Brook Golf Course 1.4 km, Perth Observatory 4.0 km, Glen Isla Estate Wines 4.5 km, Marko Travicich Reserve 4.6 km, Hainault Vineyard 4.8 km, Bickley Valley with boutique wineries, and quaint Kalamunda village
Good to Know – Unique Perth Getaways
Fireplace in the lodge, BBQ outdoors
Daily housekeeping
See the Slideshow: You'll leave Hidden Valley feeling relaxed, rejuvenated, and connected to nature. Book your stay today! See the best price and recommended place to book here…
---
4. Art Series – The Adnate – City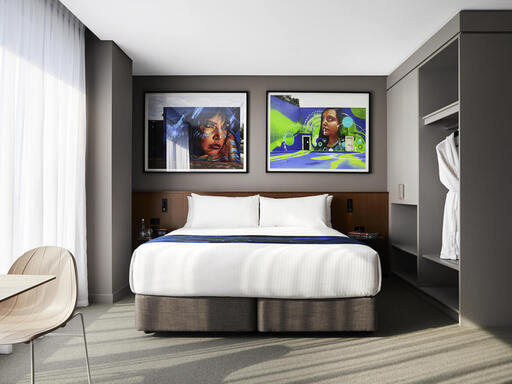 Best for: 5-Star Hotel, Concierge, Swimming Pool, Fitness Centre, Breakfast, Hyde Perth Kitchen + Cocktails, Bar
Location: Next to Kings Street, the luxury lifestyle destination, in central Perth. Within easy reach of art galleries, charming cafes, and vibrant nightlife. You can't miss the massive art displayed on the front of the hotel.
Overview: Immerse Yourself in Artistic Bliss at the Art Series – Adnate Hotel in Perth! Step into the renowned artist Matt Adnate's visionary universe, where larger-than-life portraits transport you to a realm of mesmerizing beauty.
The moment you enter your suite, you're greeted with art and stylish interiors. Let the vibrant colors and striking brushstrokes surround you, as you unwind in a space that's both visually captivating and sumptuously cozy.
The rooftop pool invites you to soak up the sun while enjoying sweeping vistas. Immerse yourself in the art tours, where passionate guides unveil the stories behind Perth's thriving art scene. Watch art TV in your suite, and visit the hotel's art library.
And don't miss the chance to snap Insta-worthy photos against the backdrop of the hotel's captivating street art.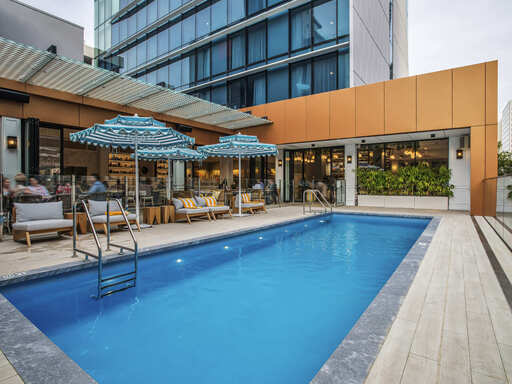 Good to Know
Rooms include King, Twin, Deluxe, and 2-bedroom Suites
Mini bar, Robes, Smart TV, Workspace
Wheelchair accessible rooms
See the Slideshow: Book your stay at the Art Series – Adnate Hotel in Perth and have your senses awakened, your imagination ignited, and your soul nourished by the magic of art! Book your stay today…
---
TRAVEL RESOURCES
Cover-More Travel Insurance gives you peace of mind and extensive coverage for medical emergencies, trip cancellations, and lost luggage. Compare their plans here.
---
5. The Colony at Mandoon Estate – Swan Valley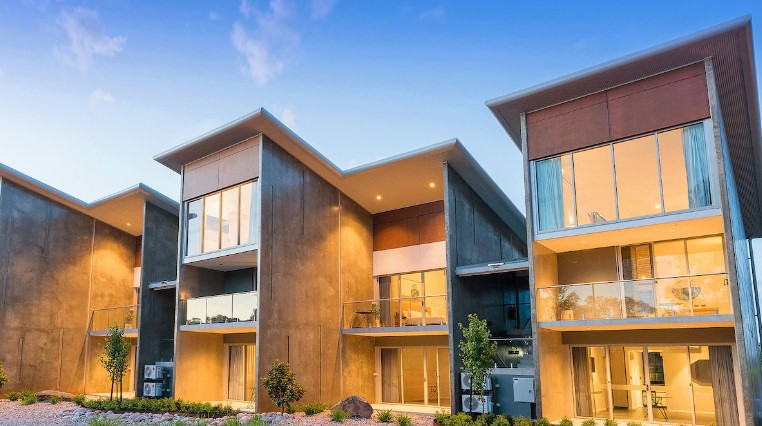 Best for: 5-Star Vineyard Hotel, Cellar Door, Views of Swan River
Location: The Whadjuk Noongar people have inhabited Swan Valley for 40,000 years. The area has significance as a meeting and spiritual place. Swan Valley is also Western Australia's oldest wine region. Today the area is an artisanal paradise, with wineries, breweries, gin distillers, coffee roasters, and specialty food makers.
Swan Valley is only 9 km from Perth Airport and a 30-minute drive from the centre of Perth.
Overview: The Colony at Mandoon Estate is one of Swan Valley's grand estates. This luxury vineyard hotel has everything you need for a great (grape!) escape.
The estate is home to stylish suites and a working winery. Their historic Verdelho vines were planted way back in 1895!
But the real fun starts at the cellar door, where you can sample the estate's award-winning wines. And when hunger strikes, head to one of the three on-site restaurants for some seriously tasty bites. (Dietary requirements catered to.)
Suites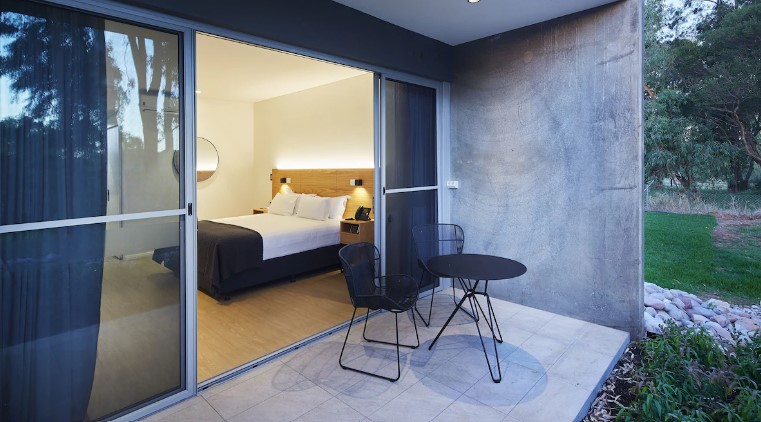 Each of the suites is fully equipped for a leisurely stay, including free WiFi, TV, and a beautiful alfresco balcony.
Some rooms offer a mezzanine bedroom and a cozy seating area below, perfect for unwinding after a day of exploration. You'll also find a coffee machine and mini bar in your room, along with an ensuite stocked with free toiletries and a hairdryer.
What's Nearby: Homestead Brewery, Mandoon Beer Garden, Sandalford Wines, RiverBank Estate Winery, Caversham Wildlife Park with kangaroos and koalas, and a 10-minute drive to the Swan Valley Settlers Market for arts, crafts, and foody treats.
Regional Wine Specialities (WA Tourism)
Verdelho
Shiraz
Cabernet
Liqueur Verdelho
Liqueur Shiraz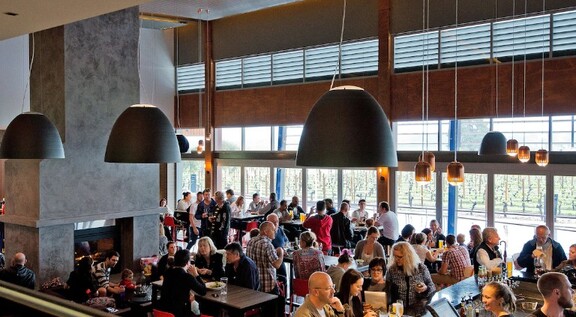 Good to Know at The Colony at Mandoon Estate
Room Service
Daily housekeeping
Children's playground
Facilities and suites for disabled guests
See the Slideshow: Whether you're looking to relax and unwind or celebrate a special occasion, The Colony at Mandoon Estate is the perfect spot. Pop your dates in, see the best prices, and you'll stay on this page. Then press book for the recommended booking site.
---
6. Luxury Treehouse in the Australian Bush – Swan Valley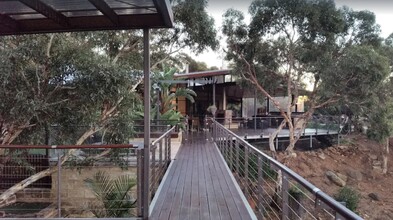 Best for: Large Treehouse Holiday Home for up to 10 Guests, Zipline, Hot Tub, Pot Belly Stove
Location: This large luxury treehouse sits on the Baskerville Ridge in the Swan Valley Region.
Overview: You're surrounded by 12 acres of Australian native bushland, with a zipline, swings, bush walks to a stream, and a pond. You'll see kangaroos!
The house has three bedrooms, a kitchen, a dining area, a lounge, BBQ, Deck, and outdoor dining with views across the bush.
Explore Swan Valley
You're also near local wineries: Houghton, Sandalford, Lamont, and Upper Reach. And the Feral and Mash Breweries are within easy reach. So you can spend your days sipping on delicious wines and sampling craft beers.
When you're ready to take a break from the wineries, there are plenty of other activities to enjoy in the Swan Valley.
Visit the State Equestrian Center
John Forrest National Park
Belvoir Ampitheatre
Bells Rapids (Avon Descent)
Whiteman Park, Caversham Wildlife Park
Swan Valley Cuddly Animal Farm
Margaret River Chocolate Factory
Mini-golf at the Oasis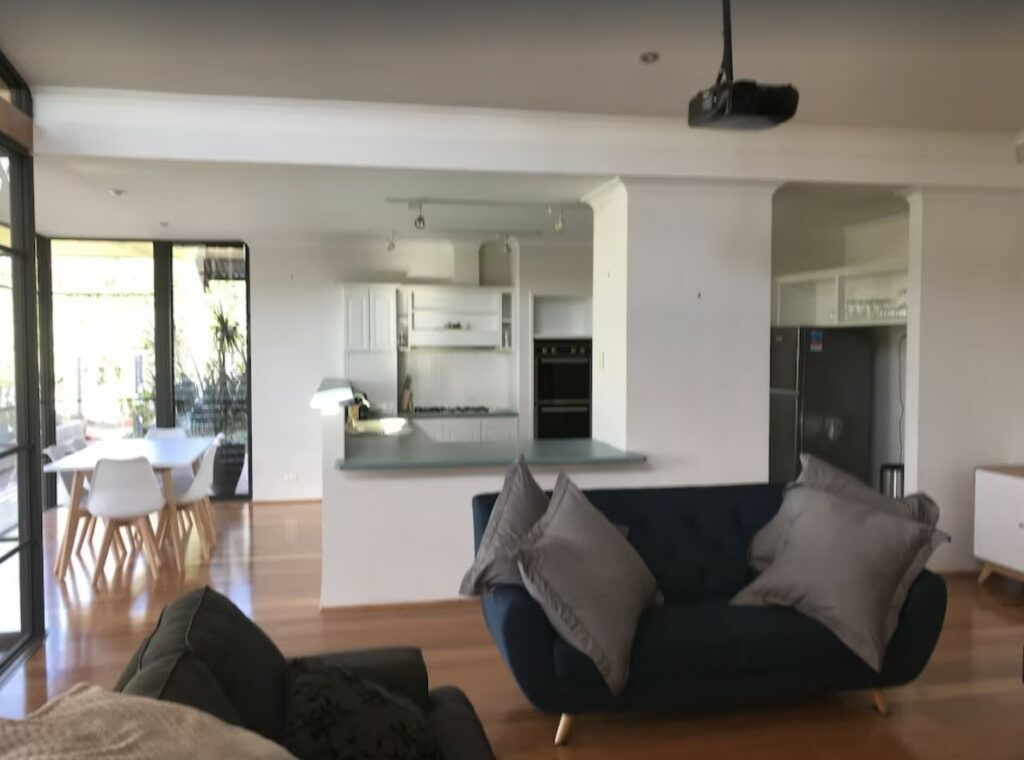 Good to Know
Fireplace, TV, Books, Games
Linen and towels provided
Laundry with washing machine, dryer, iron
---
7. Discovery Park Rottnest Island – Glamping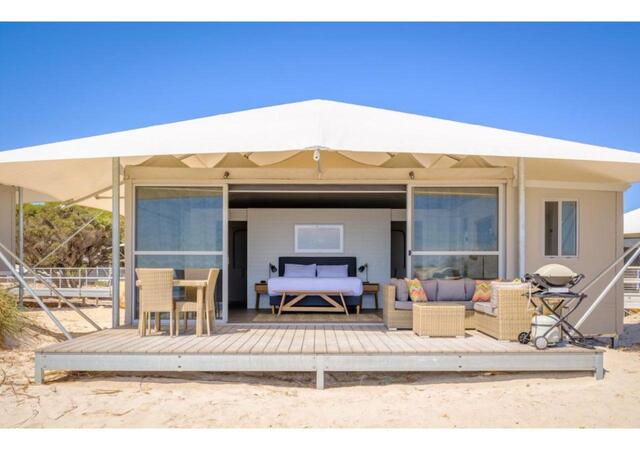 Best for: Beach Resort, Eco-Safari Tents, Pinky's Beach Club, Swimming Pool, BBQ, up to 5 Guests
Calling all adventure seekers! Unleash your inner explorer and stay in a unique eco-safari tent at Discovery Park Rottnest Island.
Out of all of these unique Perth getaways, this is a true escape!
These safari tents offer low-impact glamping behind the dunes of beautiful Pinky Beach. Snuggle up in plush bedding, unwind on your private deck, and fall asleep to the gentle sounds of the island.
Camp amenities include a communal fire pit for roasting marshmallows and sharing stories. The BBQ area is great for sizzling up mouthwatering meals. Don't forget to keep an eye out for the island's famous quokkas, as they might just pay you a visit during your stay!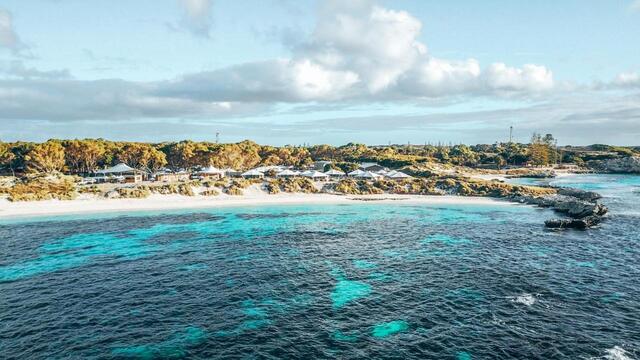 Good to Know
Free WIFI
Private bathroom with shower and toiletries
Breakfast is available with buffet, continental, and American
Power points to charge electrical appliances
Pinky's Cafe/Bar, The Lane Cafe/Bar, Frankie's Restaurant
Ferry cost is extra
See the Slideshow: Are you ready to experience the thrill of the wild without sacrificing comfort? Book your escape to the Safari Tents at Discovery Park Rottnest Island, and let your adventurous spirit roam free in style! See the recommended best price.
---
8. Mandurah Canal Holiday Home with its own jetty! Boats! Crabs! Dolphins!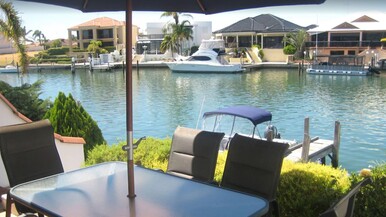 Best for: Holiday Home for up to Six Guests, Bird Sanctuaries, Dolphin Boat Tours, Canal Walks, Family-friendly
Location: This holiday home is at Halls Head on one of Mandurah's best canals. Mandurah is one hour's drive south of Perth. 10-minute stroll to the local IGA grocery shop, bottle shop, and restaurants.
Overview: Mandurah Canal holiday home is the perfect place to escape on a canal. With dolphins and stingrays gliding by. You can hire a boat or kayak, or bring your own boat.
Review: 5 minutes by car to town, the foreshore, and the parks. The villa was well equipped in a prime spot to sit on the veranda watching the variety of boats up and down the canal. The dolphins were plentiful and entertaining and the pelicans a delight to watch. Would love to go back.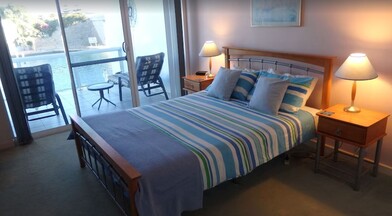 A Great Way to Spend Time with Family and Friends
The home has four bedrooms, three bathrooms, Kitchen, a Living room, a dining area, a terrace, and a balcony.
With spacious rooms, comfortable beds, and a fully equipped kitchen, you have everything you need to relax and unwind. And with its private balcony overlooking the canal, you can enjoy the stunning views while you sip on a glass of wine.
In the evening, you can cook a delicious meal in the kitchen or order take-out from one of the nearby restaurants. Then, curl up on the sofa with a good book or watch a movie on the big-screen TV. Or, if you're feeling active, go for a walk or bike ride along the canal.
Good to Know – Unique Perth Getaways
Kitchen includes toaster, sandwich maker, utensils, cookware
Free WIFI
Air conditioning and heating
Children's water playground nearby
Xmas is a special time with special Xmas light displays
---
Wrapping Up – Unique Perth Getaways
I hope you found this list of Unique Perth Getaways inspiring. From a treehouse in the Swan Valley to beach glamping at Rottnest Island to hipster hotels in the centre of Perth and more. Perth is the perfect destination for adventurers and relaxation-seekers alike. So what are you waiting for? Book your trip today!
---
SEE MORE IN WESTERN AUSTRALIA