The Kimberley is one of Australia's most rugged and beautiful regions. It's a place where you can find some of the world's remotest communities, such as the Yungngora people south-east of Broome in Western Australia.
Today the Kimberley is also a haven for adventure-seekers who escape to unique and remote Kimberley accommodation – luxury beach resorts, safari tents, remote retreats, and wilderness camps, some with only air access, for a real getaway. The Kimberley is a nature-lovers paradise with ancient national parks, impressive waterfalls, turquoise blue ocean, white sand beaches and unbelievable geological features.
If you're looking for something different and off the beaten track, then the following unique Kimberley accommodation offers adventurers a unique opportunity to experience remote Kimberley…
When you buy through links on my site, I may earn a commission at no extra cost to you. As an Amazon Associate I earn from qualifying purchases. See Affiliate Disclosure
Type of Accommodation: Safari Tents | Wilderness Retreats | Glamping and Yurts
Destination: Kimberley | Western Australia | Australia
Price Range: Cabin/Hostel $ | Budget $$ | Mid-range $$$ | Luxury $$$$ | Super Luxe $$$$+
1. The Billi Resort – Cable Beach, Broome
Best for: 4.5 Star Resort, Villas and Safari Tents, Outdoor Rainwater Showers, Amazing Pool, Complimentary Bikes $$$
Beautifully landscaped with luxurious eco tents and gorgeous villas featuring local indigenous art, The Billi Resort, is a feast for the eyes and an intimate tropical garden stay.
Near popular Cable Beach, this award-winning boutique resort is 1.5kms from the beach, with discount car hire on site and free use of bikes. Wooden walkways guide you through the resort to the central pool surrounded by tropical plants and daybeds to relax in this garden oasis.
The Spaces
Villas are one or two bedrooms with air conditioning, outdoor rainwater showers, a kitchen, an entertaining deck, and BBQ
Eco Tents are queen size or king/family size, with a kitchenette, air conditioning, indoor rainwater shower, a freestanding bath, outdoor deck, and BBQ
Review: We only stayed for one night, but loved the lush gardens and the luxury and comfort of the safari tent while enjoying being close to nature. The bathroom and kitchenette are great and so is the private BBQ on the private deck.
Good to Know at this Kimberley Accommodation
Get up early and walk with the camels to the beach
Prices in Broome are higher in the peak season and generally higher than in other resort towns in Australia
Free WIFI
Airport Shuttle
Discounted car hire is available on-site by the hour or the day, and taxis are also available
---
2. Eco Beach Wilderness Retreat – Broome
Best for: 4.5 Star Resort, Safari Tents, Villas, Infinity Pool, Spa Service, Yoga, Hammocks, Wildlife, Kayaks, $$$
What a find! The Eco Beach Wilderness Retreat in Broome is a hidden gem at a good price. With its explore-worthy beach, safari-style luxury tents, eco villas, and spa treatments you have everything you need for a peaceful breakaway. The retreat is set on sand dunes amongst the low bush at beautiful Kimberley Beach, a haven for nesting turtles.
The design of Eco Beach is inspired by an eco-friendly mindset and the services they provide with natural elements in mind. An hour's drive from Broome Township, the retreat welcomes couples, friends, and families. Choose from one or two-bedroom villas and safari tents where you can reconnect with nature with the comforts of home!
The Spaces
Safari Tents: cooled by ocean breezes and fans, with a large double bed or 2 singles, the family tents have a large double bed and bunk beds, and you have use of a shared kitchen.
Villas: cooled by air conditioning, have their own kitchen, with choices of studio and two-bedroom villas for up to 6 guests.
At the social heart of the retreat is Jack's Bar with ocean views, offering drinks, cocktails, and delicious food. Find a lush-shaded spot on the deck perfect for enjoying a book or taking in the views of nature.
Relax on a hammock by the infinity pool, which also has shade umbrellas and deck chairs. At the beach, swim in the turquoise waters or take out one of the paddle boards, or kayaks. If you enjoy fishing then rods and tackle are available for hire.
Unwind at the Dragon Fly Day spa with a range of spa treatments to rejuvenate your body and soul, and complimentary yoga sessions to improve your flexibility (which also encourages blissful sleep).
Explore
Activities at this special Kimberley accommodation on offer include nature walks, game fishing, indigenous tours, beach fishing, and bird watching. Explore Jack's Creek chock-full of marine life, mud crabs, and unique flora and fauna.
Don't miss Mud and Bubbles – immerse yourself in mangrove mud and enjoy a glass of bubbles, then wash off in the ocean – pure bliss!
Watch out for whales cruising by the coast from June to December and go on a turtle patrol with a conservation volunteer between October and December. You'll also spot native birds, frogs, and kangaroos.
Reviews
Review: Tent was clean and so lovely – has everything you need including air con! The highlight was the beach and it's set up with cabanas with hammocks and chairs, paddle boards, kayaks, etc.
Review: Stunning location—amazing bird life. Glamping tents were comfortable. In spite of the remote location, meals were very tasty and quickly prepared. It was amazing to walk on the beach for hours and not see another person.
Good to Know:
The last 10kms to the retreat is 4WD when it rains. 4WDs are available to rent in Broome or book the resort shuttle
You can bring your own food or eat at the restaurant
Games Room is available
---
Travel Resources
---
3. Faraway Bay – Drysdale River
Best for: Remote Eco Retreat, Fly-in, Plunge Pool, Ancient Rock Art, Sea Eagles, Spa, Boating, Fishing, Tours $$$$+
Fly-In
Faraway Bay is a sheltered bay between Broome and Derby on the Kimberley Coast in Western Australia. On the Timor Sea and halfway between Kununurra and Darwin on the Great Northern Highway, Faraway Bay separates the Kimberley from the Dampier Peninsula.
With no road access to the Bay, you're either jumping in a helicopter, light aircraft, float plane or a boat to arrive at this remote and magical location.
Experience Nature
Noted for its beautiful beaches and rock formations, limestone cliffs surround the bay, with many caves and grottos. The area forms part of the Faraway National Park, established in 2001. It's home to many endangered species including the northern quoll, western barred bandicoot, Kimberley dragon-tailed lizard, and Kimberley hare-wallaby.
The area is rich in Aboriginal heritage and has a long history of European settlement dating back to the 1860s.
Natural Bush Retreat
The property is a true wilderness stay with rustic cabins and 180 views across the bay. But you won't miss out on a king-size bed, air-conditioning, tea/coffee-making facilities, an ensuite with a flushing toilet, and a private solar-heated outdoor shower.
The open-air communal lodge creates a welcoming atmosphere where you can meet fellow travellers, eat delicious meals cooked by the resident chef, and savour local wine.
TIPS: Take a tour to visit the swimming holes, rock art, King George Falls (better in the wet season), birdwatching, bushwalking, croc spotting, and don't miss a walk at sunset up to Champagne Rock to see the colours of the rocks change to a golden hue.
Good to Know:
Mosquito nets are provided
One-hole golf course
Freshly prepared cuisine
Quoll Bar with wine and beer
Laundry available
---

4. Kimberley Coastal Camp – Kununurra
Best for: "Barefoot Resort", Fly-in, Fishing, Mudcrabs, Oystering, Delicious Meals, Aboriginal Rock Art, Swimming Pool $$$$+
Kimberley Coastal Camp is a wild and remote retreat located in the Kimberley region of Western Australia. With an excellent rating on TripAdvisor, this is a popular stay for all ages.
Arrive at the camp by lightplane then floatplane (or helicopter) Kimberley Coastal Camp is an off-grid adventure you'll always remember. Relaxed and laid-back, the camp only accommodates 16 guests.
TIPS: Enjoy a gin and tonic in the pool, set off for a fishing boat trip, and have a desert island picnic. Enjoy bush walks, mud crabbing, swimming, and delicious home-cooked meals in a friendly outdoor dining area.
Nature Stay
Accommodation includes beachfront bungalows with king-size beds, shell grit floors, open-air ensuite bathrooms, and views of the sea and sandstone cliffs.
Good to Know
The all-inclusive daily rate includes accommodation, laundry, meals, drinks, guided tours, guided fishing, and lots more
Cabins are twin share, family cabin is available
Fishing is a highlight but also lots to do for non-fishers
The camp is open all year round
---
5. Berkeley River Lodge – Berkeley River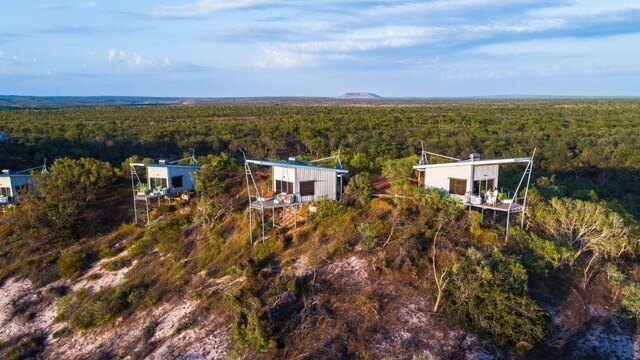 Best for: Luxury Beach Villas, Fly-in, Adults-only, Swimming Pool, Chef, Helicopter Tours, $$$$+
There are many places in the world that will take your breath away with their natural beauty and charm. And Berkeley River Lodge is one of these special places. Luxurious villas sit atop coastal sand dunes with ocean views and wilderness as far as the eye can see.
Only accessible by air, the flight to the lodge is part of this unique adventure. The philosophy of the lodge is an indulgent and remote getaway, with 5+ star services and a chef to cook you incredible meals.
TIPS: A great range of activities include boat and fishing cruises, river cruise, 4WD adventures, and creek walks with unique flora, fauna, and geological formations. Don't miss a helicopter tour, afternoon or sunset.
Good to Know at this Kimberley Accommodation
All-inclusive getaway
Villas for two with 1 king or 2 single beds, private outdoor ensuite with bath for stargazing, deck with daybeds
WIFI is available in the library
Air conditioning, housekeeping, bathrobes
---
6. Lake Argyle Resort and Holiday Park – Kununurra
Lake Argyle is the largest lake in the Southern Hemisphere and a true wonder of the world! The holiday park overlooking the lake is a fun, relaxing place to stay with an infinity pool, sun loungers, yoga classes, restaurant, BBQ and evening entertainment. Stay in one of the safari-style cabins for an affordable and unique holiday.
---
7. El Questro – Kununurra and Emma Gorge
This iconic Kimberley station encompasses 700,000 acres of geological wonders and ancient landscapes. If you're four-wheel driving on Gibb Road then this will no doubt be on your itinerary.
You get a real taste of the Kimberley wilderness with the many tours and activities on offer at El Questro, from gorge hikes to thermal soaks, to helicopter rides to boat cruises…see some of the exciting options below.
There are three accommodation options at El Questro
Emma Gorge Resort at El Questro – luxury safari-style tents and pool (recommended)
The Station at El Questro – station tents with shared facilities
El Questro Homestead – up-market 5+ star accommodation
El Questro Emma Gorge
El Questro Emma Gorge Resort is at the Gorge (not in Kununurra) with luxury safari-style tents for up to 4 guests, with an en-suite and shower. The resort has a pool for refreshing swims and Emma's Restaurant for drinks and dining.
This resort is a popular Kimberley accommodation for horse riding, boating, hiking, and fishing and you can take part in all of the tours on offer. Reviews are much better for Emma Gorge than for the Station.
Review: We spent two nights at Emma Gorge Resort after eight days in the bush, and it was a nice way to transition back to civilization. Everything was fine. The cabin was clean and comfortable. The staff was very friendly and helpful.
El Questro Station
At The Station at El Questro choose from Safari-style Station Tents and Riverview Rooms close to the Pentecost River and a swimming hole.
The Spaces
Station Tents have queen or twin beds, with air conditioning, outdoor seating, and shared bathroom facilities
Riverview Rooms can accommodate up to 5 guests, with air conditioning, en-suite and toiletries, towels and linen, and balcony
When you're hungry, for eats and bar options you have The Steakhouse, The Cantina for casual dining, and the Swinging Arm Bar.
Review: Great Tents, Queen Bed, powered, Airconditioned. Table and chairs out the front of the tent. Shared toilets, plenty of them and cleanliness very good. Never a wait. The bar area is great.
El Questro Homestead
El Questro Homestead is an exclusive 5+ retreat with suites for 20 guests and definitely a more upmarket accommodation with a beautiful pool. The outdoor freestanding bath on the balcony with incredible views can't be missed!
Staff look after your every whim and tours can be arranged for you. The resident chef creates gourmet dishes and caters to your dietary needs. This is a bucket list holiday destination highly rated on Tripadvisor.
Explore El Questro
There are lots of activities on offer at this vast station, you can collect a map from reception and hike the many trails on the property. The tours depart from all three Kimberley accommodation sites.
Popular Tours
take an exciting helicopter ride to stunning waterfalls
soak in the thermal pools at Zebedee Springs
cruising through Chamberlain Gorge
swim in local swimming holes and at Emma Gorge
self-guided 4WD trips through the landscape
4WD tour past Elgee Cliffs to Explosion Gorge, then sundowners at Branko's Lookout
Fishing Tours to catch a Barramundi or a Threadfin Salmon
Lots more to do!
---
Things to Do in The Kimberley Region
The Kimberley landscape is rugged and striking, with many things to do in this remote part of Australia. A tour benefits you by taking you to isolated nature spots with a guide who can explain the historical and geographical facts. See exciting tours here…
Kimberley Seasons
Dry: May to September. The weather is warm, not too hot, and sunny with cooler nights and low humidity. This is when most people visit so accommodation can get booked up very quickly.
Wet: 1 October to 30 April. Most of the rain falls from December to March and these are the hottest and most humid months. Gibb River Road is not recommended during these months because you'll get bogged down.
Best Months to Visit: May and September. These months are not as busy for bookings, but the weather is nice and most everything is open, but always good to check first.
More Things to Do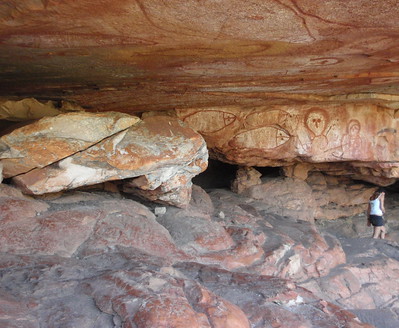 Flatpack Turtle nesting season is October to December
Whale watching season is June to December
Swim or cruise Lake Argyle, the largest lake in the Southern Hemisphere
Take a camel ride at Broome
Plan your trip with one of these Western Australia Travel Books (#paid link)
Fly over the 350-million-year-old domes of the Bungle Bungle Range
Drive across the iconic 4WD Gibb River Road (most popular activity) that finishes at El Questro
Explore Mirima National Park and see the weirdly striped zebra rock
Marvel at ancient indigenous rock art and swim in rock pools – Emma Gorge, Bell Gorge, and Manning Gorge (plus lots more)
Visit but don't swim in the rock pools at Windjana Gorge National Park where you'll see crocodiles swimming!
Visit King George Falls
Images by Roderick Eime and Ian Cochrane Flickr Commons
---
SEE MORE