Ever felt like you just want to get away from it all and go hang out in the middle of nowhere for a while? Preferably with some picture-perfect swimming holes to float around in amongst ancient natural landscapes? Karijini Eco Retreat Camping in remote Western Australia can give you access to over 6,000 square kilometres of secluded outback wilderness, without sacrificing comfort.
This award-winning, environmentally friendly retreat offers a range of camping, glamping and eco-cabin options in the heart of Western Australia's beautiful second-largest national park, Karijini…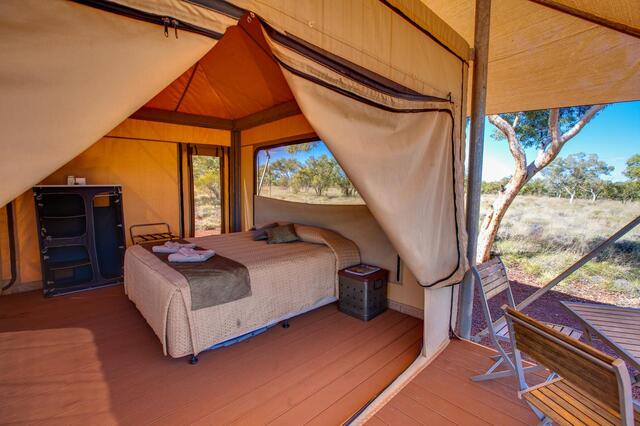 Location:
Best for: Sustainable Camping and Glamping, Remote, Gorges to Explore, Swimming Holes, Restaurant
Providing simple comforts with minimal environmental impact is the main goal at Karijini Eco Retreat Camping. The shared amenities are solar-powered, the greywater is treated, the toilet paper is made from recycled materials and all the cleaning products are biodegradable. Standard Karijini Eco Tents combine the rugged feel of camping with the comfort of solid, quality beds.
Glamping: To upgrade from camping to glamping, the Deluxe Karijini Eco Tents have their own ensuites, as well as solar-powered lights and charging plugs. They come with their own front and rear wooden decks with table and chairs to sit and watch the dazzling stars – miles away from any major light pollution.
Eco-Cabins: If solid walls are more to your taste, the Eco Cabins are set in quaint pairs with sheltered outdoor seating areas connecting the two. They include a fan, reading lights and large windows to enjoy sweeping views of nearby Joffre Gorge.
Food Options: Shared BBQ facilities mean you can be self-sufficient if you come prepared plus there's also a kiosk on site. But if you'd rather let someone else do the cooking after a long day of hiking, the on-site outback-style restaurant has got you covered. It's fully licensed, so you can enjoy a well-earned beverage while watching the sunset over eucalypt-dappled horizons.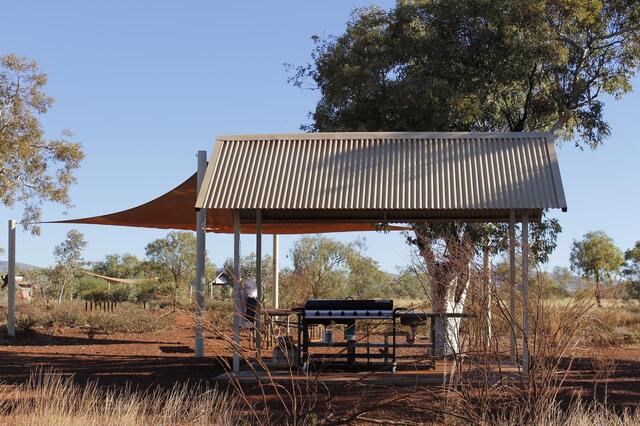 Adventurous Things to Do:
Karijini Eco Retreat Camping sits right at the edge of Joffre Gorge, home to a spectacular plunge pool walled by curved rocks to form a stunning natural amphitheatre. Other unspoiled natural wonders to see include:
Dales Gorge
Fortescue Falls
Mt. Bruce
Weano Gorge
Oxers Lookout
The extensive hiking trails and swimming holes could keep you occupied for weeks, or you could simply sit back on the deck of your Karijini Eco Tent and soak in the beautiful surroundings with a cool glass of wine. Tours are available to book through the retreat, ranging from adventurous 4WD expeditions to relaxing guided coach tours.
Good to Know
Each Karijini Eco Tent accommodates up to three guests
100% cotton sheets and brushed cotton blankets are provided
To reduce power usage, natural ventilation is utilised rather than air-conditioning
All floors are made from recycled timber
Karijini Eco Retreat Camping is too far in the outback to have WIFI signal
It's a great 17-hour road trip to get there from Perth, or you can fly into the nearby towns of Paraburdoo or Newman
Entry fees apply for the national park
Conclusion:
It doesn't get much more "off the beaten track" than Karijini Eco Retreat Camping. Here you can truly reconnect with nature while feeling great about doing it sustainably. You'll also be supporting the traditional Aboriginal owners, since the area is 100% owned by the Banjima, Yinhawangka and Nyiyaparli people of the Pilbara region. Their friendly hospitality is legendary, so why not get out there and explore this unique Karijini outback retreat!
---