Margaret River may be a small Western Australian town, but the region boasts a huge reputation. Located on the southwestern tip of the state, this is where you go for some of Australia's – and perhaps the world's – best eatables and drinkables. Even though the picturesque wineries here produce less than 3% of Australia's total wine, they make up more than 20% of its premium wine – so you know you're getting top-quality stuff. 
In between all the eating and drinking, there are plenty of natural forests, caves and beaches you can explore, making the region one of the top 10 biodiversity hotspots of the world. Eco Margaret River Accommodation options reflect their surroundings' high quality and environmentally friendly focus. With a range of luxury and eco-friendly choices, there's somewhere perfect to stay for families, couples and solo visitors alike in this delightfully delicious part of the world.       
Location: Margaret River | Western Australia | Australia
Accommodation: Eco-friendly and Organic
See Also: Best Margaret River Glamping in Western Australia | Karijini Eco Retreat in Western Australia
---
1. Birchfield Farmstay – The Dome – Margaret River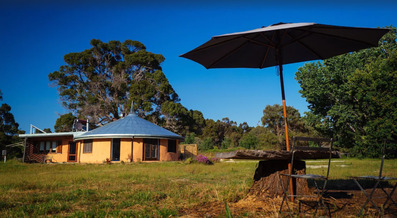 Best for: Strawbale House for 8, Farmstay, BBQ, Hammocks, Fireplace
You can huff and you can puff, but you won't be able to blow down this strawbale house, which is rendered in tough, energy-efficient clay. The unique dome was designed and built entirely by Birchfield Farmstay's owner, Andy, and features a huge, entirely round living/kitchen/dining area.
Perfect for families or friend groups, there's room for 8 people to stay and roam the 90-acre property, which you'll share with friendly donkeys, alpacas, peacocks, guinea fowl, ducks, pigs and guinea pigs.
Good to Know:
---
2. Forest Rise Chalets and Lodge – Yelverton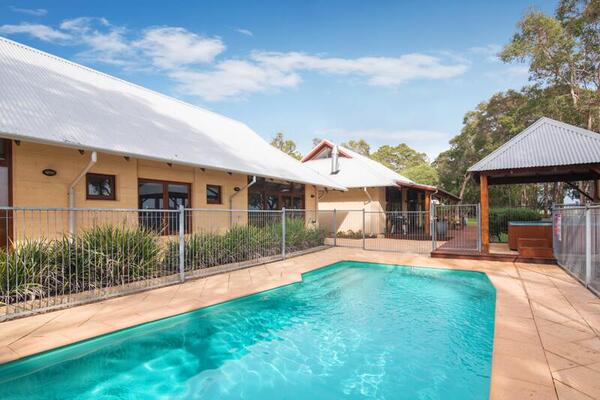 Best for: Eco-accredited Spa Chalets, 5 Star Lodge and Pool, Forest and Lake, Wildlife, Bikes, Yoga
Forest Rise offers ten 4½-star chalets and one 5-star lodge at their serene, eco-accredited retreat. These Margaret River chalets are made from rammed earth and are solar passive, meaning they're designed to stay cool in summer and warm in winter (there's also reverse cycle air conditioning as a backup). The absolute highlight of these little beauties is the purpose-built glass roof over your spa – perfect for stargazing while you're soaking in bubbly luxury!
As part of Forest Rise's eco-accreditation they've created a habitat for environmental conservation, with a focus on bird life so you're sure to see friendly wildlife on your walks and bike rides.
Good to Know at this Eco Margaret River Accommodation:
Take a Tour of Forest Rise:
---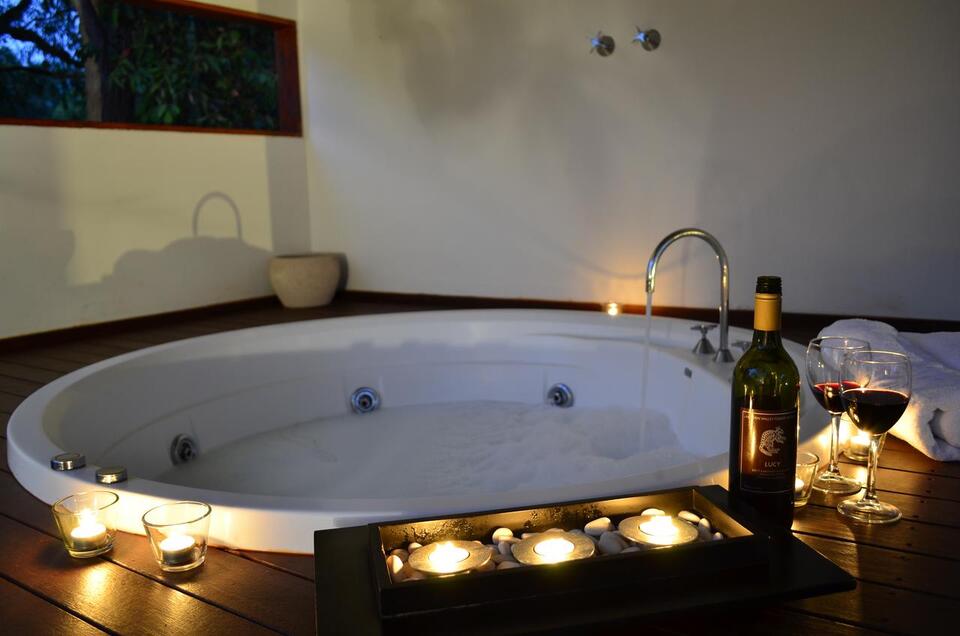 Best for: 4 Star Incredible Private Chalets, Outdoor BBQ and Spa Bath Villa, Personal Chef, Lake and Jetty
They aren't kidding about their retreat being "hidden" – this Eco Margaret River Accommodation ensures each of its chalets has a minimum of 150m of native forest between them. All four ultra-modern and amazing chalets are entirely self-contained, meaning you can hide away from the world and relax undisturbed.
Margaret River town centre isn't too far away though; restaurants are within an easy 15min drive. The contemporary chalets are individually designed to capture the spirit of the environment around them and feature a private spa bath, log fire and sun loungers. 
Good to Know:
---
4. Yelverton Brook Conservation Sanctuary – Yelverton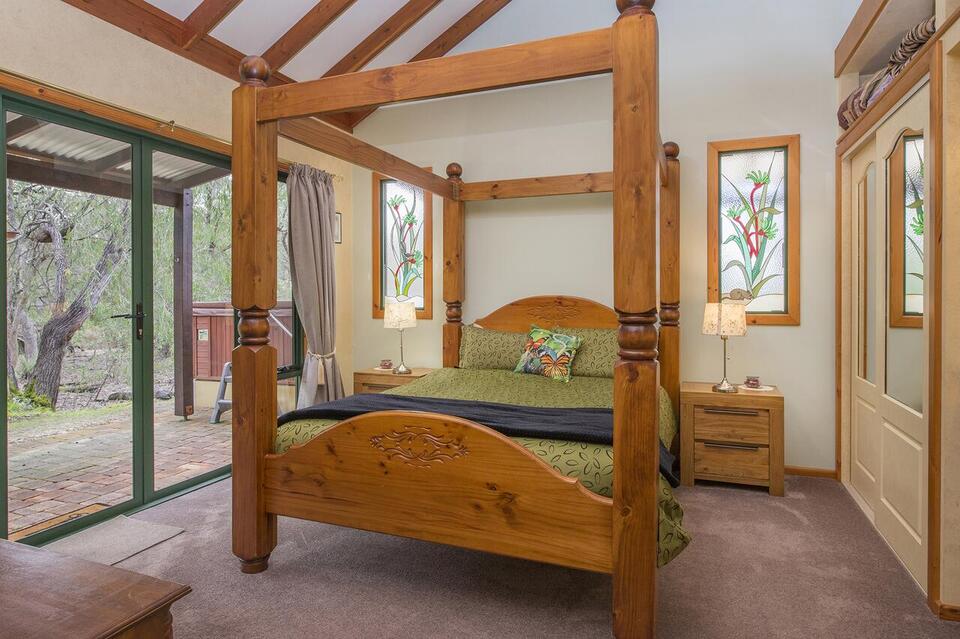 Best for: Casual Chalets, Wildlife, Family friendly, Couples, Solo, Friends, Spa Pool
This Eco Margaret River Accommodation has celebrated 20+ years of achieving the highest eco-certification, located entirely within a protected native wildlife conservation sanctuary. Yelverton Brook has fully enclosed their 100 acres with predator-proof fencing so the friendly wildlife, such as critically endangered woylies, can frolic and breed in peace.
There are five Margaret River chalets to choose from with either one or two bedrooms. Each has its own private spa, a patio or balcony with BBQ, and a fully equipped kitchen.
Good to Know:
---
5. Riverglen Chalets – Margaret River Town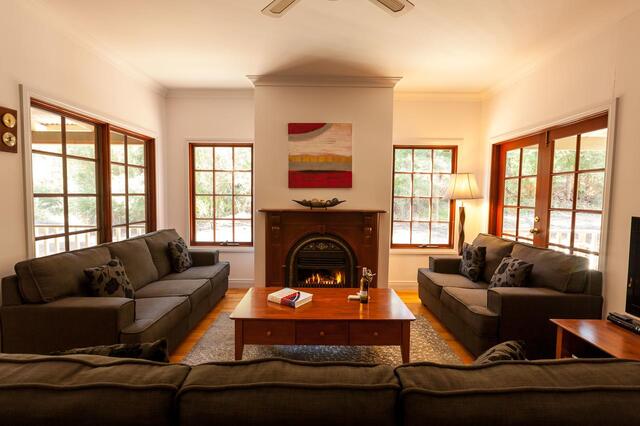 Best for: 4 Star Forest Chalets, Modern Interiors, Spa Pool, Accommodation for up to 8 Guests,
You wouldn't guess the town centre is only a short walk away; this Eco Margaret River Accommodation feels peacefully secluded amongst its forested gardens. With the Margaret River Distilling Company right on your doorstep and the ability to host 60 guests, this is also a fantastic venue for a wedding or event.
Each of the 15 timber chalets at Riverglen Chalets has a private veranda with BBQ, and many feature pot belly fires to keep you cosy in winter.
Good to Know:
---
6. Barn Hives Yallingup
At Barn Hives, you'll discover architecturally-designed luxe pods positioned sweetly in the countryside. The eco-pods are two-story with the master bedroom upstairs and lounge, bathroom and fully equipped kitchen downstairs. A deck and BBQ give you views of the farm, vineyard and the friendly chickens and ducks!
Guests Love:
---
Popular Wineries in Margaret River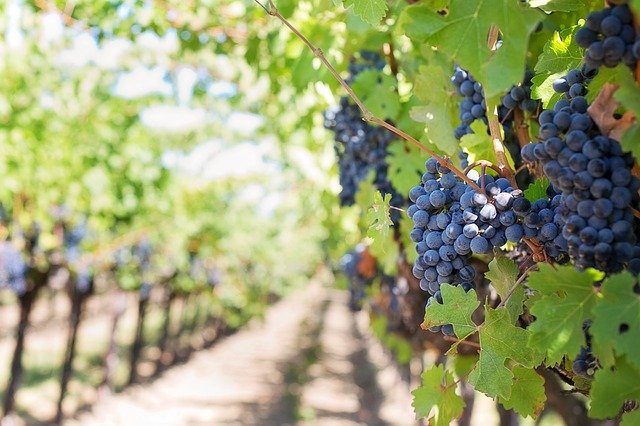 Conclusion
Whether you come seeking adventure, indulgence or relaxation, there's plenty to do while enjoying your stay at an Eco Margaret River Accommodation. Nearby Jewel Cave is home to the longest straw stalactites in the world, and neighbouring surf breaks like Boodjidup Beach welcome migratory whales from June to November. The 3-hour drive from Perth is an easy and enjoyable experience of its own, so you've got plenty of reasons to start planning your next trip to Margaret River!
---
I hope you've enjoyed and been inspired by this list of stunning Eco Margaret River Accommodation, it's hard to choose! You may also enjoy: Karijini Eco Retreat in Western Australia and Best Margaret River Glamping in Western Australia.
---
More Unique Places to Stay in Western Australia: