Volcano Village has the true aloha spirit welcoming visitors who come to see the live volcanoes of Mauna Loa and Kilauea at Hawaiʻi Volcanoes National Park. These Cool Volcano Hawaii Vacation Rentals, Cabins and Tiny Houses are close to the Hawaiʻi Volcanoes National Park entrance so you have easy access to the trails and drives through the lava fields, and rainforest. You're so close that at night you can see the lava glow!
Must do: The Kazumura Cave Tour is an amazing adventure – hike into a lava tube cave with a knowledgeable guide, and discover a volcanic underground world. See Tripadvisor reviews here.
Type of Accommodation: Tiny House | Rainforest Retreat | Country and Bush
Location: Volcano | Big Island | Hawai'i
See also: Unique Places to Stay in Volcano Hawaii; and Bliss out at this Eco-friendly Treehouse in Volcano Hawaii.
Price Range: $ – Cabin/Hostel | $$ – Budget | $$$ – Mid-range | $$$$ – Luxury | $$$$$ – Super Luxe
Prices can vary depending on the season
---
1. Romantic Volcano Artist Cottage adjacent to Hawaii Volcanoes National Park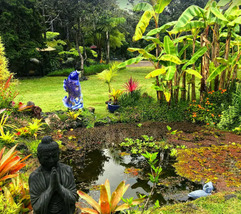 Best for: Historic Cottage, Gardens, Hot Tub, Breakfast, Cafe and Art Gallery, Couples, $$$
This rustic 100-year old restored cottage is surrounded by 3 acres of sculpture garden with tropical walking trails. The owner of the property is artist, Ira Ono, and he also runs the vegetarian cafe, Cafe Ona, and an art gallery on the property. If you get a chance try the delicious and healthy food at the cafe and take home some art to remember your trip.
The Space:
The cottage has absolutely everything you'll need for a comfy stay with heating, (it gets cold at night) coffee, tea, microwave, robes, flashlight, gas stove, microwave, mini fridge, queen-size bed, big bathroom and Free WIFI. Breakfast is included in the price.
---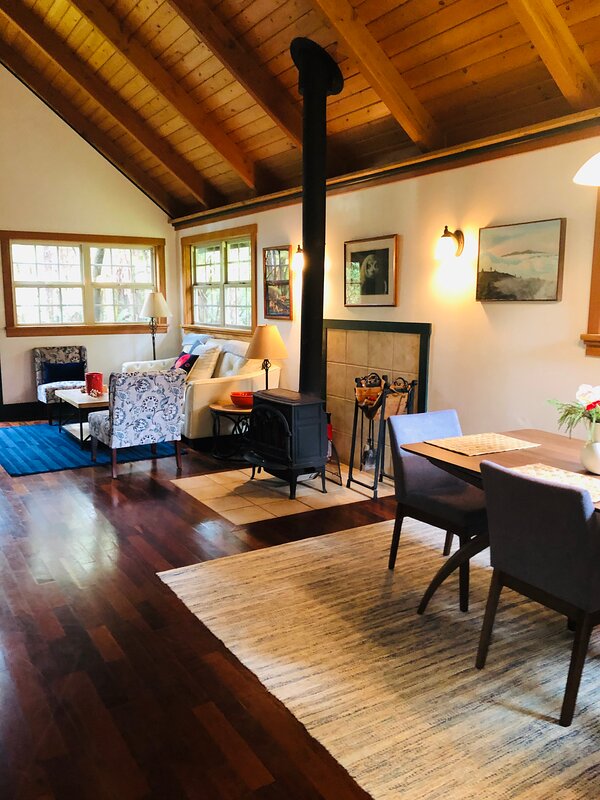 Best for: Romantic Fairy Tale Cottage, Turkish Robes, Fireplace, Gardens, Near Restaurants, Hot Tub, Couples, $$
This gorgeous cottage is handcrafted with fine craftmanship and is surrounded by rainforest. You're only a mile from the park and near the restaurants in Volcano Village. After a busy day of adventures the outdoor hot tub in the forest is perfect for soothing tired muscles.
This cosy hideaway is beautifully furnished and includes a fully-equipped kitchen, lounge, king bed, shower that opens out to the rainforest, TV and DVD, WIFI and parking on site.
---
3. Tiki Tiny House – 6 Guests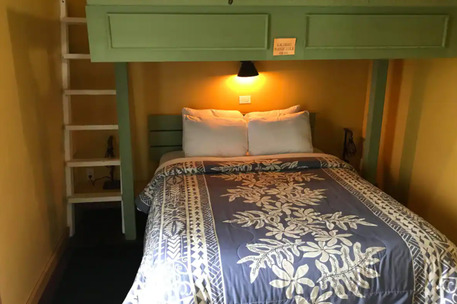 Best for: Tiny Holiday Home, Affordable, Rainforest Shower, 2 night min, Couples, Families, 6 Guests, $$
Try tiny house living in this secluded and beautiful rainforest retreat where the hosts give you a 5 star experience at a very affordable price – and you're only minutes to Hawaiʻi Volcanoes National Park.
The Space:
The beds are comfortable, with top-of-the-range bamboo linen for cosy nights. The kitchen is fully equipped and you can eat in or out on the deck. A washing machine and dryer are handy for travelers on the move.
When you're not hiking through the park relax at home with two TVs, Netflix, books and free WIFI. The bathroom has all the shampoo, soap, and towels you'll need – and you can choose to shower indoors or amongst rainforest ferns in the outdoor private shower.
The lush forest around the tiny house includes huge ferns, banana trees, tea leaves, ohia trees and Hawai'i Islands special flower, the lehua.
Things to Do: Sunday morning Farmers Market, at night drive up to the summit of Mauna Kea and enjoy the stars, Botanical Gardens, Akaka Falls.
---
4. Cargo Container Home on the Lava – Kalahana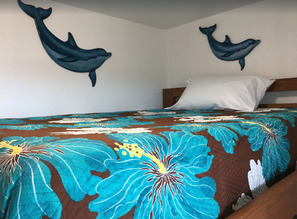 Best for: Lava Vacation Home, Off-Grid, Moonscape Views, Hikes, Comfortable, Sleeps 4, $
Here's a quirky eco-friendly stay on the lava with clear starry skies and incredible views of the sea and Kīlauea volcano through big windows. In Kalahana, an hour away from the park and Volcano (see the map below), the Cargo Container Home is three containers joined together to create a 1-bedroom off-grid dwelling with 1 bathroom.
Kalahana is an unusual community where the locals have built their homes directly on the lava landscape! They call themselves lava dwellers and it's a once-in-a-lifetime opportunity to experience this style of living. Don't miss the 20 minute walk to the cliffs for more moonscape views.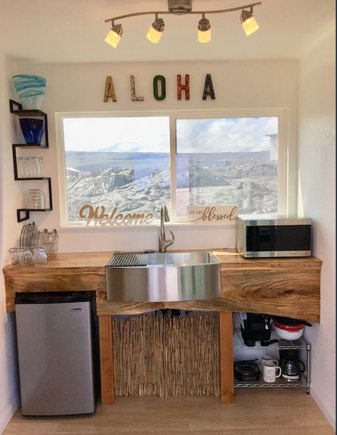 The Space:
For power and water you have solar panels and a UV filtered water catchment. The interior of the containers has special design touches with mango wood kitchen counter tops; a rock basin in the bathroom and a pebble rainwater shower. The local wooden bunk beds were crafted by a local Hawai'ian.
The kitchenette is fully equipped with microwave, fridge, grill, utensils and dishes, and you're also supplied with linen and towels and soap/shampoo in the bathroom.
The Drive from Kalapana to Volcano: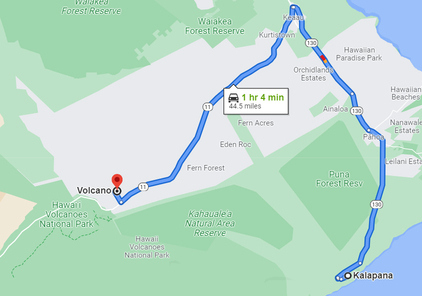 You're an hour away from the entrance to the park and 10 minutes to Kehena Black Sand Beach. Bring your food and drink supplies with you so you're self-contained for a unique stay on the lava! For another cool house on the lava at Kalapana see Octopus Tiny House in this post here.
---
5. Charming Historic Sugar Era Family Home 2 miles from Hawaiʻi Volcanoes National Park!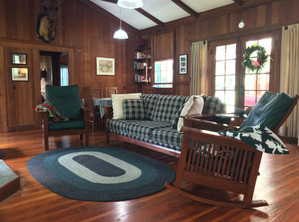 Best for: Heritage Vacation Home, Three-Bedroom, Wood Stove, Cosy, Kitchen, Garden, 6 Guests, $$
The Italian Giacometti family has welcomed guests to their vacation home since 1928. La Capanna (the cabin in Italian) is only 2 miles from the park entrance and many visitors have stayed to see Madame Pele's home – Halemaumau crater on Kilauea.
The house is a traditional Hawai'ian vacation home, well cared for and updated for modern day visitors. With cosy wooden interiors and high vaulted ceilings, family photos, a mix of traditional and contemporary furniture really makes you feel at home!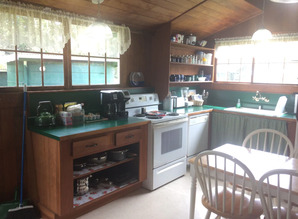 The Space:
La Capanna has three bedrooms with five beds, and two bathrooms, quality linen, Hawai'ian quilts, Turkish towels, and even night lights for the dark mountain nights.
Get the whole crowd together and relax on the large covered lanai outside the kitchen door and enjoy the fully-fenced gardens. You're all set with lawn chairs, charcoal grill and a picnic table.
Things to Do: wake up early and watch the sunrise over the crater, visit one of the local Farmers Markets
---
6. Hale Hubner – Fern Cottage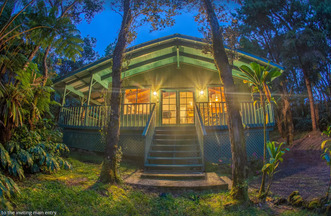 Best for: Handcrafted Rainforest Home, Spacious, Peaceful, Fireplace, Gardens, Couples, Families, Sleeps 5, $$
Fern Cottage is a peaceful retreat in half an acre of lush hapu'u fern and ohi'a rainforest, but you're only minutes to the park. Designed for a peaceful and comfortable stay for couples, friends and small families.
The Space:
The house feels spacious and light with high wooden ceilings, wooden floors, open-plan living, dining and kitchen and a wrap-around covered deck.
The house has two bedrooms and one bathroom. One bedroom includes a crib and a queen bed and the other bedroom has a queen bed.
A fireplace in the lounge and extra electric heating heats the whole house when the temperatures drop at night.
Top Tips: Since Volcano is at a higher altitude it's cooler than the rest of the island. Bring warm clothes and a warm jacket. Also bring strong hiking shoes for volcano walks – the lava can be sharp. (affiliate links)
Good to Know at this Volcano Hawaii Vacation Rental
The kitchen is fully-equipped with stove, oven, fridge, dishes and utensils
The laundry has a washing machine and dryer
The lounge has a TV, cable channels, DVD player, toys, books, games
---
The next two cool Volcano National Park Cabins are in Fern Forest, near Volcano…
7. Ferny Hollow Romantic Rainforest Cottage – Tiny House in Fern Forest
Best for: Tiny House, Fireplace, Kitchen, Garden, Books, Music, Fern Forest, Couples, $$
This fairy tale cottage is set in Fern Forest not too far (8kms) from the Park entrance. Get up early and enjoy the park all to yourselves!
You're in a lush rainforest setting with everything you need in this tiny house:
Kitchen with a fridge, microwave, stove, utensils and crockery
Compact lounge and dining
The bedroom has a comfy queen-bed, electric blanket
The bathroom includes a shower, toilet, basin
Ferny Hollow's little patio is great for lounging outdoors, listening to the birds and chickens and breathing in the cool, refreshing scents of the flowers.
---
8. Rustic Cabin in Volcano with Private Kitchen & Bathroom: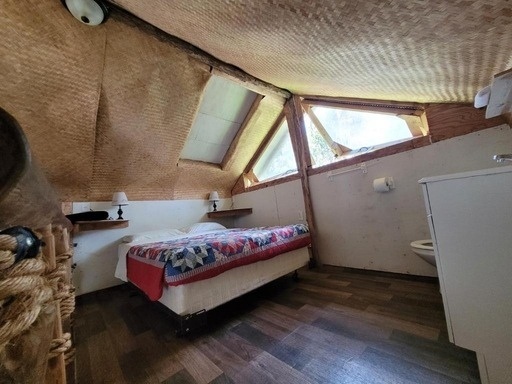 Best for: Private Cabin, Quirky, Affordable, Rainforest, Couples, $
This sweet cabin is very affordable and the perfect retreat in Ohia Forest for a couple who are happy to try something different. It's a cross between a boat, tiny house, and cabin!
The Space:
Downstairs is a little sitting area, kitchen (toaster, microwave, fridge) and the shower. Up the ladder-stairs you're in the mezzanine with a queen-bed and toilet/basin so this is a lot like camping.
Linen is included, free WIFI and parking on site.
---
9. Rainforest Eco Cabin – in the forest, off-grid, for nature lovers:
---
More Unique Places to Stay in Hawai'i: