From wild jungles, endless deserts, ravishing beaches, immense oceans to cool and contemporary cities – Australia is a diverse and exciting holiday destination. Find your unique place to stay from one of these Australian Destinations…
New South Wales:
Tiny Houses, Balinese Retreats, Boutique Hotels, Vineyard Hotels, Boathouse, Glamping, Lake House, Eco Cabins, Japanese Nature Hotel, Spa Retreats…
Queensland:
Treehouses, and Eco Retreats in the rainforest and by the beach…
Northern Territory:
Glamping, Safari Tents, Outback Stations, Wilderness Retreats, Houseboats, Lodges…
Western Australia:
Glamping, Vineyard Retreats, Outback Safari, Forest Retreats, Farmstays, Eco Cabins…
South Australia:
Castle, Underground, Houseboats, Paddle Steamers…
Tasmania:
Luxury Heritage Hotels, Eco Retreats, Sandstone Cottages, Wilderness Retreats and Mountain Lodges…
Victoria:
Luxury Boutique Hotel, Log Cottage, Pole House, Train Carriage, Church, Mudbrick Cottage…
---
Here's some inspiration:
Want a Queensland Tree House Retreat you can book now? The tropical climate and lush rainforest of Queensland are perfect for a treetop escape. Check out Secrets on the Lake in the Sunshine Coast Hinterland and Jungle Treehouse in the Daintree Rainforest. Read more…
Quirky Places to Stay in Byron Bay: Treehouse, Converted Butter Factory, Off-Grid, Dome, Lighthouse Keepers Cottage, Retro Cottage, Bali-inspired, Japanese-style, with Bonus quirky places to eat and things to do… Read more…
Sleep in a Castle! Historic and Unique Adelaide Accommodation for a royal, romantic and renaissance retreat. Read more…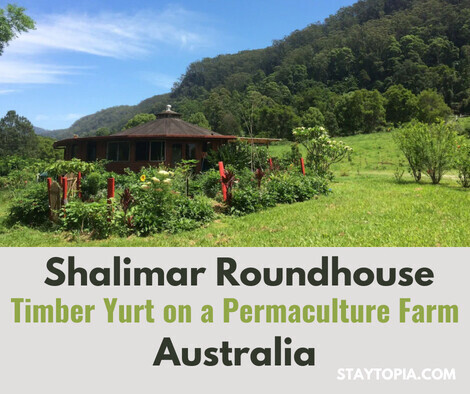 The Shalimar Roundhouse is nestled in a stunning rainforest valley inland from Byron Bay. A unique circular timber yurt surrounded by a certified organic Permaculture Farm. Read more…
Eco Retreat NSW – Tiny Boathouse Near Byron Bay under $100. Ships ahoy in this cool boat that's been converted into a tiny house. All set within beautiful bushland. Read more…
Where's the Best Place to Stay in Sydney? Art Deco Boutique Hotel, Harbour Yacht, Contemporary Apartment Hotel, Luxury Hotel on Circular Quay, Cool Hotel at Bondi Beach, Uber Hip Hotel in Woolloomooloo. Read more…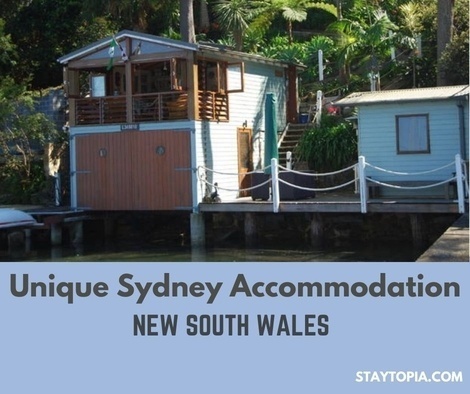 Where's the Best Place to Stay in Sydney (on a budget): Boathouse in Pittwater, Historic Inner West Cottage, Astrology Hotel in Chinatown, Tiny House in Chatswood, Quirky Boutique Hotel in the Inner West. Read more…
Best Murray River Cruise Packages: Take a relaxing cruise down one of Australia's great rivers. Small boat tours, paddle steamers, multi-day and one-day cruises. Glamping options too. Read more…
Murray River Houseboats in South Australia FAQ: A bumper list of tips for hiring a Murray River houseboat for the adventure of a lifetime! Read more…
Sleep underground! Check out this list of 'dugout' Hotels, Motels, and B&Bs in very unique Coober Pedy. Read More…
Inside Scoop: Coober Pedy Underground Accommodation: Fascinating facts and information about the underground accommodation at very unique Coober Pedy. Read More…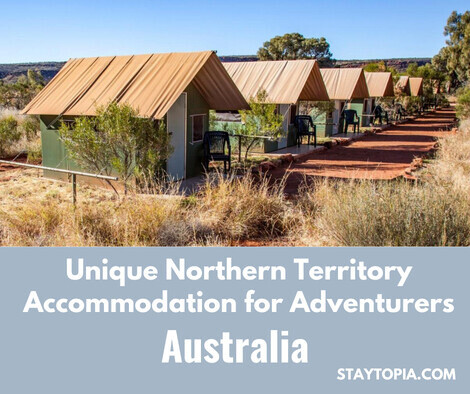 Unique Northern Territory Accommodation for Adventurers: An incredible list of Glamping, Wilderness Retreats and Safari Tents set in magical remote landscapes – outback, stations and rainforest. Read More...
---