Landlubbers ahoy! Here's your chance to stay in a 30-foot wooden yacht named Belafonte II. Now retired, the boat is converted into a tiny eco house hideaway for land sailers! No need to navigate or watch out for stormy weather. This 'sea-faring' Eco Stay NSW for two is nestled in a bamboo grove in peaceful bushland north of Byron Bay.
Read on for fascinating information about this Tiny House. Also, see the list of Things to Do at the end of the post…
Best for: Peaceful Retreat, Cool Boat Conversion, Byron Bay Hinterland
The Neighbourhood:
This hideaway is located on a 3-acre rural property in Wilson's Creek, in the beautiful hinterland forest of the Northern Rivers Region of New South Wales. You're 30 minutes (17.2 kms) to Byron Bay.
This area encompasses fertile lush valleys around the three rivers of Tweed, Clarence, and Richmond. And is bordered by beautiful Pacific beaches to the east and The Great Dividing Range to the east. (Source)
Your eco stay is only 45 minutes from the Gold Coast airport but you'll have all the privacy you need for your cool getaway. 
Your Accommodation: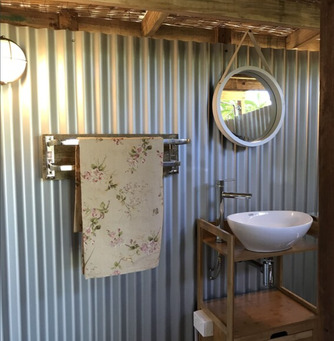 The Belafonte II has been cleverly restored with a tiny house and decks attached to the boat. The comfy double bed is in the boat's bow and carved wooden french doors lead out to the decks, the wonderfully quirky shower (includes shampoo and soap), and a well-maintained composting toilet. 
Tip: in case you're new to composting toilets, these are clean with no smells and work by breaking down (composting) organic material by microorganisms.
---
Travel Resources:
Take your time and discover secret spots and wilderness in the Byron Bay Hinterland with a Jucy Campervan or Car. Book now and pay later also available.
Don't leave home without travel insurance. Have you checked out Cover-More Travel Insurance? They have a range of policies depending on your trip plans.
See the best day tours with GetYourGuide and let them do the organising!
---
Relax Outdoors: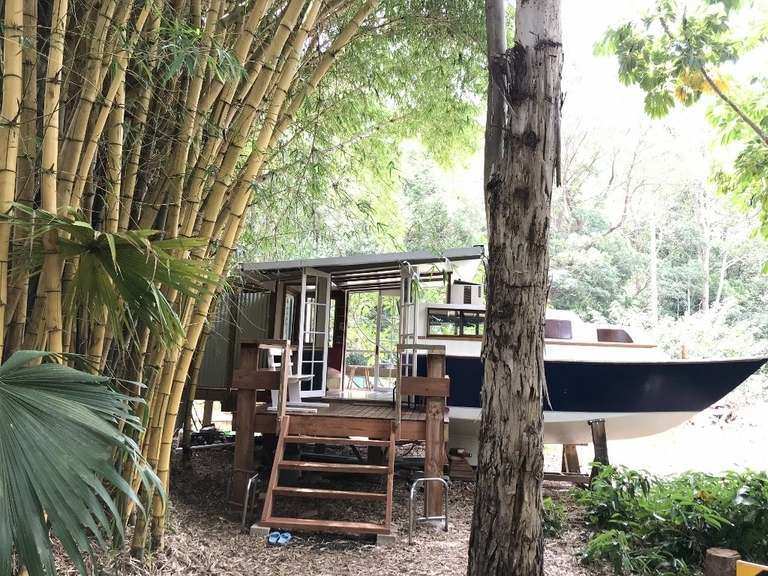 Outside the boat you have your own private courtyard to enjoy the sounds of the birds and the rustle of the leaves. Books are provided for relaxing reading in your private little paradise.

Top Tip: firefly season is from late August to September – best seen at dusk all around the garden.
Bed & Breakfast:
Breakfast and refreshments are included in the price along with delicious local honey. To maintain your privacy all the food is stocked for your arrival, so you don't need to see your hosts. They're only a phone call or walk away if you run out of food.
You're supplied with fresh bread and a range of teas, milk, butter, free-range eggs, cereal, biscuits, wine, and mineral water.
For shopping, supermarket, cafes, and restaurants you're only five minutes from the unique village of Mullumbimby, one hour to Nimbin, and 30 minutes to Byron Bay. 
Good to Know at your Eco Stay NSW:
Mobile reception can be a bit patchy but there's wifi and a smart TV with Netflix and Youtube.
Accommodates 1 or 2 guests. The double bed is in the bow of the boat.
Galley style kitchen includes a gas stove, microwave, small fridge, toaster, dishes, utensils, coffee machine and pods.
If you need anything call the owners who are happy to help or pop down to the Mullumbimby shops.
Air-conditioning and heating provided
Review: The Belafonte 2 has everything you need for two. Awesome bathroom and shower. Ample stuff to cook with and the breakfast and food provided was again perfect for the experience on board a ship retired from the sea, especially the local honey!
Belafonte II is great for:
Global nomads
Close to Byron Bay and Nimbin but private and peaceful
Romantics
Stay while attending local yoga retreats or visiting nearby alternative therapists
Solo Stays
De-Stressing
Good base for the activities in the region
Lovely stop on The Rainforest Way (see below)
Conclusion:
At this Eco Stay NSW the Bellafonte II is a beautiful and romantic hideaway that is totally unique and comfy too. You'll love the calming atmosphere and the closeness to nature. With no knots to tie or sails to unfurl you'll be clear 'sailing' in a Sea of Tranquility!
---
The Rainforest Way: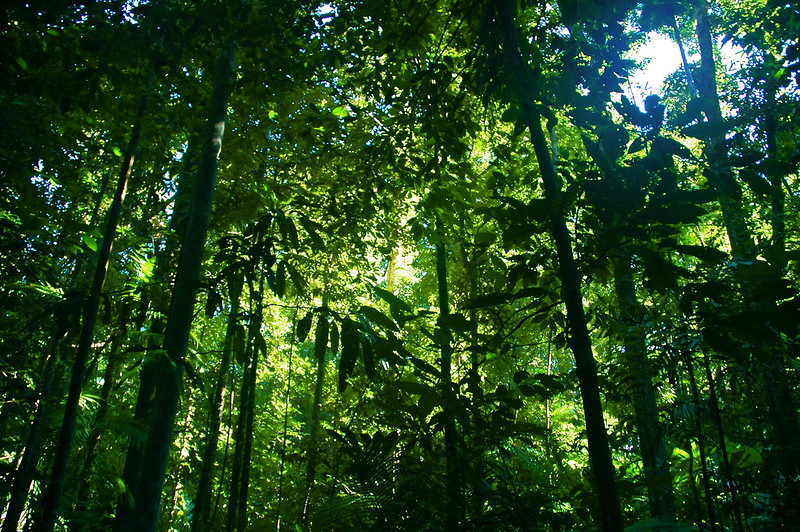 At this eco-stay you're surrounded by the stunning Rainforest Way. According to Traveller.com, these are seven self-driving scenic touring routes connecting the Northern Rivers and Queensland rainforests.
This includes a whopping 14 Heritage-Listed National Parks, alternative lifestyle Nimbin, mountain biking tour opportunities at Nightcap National Park, stunning Lions Road, built by the locals, deep in the rainforest, boutique enterprises, quaint villages, and lots more. Here's the official website: https://www.therainforestway.com.au/about/
---
Things to Do Near the Tiny Boathouse: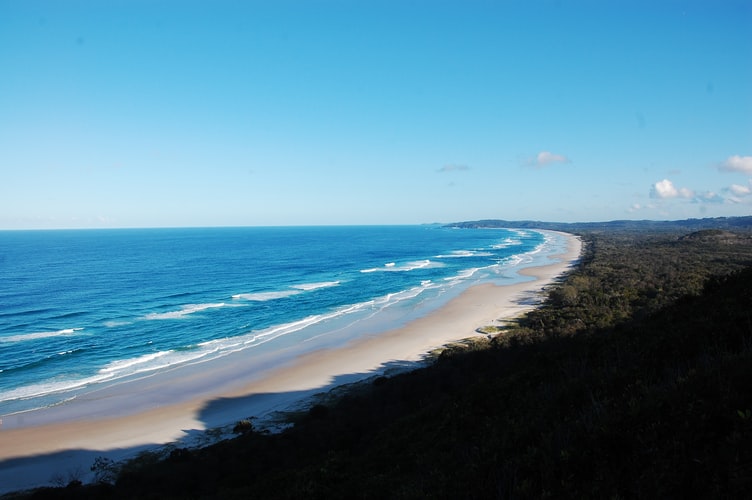 Tea Tree Lake:
Swim at Lake Ainsworth in Lennox Heads, just south of Byron Bay, and enjoy the healing powers of this tea tree lake.
The tea trees around the lake release their rejuvenating oils into the water, which turns the water brown but is wonderfully healing for your skin and hair. Tea tree oil is traditionally used for dandruff, acne, cuts, burns, and lots of other skin ailments. Don't miss this 'medical bath'! There's also a smaller tea tree lake in Suffolk Park, a 5 minute drive from Byron Bay.
Markets:
Check here for the latest dates/times for the Byron Bay Markets and others in the region: https://www.byron-bay.com/byronbay/market.html
Byron Bay Markets: 1st Sunday of the month
Mullumbimby Farmers Market: every Friday morning
Mullumbimby Craft Market: 3rd Saturday of the month
Nimbin Markets: 4th and 5th Sunday of the month
The Channon Markets (Lismore): 2nd Sunday of the month
Bangalow Markets: 4th Sunday of the month
Looking at Tours?
Choose the best tours with Viator, with flexible payment options, and cancellation up to 24 hours before the tour starts. See what's on offer…
I hope you've enjoyed this article – Eco Stay NSW: Tiny Boathouse Eco Retreat in Wilsons Creek. Feel free to ask questions and post your comments below. Best, Alisa
---