Calling all Lord of the Rings and Hobbit fans! Woodlyn Park's motto is 'sleep in the shire' and this quirky Hobbit Hotel in New Zealand offers fun accommodation in farmland near the popular Waitomo Caves.
Type: Unique motel units that can fit up to 6 guests
Price: $$
Best For: Hobbit House, Titanic Ship, Express Train, Plane. Waitomo Caves
Guest Rating: Very Good
Location: 1177 Waitomo Valley Road, RD7, Otorohanga
Read: Unique Accommodation in New Zealand
Book Woodlyn Park at: Booking.com
It's time to feel like a kid again…Woodlyn Park offers an imaginative selection of accommodation set on rolling lush green hills in a farm setting in the Waikato. The resourceful owners have built Hobbit Houses into low hills and restored genuine old 19th and 20th Century working machines into cleverly constructed units. All created for an enjoyable and memorable stay…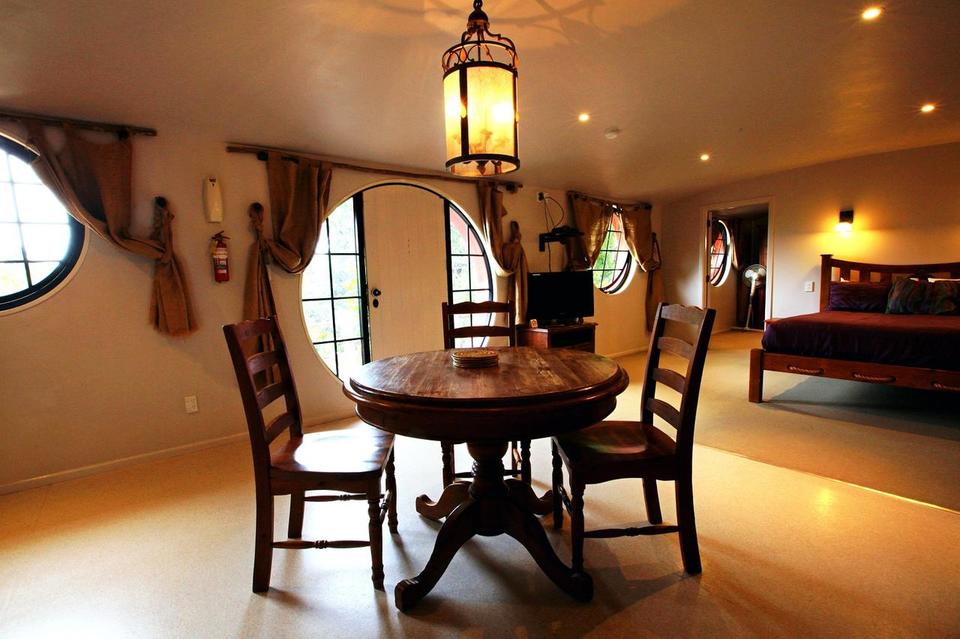 A warm comfortable room with suitable Hobbitesque wooden furniture and hessian curtains and all the modcons us non Hobbits actually need!

Guest Comment about the Hobbit Hotel in New Zealand
The Neighbourhood
You're only a two minute drive from the Waitomo Caves – famous for their limestone structures and bio-luminescent glow worms. Choose from a leisurly glow worm cave tour by boat or adrenaline-inducing blackwater rafting and abseiling down into the magical cave landscape. There's also lots of bushwalks, amazing waterfalls, bike trails and other natural limestone cliffs and caves in the region. Don't miss the list of 'choice' Things to Do below…
Tip: Woodlyn Park also offer kiwi experience and sheep shearing shows, Kiwi Culture Show and Billy Black Woolman.
Location: You're 2 hours and 15 minutes from Auckland, 2 hours from Rotorua, and 1 hour from Hamilton. The Waitomo Caves Discovery Centre and i-SITE is situated in nearby Waitomo Village (SH37) – they have information about what to see and do in the area plus pamphlets about other activities in New Zealand.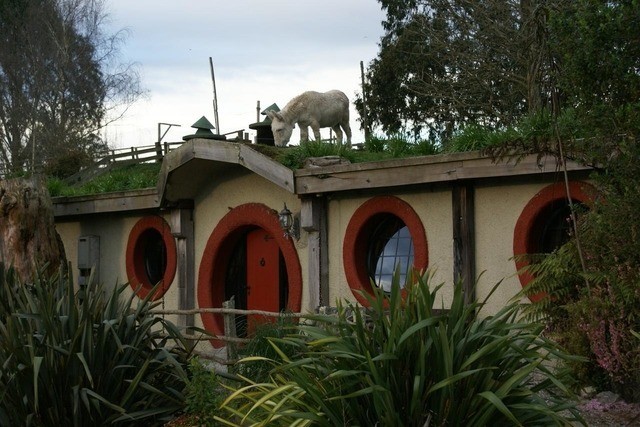 At Woodlyn Cave Choose from Units:
Each unique lodging has been handbuilt and converted by the owners into cosy places to stay with mod-cons and comfy beds. Don't expect 5 star – it's more like 2 to 3 stars but Woodlyn Park is worth a night or two.
The Hobbit House – there's 2 Hobbit units to choose from with 4 bunk beds and 1 queen bed each. Includes kitchenette.
The 'Waitanic' Ship – 5 multideck cabins. The Captain's unit is in the bow, the Olympic unit is in the stern and 3 cabins are at the side of the boat.
The Bristol Freightor Plane includes 2 units – 1 is in the tail and 1 is in the cockpit. Tip: wear a warm hat at night in winter – your pillow is next to the windscreen.
The Waitanic Express Train – this stately steam carriage is converted into 1 unit for 5 guests. Includes kitchenette.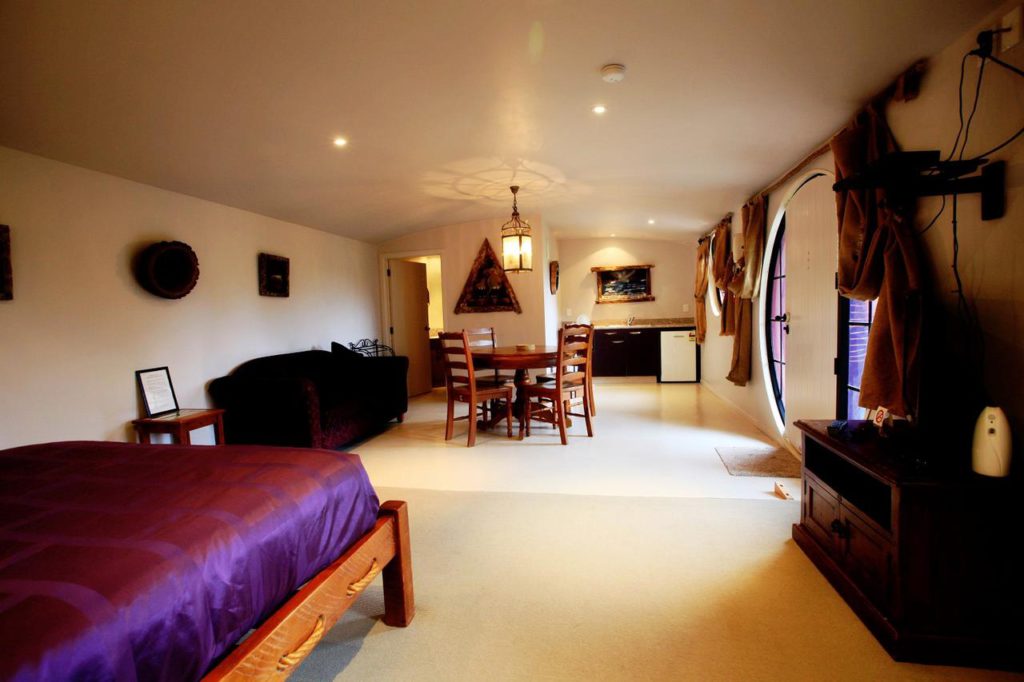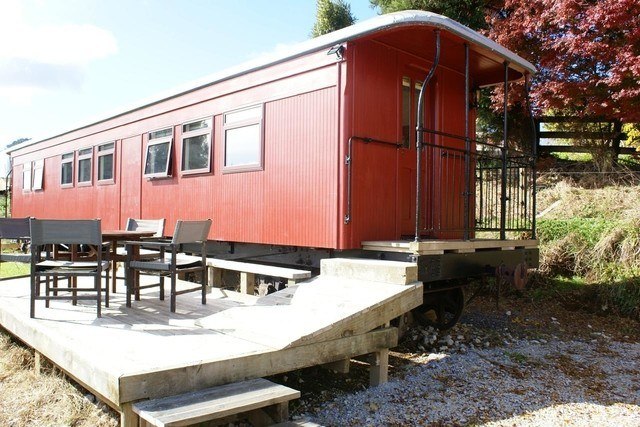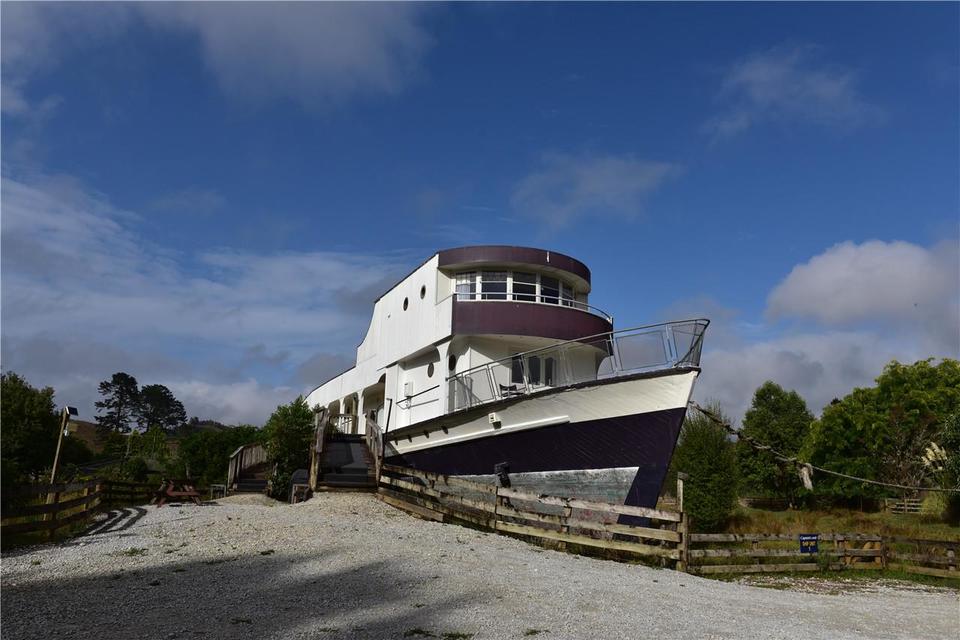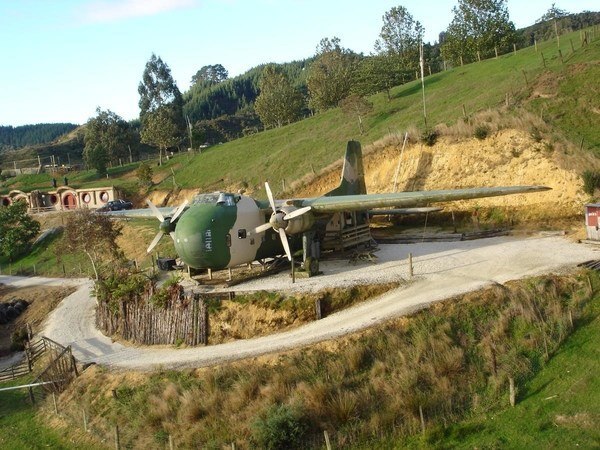 Good to Know at this Hobbit Hotel in New Zealand:
The units include linen, comfy furniture, en-suite and tea and coffee making amenities.
Some of the units also include a kitchenette so you can cook at home/ship/train!
Have a walk around the farm, check out the other quirky places to stay, visit the farm animals.
There's outdoor furniture, picnic area and BBQ.
FREE WIFI.
Parking on site.
Daily housekeeping.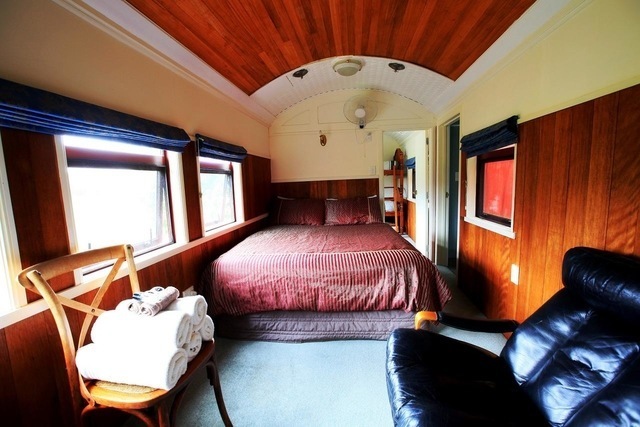 We couldn't believe how beautiful the train carriage was! The interior was magical – beautifully maintained and decorated, with lovely comfortable beds and couches.

Happy Guest
Places to Eat:
You'll find cafes and restaurants at the Waitomo Caves Village and a supermarket nearby:
Countdown Supermarket Otorohanga
The General Store Waitomo
Huhu Cafe is a popular restaurant with middle eastern food
Toitoi Coffee
Long Black Cafe
Roselands Waitomo Caves – BBQ restaurant
Waitomo Homestead Bar and Cafe
Best Time to Visit:
This is a four seasons accommodation option. Waitomo Cave tours and Black Water Rafting are available all year round.
Take a Tour of Woodlyn Park:
Woodlyn Park is a fun Hobbit Hotel in New Zealand along with other novelty accommodation options for a cool kiwi experience. Near popular Waitomo Caves this is a fun place in the 'shire' for kids young and old!
Things to Do in Waitomo:
Waitomo is famous for their caves but there's also lots of other things to do in the area and in the region:
Waitomo Caves Glowworm Guided Tour (around NZ$55) – make sure you prebook to avoid queues. Some walking down steps involved to get to the boat. See tour here.
Waitomo Caves Black Water Rafting – this is exciting cave tubing. Choose from 3 hours tubing which includes jumping over a waterfall or 5 hours adds on abseiling. From around NZ$150. See tour here.
Ruakuri Bushwalk – check out the Department of Conservation guide to the track – "Discover a forested gorge, natural sculpted cliffs and low limestone arches on this spectacular loop walk".
Ruakuri Cave – This sacred cave is the largest in the area and is solar powered. It includes rock formations and glow worms. The tour takes 75 minutes.
Footwhistle Glowworm Cave – this is a privately owned cave in the Waitomo area. See stalactites and stalagmites, glowworms in a candlelit cavern and ancient moa bones. Includes a short bushwalk and Kawakawa tea ceremony at the end. Very knowledgeable guides. FYI: 100 steps down into the cave. See the tour here.
Opapaka Pa Walk – a lovely short country walk to this historical site. Starts 1km east of Waitomo Village in the Waitomo Adventures Carpark. https://www.doc.govt.nz/parks-and-recreation/places-to-go/waikato/places/waitomo-area/tracks/opapaka-pa-walk/
Waitomo Caves Zipline – zip and soar through native forest and limestone bluff. Book ahead.
Kiwiana Town – Otorohanga – see the kiwiana displays in the main street. A slice of kiwi life and culture.
Otorohanga Kiwi House and Native Bird Park – Nocturnal Bird House and Aviary
The next three can be done as a scenic drive from Waitomo:
More Fun:
Kawhia Hot Water Beach – The Coromandel isn't the only place with a hot water beach! Ocean Beach in Kawhia also experiences this amazing phenomenon. The time to experience the hot water bubbling up through the sand is at low tide. Just over 1 hour drive from Waitomo.
Kawhia Kai Festival – every February – a celebration of Maori food and culture.
Waitomo Bike Trail – read more here: https://www.singletracks.com/bike-trails/waitomo-forest.html
Read More: