What's Unique? It's not every day you get to sleep under a canvas roof with the sounds of the camp and nature around you. Or how about an iconic and quirky stay in an Airstream Caravan? Ingenia Holidays Rivershore Maroochydore offers fun activities and a social atmosphere in a beautiful park setting by the river. All at a great price!
Location: Sunshine Coast | Queensland | Australia
Type of Accommodation: Glamping and Yurts | Quirky
Price Range: Cabin/Hostel $ | Economy $$ | Mid-range $$$ | Luxury $$$$ | Super Luxe $$$$+
This post may contain affiliate links. As an Amazon Associate, I earn from qualifying purchases. See Affiliate Disclaimer.
---
Best for: 4 Star Camp Resort, Swimming Pool, Affordable, Glamping, Retro Caravans
This popular camp is designed for anyone who loves adventure and nature but doesn't want to compromise on comfort. Great for couples seeking a romantic getaway, families who want a fun-filled holiday, or solo travellers looking for a unique experience.
---
Location
Ingenia Holidays Rivershore is situated in the coastal city of Maroochydore on the Sunshine Coast of Queensland.
You're 6 km from Maroochydore Beach, 5 km from the Sunshine Coast Airport, 12 km from the Sea Life Aquarium, 15 km from Aussie World Theme Park, and 3 km from the local Golf Course.
See fun Get Your Guide Sunshine Coast Tours here. Whale watching, surfing lessons, Australia Zoo, Sunset Cruises and lots more.
---
A Peek Inside Your Safari Tent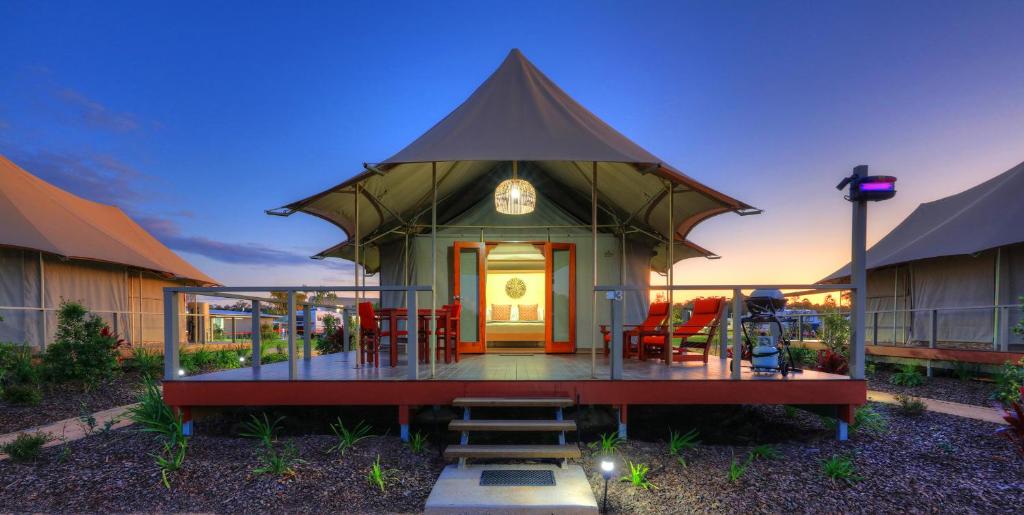 Get ready to unwind in style, it's time to try glamping in the great outdoors! These safari tents take the "roughing it" out of camping, and give you the comfort of a hotel.
You have contemporary interiors, a 4-poster double bed, luxury linens, heating and cooling systems, a private bathroom, a deep bath for soothing soaks, and a deck for outdoor dining and relaxing.
The family tents include an extra room with two single beds.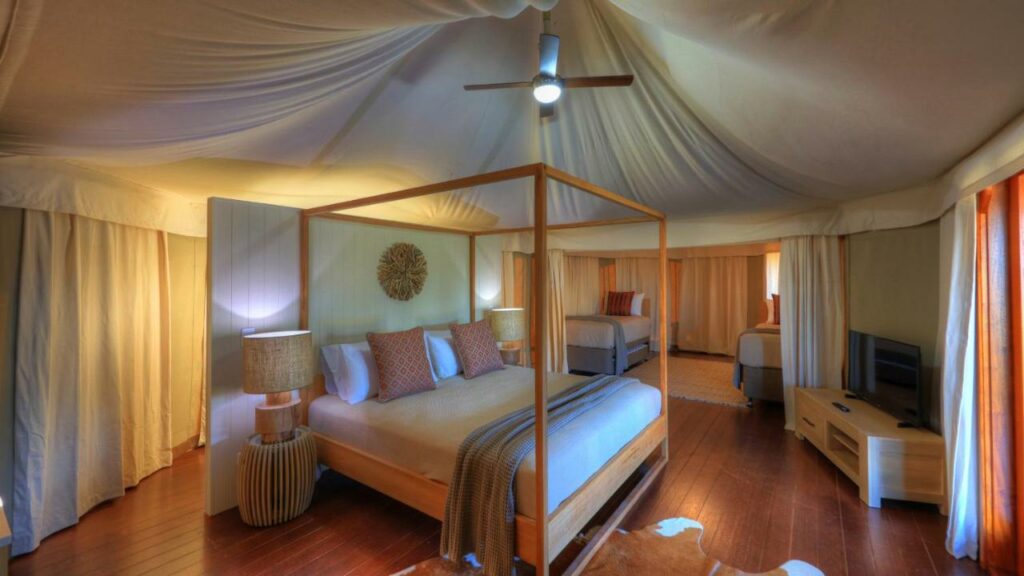 Good to Know
En-suite bathroom with deep bath
Kitchenette, microwave, tea/coffee making
Free WIFI, TV, streaming service
Outdoor dining, BBQ
Air-conditioning and heating
Towels and linen are included
---
Air Stream Caravans – Big Sovereign and Small Bambi
These retro beauties offer a vintage stay with a blend of nostalgia and modern amenities.
Although compact in size, these caravans are equipped with a comfortable double bed, a kitchenette, and a cosy dining area. You get affordable luxury in a compact, portable package!
FYI: The caravans use the camp's shared bathroom facilities.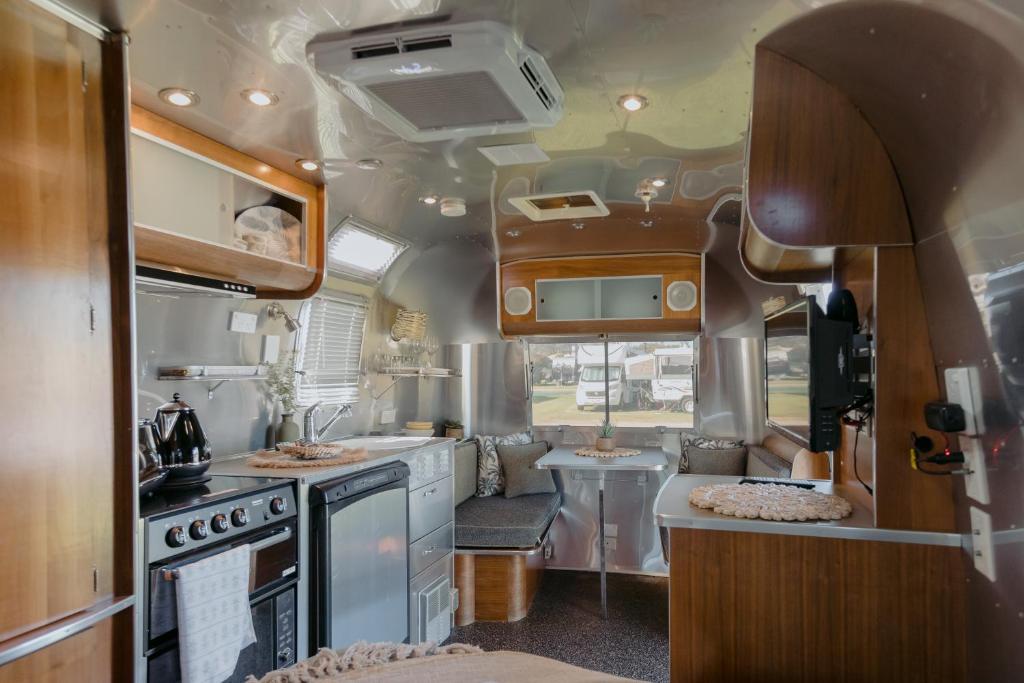 Good to Know
Free WIFI, TV, and streaming service
Air-conditioning and heating
Outdoor dining and BBQ, under an awning
Towels and linen are included
---
Trip Resources
Compare car rental prices with Rentalcars and explore Maroochydore's beaches, and popular attractions Australia Zoo and Aussie World.
Cover-More Travel Insurance gives you peace of mind and extensive coverage for medical emergencies, trip cancellations, and lost luggage. Read more here.
---
Guest Review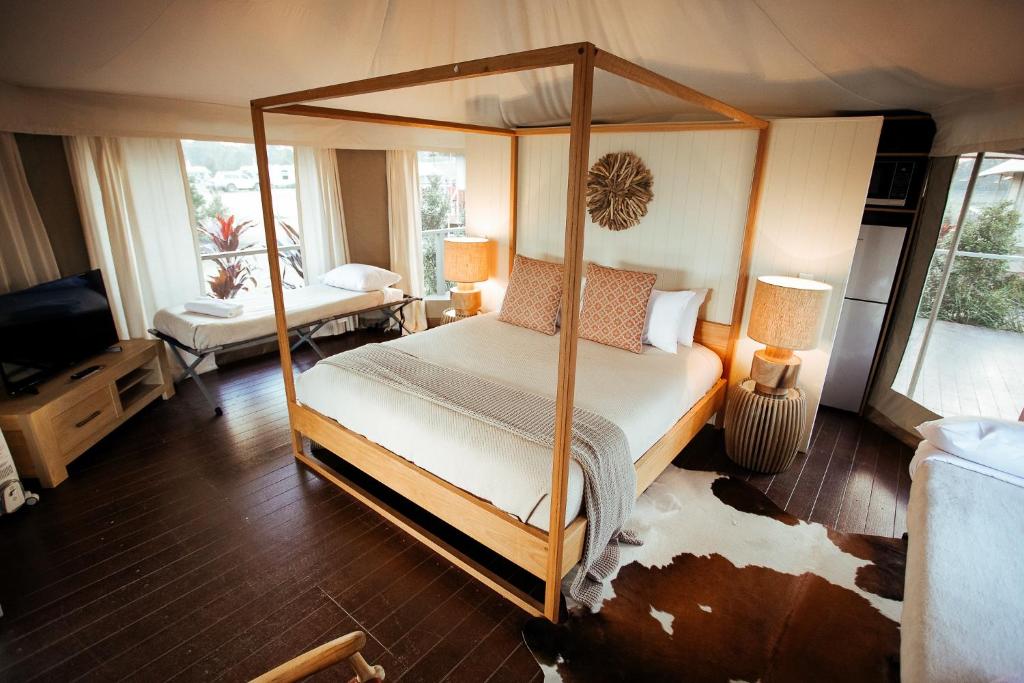 The Glamping Tent was absolutely gorgeous! I loved the spaciousness, the peace, the bird calls, and the friendliness of other guests. The cafe is easy to walk to, split level means you can sit under cover or next to the pool.
---
Amenities and Activities
The Driftwood Restaurant and Bar on-site is a popular eatery with pizza, burgers, and family-friendly food, live music, and happy hour. Look out for the nightly specials.
Heated swimming pools and water slides for all-year use
Bring your fishing gear and fish at the river
Mini-golf
Outdoor movies
Children's Play Area
Kayaks and Stand-Up Paddleboards
Fire pit at night for stargazing
Food trucks – visit occasionally
---
Wrapping Up – Ingenia Holidays Rivershore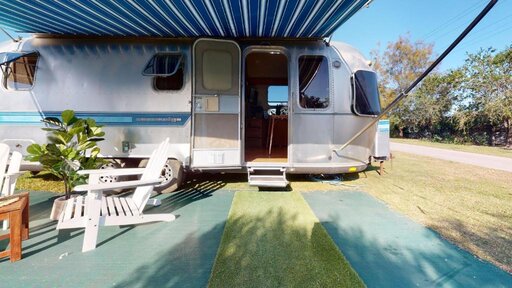 It's time to escape to a fun-filled holiday at Ingenia Holidays Rivershore. With a stylish safari tent or a classic airstream caravan as your home base, you're all set for a unique stay…in fact, it's a joyride sprinkled with comfort, adventure, and laughter. Can't wait to see you there!
---
SEE MORE UNIQUE PLACES TO STAY IN QUEENSLAND