With something for everyone, this list of Northern Rivers Holiday Accommodation is a dreamy selection of unique and eco places to stay in Byron Bay's Hinterland and near World Heritage Listed Nightcap National Park. Discover rainforest retreats, an amazing world-class spa, a converted Byron Bay bus, an exotic Balinese Villa, and more hidden gems. All set within stunning rainforest locales…
Location: Byron Bay Hinterland | Northern Rivers | New South Wales | Australia
Accommodation Type: Eco-friendly and Organic | Conversions | Boutique and Spa
Unique Places to Stay in the Byron Bay Hinterland:
1. The Byron Bus (close to town) – Quirky and Cosy
Ewingsdale | Up to 4 Guests | $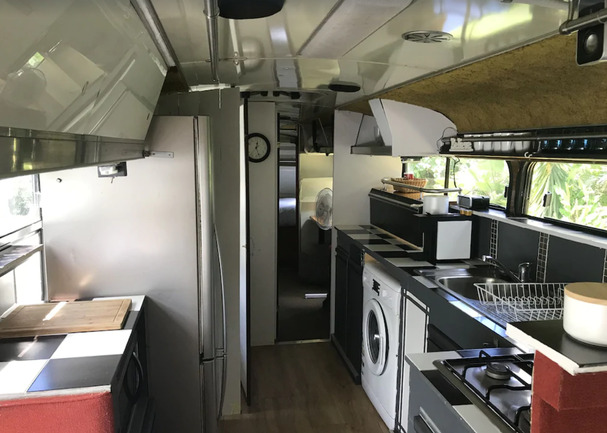 Best for: Farm Stay, Fully Equipped, Near Byron Bay, Hot Tub
Location:
Overview:
Why stay in a hotel when you can book into the cool Byron Bus equipped with everything you need for a stay in Byron Bay's beautiful Hinterland. This cool bus is located on a scenic rural property with walks, amazing views and only 8kms to Byron Bay and the markets, festivals, shops, restaurants, and parties!
Set up like a tiny home you can cook at home with a fully-equipped kitchen. Read a book on the comfy sofa, and enjoy privacy in either of the two bedrooms with bedding for four guests, all linen. The bus has air-conditioning, WIFI, TV, BBQ, private outdoor shower, and (yay!) an outdoor hot tub. Continental breakfast is included each day.
Great location to everything but with the peace & beauty of the country.

Guest comment by Joseph
Good to Know:
---
2. Sanctuary in the Pocket: Stunning Balinese Inspired Cottage with Pool & Spa
The Pocket | Up to 4 guests | $$$$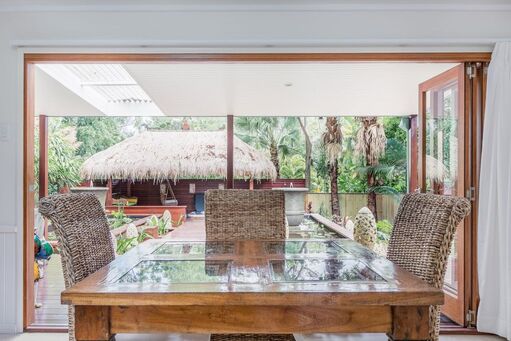 Best for: Private Luxury Villa, Lush Gardens, Modern Kitchen, Peaceful
The Location:
Spacious and gracefully furnished, this luxurious villa is designed in a modern Balinese style. Sanctuary in the Pocket is set in a fenced five acre tropical garden with a large pool and spa, you can unwind and bliss out indoors in the sophisticated interiors or outdoors in the gorgeous exotic oasis. With plenty of space the villa is the perfect venue for weddings, honeymoons, romantic interludes, peaceful retreats, and festival accommodation.
The villa has two bedrooms. You'll love the main bedroom with gorgeous Egyptian linen on the queen-size pillow-top bed, a private courtyard and an inside/outside bathroom with a magnificent Balinese stone bath. The second bathroom includes two pillow-top single beds and an en-suite.
True hidden paradise! This was one of the most peaceful stays where you can sit for hours and just relax. Loved it!

Comment by Emma
The lounge and spacious kitchen lead out to the large deck with outdoor seating and dining surrounded by Balinese-style landscaping. The daybed and swinging seat are under the gazebo looking out at the lovely pool and 5-person spa pool.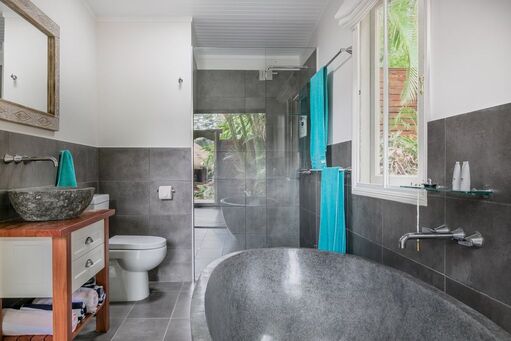 If you can drag yourself away from this idyllic villa then you're near Brunswick Heads for beach life, a swim at Torakina Beach, a visit to alternative Mullumbimby for village life and the farmer's market, and a hike around Mount Warning.
Take a Tour:
Good to Know:
---
3. Blackbird Luxury Accommodation – Views and Pool
---
4. Gaia Retreat and Spa – Peace and Serenity
Brooklet | Suites and Villas for up to 4 Guests | $$$$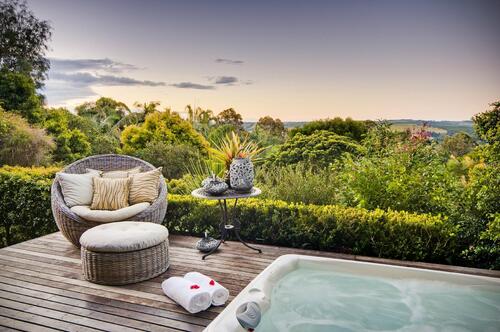 Best for: Beautiful Vistas, Serene, De-Stress, Life Changing, Yoga, Personalised Spa Treatments
Location:
Rebalance and Restore:
This world-renowned luxury health spa stands on the highest point of Bandjalung Shire in the Byron Bay Hinterland. Owned by Olivia Newton-John and friends, Gaia Retreat and Spa offers luxurious retreat style bungalows, healthful organic food, amazing spa treatments, personal trainers, yoga studio, swimming pool and private jacuzzies.
Set on 25 acres of tranquil countryside and landscaped gardens, this award-winning retreat is a magical placed designed to heal body and soul. Ideal if you want to detox, get fit, de-stress, boost your health, lose weight, refresh your spirit, or simply need a peaceful and serene escape.
Good to Know:
---
Northern Rivers Holiday Accommodation Near Nightcap – Wollumbin National Park:
5. Nightcap Ridge – Rainforest Retreat
Dorroughby | Up to 4 Guests | $$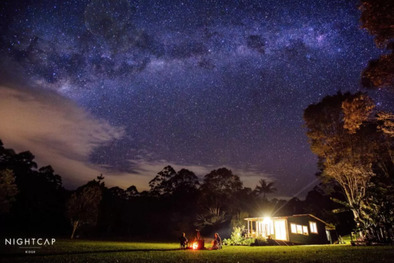 Best for: Stargazing, Firepit, Rainforest Hideaway, Wildlife
Location:
Gorgeous Cottages:
Nestled within 67 acres of private conservation rainforest Nightcap Ridge is a peaceful and ecological retreat where you can chill out and slow down.
Set within World Heritage Listed Nightcap National Park and Minyon Falls, Nightcap Ridge is a collection of off-grid cottages with one or two bedrooms for up to four guests. Each cottage is solar-powered with spring-fed water from the creek, French doors that open out to the deck, an indoor slow-combustion fuel stove for cosy evenings, and a lovely clawfoot bath for soothing contemplation. No internet so you can literally switch off from the world, and enjoy the books, games, cards, outdoor campfire (don't forget marshmallows!), and starry nights.
The stylish cottages are self-catering, the owners supply eggs, milk, and bread, but for everything else visit the fab delis and local shops in the nearby villages and stock up before you arrive at Nightcap Ridge. The kitchen is fully equipped with a stove, oven, fridge, and crockery and cutlery. You can cook outdoors on the BBQ too.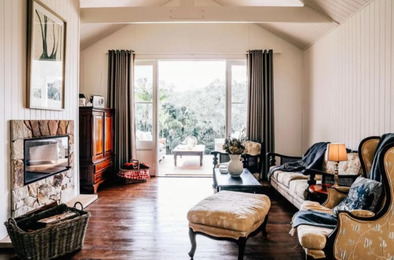 Nightcap Ridge is 350 metres above sea level and temperatures are cooler than at sea-level so bring a warm jacket for cooler evenings.
A walkers paradise, explore the ancient forest around you and discover water holes, lily ponds, swim in the creek and dams, and discover native flora and fauna. You might see Bower Birds, Owls, Swamp Wallaby, Goanna, Little Bent Wing Bats, Koala and many more.
The location whilst luxuriously remote is also close enough to go out during the day and enjoy some of the lovely local towns like Bangalow, Newrybar and Eureka for great local cafes and shops.

Comment by Avril
Good to Know:
---
6. Frog Hollow Luxury Lake House – Yoga at the Lake
Lillian Rock | Up to 2 Guests | $$$$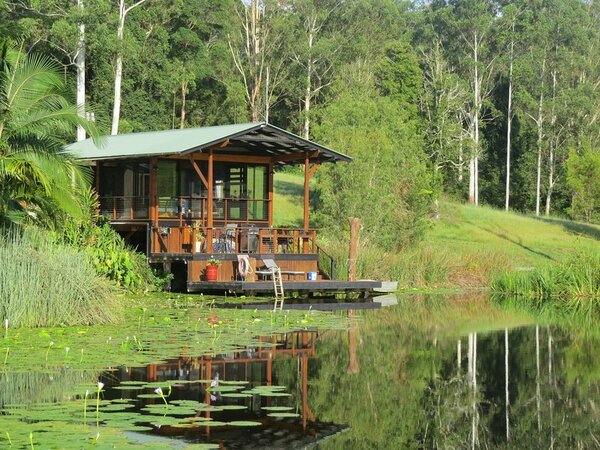 Best for: Your Own Private Lake, Jacuzzi, Massage, Kayaking
Location:
A Peaceful Sanctuary:
Frog Hollow Lake House is a luxury and romantic retreat set on a private lake in a park-like forest setting. Savor the indoor and outdoor spacious spaces with large king bedroom and wood-burning fireplace, Lounge, fully-equipped kitchen and a lakefront deck. From here you can fish or kayak on the lilypond lake. At the end of the day enjoy a glass of champagne in the covered jacuzzi with views across the lake to mountains beyond and starry skies.
This Northern Rivers holiday accommodation is a stunning spot designed to seduce guests with the luxurious interiors and the peace and natural beauty of the rustic surrounds.
Good to Know:
---
7. 'Black Sheep Farm' Guest House Nimbin
Nimbin | Up to 5 Guests | $$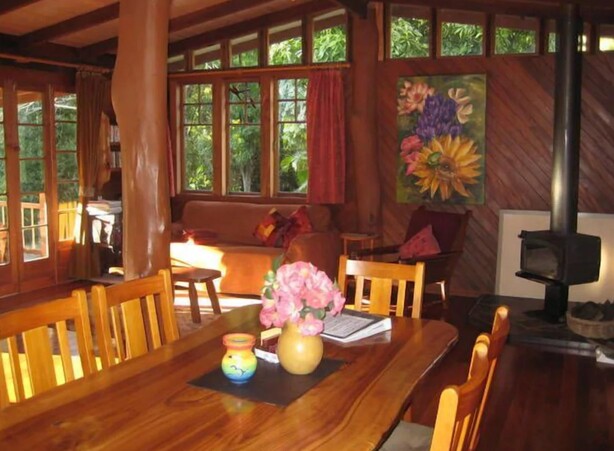 Best for: Star Gazing, Peaceful, Child-friendly, Swimming Pool
Set on 30 acres of bush, this handcrafted wooden cottage is a rainforest hideaway. Less than 1km to Nightcap National Park, you're sure to see local wildlife and birds. Watch out for wallabies!
The cottage is only 6kms to Nimbin for supplies, cafes, and shopping. There are 3 beds – a queen bed, bunk beds, and a single bed. Fully-equipped kitchen, lounge with fireplace, and deck with a fireplace for cooler nights.
Good to Know:
---
List of Things to Do in the Northern Rivers Region
The Northern Rivers in New South Wales is a region rich in culture and nature. Named for the three rivers of Tweed, Richmond and Clarence the area encompasses cool Byron Bay and white sandy beaches in the east to charming inland villages and Rainforest Parks:
---
Hire a Jucy Car for your Next Adventure:
---
SEE MORE AUSTRALIAN UNIQUE PLACES TO STAY: