This list of Quirky and Boutique Accommodation Southern Highlands includes the best of unique stays, boutique glamping yurts, chic hotels, heritage buildings, and even castles in this historic and beautiful part of New South Wales.
Australia's Southern Highlands form part of the great western wildlife corridor with some of the most extraordinary and unique wildlife as well as spectacular landscapes. Hiking trails lead you through stunning vistas of cascading waterfalls over cliffsides, as well as being a great place to spot koalas, kangaroos, platypus, and echidnas.
It's also the heart of wine country and is scattered with vineyards, golf courses, cafes, award-winning restaurants, galleries, and boutique shops for fun and exciting adventures away.
Location: Southern Highlands | New South Wales | Australia
Accommodation Type: Glamping and Yurts | Heritage | Boutique and Spa
Bookings to: Stayz, Booking.com and VRBO
1. Charming Converted Country Stable on a 120-acre Horse Property – Moss Vale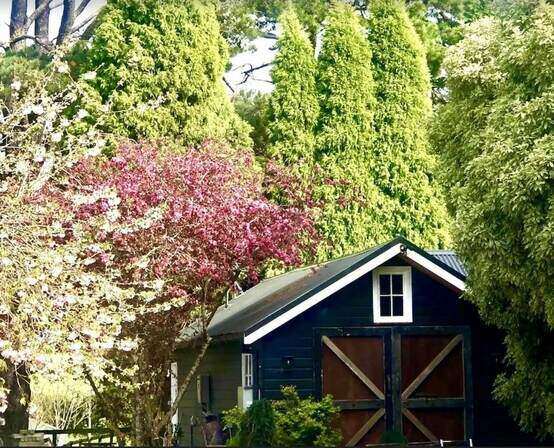 Best for: Converted Stable Holiday Home, Fire Pit, Horseriding, Hiking, Wineries, Up to 4 Guests
Enjoy horse riding? Then this is the place for you – country stables converted into high-end accommodation with designer touches, art, and a super cosy log fireplace.
Stay put and you'll likely be welcomed into the snuggly warm stables for a meet and greet and a ride. If you're not into horses, that's okay too, just enjoy the presence of these gentle creatures in the paddocks around the property.
There are plenty of other activities to try. You could go for a hike in the nearby Cecil Hopkins Nature Reserve and the Wombat Trail, or mountain bike at Meryla State Forest. In summer don't miss a swim at the Meryla water hole at Gunrock Creek Falls. Any time of the year explore the local Southern Highland villages and local vineyards.
Local Wineries: Mt Ashby, St Maurs, Artemis, Centennial, and Dawning Day
After spending a day burning calories (and supping wine), you can relax around the fire pit and star gaze. The options are endless, and you're sure to make memories that last a lifetime.
Review: So welcoming on arrival, warm, and music playing.. such a thoughtful touch. The coffee machine, well-equipped kitchen, bathtub, great shower, and open fire were spot on for a relaxing weekend
Good to Know:
---
2. Ionaforest Yurt and Shepards Hut – Wingello
Best for: Yurt and Shepards Hut, wildlife, nature, hiking, motor cross, wine tasting, golf, Up to 4 Guests
Nestled in the Southern Highlands, Ionaforest Yurt and Shepards Hut is a bespoke, magical experience of total immersion in the surrounding landscape of the Southern Highlands.
Kick back in the comfort of this spacious 1-bedroom Yurt and 1-bedroom Shepard's Hut, with gardens, horse stables, friendly dogs, and abundant birdlife right at your doorstep.
The BBQ area includes a wood-fired pizza oven and is the perfect place for relaxing and entertaining in the lush garden setting.
Nearby hiking trails to incredible waterfalls around Morton National Park make this the perfect combination of outdoor adventures while also a short drive to the award-winning restaurants, cafes, wineries, and boutique shops and cafes of Exeter, Bundanoon, and Bowral.
And you will even be greeted with a welcome basket and chilled champagne in the refrigerator.
Good to Know
---
3. Unique Southern Highlands Yurt Accommodation – Bowral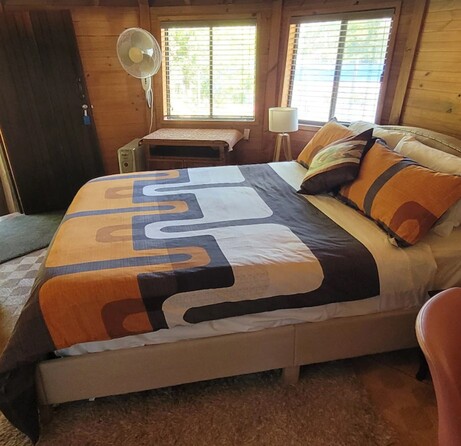 Best for: Holiday Yurt, Gazebo Dining, BBQ, Garden Setting, Bowral Golf Course, Wine Tasting, cafés, and restaurants, For 2 Guests
This unique hideaway offers the perfect place for couples wanting to relax and recharge in comfort and charm. Due to the Yurt's ideal location in the centre of Balmoral, you can stroll to nearby buzzing cafes, award-winning restaurants, boutique shops, and museums. If you want to explore further afield, how about wine tasting at superb local wineries?
Review: The yuca was super cute & unique. We gave it the name "hobbit home" due to its low ceiling doors, rustic, old-school furniture, and compact space.
The yurt is also close to hiking trails and waterfalls in the surrounding Bangadilly National Park.
Good to Know:
---
Compare Car Hire Prices at Rentalcars:
---
4. Osborn House – Bundanoon
Best for: 5-Star Chic Hotel, Spa, Sauna, Fitness Centre, Indoor Pool, Tennis, Fire Pit, Bar, For up to 2 Guests
Beautifully designed with a twist of art nouveau and modern this glamorous hotel is a sight for sore eyes! At this stunning Southern Highlands accommodation guests love the style, the cocktails, the art, and the wellness services.
Originally built in 1892, today Osborn House features luxury guest suites with garden views, ornate furnishings, and marble bathrooms. What a treat!
---
5. Sauna Haus with Scandinavian design – Bowral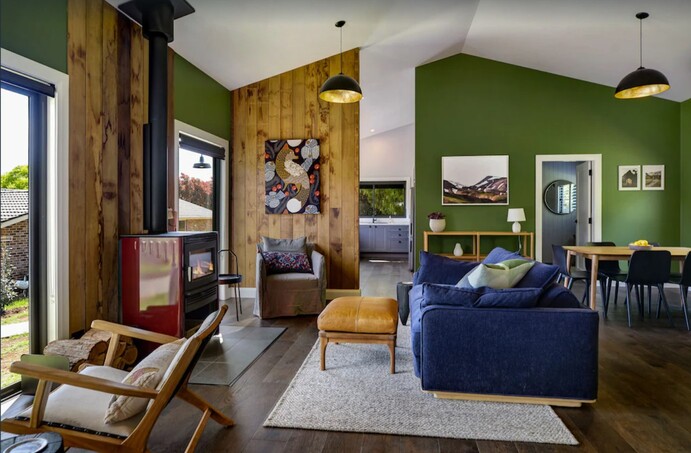 Best for: Nordic Holiday Home, Infrared Sauna, Bespoke Picnic Hamper, Dog-friendly, Kayaking, Hiking, Up to 4 Guests
The Sauna Haus offers a secluded, Scandinavian-designed, and wooden-clad sauna retreat. Flooded with light and a peaceful Nordic vibe, this idyllic hideaway is perfect for couples or small groups who want some time out to recharge in the infrared sauna while also enjoying the many attractions of the area.
Sauna Haus is a place to get away from it all, slow down, and never want to leave. Be sure to plan for a bespoke picnic hamper to enjoy the vast landscapes of the local area.
Good to Know at this Quirky and Boutique Southern Highlands Accommodation NSW
---
6. The Pill Factory – Bundanoon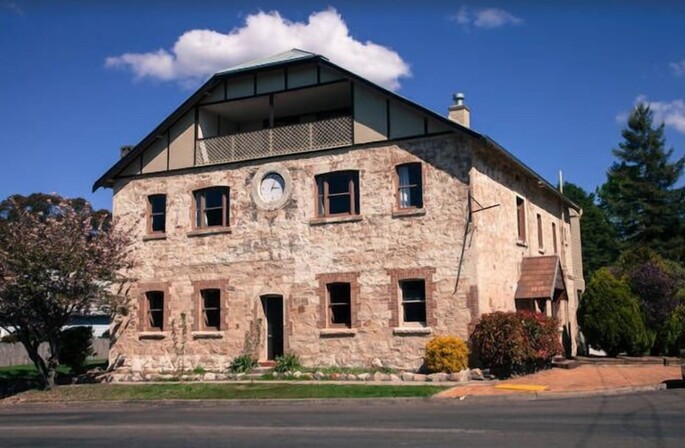 Best For: Historical Turn of the Century Architecture, Dog-friendly, Entertaining, Up to 36 Guests
The Pill Factory is a historic, sandstone factory that is lovingly restored to a party house like no other.
This is a timeless, unique space for large families and groups to gather, connect and have fun. With 14 bedrooms that pay homage to turn-of-the-century interior décor, it sleeps up to 36 people.
The 6 quirky living areas are spread throughout the building and include an attic space and games room where you can chill out and watch videos or play games and also an outdoor firepit, bar, and several lounges.
Good to know
---
Travel Resources
---
7. The Nunnery Boutique Hotel – Mossvale
Best For: 5-Star Hotel, Full Breakfast, Gardens, Hiking, Suites for 2 Guests
The Nunnery Boutique Hotel is a stunning, turn-of-the-century getaway, offering double ensuite rooms in a quiet and peaceful setting. There is plenty of space to wander through the peaceful gardens after a delicious breakfast in the conservatory.
A quick drive to Moss Vale's village centre with its antique shops, galleries, and restaurants also takes in wider outdoor bushwalks that are not far away, including the Mossvale Historic Walk.
Review: Lovely large room and ensuite. Bed was super comfortable. The breakfast room was warm with the log fire going in the morning. Breakfast was also excellent.
Good to Know
---
8. Old Bank Boutique Hotel – Mittagong
Best For: Luxury Hotel, Spacious Rooms, Central Location, Close to Galleries and Heritage Train Station, Suites for 2 Guests, Cottage for 4 Guests
Country charm is on show at this lovingly restored historical building that used to be a bank. Situated in the heart of Mittagong, the spacious, luxury rooms, library, bistro, and friendly staff make the Old Bank Boutique Hotel the perfect quirky getaway that you'll want to return to again.
Good to Know at this Boutique Accommodation in the Southern Highlands NSW
---
9. The Castle – Robertson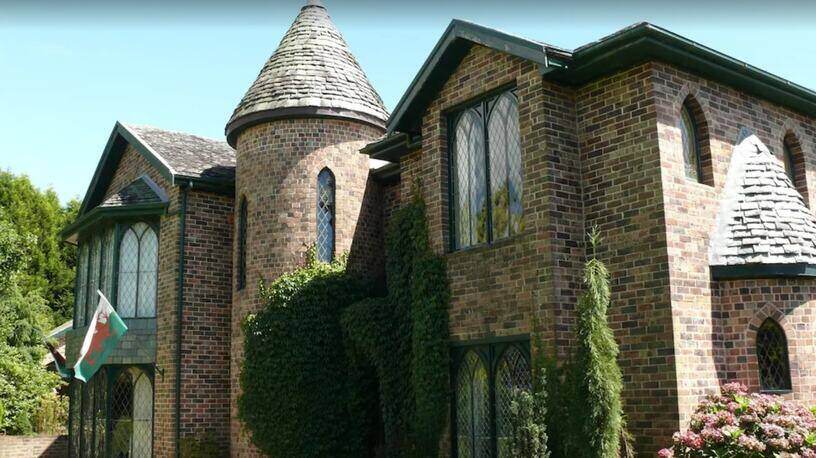 Best For: Luxury B&B, Vintage Décor, Gardens, Breakfast, Near Illawarra Fly Treetops, Waterfall Hikes
The Robertson Castle is a venerated Irish-style castle, set on a two-acre lush oasis. Steeped in history and with meticulous attention to detail, this bewitching, luxury accommodation is a bejeweled taste of vintage decadence.
The two luxury-style rooms offer sumptuous period furniture and décor that are hard to match. You can stroll through the surrounding, breathtaking gardens while also being close to the many attractions of the area.
Good to Know
---
Travel Essentials
---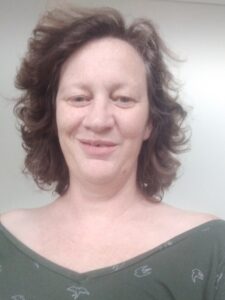 Robyn Yuwell is the author of Sonic Dissonance – the Music and Life of Composer Yudane. An avid traveller and writer, Robyn lives in a tiny house surrounded by bush in Wellington, New Zealand. Her research and publications focus on travel, art, culture, health, and educational content.
---
Hope you've enjoyed this List of Quirky and Boutique Accommodation Southern Highlands NSW. For more unique places to stay in Australia…