This list of remote, eco-friendly hideaways, offers visceral views of the Australian bush and mountains in the distance, combined with a comfortable stay in style. The versatility and quirky charm of these Kangaroo Valley Tiny Homes makes them the perfect bolthole far from the bustle of life.
You'll love the serene and secluded beauty of Kangaroo Valley in the Southern Highlands of New South Wales. Close to nature reserves, waterfall hikes, tranquil rivers, lookouts, Morton National Park as well as the unique wildlife of the area. Look out for kangaroos, wallabies, possums, wombats, birdlife, water dragons, and turtles. A tiny home holiday brings you closer to nature and a chance to rest and rejuvenate within this unique slice of paradise.
Type of Accommodation: Tiny House
Destination: Southern Highlands | New South Wales | Australia
Price Range: Cabin/Hostel $ | Budget $$ | Mid-range $$$ | Luxury $$$$ | Super Luxe $$$$+
1. Stella Tiny House, Barrengarry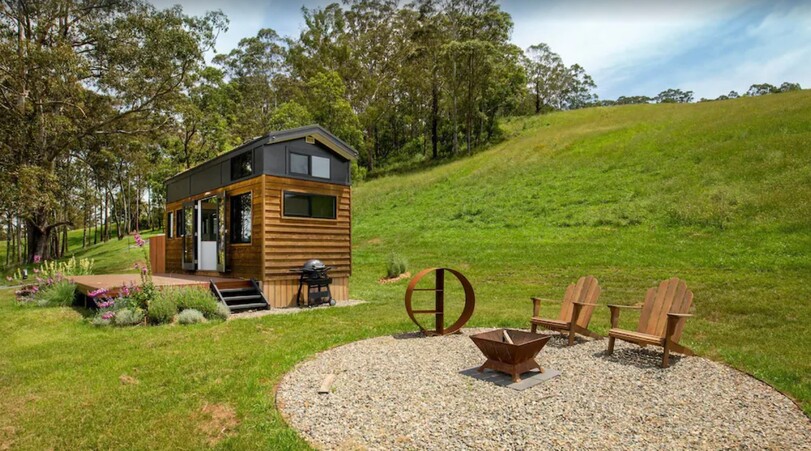 Best for: Expansive Views, Firepit, Combustion Fireplace inside, 2 Guests, $$$
From the moment you open your eyes and step out of the front door of Stella Tiny House, you are greeted with spectacular views of flower meadows and bush.
Situated on a serene, tranquil hilltop, this quirky tiny house is the perfect hideaway surrounded by nature, wildlife, and bird song. The glass doors open out to a deck with pristine landscaping, a Weber BBQ and firepit to enjoy the outdoors and starry nights. Indoors the stylish interiors include a kitchen, seating and dining, bathroom, and a queen-size bed facing that view!
Review: Perfect place to get away and relax
Good to Know:
---
2. Burroo Tiny House, Barrengarry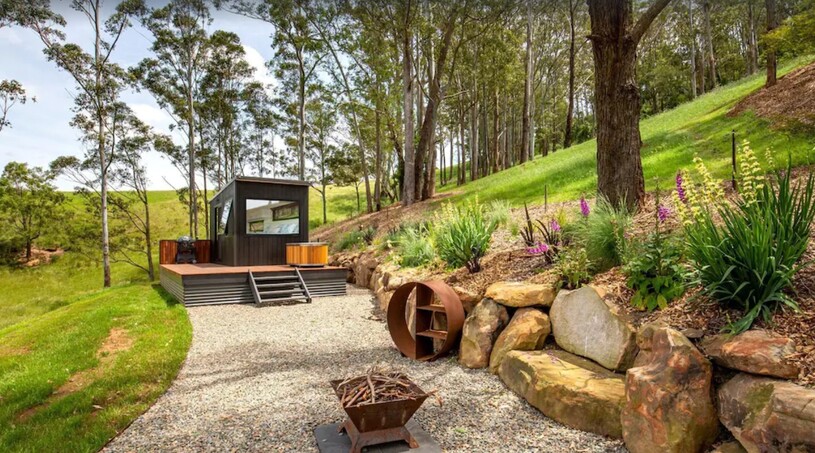 Best for: Spectacular Views, Outdoor Bath, Fire Pit, Close to Waterfalls, Nature Reserves, Lookouts, 2 Guests $$$
On the same property as Stella but 200 metres away, this cosy, quirky tiny home packs a lot into this stylish studio space. Book one tiny house or bring friends and book them both!
At Burro Tiny House you have a fully equipped kitchenette, shower, outdoor bath, and a washing machine giving you all the comforts of home. Beautifully landscaped with Australian bush, wildflowers, and stone walls dotted around this tiny house. Wall-to-wall windows allow you to lie in bed in the mornings and take in the stunning surrounding scenery without even leaving your bed!
Review: An amazing little retreat in the woods
Good to Know
---
3. Gumnut Tiny House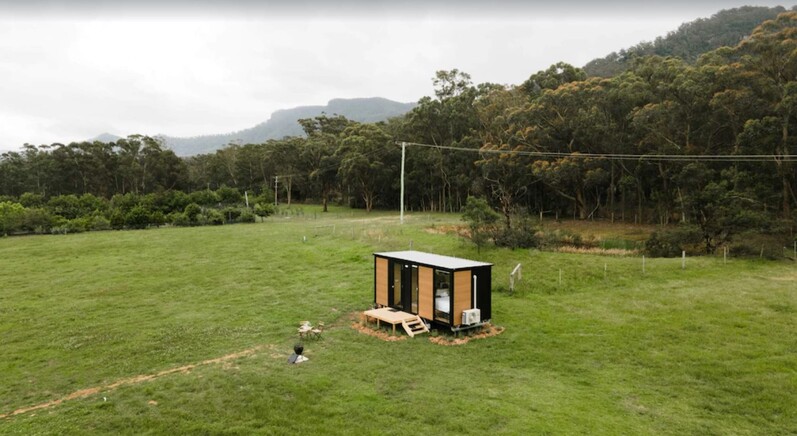 Best for: Close-up View of Australian Rainforests, Kangaroos, Outdoor Firepit, 2 Guests, $$
Set in a wide-open field with a nearby dam, Gumnut Tiny House is set in the heart of stunning Australian rainforests and woodlands. Far away from it all, this secluded and private spot makes you feel like you've entered another world while being only a 5-minute drive to the local pubs, café, and bakery in the bustling centre of Kangaroo township.
This is an escape trip into the lush rainforest on a working farm where farm life merges with the wildlife of the area that includes wallabies, kangaroos, and wombats.
Good to Know:
---
Travel Resources for Kangaroo Valley Tiny Homes:
---
4. Banksia Designer Tiny House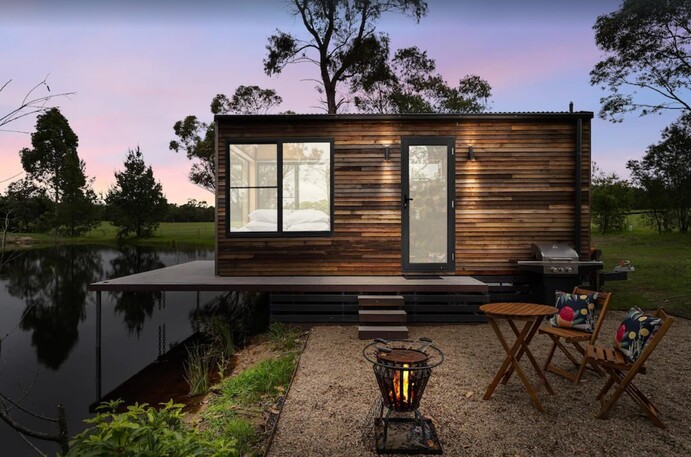 Best For: Bespoke, Designer, Dam Outlook, Outdoor Antique Bath, Fire Pit, Pet Friendly, 2 Guests, $$$
Tucked away on a patch of rainforest by a small lake in Kangaroo valley, Banksia Tiny House is a luxury bolthole that juxtaposes slick, modern design with an enchanting rainforest view.
This bespoke, woodclad tiny house creates personality, style and warmth throughout this tiny studio and shows what can be done with a small space. The natural wood finishing and attention to detail brings a touch of glamour to this remote, luxury getaway.
Flooded with light and large windows looking out onto the surrounding rain forest and dam, and includes an outdoor bath and a wide deck that stretches out over water and creates a reflective and dream like quality.
Good to Know
---
5. Pindari Tiny House
Best for: Eco Friendly, Off-Grid, Verandah, Morton National Park, 2 Guests, $$$
Set in 45 acres of rainforest and bushland, this remote and secluded studio space immerses you in the surrounding rainforest. Pindari Tiny House has a wide, alfresco style verandah with a dining table for entertaining, that looks over a dam while taking in exquisite views of Mount Scanzi.
Total seclusion and remoteness in the off grid getaway offers a touch of glamour in this magical retreat from the rest of the world. You're close to Morton National Park with wildlife that includes wallabies, possums, kangaroos, wombats, birdlife, water dragons and turtles.
This luxurious and cool tiny house packs in a lot for a small space.
Good to Know – Kangaroo Valley Tiny Homes
---
Choose a Tour
Think of a GetYourGuide Tour as a personal travel advisor that helps you save time, money, and stress by narrowing down your options before committing to a destination! See what's on offer:
---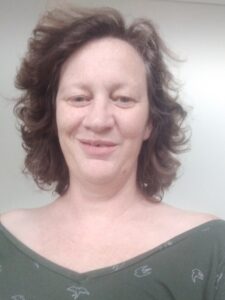 Robyn Yuwell is the author of Sonic Dissonance – the Music and Life of Composer Yudane. An avid traveller and writer, Robyn lives in a tiny house surrounded by bush in Wellington, New Zealand. Her research and publications focus on travel, art, culture, health and educational content.
---
SEE MORE