This list is oozing with heritage cottages, cool conversions from barns, to potting sheds, and even a bijoux tiny home cottage. We've got you covered for unique cottage accommodation Southern Highlands NSW – a delightful region full of historic charm and character…
Type of Accommodation: Heritage | Tiny House | Conversions
Destination: Southern Highlands | New South Wales | Australia
Price Range: Cabin/Hostel $ | Budget $$ | Mid-range $$$ | Luxury $$$$ | Super Luxe $$$$+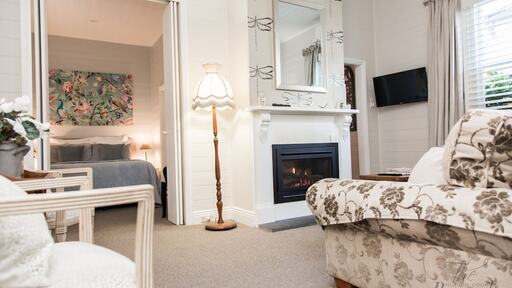 Best for: Stylish Holiday Home, Pet Friendly, Kitchen, Up to 4 Guests $$$
Chic with a capital C! This enchanting 100-year-old cottage is lovingly restored with stylish Provence-style interiors, for a romantic weekend away or a fun escape for four guests. Hidden Cottage is only a 50-metre stroll to the centre of Bowral where you'll discover divine restaurants, boutiques, spas, museums, cafés, stunning parks, country markets, and 'oh la la' vineyards.
Good to Know:
---
2. The Potting Shed at Bunya House – Bowral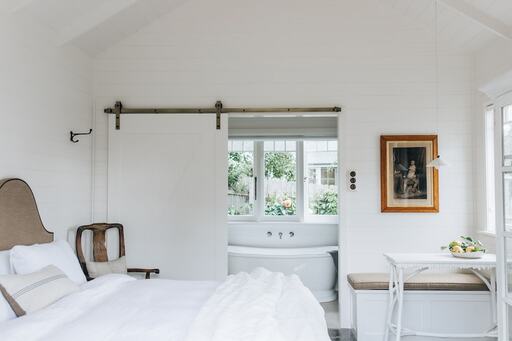 Best for: Delightful Small Cottage, Designer Garden, Breakfast, Verandah, Up to 2 Guests, $$$
Who woulda thought? A Potting Shed transformed into a beautiful cottage with everything you need for a comfortable stay, and so nice for a romantic weekend away.
The king bed can be split into two single beds if you're travelling with a friend. The little cottage also includes a kitchenette, a bathroom with a free-standing bath, and a private patio with views of the designer garden, perfect for photos.
In the sitting room relax in front of the large flat-screen TV or immerse yourself in a book from the library. Outside the Potting Shed is a perfect spot for an evening drink while the sun sets.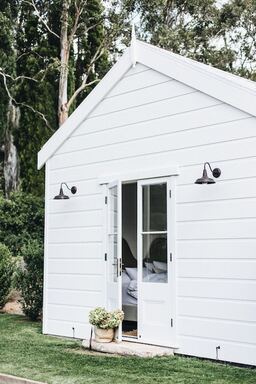 Review: Spotless, comfortable, charming, English country style & unique. Attention to detail is immaculate!
Good to Know:
---
Things to Do in Bowral
---
3. Eridge Lodge Heritage Cottage – Burradoo
Best for: Gothic Gate Lodge, Luxury, Spacious, Up to 10 Guests, $$$
Step back in time at this 1880s gothic grand cottage with historic touches (check out the tiny door), and now modernised with luxury comforts. Eridge Lodge can comfortably fit three couples or a larger group of 10.
The cottage is in a peaceful location near Moidart Gardens and Hartzer Park Monastery.
Review: The location was a short drive to downtown Bowral for food and drinks. The property has lots of grass for kids to run around and kick a ball. The house is very spacious with plenty of beds and bathrooms.
Good to Know
---
Travel Essentials
---
4. Rose Cottage – Bowral Southern Highlands
Review: Cosy, clean, comfortable cottage. The fireplace and heating were great, beds were comfortable. Had a well-equipped kitchen, and a heap of books to choose from if you need something to read. Short drive to Bowral. Overall, a lovely place to stay.
---
5. Picturesque and Secure Barn – Burradoo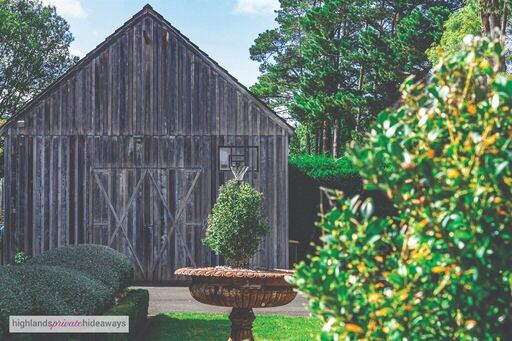 Good to Know: Modern Converted Barn, Stylish Interiors, Near Bowral, 2 Guests, $$
Looking for a charming country retreat? This unique garden Barn has been converted from an old farm building into a thing of beauty!
With open-plan living, French Style furnishings, a modern white kitchen, and beautiful bird-filled gardens, this is a gorgeous escape from the daily grind.
Bowral is 4kms away for high tea at Dirty Jane's, wine tasting at the Mill and Centennial Vineyards, feel creatively inspired at the Milk Factory and Bowral Art Galleries, and take a tour of historic Retford Park.
Review: A very beautiful romantic and different getaway. It was lovely to be a short distance from central town in a very lovely country modern barn setting. Very clean.
Good to Know
---
Check Flights at Wayaway for discounts and cashback:
---
6. Crabtree Cottage – Berrima
Best for: Luxury Cottage, Art and Design, Walk to Berrima Village, Fire Pit, BBQ, Up to 4 Guests, $$$$
Highly rated by guests this delightful heritage stone cottage wows with its attention to detail and contemporary interiors. The expansive verandah is an ideal spot for a cup of tea and a calming contemplation of life.
On the old Hume Highway between Sydney and Canberra, Berrima is a historic village with oodles of historic sites, and countryside walks.
Things to Do: Bendooley Estate Winery, Joadja Vineyard, Berrima River Walk, Harper's Mansion, and Berrima Courthouse.
Review: This place is AMAZING! Loved the "secret gardens", absolutely beautiful."
Good to Know:
---
7. Foxglove Cottage Tiny House – Robertson
Best for: Farm Tiny House, Brook, Kitchen, BBQ, Outdoor Cinema, Up to 3 Guests, $$
This stylish tiny house has an upstairs bedroom so you have more living space downstairs. On sunny days you can sit outside around the fire pit and enjoy country living 'tiny-style'.
You're not miles away in a paddock, you're smack bang in the middle of the farm so you'll hear the animals go about their everyday lives!
If you're horsey then you'll enjoy meeting the resident horses. You're on the banks of Missingham Creek which has swimming holes for summer cool-offs. Bring a warm jacket – this tiny house is at a higher elevation so the temperatures are cooler.
Review; The tiny cottage didn't feel small for two people at all. It was clean and had everything we needed.
Good to Know
---
8. Relax to the Sounds of the Creek and Birdlife in the rainforest at Jamberoo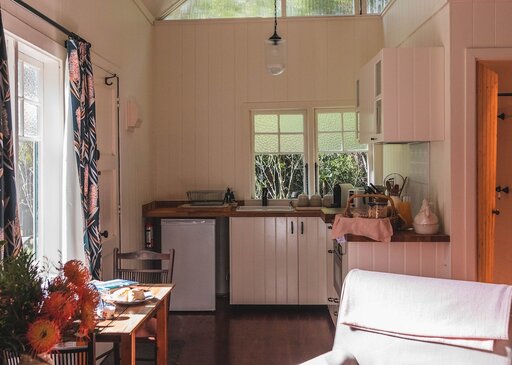 Best for: Breakfast, Rainforest, Creek, Weber BBQ, Minnamurra Falls National Park, Affordable, Up to 2 Guests, $$
Couldn't leave this cottage off the list because it's so authentic you'll feel like you're time travelling to the early settler days. Although it was actually built in 1980!
This small, affordable cottage, near the Minnamurra River, has a weathered wood exterior, with a deck, dining set, and Weber BBQ surrounded by 2 acres of lush rainforest. The interiors are lovingly handcrafted with a modern kitchen, Nespresso, stove, and oven, with open plan dining and lounge, and a mezzanine bedroom.
You're welcomed with a delicious breakfast of fresh eggs (from the local friendly chickens you're sure to meet!), home-baked bread, yoghurt, jams, fruit juice, and fresh fruit.
Review: We had a fantastic stay at the cottage! The creek behind the cottage was gorgeous and it was so relaxing falling asleep to the creek sounds.
Good to Know at this Unique Cottage Accommodation Southern Highlands NSW:
---