New South Wales is home to some of the world's most diverse and spectacular rainforests. The state has 98% of Australia's temperate rainforest, which means there are few places left on our planet quite like it.
If you love unspoilt forests, pristine rivers, and abundant wildlife, then a New South Wales rainforest getaway is the perfect place for you to unwind after a hectic and exhausting work schedule.
Here's a Guide to Exquisite Rainforest Retreats NSW in the north of the state. These natural wonders are accessible year-round and offer visitors a variety of eco-friendly activities that will leave you feeling refreshed and rejuvenated.
1. Crystalbrook Byron – Wellness Resort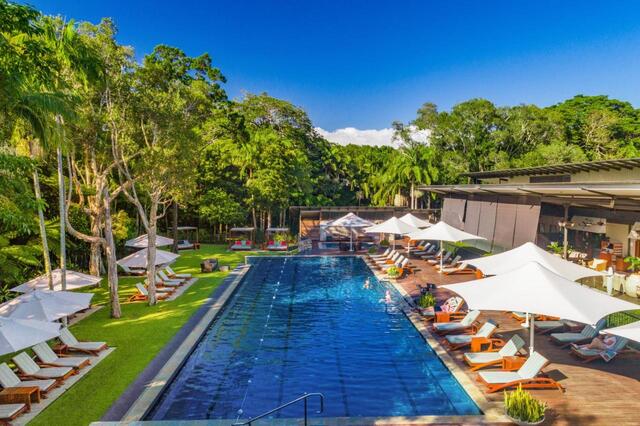 Suffolk Park. This resort is an oasis of calm in the rainforest near Tallow Beach, and only a 10-minute drive to Byron Bay. Indulge yourself with daily yoga, spa treatments, guided forest walks, and delectable dining at the resort's restaurant.
Regularly featured as one of Australia's top 10 luxury resorts, Crystalbrook is a haven for romance seekers and those looking for healing and serenity. The exquisite suites offer breathtaking views of the rainforest and exceptional interiors. Choose from Rainforest Suites on the forest floor or Treetops Suites in the tree canopy.
An infinity pool, tennis courts, fitness centre, and a steam room are among the amenities offered at this tranquil retreat. Stay here for a luxurious and restorative holiday in Byron Bay. Book at Booking.com
---
2. Wollumbin Palms Rainforest Retreat – Lodge
Glen Warning. Adults-only. Arrive at the rainforest base of Mount Warning and enjoy a sense of serenity in paradise.
Choose from the yurt, temple, or cave-style cabins, each with a unique handcrafted design. You'll be welcomed with fresh flowers. The accommodation includes a fireplace, kitchen, hot tub, art, handmade furniture, and some cabins include an outdoor shower.
Within Wollumbin Palms Rainforest Retreat, you can explore the property's lush rainforests, creeks, and native palm groves. The property is home to a wide range of plant species including eucalyptus, mountain ash, and bloodwood trees, as well as many other types of native palms.
For your stay, fresh home-baked bread and chilled champagne are provided in addition to home-cooked meals. Escape reality at this calming destination with walks through the lush forest, a kayaking trip, and therapeutic spa treatments. Book at Booking.com
---
3. EcOasis – Lodge
Smiths Creek, Uki. Luxurious one and two-bedroom Chalets tucked into the rainforest, like treehouses, with floor-to-ceiling windows to enjoy the views.
Paradise on earth. Unbelievably peaceful – literally in the middle of the rainforest with nobody nearby. It's an outstanding place and the hosts are brilliant.

Happy Guest
Choose from Hidden Valley, Sunrise, Hideaway, Morning Mist, Spa, or Forest Chalets! Breakfast provisions are provided. Local walks and cute villages nearby. Book at Booking.com
---
4. La Rochér Eco Retreat – Luxury Bed & Breakfast
Stokers Siding. Adults-only. Private Luxury Villas in the rainforest "allow the therapy of nature to do its magic." Each villa is equipped with a double-sided fireplace, fully equipped kitchen, rainfall shower, deluxe king bed, and a deck overlooking Mt Warning and the distant Border Ranges.
Listen to the dawn calls of the tropical bird life. Chill out on a sun lounger, dive into the infinity pool and soothe your soul in the hot tub. A scrumptious Irish or English breakfast is provided each morning. Book at Booking.com
---
5. Byron Bay Rainforest Resort
Brokenhead Road. Byron Bay Rainforest Resort isn't your average hotel. Set in the natural beauty of the Northern Rivers region, it offers a unique retreat to those who want to get away from the stresses of everyday life, relax and rejuvenate.
Pet-friendly Accommodation:
This laid-back accommodation offers guests a chance to immerse themselves in nature and become one with the surroundings. The setting is perfect for anyone who wants a romantic getaway with that special someone, or if you're just looking to disconnect from the world with some friends, family, or your pets.
The cabins have amenities like air conditioning and a kitchenette with a refrigerator and tea kettle.
Guests can also enjoy a swim in the resort's heated pool or
Take a bush walk through the rainforest
All you have to do is pack your bags and get ready for a stay that will leave you feeling refreshed and relaxed. Book at Booking.com
---
6. Crystal Creek Rainforest Retreat – Lodge
Crystal Creek. Adult-only. Set in lush rainforest and surrounded by nature, the Crystal Creek Rainforest Retreat is the perfect getaway designed for romance and special occasions. Hammocks strung across beautiful brooks set the stage for relaxation.
Location – Luxury – Privacy:
The chalets and architecturally-designed lodges are luxuriously appointed so you can experience the wilderness without sacrificing any of the comforts of home.
This amazing lodge is bordered on three sides by world heritage-listed parks with views of the rainforest canopy, and 8 km of hiking trails. The seclusion of the retreat is great for couples looking to relax and enjoy some time together. Book at Booking.com
Take a Tour:
---
7. Mavis's Kitchen and Cabins – Hotel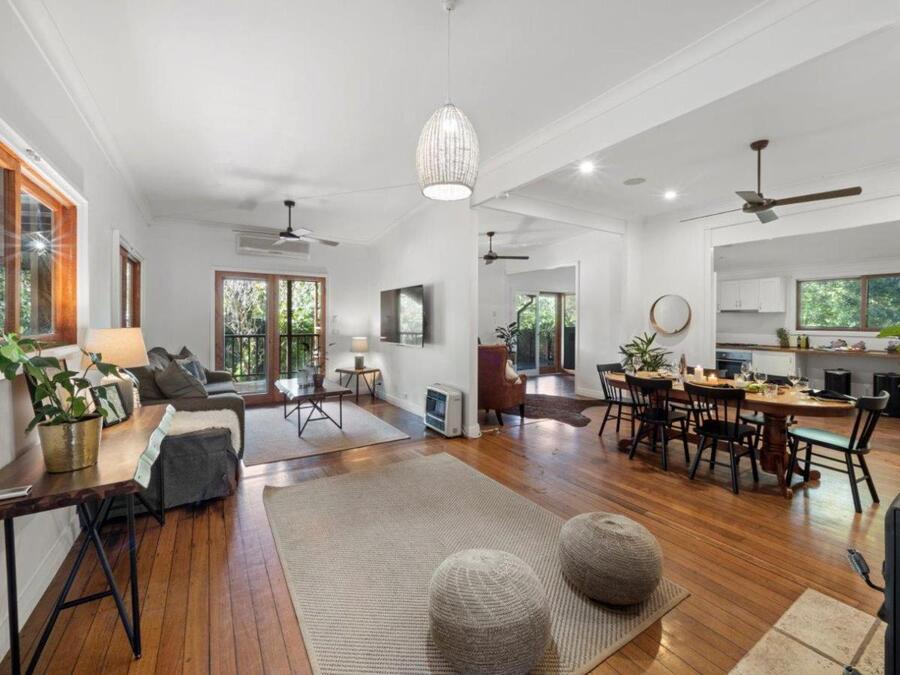 Uki, Tweed Valley. Are you looking for the perfect getaway that's also pet-friendly? Mavis's Kitchen and Cabins is just what you need! Escape to this serene location near Mount Warning and reconnect with nature. Mavis's Kitchen is a well-known and loved restaurant in the Tweed Valley.
Rustic cottages reveal contemporary designer interiors, special touches and luxury linens. Choose from The Log Cabin Cottage for two, The Old Dairy one-bedroom Cottage for two guests, and The Farmhouse for up to 10 guests.
Guests Love:
Breakfast Hamper
Organic Vege Garden
Wellness Centre with relaxing massages
Excellent Restaurant
Indoor/Outdoor Showers
Creek Swimming
Mavis's Kitchen and Cabins is the perfect destination for anyone who seeks peace and quiet and incredible food. Book at Booking.com
---
8. Nightcap Ridge – Byron Bay Hinterland – Lodge
With room service, rainforest, koalas, campfires, and stargazing, Nightcap Ridge has all the ingredients for an unforgettable escape to another world.
Deep inside the Nightcap National Park, this old logger's cabin is beautifully restored with crisp white and stylish interiors. Choose from studios for two or villas for up to four guests.
Top Tip: bring snacks and drinks so you don't have to leave! You can preorder meals too. You're off-grid so cooking is gas or on the BBQ. Bring a flashlight – it's very dark in this forest setting at night.
Guests Love:
Relaxing on the balcony
Eggs, herbs, and veggies offered by the owners
Firepit
View from the bath
Near Minyon Falls Lookout
---
9. Limpinwood Lodge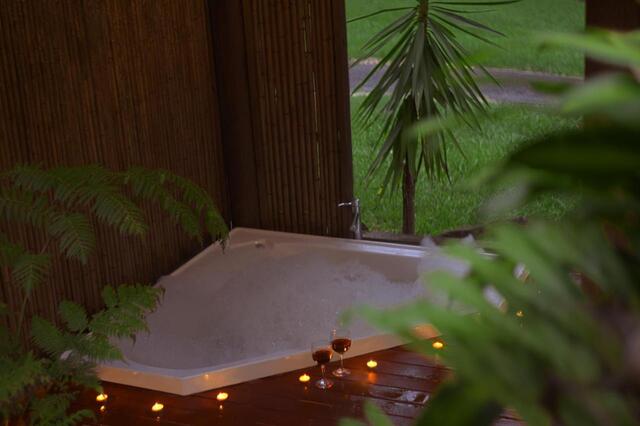 Tweed Shire. Adults Only. Limpinwood Lodge is a 4.5-star place of magic, peace and tranquillity. The native bushland setting, romantic and cosy cottages, your own hot tub, fireplace and the rainforest ambience all help to create this unique atmosphere.
The retreat offers a delicious home-cooked breakfast and idyllic bush walks. Each cottage has a fully equipped kitchen and balcony. And because it's located in such an isolated location, you can expect peace and privacy when you stay there. Book at Booking.com
---
With a great deal to offer nature lovers and those who are looking for a unique holiday experience, this list of eco-lodges and rainforest retreats in NSW is perfect if you love being one with nature!
SEE MORE NEW SOUTH WALES ESCAPES: