The Northern Territory is a land of vast, varying landscapes, serving up an array of amazing opportunities for the adventurous traveller. This list of unique Northern Territory accommodation will get you off the beaten track and into the heart of some authentic "Top End" adventures!…
Accommodation Type: Glamping and Yurts | Outback Station | Country and Bush | Wilderness Retreat
Destination: Kakadu | Alice Springs | Northern Territory | Australia
The booking links take you through to Booking.com, VRBO and Stayz where you'll see the prices and can book a unique place to stay in NT that suits you best…
1. Mt Bundy Station – Adelaide River
Best for: Outback Station, Glamping, Stockman's Quarters, Pool, the Cheeky Bull Bar
Get a taste of life on an Aussie cattle ranch at this working property, set on the banks of the Adelaide River. Just over an hour south of Darwin, the area is famous for its crocodiles – take a nearby tour to get up close and personal to the terrifyingly impressive monsters (from the safety of your boat!)
Stay in the original station manager's house, a grand homestead with wooden floorboards that can accommodate up to 23 guests. Smaller options include the cook's cottage, stockman's quarters or monsoon cabin, or for glamping Northern Territory choose the Brahman Bungalow. Here you can listen to beautiful native birdlife through your airy netted roof, and take an outdoor shower under the stars.
Fabulous location in a station surrounded by horses, birds, wallabies, and frogs providing plenty of entertainment!

Guest comment
Good to Know:
Location:
---
2. Kings Creek Station – Kings Canyon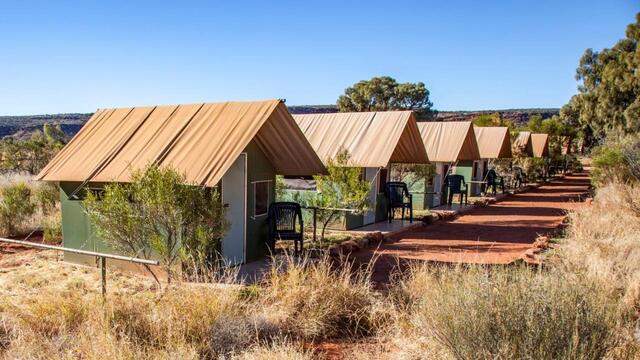 Best for: Outback Station, Camping, Bush Tents, Luxury Glamping Tents, Pool, Aboriginal Culture Tours, Camels, Helicopter Tours
Another working cattle station, Kings Creek is down the southern end of the territory, close to the absolute red centre of Australia. This unique Northern Territory accommodation offers campsites, cute basic bush tents, or more luxurious 'Dreamtime Escarpment" glamping tents, built up into the cliff face to maximise scenic views and cool breezes. 
After a day of hiking in nearby Kings Canyon (Watarrka), relax in the outdoor pool with a refreshing cold drink from the bar.
Good to Know:
Location at this Unique Northern Territory Accommodation:
---
3. Cooinda Lodge Kakadu – Jabiru, Kakadu National Park
Best for: Outback Retreat Glamping, Lodge, Remote, Tours, Birdlife, Pool, Restaurant
There aren't many accommodation options inside the amazing Kakadu National Park, so luckily this one is fabulous. It's the perfect location to take the world-renowned Yellow Water Cruise – pick the sunrise option to see rare wildlife in stunning reflective colours among the mangroves.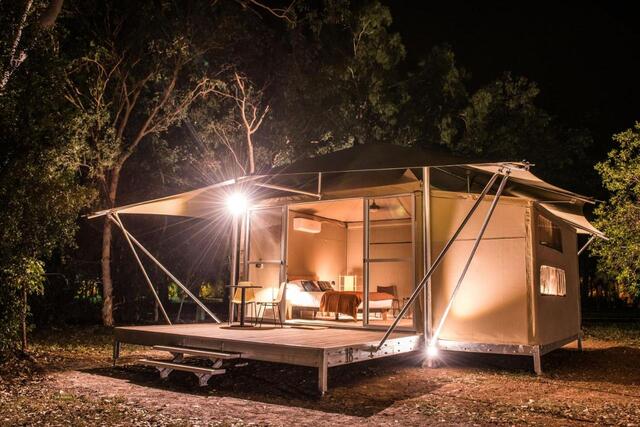 The lodge feels like an oasis in the remote national park, with a big lagoon-style pool rimmed with rocky waterfalls next to the breezy outdoor restaurant. 'Outback Retreats' offer a glamping Northern Territory option, with one glass wall fronting the spacious canvas tents, or the snazzy lodge rooms have all the comforts of a modern hotel.
Good to Know:
Location:
---
4. Mary River Wilderness Retreat – Marrakai, Lake Bennett
Best for: Eco-Retreat, Bush Walks, Pools, Wetland Adventures, Crocodile Spotting, Wallabies, Natures Way, Boat Hire
Halfway between Darwin and Kakadu National Park sits this eco-friendly unique Northern Territory accommodation. Lush green gardens shade cottages, bungalows and safari tents near the banks of Mary River, close to several great fishing spots.
Two large pools and an on-site restaurant will keep you cool and fuelled up in between all the hiking, boating and nearby excursions. All accommodation options have a verandah to bask in the beautiful natural surroundings, and cottages and bungalows have air conditioning.
Good to Know:
Location:
---
5. Point Stuart Wilderness Retreat – Lake Bennett
Best for: Lodge, Saloon Bar, Pools, Safari Tours, Wildlife, Wallabies, Crocodiles, Fishing
Come and feed the Barramundi during the dry season at this unique Northern Territory accommodation. There's a wide range of magical landscapes around here, from monsoon forests, dense mangroves, flourishing floodplains and billabongs, home to all sorts of fascinating wildlife.
The retreat offers 4WD safari tours to look for water buffalo, dingoes, wallabies and the odd crocodile, as well as many other birding, wildlife and fishing tours.
Good to Know:
Location:
---
6. Squeekywindmill Boutique Tent B&B – Alice Springs
Best for: Luxury Tent, Mountain Views, Fire Pit, Birds, Wildlife, Bike and Hiking Trails
Between late March and mid-October each year, this unique Northern Territory accommodation offers up three luxury eco-tents in the Western MacDonnell Ranges. Only 15 minutes out of Alice Springs, these glamping Northern Territory tents have beautiful mountain views from their private decks, as well as a BBQ and campfire.
Enjoy the sounds of native birdlife as you watch changing colours over the distinctive landscapes. After a day of exploring the ranges, make sure you settle in for some stargazing – they really shine out here away from city lights.
Good to Know:
See also Tripadvisor's Top Pick of Tours in and around Alice Springs , e.g. West Macdonell Ranges Day Trip, Ayers Rock Day Trip and Sunset Dinner, Early Morning Ballooning, and lots more
Location:
---
7. Corroboree Houseboats – Marrakai, Lake Bennett
Best for: Self-drive Houseboats, Wildlife, Fishing, Crocodiles, Herons, Wetlands
For something a bit different, try out a floating accommodation option on the calm waters of Corroboree Billabong. These charming little houseboats have everything you need for a private, secluded cruise on the pristine wetland system in Marrakai, about 90 minutes from Darwin.
Sizes range from small family vessels to large 'party boats' than can host groups of up to twenty. They all have showers, fridges, BBQs and an upper deck to soak in the surrounding wilderness views. 
FYI: No swimming since this is croc territory, you'll experience lots of bugs at sunrise and sunset so bring insect repellant and cover up during those hours.
To Pack: OFF! Botanicals Mosquito and Insect Repellent IV, Plant-Based* Bug Spray, Deet-Free** 2 oz. And for sitting outdoors when you need a mosquito net you attach this one to your hat and keep the bugs at bay! ProCase 3 Pack Mosquito Head Net, Ultra Large,Anti-Mosquito Bee Insect Fly Protective Mask Cover for Camping, Hunting, Trekking Fishing and Other Outdoor Activities -Grey
 "As an Amazon Associate I earn from qualifying purchases."
Good to Know:
Location:
---
Get Your Guide Tours:
---
8. Groote Eylandt Lodge – Alyangula
Best for: 4 Star Resort, Pool, Restaurant, Spa and Wellness Centre, Local Cultural Tours
Go beyond the regular tourist trail to the seldom-visited island of Groote Eylandt. This unique Northern Territory accommodation has breezy tropical-style lodges facing the gorgeous Gulf of Carpentaria, as well as a pool, restaurant, bar and fitness centre among lush gardens.
Follow the boardwalk from your front deck to the quiet beachfront to watch a spectacular sunset over the ocean. Feel the unwinding power of the island as soon as you arrive on the traditional land of the Anindilyakwa people. 
Good to Know:
Location:
---
More Unique Places to Stay in Australia: