There's something so special about the northern tip of the South Island. Boasting some of New Zealand's most spectacular scenery, this remote region is home to the country's golden beaches, and the Kahurangi and Abel Tasman National Parks, making it one of New Zealand's premier hiking and beach destinations. For an unforgettable holiday check out this list of Quirky Golden Bay Accommodation.
Type of Accommodation: Quirky | Glamping and Yurts
Destination: Golden Bay | South Island | New Zealand
Price Range: Cabin/Hostel $ | Budget $$ | Mid-range $$$ | Luxury $$$$ | Super Luxe $$$$+
Golden Bay
Golden Bay is a hidden gem with cool little towns, art galleries, and natural sights like Te Waikoropupu Springs, Wainui Falls, The Grove Scenic Reserve, Rawhiti Cave, Pohara and Wharariki Beaches, and lots more. Don't miss a trip to Farewell Spit at the top of the south.
Although named after the discovery of the Collingwood gold fields in 1857 this stunning bay could also have been named after the golden sand beaches you'll discover as you explore this unmissable location…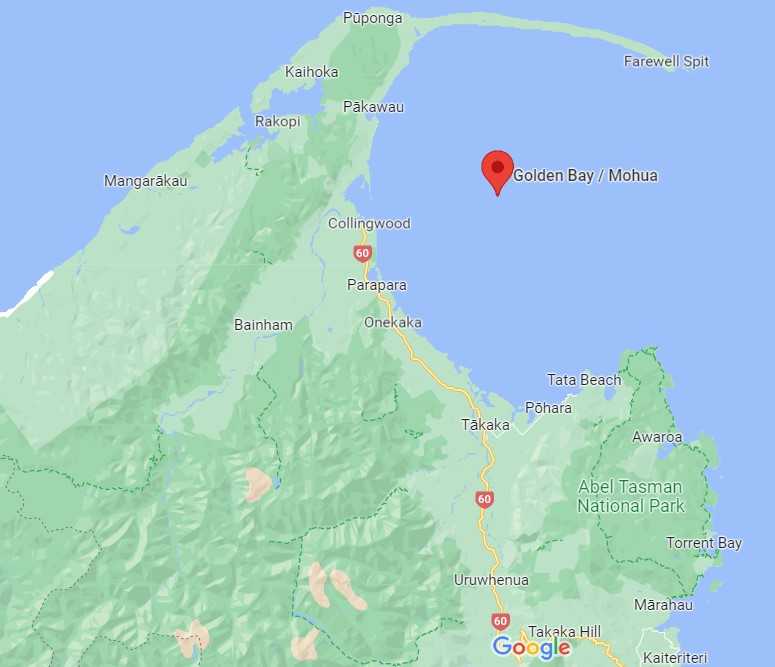 ---
1. Omarama Oasis – Permaculture Glamping – Pohara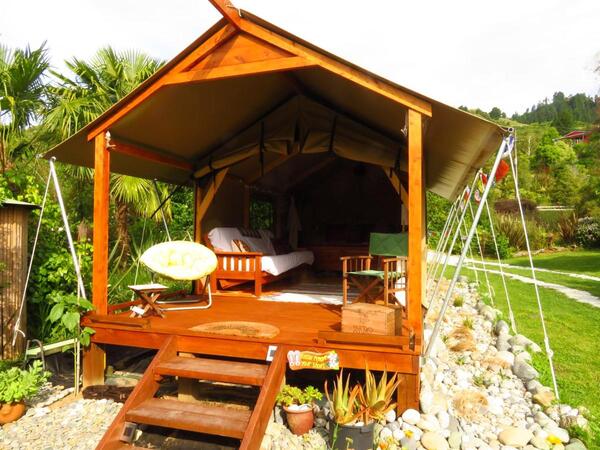 Best for: Emperor Tent, Permaculture Gardens, Pohara Beach, Marae Nearby, Abel Tasman National Park, Horseriding, Yoga, Up to 2 Guests, $$
The great thing about glamping is that you can glamp in almost every type of location, from the mountains to the jungle. The world is your oyster when it comes to glamping, but if you're looking for something unique then check out Omarama Oasis.
In a self-sufficient Permaculture garden in Pohara, you'll discover a spacious Emperor Tent for two surrounded by fruit trees, flowers, and native birds. You're close to Pohara beach, eateries, a health spa, and the pristine top end of the Abel Tasman National Park.
The sights, sounds, and smells of the ocean, the bush, and a nearby stream have the power to soothe even the most restless of souls.
Review: Lovely, relaxing place to chill out. The hot outside shower is very cool. The glamping tent is comfy and well-appointed.
Good to Know
---
2. The Lighthouse – Ligar Bay Holiday Home – Tata Beach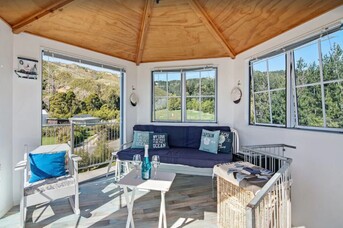 Best for: Lighthouse Holiday Home, Sundecks, Beach, Up to 8 Guests, $$$
It doesn't get any quirkier than this! A replica Cape Cod lighthouse welcomes you for a beach holiday at Tata Beach in Golden Bay. You'll love the winding staircase that takes you to the Crows Nest for 360 views across the countryside and the sea to Farewell Spit. For a truly unique kiwi bach holiday for a couple, friends, or the whole whanau!
The Lighthouse has a downstairs lounge, and 2 bedrooms with 5 beds. The main bedroom also has an ensuite.
Review: The property is quirky with a fun element to it. There is a well-stocked kitchen and plenty of other bach-style books, games, and DVDs.
---
3. Wetland View Park – Collingwood
Best for: Quirky Chalets, Holiday Park, Beach, Restaurant, Glow Worms, Up to 5 Guests, $$
On the West Coast of Golden Bay, in the Mangarakau Wetlands, you'll find a friendly holiday camp with quirky chalets. At Wetland View Park each chalet comes with a mezzanine, kitchen, bathroom, and balcony for outdoor dining and lounging. This friendly camp is a fun holiday spot only a short walk to the beach.
Review: The swamp walk was great, and the sunset at the beach. The Glow Worm tour was just magical. The chalet was perfect, everything you need, clean and tidy.
Good to Know at this Quirky Golden Bay Accommodation
---
4. The Innlet Wooden Cabins – Collingwood
Best for: Quirky Rustic Cabins, Rainforest, Giant Hammock, Outdoor Bath, Near Beach and Stream, $$
The world is full of beautiful places, but none quite as magical as the rainforest. These are the greenest, lushest forests you will ever see, teeming with wildlife and plants that you can't find anywhere else. So staying in a cute wooden cabin in the Golden Bay rainforest gives you a unique way to experience nature without giving up your creature comforts.
The cabins at The Innlet are the perfect quirky Golden Bay accommodation positioned by the beach, a private bush walk, and only 10kms from Collingwood for your town supplies.
Review: "Ruru Cottage is an excellent setup for families. Our kids loved climbing up ladders into their own space in the attic, the outdoor baths and playing in the stream."
Good to Know:
---
See what flight deals Wayaway offers (plus they give actual cashback for your trips booked)
---
5. Woody Mamaku Retreat – Eco Stay – Tata Beach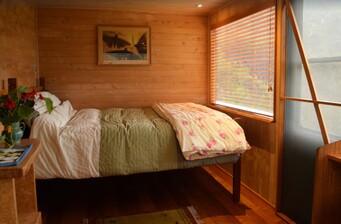 Best for: Steel Kiln Conversion, Bush Retreat, Beach, Kitchen, Abel Tasman Park, Up to 2 Guests, $$
Is this cool pad upcycled or recycled? A c.1950 steel kiln controller room is transformed into a cute and unique cabin lined in beautiful cypress and macrocarpa. Now, this is something completely different! Woody Mamaku Retreat sits by a Kanuka forest within a park-like setting, with sea and Ligar bay views the cabin is a comfy retreat for two. Only a 10-minute walk to the beach.
The cabin is off-grid with indoor/outdoor living spaces, a sunny front deck, gas and solar-powered, and supplied by spring water. The kitchen and bathroom are under a semi-covered porch, with the compost toilet 5 metres up a path.
Review: We loved our stay in this Eco cottage, it was cosy and clean and we loved the open kitchen bathroom unique and fabulous. Perfect jumping off point to explore the area.
Things to Do Nearby: 15 minute drive to Takaka Township, Abel Tasman National Park is less a km away, so close for walks. Wainui Falls are 2.6km away, Pohara Beach and Tata Beach are both 1.8km away. The easy limestone and native bush walk at Grove Scenic Reserve is 5.8kms away, and Rawhiti Caves are also 5.8kms away.
Good to Know:
---
6. The Caboose – Romantic Getaway – Motupipi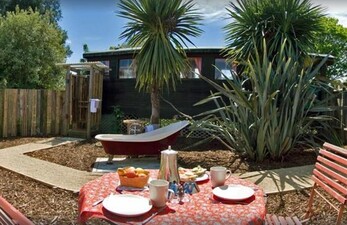 Best for: Replica Train Holiday Home, Outdoor Bath, Garden, Kitchen, Up to 3 Guests, $$
Lovingly handcrafted to resemble a little caboose, this quirky Golden Bay accommodation is a holiday home for 3 and a warm and relaxing escape from reality!
Nestled in the gardens of a farm, you have chickens and a friendly dog for company. Laze away in the outdoor bath under the stars, or enjoy a refreshing rainwater shower outdoors too.
Your little slice of caboose heaven is private, with outdoor dining. Inside you have a kitchenette, dining, lounge seating, and a queen-size bed, with a potbelly to keep you cosy in the cooler months.
Review: This is the most wonderful place to relax and unwind. The caboose is plenty big enough and incredibly cozy. Beers in fridge on arrival.
Review: We want to take this caboose home with us, it was such a magical little stay! So bright and colourful and just made you feel happy the moment you stepped inside.
Things to Do Nearby: 1.9kms to – Grove Scenic Reserve, Golden Bay Museum & Gallery, Te Waikoropupu Springs, 3.4 km to Pohara Beach, and 4 km to Rawhiti Cave.
Good to Know
---
Travel Resources
---
7. The Library – Designer Bach – Collingwood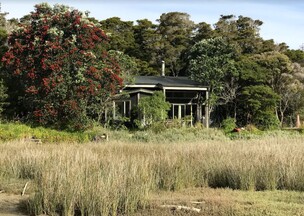 Best for: Retro Beach Bach, Outdoor Bath, Kayaking, Paddleboards, Up to 5 Guests, $$
The original bach on this property was once a country library. It's now a cool sleepout sitting behind a new award-winning beach bach. Described by the owners as a "designer retro-pacific styled tramping hut!"
If you think the indoors are quirky and stylish wait till you see the Lord of the Rings fairytale-like outdoor bath. Soooo very Golden Bay!
The Library Bach is spacious with no doors (curtains instead), a mezzanine with two beds, 1 bedroom with a double bed, a large kitchen with gas hot water and stove, dining and lounge with cathedral ceiling, and a composting indoor toilet.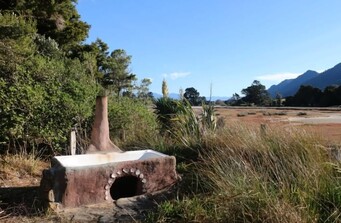 Things to Do
For recreation choose a book and curl up and relax, play a board game, or spin a record for some smooth sounds. For adventurous activities, you have a trampoline, a paddleboard, kayaks, bikes, the bush, wetlands, and the beach to explore.
Review: Like entering a bach from the 60s. Like 'coming home'. Lying in bed and looking at the starry nights, and then the extended vista as dawn broke with its summoning of calls from the birds. Absolute bliss.
Things to Do Nearby: Pakawau Beach, Collingwood Museum is 6km away, Milnthorpe Park is 10km away.
Good to Know at this Quirky Golden Bay Accommodation
---
8. The Woolshed Caravans – Pohara
Best for: Retro Caravans, Affordable, Kitchen, Rural, BBQ, Beach, $$
At The Woolshed Caravans the cool and cosy retro accommodation is within walking distance to lovely Tata Beach. Depending on your group size, you can book one or both of the caravans. They're the only ones on the site.
The owners have created a clever canopied central living area with a kitchen and bathroom so you have everything together like a quirky holiday home! When you're relaxing on the property enjoy the rural surroundings, and watch out for native birds, wild parrots, pukeko, and waka.
---
9. Ratanui Lodge – Pohara Beach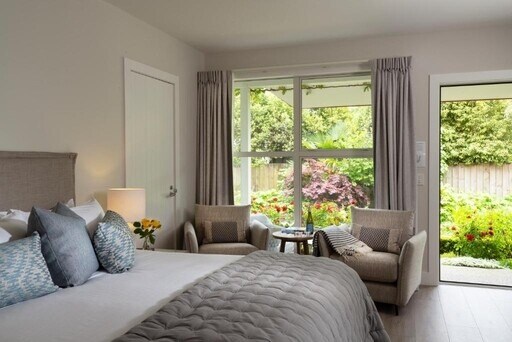 Best for: 4.5 Star Luxury Lodge, Beauty Treatment Room, Saltwater Swimming Pool, Spa Pool, Tours, $$$
Recently refreshed and refurbished this glamorous lodge with a twist of contemporary and art deco has everything you need for a rejuvenating stay in Golden Bay.
Review: "The rooms were so modern and clean, I loved the extra touches like sublime coffee, pukka tea bags, and Whittakers chocolates. The food at the restaurant was amazing!!"
At Ratanui Lodge you can hire a bike and get to know Golden Bay, lounge by the pool or pop across the road and dive into the ocean or take a leisurely stroll on the beach. The tour desk at the Lodge can also organise local tours for you, e.g. kayaking, Farewell Spit, horse trekking, and Abel Tasman National Park cruises.
Good to Know:
---
See More