This list of breathtaking Marlborough Sounds Accommodation includes resorts, B&B, a glasshouse luxury holiday home and even glamping! New Zealand's Marlborough Sounds encompasses stunning bays, coves and waterways. A natural paradise for swimming, kayaking, boating, fishing, diving, dolphin watching, mountain biking and bushwalking.
The Marlborough sounds were formed thousands of years ago by sea level rise submerging mountain valleys. These valleys are now waterways making up the four sounds of Kenepuru, Queen Charlotte, Pelorus and Mahau. Each is surrounded by stunning native coastal forests and wildlife. Don't miss walking or biking the popular Queen Charlotte Sound Track. It usually takes around 4 days to walk but some of these accommodation are near the track so you can easily take day trips depending on your timetable. Now on to the places to stay…
Location: Marlborough Sounds | Queen Charlotte Sound | South Island | New Zealand
Accommodation Type: Glamping and Yurts | Overwater and Beach
1. Te Mahia Bay Resort – Kenepuru Sound
Best for: Heritage Resort, Private Beach, Fishing, Hiking, Kayaking, Apartments and Suites, Food Truck, Cafe and Store, Affordable
If you know your itinerary is activity packed and you'll need a good night's sleep, Te Mahia Bay Resort should be top on your list for the best places to stay in the Marlborough Sounds. The property is found in one of the most breathtaking bays in the Marlborough Sounds. The resort has stunning views of the turquoise waters of Kenepuru Sound and you're bound to enjoy the birdsong of the surrounding bush.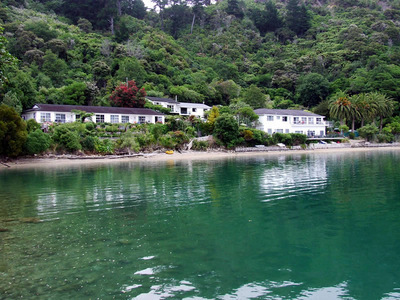 Good to know:
Studios, Apartments and Family rooms for up to 9 guests – all with kitchenettes
Great for couples or families with children
Don't skip the continental breakfast if you plan on going hiking, canoeing, or fishing
Ask for a room with a sitting area to relax after a busy day
Free toiletries and hair dryer
Free Wi-Fi
34km from Malborough Airport, 63.2km from Nelson Airport
Location:
---
2. Bay of Many Coves Resort – Arthur's Bay, Queen Charlotte Sound
Best for: 5 Star Resort, Yoga and Pilates Classes, Spa Treatments, Cedar Hot Tub, Fine-Dining Restaurant, Degustation Menu, Private Beach
The Bay of Many Coves located in Queen Charlotte Sound is the perfect Marlborough Sound accommodation for holiday-makers looking for luxurious apartments. This stunning resort offers unmatched luxury and apartments with private balconies overlooking the bay.
Highly recommended: travel to the resort by helicopter from Queen's Wharf in Wellington – this amazing trip only takes 30 minutes and can be arranged by the resort.
The resort features one, two, and three bedroom apartments with spacious living and dining rooms. The resort also offers a heated outdoor swimming pool with a cedar hot tub and poolside loungers. For maximum relaxation, enjoy a massage and pampering treatment at the Miritu Day Spa.
Hiking: The Bay of Many Coves includes 6kms of native bush private walking trails with tuis, kereru, and fantails. These trails link to the Queen Charlotte Sound Track. Don't miss an evening walk to view glowworms dotted along the trail.
Good to know:
No road access, arrive by a 30 minute water taxi ride from Picton or helicopter from Wellington
Private beach area
Kayaks, dinghies and paddleboards are available
The Foredeck and bar offer fine dining and multi-course degustation menus
Great for couples
Free WiFi
Offer a variety of breakfast options including: Full English/Irish, Continental, American, Gluten-free, Vegetarian.
Location:
---
3. Ngahere Hou Glamping – Kenepuru Head
Best for: Eco Stay, Mongolian Yurt, Summer House, Queen Charlotte Sound Walk, Private Beach, Kayaks
Ngahere Hou Glamping is set on a 40 acre private bush reserve with excellent views of Kenepuru Sound. The serene, natural, and private environment provides the perfect opportunity for off-grid rest and relaxation.
Choose from a Mongolian Yurt or a Yurt-style Summer House at this Queen Charlotte Sound retreat. Each offers a terrace with views which is the perfect setting for a sundowner. This eco accommodation features a private beach and a hot tub. Guests are welcome to use the bikes and kayaks offered by the accommodation.
Good to Know:
Accessible to Queen Charlotte track – the accommodation is half-way on the track
Organic breakfast
Shared kitchen, outdoor shower, composting toilet
15 minute drive to bars and restaurants at Punga Cove and The Portage
Location:
---
Fun Tours:
---
4. Punga Cove Resort – Endeavour Inlet, Queen Charlotte Sound
Best for: 4 Star Resort, Restaurant, Pool, Hot Tub, Good Price, On the Queen Charlotte Sounds Track
This Marlborough Sounds Accommodation is a 4-star resort with a seasonal outdoor swimming pool, a sun terrace that guests can use to relax and a restaurant close to the water. All the rooms at Punga Cove Resort have a sea-facing patio for outstanding views of Queen Charlotte Sound, and a sitting area. There's a tour desk available where you can get all the information you need about activities you want to do. Rooms come with an en-suite, free toiletries, and a hairdryer.
This accommodation offers a hot tub where you can chill out with your partner and have a glass of wine after a fun-filled day hiking and swimming. The area around the resort is popular with hikers and cyclers. If you'd like to stay in and enjoy an in-house activity, you can play table tennis.
Good to know:
Chalets, Suites and Studios for two guests, two-bedroom apartment for up to six guests
Laundry facilities – handy for track walkers
Arrive by water taxi or car
WIFI
Private parking
Shuttle service from airport
Tea/coffee maker available in rooms
48.9km away from Marlborough Airport
Location:
---
5. Okiwa Bay Lodge – Anakiwa, Queen Charlotte Sound
Best for: 5 Star Bed & Breakfast, Hot Tub, Free Breakfast, Popular, Honeymoon
At the end of the Queen Charlotte Sound Track you'll discover luxurious Okiwa Bay Lodge. 30 minutes from Picton this friendly hilltop B&B offers country comfort and awesome views! With windows and decks facing Queen Charlotte Sound you'll find it hard to drag yourself away from this panorama, and why should you? This lodge is designed for a tranquil stay with comfortably furnished suites and extensive gardens, so relax! If you've just completed hiking the track then the hot tub is perfect for soothing sore muscles.
Good to Know:
70sqm or 90sqm honeymoon suite, 23-30sqm rooms with 1, 2 or 3 queen beds – choose from sea views or garden views
Dinner available (pre-book)
Free WIFI in all rooms
Laundry facilities – washing machine and dryer
Daily housekeeping
Helipad
Location:
---
6. Waterfall Bay Luxury Escape – Onahau Bay, Queen Charlotte Sound
Best for: Luxury Holiday Home, Arrive by Boat, Private Beach, Fireplaces, Marble Bathrooms, Open-Plan, Views
To say that Waterfall Bay Luxury Escape is a beautiful house would be an understatement. Also named 'The Glass House', this breathtaking Marlborough Sounds accommodation sets a precedence for how modern architecture and nature can thrive in harmony. The house is made of glass and steel and sits surrounded by native bush that is home to tuis, wekas, quails, and kereru.
The house features three stately 100-metre pavilions with polished matai floors and heavenly ceilings. The house itself is spacious and gracefully takes up more than 400m2. It has a fully equipped modern kitchen with a dining area big enough to sit up to 16 people for that private dinner party you've been wanting to host. All the five rooms have private bathrooms but the master takes the cake with a self-contained pavilion.
Good to know at this Marlborough Sounds Accommodation:
Five-bedroom home for up to 16 guests
Boat only access, a free water taxi is available from Picton (or a shuttle – charges apply)
Suitable for children
Pets allowed but might attract additional charges
Heating and air conditioning
WiFi
Linen and toiletries
Private beach area
32.8km from Marlborough Airport, 62.6km from Nelson Airport.
Location:
---
More Amazing Marlborough Sounds Accommodation:
Furneaux Lodge – Endeavour Inlet:
The Tin Shed Havelock Holiday Home:
---
I hope you've enjoyed this list of Breathtaking Marlborough Sounds Accommodation. See also 7 Unique Places to Stay in Blenheim here.
More Amazing Places to Stay in the South Island: