These 7 Unique Places to Stay in Blenheim offer exceptional and unique accommodation along with nature, adventure, gourmet delights, and some of New Zealand's best wineries. Blenheim is known as a gourmet paradise with artisan food, Southern seafood, rolling countryside and a chance to taste some of the world's best Sauvignon Blanc! For families the Omaka Aviation Heritage Centre is a must do. You're truly spoilt for choice! So let's discover what's on offer…
Type of Accommodation: Country and Bush | Vineyard Accommodation | Farmstay
Location: Blenheim | South Island | New Zealand
Accommodation links are to: Agoda and Booking.com
---
1. The Marlborough Lodge – Blenheim
Best for: 5 Star Luxury Lodge, Former Convent, Pool, Spa and Wellness Centre, Harvest Restaurant, Wineries, Golf, Horseriding, Tennis
At first glance, The Malborough Lodge gives off country living vibes. But, at a closer look, you will realize there's more to it than meets the eye. Once a convent and now a fine lodge, this unique Blenheim accommodation offers comfort and luxury with its spacious rooms and expansive grounds. It's location is perfect right at the heart of the Marlborough wine region and is a great option for those looking to take a break from the hustle and bustle of the city.
The property features contemporary suites with private en suite bathrooms and air conditioning. The rooms give off a subtle elegance but still ensure you have access to the outside world with a flat-screen TV and WIFI.
This is one of the best places to stay in Blenheim with spa treatments on offer, a library, tennis court, horse riding, bike tours, and a golf course only 3kms away. Blenheim prides itself on being a gourmet province so be sure to book one of the cooking classes. Cloudy Bay Winery is only 3kms away and Hans Herzog is 5.7kms away.
Good to know:
Location:
---
2. Marlborough Wine Barrel Cabins – Hawkesbury
Best for: Cabins, Affordable, Unique, Gardens, Wineries
Sleep in a wine barrel in wine country like a hobbit! Similar to glamping your super cute accommodation is surprisingly spacious with a double bed, cozy living and dining area, TV, tea and coffee making facilities, toaster and heater for cooler temperatures. On sunny days sit outside on your little patio with a glass of sauvignon blanc looking out at the lovely gardens.
In summer your private outdoor shower is a unique experience! The indoor bathroom facilities are shared with the other cabins. There is also a shared fridge to keep your food and wine cool and fresh.
Wineries: Surrounded by vineyards some of the closest wineries are the Brancott Estate Heritage Centre (4.3kms), Spy Valley Wines (4.7kms), and the Fromm Winery (7kms), Wither Hills (12kms).
Good to Know:
Location at this Quirky Blenheim Accommodation:
---
3. Misty River Retreat – Blenheim
Best for: 4 Star Farmstay B&B, Alpacas, Protected Wetlands, Sustainable Property, Opaoa River, Family Friendly, Affordable
If you're into finding accommodation that knocks the socks off your feet with their customer service, you'll love Misty River Retreat. This unique Blenheim accommodation is 10 minutes away from central Blenheim, if you're driving, and is set on 25 acres of wetlands with beautiful views of the surrounding native trees. Guests who've been here have reported receiving thoughtful little gifts so if you love surprises, you'll enjoy your stay here.
This is a farmstay with friendly sheep, chicken and alpacas! So this is one of the places to stay in Blenheim that children enjoy.
All rooms offer maximum views of the outdoors with floor to ceiling windows and a deck off the master bedroom that'll give you a chance to connect with nature over a glass of wine. The private bathroom offers free eco toiletries and a modern shower.
Closest Wineries: Villa Maria Marlborough Winery (8.6kms), Wither Hills (10.2kms), Cloudy Bay Vineyards (14kms)
Good to know at this Unique Place to Stay in Blenheim:
Location:
---
See what Blenheim has to offer:
---
Vineyard Places to Stay in Blenheim:
Marlborough is New Zealand's largest wine region. The following vineyard stays are located in the Wairau Valley that is blessed with a micro-climate perfect for wine-growing. The weather here is sunny and dry with coastal breezes, along with free-draining riverbed soils. The wine is noted for a fruit intensity (NZ Wine).
4. Marlborough Vintners Hotel – Heritage Collection – Renwick
Best for: 5 Star Boutique Vinyard Hotel, Spa, Fitness Centre, Breakfast, Wineries
For a five star stylish resort the prices here are excellent. Beautifully furnished and spacious suites look out across the vines or gardens and some even have outdoor baths. Whether you're enjoying adventure activities in the region or visiting for the wine (or both!) this is a popular and blissful stay in Blenheim.
The hotel is perfectly located across the road from The Vines Village Cafe, Wine Cellar & Stores. This 4 hectare estate includes boutique shops, wine tasting, food, landscaped gardens, vineyards and a lake. Once you're ready to venture further the vineyards are all close by, so why not hire a bike from the hotel and meander through this beautiful countryside, and try Marlborough's world-class Sauvignon Blanc.
Good to Know:
Location:
---
5. Vintners Retreat – Renwick
Best for: 5 Star Boutique Villas, Pool, Tennis, Family-friendly, Gardens, Walk to Cellar Doors, BBQ
Surrounded by gardens and vineyards the 12 open-plan villas of Vintners Retreat Resort are perfect for a 'home away from home' stay in the heart of Renwick. The spacious villas encompass 4 different styles. Choose from Stables, Lodges, Manors, and the three-bedroom Lodge. They are serviced daily and include well-equipped kitchens, dining, lounges and decks to enjoy the views across the vineyards to the Richmond Ranges.
Take a Virtual Tour:
Good to Know:
Location:
---
6. Misty Cove Cellar Door – Renwick
Best for: Apartment, Pet-friendly, Pool, BBQ, Welcome Gifts, Garden
At Misty Cove Winery, this private cellar door apartment is an ideal stay if you're looking for privacy and relaxation in the vineyards. Your dog is welcome too! The apartment is spacious and immaculate with a large lounge, fully-equipped kitchen, fireplace, bedroom with a large comfortable double bed, luxury linens, and bathroom with eco toiletries. Cool off in the large pool and then snooze on a beanbag under a sun umbrella.
Good to Know:
Location:
---
Biking in Blenheim
With great weather, gorgeous scenery, vineyards, cafes, and restaurants all within a concentrated area this is a marvellous destination for a biking tour any time of the year. See Tripadvisor for wine tours here.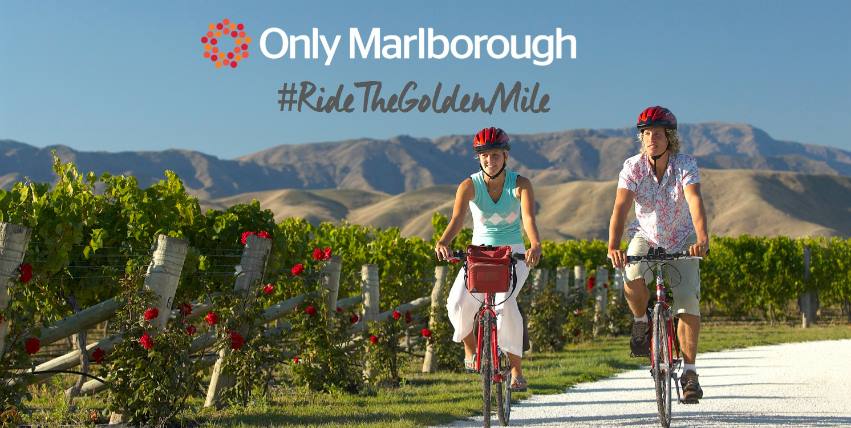 Special Accommodation with Biking and B&B:
7. Olde Mill House B&B & Bike2Wine
Your fiendly hosts offer lovely cottage accommodation with breakfast and free wine tour bikes. They'll even drop you off and pick you up in their vehicle if you don't want to ride too far. There's a hot tub for soaking your weary muscles after all that exercise! Accommodation includes a king room with an extra bed for 3 guests, king room for two and queen room for two guests.
---
I hope you've been inspired by this list of 7 Unique Places to Stay in Blenheim. For more unique accommodation in the South Island of New Zealand see:
If you'd like to receive my occasional e-mail with the latest inspirational places to stay then sign up below:
---
Travel Essentials:
Travel Insurance: Cover-More NZ offer single or multi-trip travel insurance policies for domestic or international travel. The policies include Covid-19 benefits, rental car excess cover, emergency assistance, travel delays, luggage and travel documents.
36 existing medical conditions are included, and some adventure sports are in the basic policy but there's also an adventure sport policy. For more information you can see the Cover-More NZ website here.
Car Rental: Snap Rental prides itself on being New Zealand's best value for money car rental company. To make it easier they also offer book now, pay later with Zip.
Cars on offer include large SUVs, minivans, modern new cars, eco friendly hybrids, and budget-friendly options. Pick up and drop off at Auckland Airport, Auckland Downtown, Christchurch Airport, and Queenstown Airport. To choose your vehicle and see an instant quote see the Snap Rental website here.
---
More Amazing Places to Stay in the South Island:
---
Have you tried Campervanning with Jucy?