Best for: Holiday Retro Bach for 6 Guests, Island Hideaway, Swimming, Hiking, Games, Adventure
Rangitoto Island last erupted 600 years ago and the forested volcanic cone shapes the whole island. Thanks to the Rangitoto Island Historic Conservation Trust you can stay at this Rangitoto Island accommodation, in historic Bach 78 Islington Bay, on the coast of this volcanic island. 
Top Tip: Bach 114 Rangitoto Island is a larger bach and is also available – see the link further on.
You're only a 25 minute boat ride from central Auckland but when you step off the boat onto Rangitoto, you'll see lumps of black lava everywhere, and you'll feel a world away. A popular activity is the 2.4km easy walk up to the summit of the volcano.
Here's a Department of Conservation Video about Rangitoto Island:
A Bit of History:
Rangitoto is Māori for 'Bloody Sky', named after the Te Arawa voyaging captain who sustained a bloody nose during a fight with Tainui canoe captain, Hoturoa, on the island. On a side note for more New Zealand/Aotearoa history see https://teara.govt.nz/en – Te Ara -The Encyclopedia of New Zealand/Aotearoa.
In the 1920's and 30's 140 baches were built around the edge of the island by local holidaymakers. By 1937 the status of the island had changed and the baches were banned. Many were removed so today only 30 remain as a legacy of the island's past. Nowadays the island is a scenic reserve for day trippers but luckily a few of the historic baches are available for overnight stays. Rangitoto is a protected pest free habitat so you'll see lots of native birds and wildlife on your island holiday.
Getting to Your Rangitoto Island Accommodation:
Ferries are available to take you from central Auckland to Rangitoto Wharf, or you can take a water taxi directly to the bach. If you're feeling adventurous you can also kayak to the bach from Auckland which takes 2.5 hours. Bach 78 Islington Bay is a 1.5 hour walk away from Rangitoto wharf to Islington Bay Wharf.
Bach 78 Islington Bay:
This humble bach is all set for a lovely holiday with 2 bedrooms for six guests, with bunk beds and single beds. There's a kitchen, crockery and utensils and a gas cooker. There's no fridge but you have a chilly bin with ice packs that are changed by your hosts daily. Just like the old days you have running water but no hot water. The bathroom has a chemical toilet (the same as ones used by campervans) and an outdoor shower. This is a real iconic kiwi bach experience!
Things to Do:
Activities on the island include hikes around the island (and to the summit), a quick walk to Motutapu Island (which is right next to Rangitoto) for sandy beaches, swimming and a walk around this island to archeological sites. Back at the bach a popular activity is just sitting on the front steps and contemplating the view, life, the universe and everything! Soak in the tranquility or head indoors and have a go at the 1940's board games!
Good to Know at this Rangitoto Island Accommodation:
Bedding for 6 guests
Kayaks available for hire
Children welcome
---
Bach 114 Islington Bay: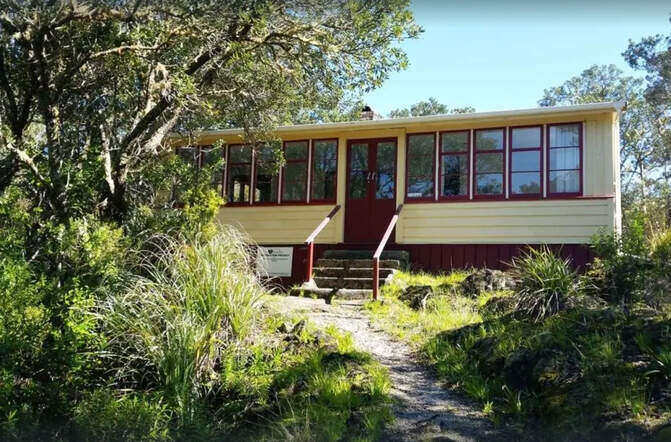 Bach 114 Islington Bay is the other bookable bach run by the Conservation Trust, just up the hill from Islington Bay and bigger than Bach 78.
This bach sleeps 7 guests, with three bedrooms. There's a large dining/lounge area and a sunporch. The bach is off grid with solar panels, cassette toilet, and gas cooking. You can check prices and availability at Bach 114 here.
---
Looking for More Amazing Places to Stay in

Auckland?
Click below and see 14 Cool and Unique Places to Stay in Auckland (affordable too!)…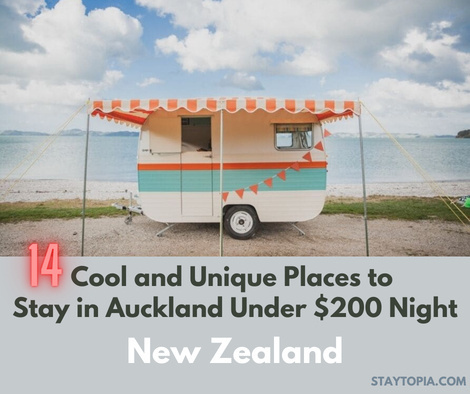 ---
---
Travel Insurance – get the right cover with Cover-More:
---