This list of Blenheim Vineyard Accommodation features stylish holiday homes, set amongst the vines with plenty of room for up to eight guests. They're also close to Marlborough's world-class restaurants, craft breweries, gin distillers, artisan shops, cafes, boutiques, and the 30+ vineyards you can visit for wine sampling and cellar door sales.
Blessed with golden weather, green rolling countryside, mild sea breezes, and the perfect micro-climate for growing grapes Marlborough is well-known for its production of white wines, particularly Sauvignon Blanc and Chardonnay. A stay in one of these unique holiday homes is the perfect spot for exploring Blenheim's wine and food specialties. Take a tour or hire a bike (see below). And with the Marlborough Sounds on your doorstep, beaches, rivers, and ancient forests, you have a recipe for a dream escape!
Type of Accommodation: Country and Bush | Vineyard Accommodation
Location: Blenheim | South Island | New Zealand
Bookings to: VRBO/Bookabach
This post may contain affiliate links. As an Amazon Associate, I earn from qualifying purchases. See Affiliate Disclaimer.
---
1. Award-winning Vineyard Holiday House with Private Swimming Pool – Sleeps 6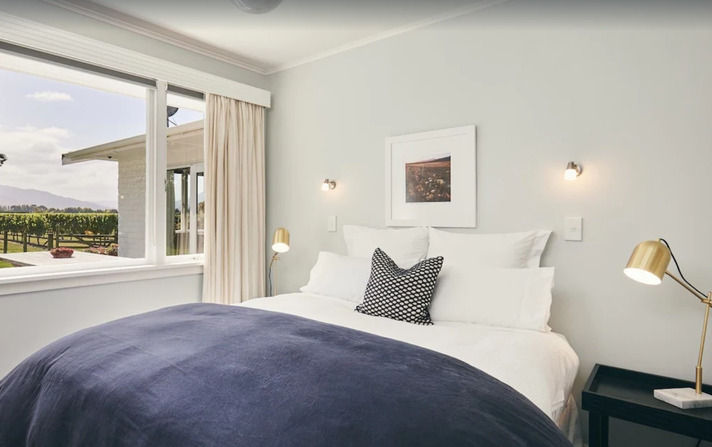 Best for: 3-Bedroom Holiday Home, Magnificent Gardens, Gourmet Breakfast, Concierge Service, Pet-friendly, Private Pool, Grovetown, $$$+
This hugely popular holiday home has all the bells and whistles for an idyllic stay in the heart of a vineyard. On arrival, you'll begin your wine-tasting adventure with a bottle of wine from the owner's vines.
Each morning you're greeted with freshly-baked bread, homemade jams, and vegan Nut and Seed Granola. Enjoy outdoor activities on the extensive lawns and wander around the beautiful gardens and enjoy the multitude of fruit trees, apple, citrus, fig, apricot, and feijoa. Why not make your own fruit juice?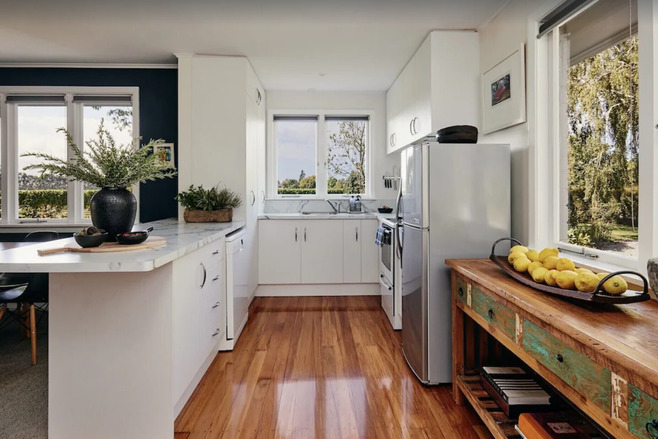 Kick back and relax with the books, DVD, SKY TV, and Chromecast and snuggle up in front of the crackling fireplace. In summer the air-conditioning unit keeps you nice and cool.
The kitchen is fully equipped, including the pantry with all the necessities. But if you don't feel like cooking you can order delicious heat and eat meals to dine at home.
Feel like eating out? Blenheim's restaurants and cafes are only a 4-minute drive away – Gramado's Restaurant and Bar, and Arbour are very popular restaurants. See Viator's Top Day Trips in Blenheim here, including wine tours, cruises and bike trips.
What's Nearby? Woodend Gardens and Vineyard, Jules Taylor Wines, Classic Car Wine Tours, Gary's Grapes Wine Tours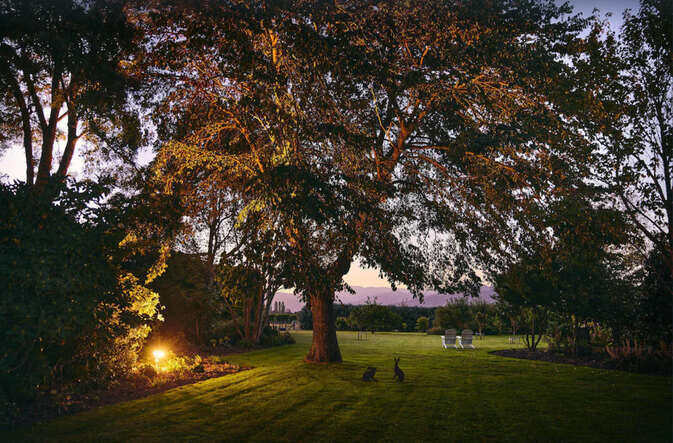 Good to Know at this Blenheim Luxury Holiday House:
Master Bedroom with a queen bed, second bedroom with queen bed, and third bedroom with a single bed
Egyptian cotton sheets, waffle robes
Children welcome
Two bathrooms
Lounge, kitchen, dining room, deck
---
2. The Nineteenth Vineyard Accommodation – Sleeps 4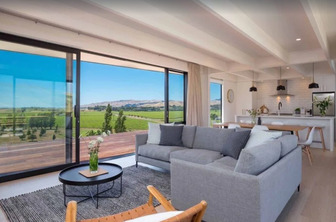 Best for: Modern Holiday Home with a View, Near Omaka Aviation Centre, Private, Children Welcome, Fairhall, $$$
The Nineteenth Vineyard Accommodation is a gorgeous stay on a hill with 360-degree views from every window and also the deck to vineyards, farmland, and the nearby golf course.
Indulge in the lap of luxury with this spacious and comfortable home, featuring an open-plan living area, a wrap-around deck, and bedrooms on either end. Take some time to unwind in the large bath while enjoying picturesque views.
The immaculate white kitchen comes fully equipped for dining indoors or outdoors, even on chilly days. It's the perfect place for a tranquil retreat, and you won't be disappointed!
What's nearby? The Omaka Aviation Centre, Villa Maria Estate, Auntsfield Estate, Dog Point Vineyard, and the Fromm Winery.
Good to Know:
2 bedrooms – South Bedroom with king-size bed, North Bedroom with king-size bed
2 bathrooms, laundry facilities, heating, and air-conditioning
Internet
Wheelchair accessible
---
Travel Essentials:
---
3. Vineyard Cottage in Blenheim on the Golden Mile – 2 Guests
Located in Renwick, Vineyard Cottage in Blenheim on the Golden Mile is a petite chalet that is ideal if you're keen to explore Blenheim's wineries. The property is close to the renowned Blenheim wineries in the Marlborough region, and the Nautilus Estate is just a short 500-metre walk away.
The cottage features free Wi-Fi, a beautiful garden, BBQ facilities, and free private parking. The units come with a fully equipped kitchen, including a dishwasher, microwave, fridge, and oven. Each unit also has a patio, a flat-screen TV, a washing machine, and a private bathroom with a shower and hairdryer. The lodge also offers a lovely terrace for guests to relax and enjoy the beautiful surroundings.
Review: Really lovely and comfortable self-catering cottage in the heart of the Golden Mile – several wineries within a few minutes walk, yet a peaceful spot set well back from the road.
Nearby: Nautilus Estate is .5 km away. Hans Herzog is 1.8 km and Fromm Winery is 4 km from the property. Highfield Estate is 5.2 km, Spy Valley is 5.5 km and Brancott Estate Heritage Centre is 6.6 km from the cottage. The Marlborough Airport is only 5km away.
Check your dates (you'll stay on this page) to see prices:
Good to Know
Free Parking and free WIFI
Bedroom, bathroom, dining, lounge, and fully-equipped kitchen
Wheelchair accessibility
Linen and towels included
Bike tours
---
4. DDOG Vineyard Holiday Home – Sleeps 8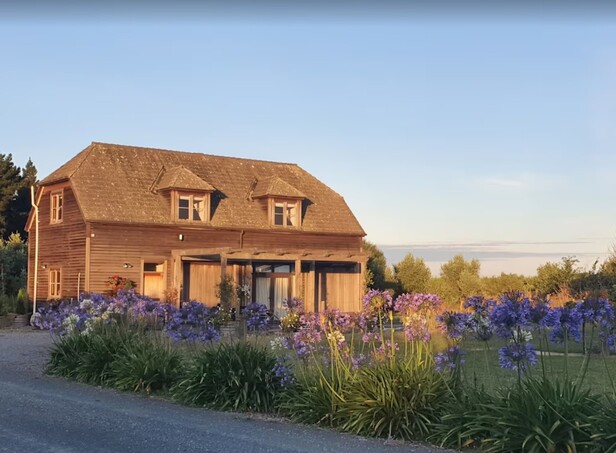 The Cedar Barn sits within the heart of 9 hectares of the DDOG Vines. You can amble across wetland boardwalks, wander through the vineyard, picnic in the olive grove, and immerse yourself in the tranquility of the gentle streams, ponds and gardens. You're even welcome to collect eggs from the chickens and check out the sheep!
The Cedar Barn is a modern and comfortable holiday home, with special features.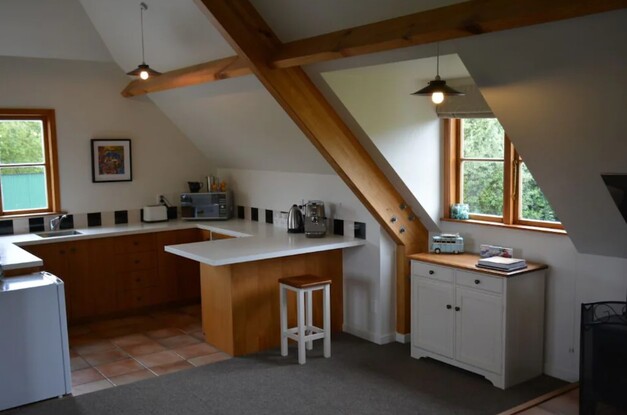 Nearby: 5 minutes drive to the airport and 15 minutes into town
---
Blenheim Tours with Viator – 24-hour free cancellation:
Hire a Bike and Explore Blenheim's Vineyards:
Blenheim's vineyards are all within easy biking distance so why not hire a bike and explore this charming region. With flat easy biking trails, river paths and beautiful scenery you can spend a unique day or half a day visiting the dozen or more vineyards, tasting the wines and enjoying the excellent food options on your guided trail. See Tripadvisor here for bike hire options.
The Golden Mile is a 6kms bike ride (or car ride) through the Rapaura and Renwick wineries – see the PDF map of The Golden Mile here.
---
Travel Essentials:
Car Rental: Discover Cars – compare car hire companies all in one place and choose the type of car you want at the best price.
Travel Insurance: Cover-More Insurance – includes access to travel GPs, and Covid-19 related benefits.
Get Packed! Check out brand adventure/sports clothing and accessories at Catch NZ (catch of the day) where they beat the competition on price.
---
More Unique Places to Stay in the South Island: