Fancy a treehouse stay in Kaikoura with a spot of luxury and pampering? Look no further than Hapuku Lodge and Tree Houses, a stunning property nestled between the rugged coastline and the northern edges of the Southern Alps on the South Island of New Zealand.
Type of Accommodation: Boutique and Spa | Tree House
Destination: Kaikoura | South Island | New Zealand
This post may contain affiliate links. As an Amazon Associate, I earn from qualifying purchases. See Affiliate Disclaimer.
Sleep Among the Stars
Perched high above the ground and native Kanuka trees, Hapuku's five treehouses offer breathtaking views of the surrounding landscape.
Each treehouse is handcrafted from native New Zealand wood and features elegant furnishings and thoughtful amenities.
With a wellness spa on site, Hapuku Lodge is the perfect place to relax and rejuvenate, while you experience the beauty of New Zealand.
Best for: 5-Star Luxury Tree Houses, Pool, Jacuzzi, Wellness Centre, Restaurant, Breakfast, $$$$
Hapuku Lodge and Tree Houses is a short 14-minute drive from the picturesque town of Kaikoura.
Rising 10 meters above the ground, the five tree houses are handcrafted from native New Zealand wood, each named after a treasured native bird: Kereru, Piwakawaka, Kotare, Tui, and Korimako.
Perched among the branches, the tree houses offer stunning views of the surrounding deer farm, olive grove, and Pacific Ocean beyond.
---
Experience the Magic
At the pinnacle of the luxury hotel market, Hapuku Treehouses offers designer accommodation that is both spacious and sumptuous. Each 'villa in the sky' accommodates one to four guests with freestanding baths, a fireplace, and a deck.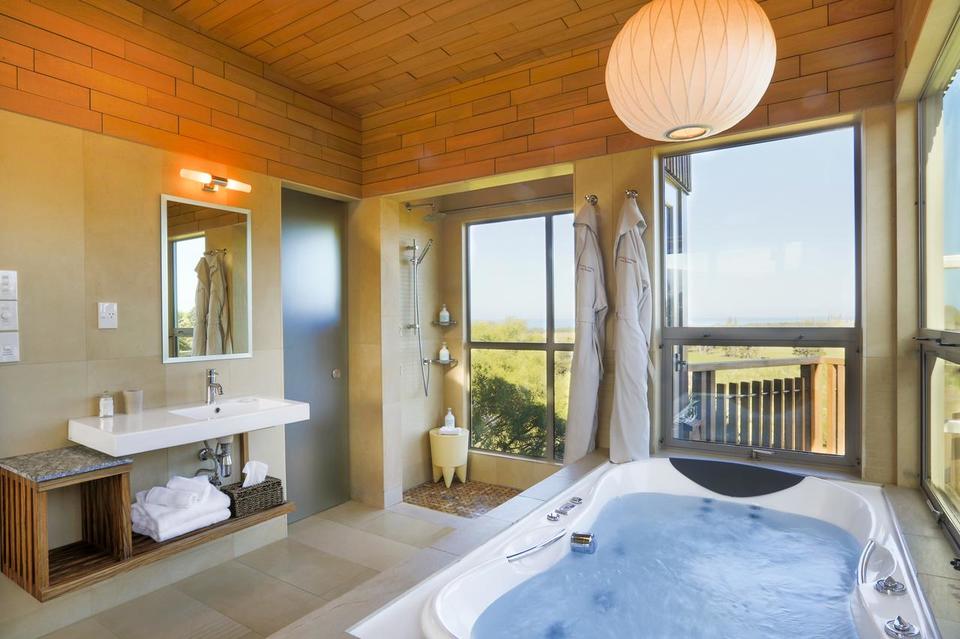 Upon arrival, guests are greeted with a complimentary bottle of wine and cookies, as well as a fully stocked fridge with soft drinks and beer.
Relaxing in the treetops is effortless, with elegant and upscale furnishings that leave no detail overlooked.
The handsome rustic furniture, designed by the owners and handcrafted by local artisans, adds to the overall charm and sophistication of the treehouses.
---
A Culinary Journey
Indulge in delicious gourmet meals prepared by the Lodge's Executive Chef, using fresh, seasonal ingredients sourced from the property's organic gardens.
Breakfast and dinner are included in the price of your stay, and are served in the Lodge dining room, the heart of the Hapuku experience. A warm and inviting space with views.
---
Take a Video Tour
---
Guest Review
Fairytale! Beautifully decorated! Delicious food! Super friendly and helpful staff!! Spacious and comfortable rooms! Nice pool and jacuzzi! It's one of those hotels that you'll always remember as being super special!
---
Embrace the Art of Relaxation and Adventure
You can borrow one of the free on-site bikes and explore the countryside. Take a dip in the pool or jacuzzi. Or, head to the sauna to detox and relax your muscles.
If you're looking for a more personalized experience, book a massage, facial or body wrap at the spa and wellness center. The skilled therapists will use a variety of techniques to help you melt away your tension and stress.
---
Good to Know At Hapuku Tree Houses
Daily Housekeeping
Fireplace for icy winter days
Air conditioning
Tea/coffee-making facilities and a refrigerator
Free WIFI, TV, DVD player, iPod Docking station
Spa bath for two and Rain shower
Super comfy bedding
Lounge and dining areas
Book at Agoda | Booking.com
If you're looking for a truly unique and luxurious getaway, Hapuku Lodge and Tree Houses is the perfect place for you.
Book your stay today and experience the magic of Kaikoura from a whole new perspective. Pop your dates in to see the best prices…
---
Things to Do in Kaikoura
Kaikoura is a charming coastal town with abundant wildlife in the area. Popular for whale watching, diving, snorkelling, kayaking, and swimming with dolphins and seals.
See Viator's best list of Kaikoura's activities, including kayaking with seals, whale watching, swimming with dolphins, Llama trek, sunset kayaking, heli-picnic, and lots more!
i-Site Kaikoura offers a guided short walk to cultural sites and the seabed lift caused by the 2016 earthquake. See the Destination Kaikoura website: https://www.kaikoura.co.nz/
Enjoy a 1-hour walk to the Point Kean Seal Colony
2-Day Kaikoura Coast Track takes you through rich landscapes. This guided walk is suitable for most walkers with your luggage transported for you. Stay at a local farmhouse. Book at https://kaikouratrack.co.nz/
Visit the Kaikoura Museum – showcasing Kaikoura's natural, social, and cultural history
---
SEE MORE